The 3rd generation of the Porsche Cayenne has finally been launched in South Africa. We headed to the local launch of the Zuffenhausen-based firm's premium SUV and took 3 derivatives for a drive on some of the finest roads in the Western Cape.
If you told Porsche purists in 2000 that their beloved sportscar manufacturer would have an established portfolio comprising luxury sedans and SUVs by 2018, many would have recoiled in horror. While we all dream of getting behind the wheel of a 911 (or, for the younger enthusiasts among us, a Cayman), the reality is that coupes are not practical family cars. Besides, if Porsche had "stuck to its knitting" the firm would probably have remained a niche brand for a small, loyal band of enthusiasts.
When the Cayenne made its appearance, it was bold move by the Zuffenhausen brand: The premium SUV was the firm's first 4-door vehicle and offroader (at least since the days it made tractors) and it was powered by a V8 (the first such engine since the 928 grand tourer). The risk was high and a market backlash was a real possibility.
Both the Cayenne and the smaller Macan's rampant success triggered a wave of luxury SUVs from brands not normally associated with high-riding practical SUVs and now we have the likes of the Jaguar E-Pace and Lamborghini Urus at either end of the SUV scale. An SUV from Jaguar and Lamborghini (and many more premium manufacturers – these are but a pair of examples) was unthinkable 5 years ago and yet, here we are.
The Cayenne has proven a massive success and, in 2018, both it and the smaller Macan comfortably outsell the brand's sportscar models. It's therefore critical that the 3rd iteration of Porsche's premium SUV continues to offer performance, practicality and luxury in 1 package. Does it? Yes, it does, and we're going to show you why...
What's new?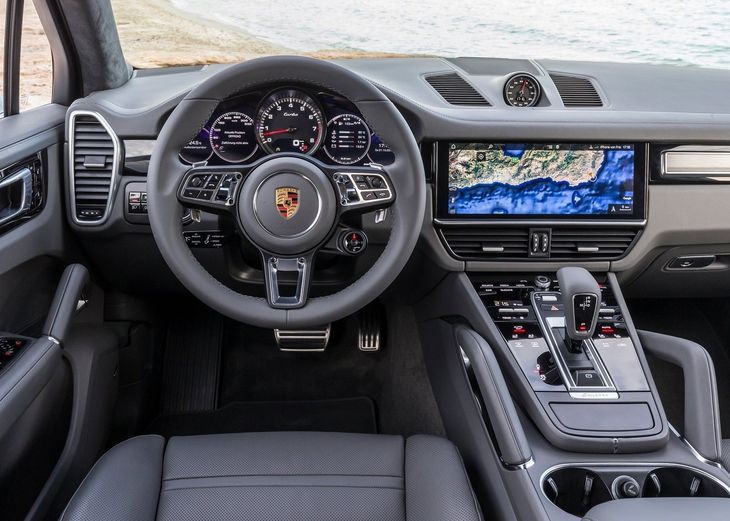 The Cayenne's cabin is sensational, modern, minimalist and extremely well finished
The 3rd-generation Cayenne incorporates some big changes. While the front hasn't changed dramatically, the rear has and from a rear 3-quarter angle, it's a particularly handsome design. There's still a gaping, menacing front bumper, which creates an imposing look and, we'd assume, an intimidating sight in motorists' rear-view mirrors.
It's the cabin that proved the biggest surprise, however. Not only is it beautifully finished but modern and luxurious, with the latest in connectivity and digital graphics. The centre console is likely to be the first element to catch your eye and that large 12.3-inch full HD screen easily falls into the benchmark infotainment category, thanks to its crisp graphics and intuitive interface. Then the dashboard draws your attention: aside from the analogue rev counter, the entire setup is digital, again with crisp graphics.
The steering wheel is lovely to wield. Not only is it attractive; it retains all the functionality you'd need from a premium SUV, with toggles for 'phone and audio functions. There's a separate stalk for cruise control, which is neatly tucked away. The transmission lever's surround section was a catch-22 for us. While it looks beautiful with its glass-like finish, clean layout and limited physical buttons, the likelihood of finger marks sullying the area is very high – we fear that you'd need to constantly wipe it down.
Choice of engines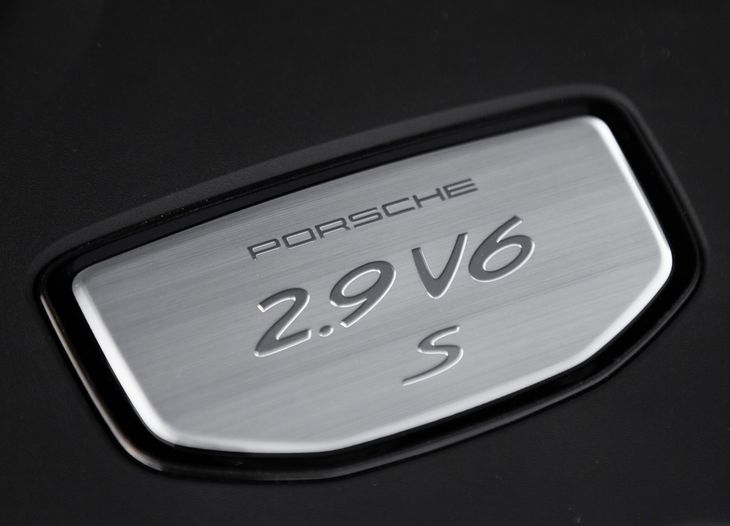 The Cayenne S is powered by a 2.9-litre turbocharged V6 petrol engine.
From launch, there are 3 engines available, with the option of E-Hybrid too. Kicking off the range is the base-spec Cayenne, which offers up peak outputs of 250 kW and 450 Nm from a turbocharged 3.0-litre V6 petrol motor. Stepping things up a bit is the Cayenne S, which boasts a 2.9-litre turbocharged petrol-fed V6 that produces no less than 324 kW and 550 Nm. Finally, at the top of the local range stands the Cayenne Turbo, which pumps out a staggering 404 kW and 770 Nm.
In terms of performance, this latest Porsche Cayenne is no slouch at all, with even the entry-level Cayenne capable of sprint times of 6.2 seconds from 0 to 100 kph (5.9 sec with optional Sport Chrono). The Cayenne S can hurtle from standstill to 100 kph in a claimed 5.2 seconds (4.9 sec with optional Sport Chrono) and, finally, the flagship (for now) Cayenne Turbo smashes that 0-100 kph benchmark in a claimed 4.1 seconds (3.9 sec with optional Sport Chrono). It's staggering to think that this 2-tonne premium SUV is capable of decimating out-and-out sportscars while its 4 (or even 5) occupants are quietly and comfortably ensconced in its cabin.
What's it like to drive?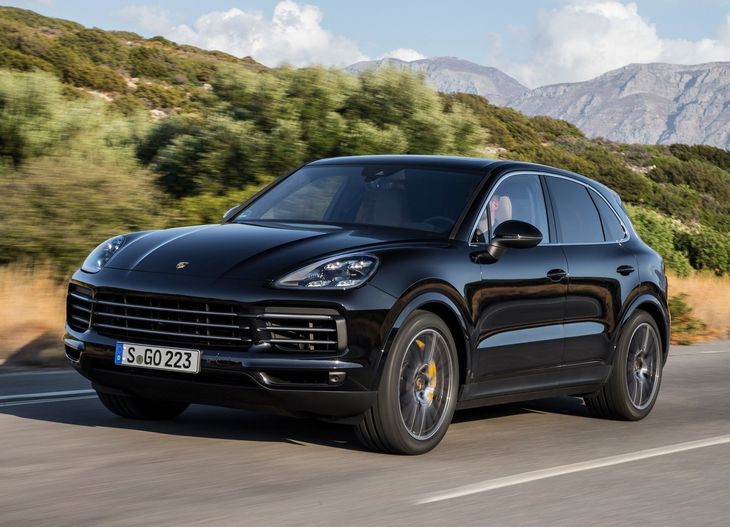 Would we be too bold in proclaiming the Cayenne the class leader of dynamic SUVs? First impressions are very positive.
We had the chance to sample all 3 engines on the launch day, which took us on some (thankfully quiet) spectacular driving roads that afforded us several opportunities to stretch the legs of the newcomer. Despite it being the entry-level derivative, the base Cayenne still has plenty of accessible power and in-gear grunt. The same could be said of the Cayenne S: with the engine from an Audi RS5 and fettled-for-Porsche application, it's deceptively quick and there's no let up when you mash the loud pedal.
Unlike the rest of the Porsche family, which uses the brand's PDK transmission, the new Cayenne utilises an 8-speed Tiptronic torque converter 'box, which has been mapped to deliver dual-clutch-like shifts. The result is a smooth driving experience, both in congested traffic as well as the open road (when you're pressing on). When the Cayenne's sporty nature is paired with tyres wrapped around large alloy wheels, we expected the ride to be firm and jarring, but this was not the case. The secret here is the Volkswagen Group's modular MLBevo platform, which underpins a handful of SUVs (think Touareg, Bentayga, Urus, Q7/Q8 as well as this new Cayenne).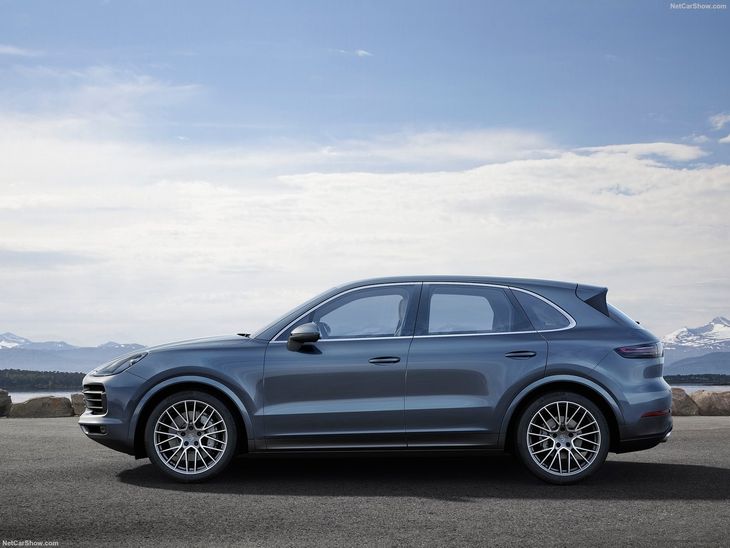 At this stage, as much as we'd love to park a Cayenne Turbo in our driveway, the Cayenne S looks to be the pick of the bunch.
This author has sampled some of those vehicles and it's remarkable how Porsche has taken the relaxing and cosseting nature of the Touareg/Q7 and transformed that into something that's inherently sporty and dynamic to drive, but not at the expense of ride comfort. This is a luxury family SUV, after all. For maximum effect, it'd be best to opt for the new 3-chamber air suspension, which maximises the effectiveness of the Porsche 4D Chassis Control setup.
The steering is certainly worth a mention. Most large SUVs offer vague steering setups, but the Cayenne affords levels of precision and responsiveness that puts its siblings to shame. Mind you, the Porsche's tiller is never going to be as direct as that of its Cayman sibling, but as far as sporty and dynamic SUVs go, this is arguably the sportiest steering setup we've felt (although the Cape Town-based test team has yet to drive a Lamborghini Urus, which might be even more dynamic in that regard).
When it comes to sheer agility, the Cayenne's abilities are impressive and in extreme corners, it's handling prowess seems to suggest that the laws of physics don't apply to it. With an aluminium multi-link suspension mated to the Porsche Active Suspension Management, the car felt composed over the winding stuff, plus you can sharpen the newcomer's responses further in Sport mode. Our test units all came specced with the Sport Chrono pack, which includes a rotary controller on the steering wheel for quick mode changes. You can easily switch from Comfort to Sport to Sport+, and there's an overboost button, which gives you a bit more shove for around 20 seconds.
Unleash the Cayenne Turbo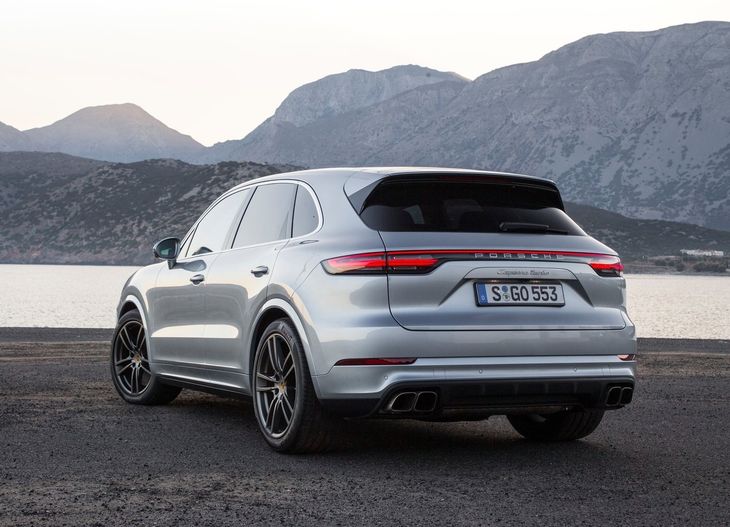 The view most people will see of the new Cayenne Turbo. Those quad exhaust tips make a sensational noise.
Sitting at the top of the pile for now (there's bound to be a Turbo S derivative at some point), is the Cayenne Turbo. While there's no denying the performance credentials of the lesser Cayenne derivatives, the Cayenne Turbo really takes the concept of a performance SUV to new heights. It still retains all the comfort and luxury features of the base and S-spec Cayennes, but under the bonnet lurks a 4.0-litre turbocharged V8 with 404 kW and a ridiculous peak torque figure of 770 Nm.
It's terrifying to think something of its size and heft can be as fast as the Turbo. Even in Comfort mode, pretty much every hot hatch this side of an Audi RS3 would be dispatched in a straight line. Engage Sport+ mode in a Sport Chrono-spec Turbo and you're good to chase down something as large as a Mercedes-AMG C63 S.
While off-the-line acceleration has to be felt to be truly appreciated, the in-gear shove is immense and it's astonishingly easy to overtake slower traffic, but decidedly difficult to remain at the national limit when doing so... It's hard to resist the sonorous boom out the quad exhausts too, as that turbo V8 is one of the sweetest sounding engines currently in service. When you're behind the wheel of the Cayenne Turbo and pressing on briskly, you have to keep reminding yourself that you're in a 2-tonne luxury SUV that can carry mountain bikes, suitcases and 3 more adults, and yet you've just beautifully clipped an apex and powering out of a corner. "Am I in an SUV or a sports coupe?" will be the question you keep asking yourself. We've driven performance SUVs before, but the Cayenne Turbo makes you forget that you're in one.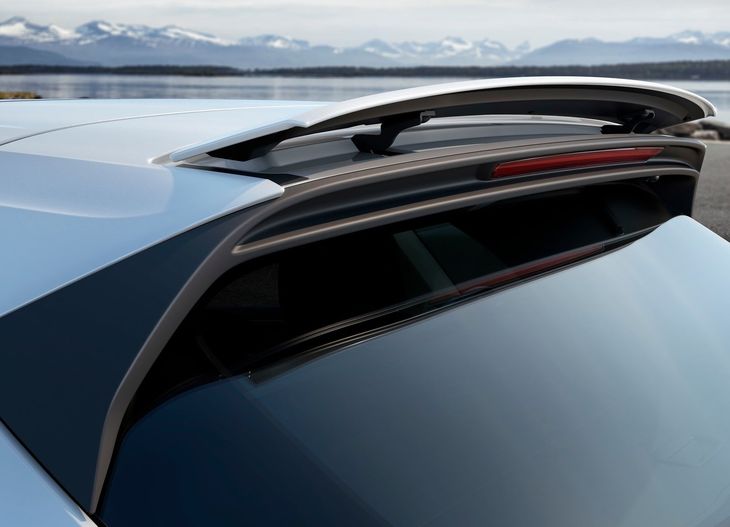 The new Cayenne Turbo boasts a deployable spoiler, which can double as an air brake in an emergency.
Summary
Considering the similarities between its sibling products, what Porsche has managed to accomplish with the new Cayenne is nothing short of extraordinary. Not only does its cabin substantially outgun its rivals in terms of fit and finish, but it feels like it really is the master of all trades. What's more, the Cayenne can deliver a spirited drive, but it's also remarkably sensible and practical. The cabin is spacious and well appointed and, there's no shortage of tech to keep the connected generation happy. You can go to town with options such as the Sports Chrono Pack (definitely worth a look) and you still feel that the price can be justified for the ownership experience.
At this stage, as much as we'd love to park a Cayenne Turbo in our driveway, the Cayenne S looks to be the pick of the range. It's certainly brisk enough and the engine note is delicious, but it's not going to empty your wallet with its thirst for unleaded. Just to sweeten the deal, the Cayenne is capable offroad too. When the tar turns to gravel, there's an off-road mode to cope with such a situation, but whether someone would be willing to take such a high-end vehicle off-road is another question...
Still, for now, we'd be hardpressed to fault Cayenne III. It's an accomplished product – it's easy to see why its sales figures are sky-high. Granted, it's not that affordable once you've specced it up, and the styling won't be everyone's cup of tea, but Porsche has completely nailed the brief for a premium SUV with a performance bent.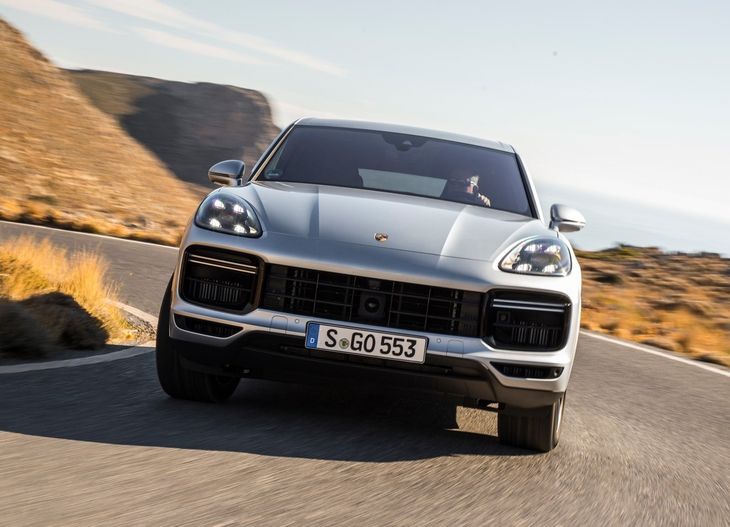 The 3rd-generation Porsche Cayenne has a premium price tag, but after our first impressions, it appears to fully justify it
Porsche Cayenne Price in South Africa (September 2018)
Cayenne R1 142 000
Cayenne S R1 296 000
Cayenne Turbo R2 158 000
The price includes a 3-year/100 000 km Drive Plan.
Further Reading:
SUV supreme: Porsche's new Cayenne Turbo
Porsche Cayenne (2018) Pre-Launch Review
Mercedes-AMG GLE 43 (2017) Quick Review
BMW X5 M/X6 M Black Fire Edition Headed for SA
Range Rover Velar P380 R-Dynamic HSE (2017) Review
Facelifted Range Rover Sport (2018) Specs & Price [w/video]
Facelifted Range Rover (2018) Specs and Price [w/Video]
Interested in buying a Cayenne?