The new McLaren Senna has broken cover and it's the most track-focused, road legal car to come from the British supercar maker.
Named after Ayrton Senna, the legendary F1 driver, the McLaren Senna is the brand's most 'track-concentrated' car for the road. Production will start in Q3 of 2018 and will be limited to 500 units. The McLaren Senna will be built at the McLaren Production Centre in Woking, Surrey, England.
"The McLaren Senna is a car like no other: the personification of McLaren's motorsport DNA, legalised for road use but designed and developed from the outset to excel on a circuit. Every element of this new Ultimate Series McLaren has an uncompromised performance focus, honed to ensure the purest possible connection between driver and machine and deliver the ultimate track driving experience in the way that only a McLaren can" says Mike Flewitt, Chief Executive Officer, McLaren Automotive.

Engine and chassis
The Senna features lightweight construction with body panels and a chassis made of carbon fibre. Its carbon fibre Monocage III chassis is the strongest ever built by the company for a road car and the Senna is consequently the lightest road-legal McLaren, weighing in at 1 198 kg.

The Senna features RaceActive Chassis Control II (RCCII) which is a double-wishbone suspension system with hydraulically interconnected dampers. Stiffness is controlled using a kinetic roll system (K damper) and builds on the system used in the 720S and with Race mode, introduces a lower ride height, lower centre of gravity and a stiffer suspension.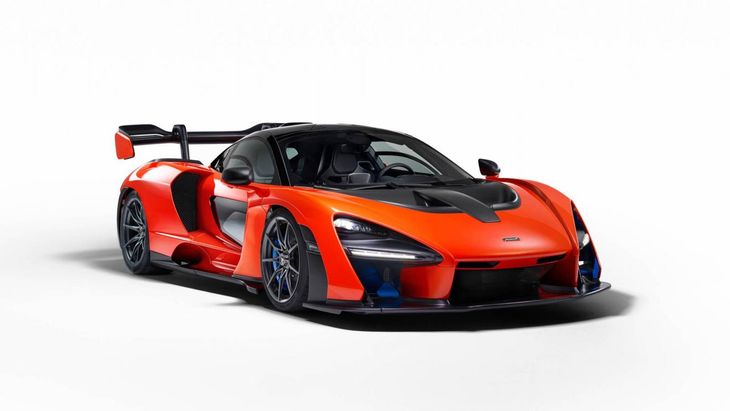 The Senna is McLaren's most hardcore, track-focused road car to date.

The Senna is fitted with a mid-mounted, twin-turbocharged 4.0-litre V8 engine with 588 kW and 800 Nm of torque with an impressive power-to-weight ratio of 491 kW per tonne, making it an extreme performance machine and a worthy member of the McLaren Ultimate Series alongside the P1.
A 7-speed, dual-clutch transmission directs power to rear wheels and the driver can engage full manual mode to facilitate manual shifting using the steering wheel mounted carbon fibre paddles.

A total of 4 driving modes are at the driver's disposal, including Comfort, Sport, Track and Race and all of them, according to McLaren, are "suitably savage". The aforementioned Race mode is accessed via a switch in the roof-mounted panel.
Official performance figures for the McLaren Senna have yet to be revealed but with those outputs, it's performance is expected to be phenomenal.

"The McLaren Senna delivers true performance, all the way to the limit of a driver's ability. With a truly astonishing power-to-weight ratio, this car is about performance that is accessible and attainable, yet at the same time exciting and challenging for the very best drivers in the world – and with an intense, sensory experience to match" says Andy Palmer, Vehicle Line Director, McLaren Ultimate Series.
Styling details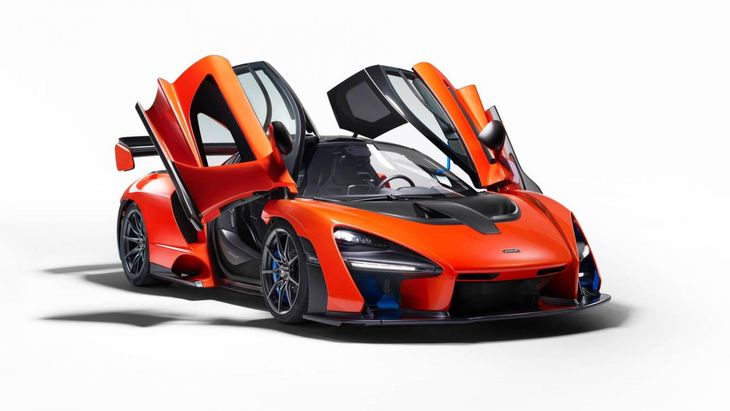 Striking design meets ultimate functionality as every part of the Senna contributes to maximising performance.
Built for performance, the Senna's design adopts McLaren's 'form follows function' philosophy, guided by downforce and aerodynamic balance. The Senna features a new generation of front and rear active aerodynamics to maximise performance. The overall design, as well as the front splitter and double rear diffuser contribute to ultimate downforce and aerodynamic efficiency. Front aero blades further add to the drama and can be finished in one of 5 theme specifications such as Azura Blue or McLaren Orange.
A large, double-element rear wing is fitted and is hydraulically actuated and constantly adjusts to enhance downforce and aerodynamic balance. It also serves as an airbrake under hard braking.
The Senna also features F1-inspired dihedral doors that hinge forwards and upwards, opening with a portion of the roof, making it easier to enter and exit the vehicle. The doors are made of carbon fibre and feature 2-piece glass side windows.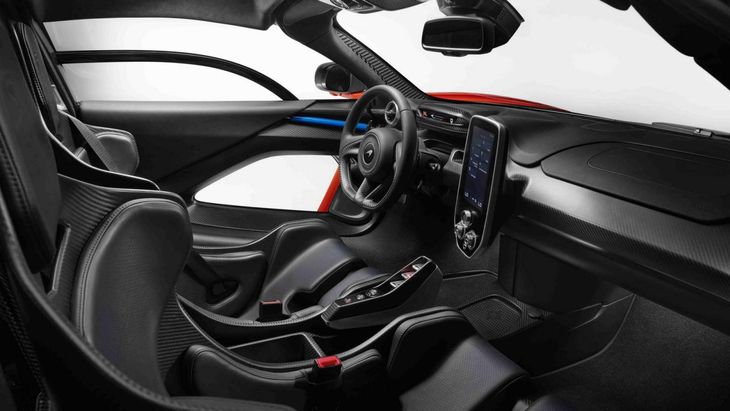 A simple, uncluttered interior design places the focus squarely on the driver.

In an effort to reduce weight, the interior only features the bare minimum with exposed carbon fibre used extensively. The seats and fascia can be wrapped in Alcantara or leather and driver controls have been kept to a minimum to reduce cockpit clutter. Even the 3-spoke steering wheel is free of buttons and switchgear. The driver, instead, makes use of a high-definition McLaren Folding Driver Display and a central infotainment screen. Storage space is limited to a chamber behind the seats with enough space to store 2 helmets and race suits.
The McLaren Senna is priced at approximately £750 000, which equates to a whopping R13 737 319. All 500 units have apparently already been sold. Six units are confirmed for the South African market.

Buy a McLaren on Cars.co.za
Related Content
#CarsRaceDay winners list + McLaren 570S lap
McLaren 570S Spider (2107) Launch Review Video
McLaren 650S on Road & Track - The Fastest Car We've Ever Tested
Part 1: Audi R8 vs McLaren 570S with Drag Race
Part 2: Audi R8 vs McLaren 570S Track Race
McLaren P1 Breaks Kyalami Lap Record (Video)
McLaren's All-New 720S Supercar lands in SA
McLaren reveals new P15 extreme