The National Association of Automobile Manufacturers of South Africa (NAAMSA) has released new vehicle sales figures for June 2020. Take a look at what transpired under Level 3 Lockdown…
June 2020 was the first full month of vehicle sales since the national lockdown. Although dealerships were open, many industries are still not back up to full speed so there is no doubt that has a knock-on effect on national vehicle sales.
June 2020 new vehicle sales still reflect a substantial decline of 14 086 units or 30.7% from the 45 953 vehicles sold in June last year compared to the aggregate domestic sales of 31 867 units in June 2020. Export sales, at 18 796 units, also registered a fall of 11 871 units or a decline of 38.7% compared to the 30 667 vehicles exported in June 2019.
New Car Sales Summary: June 2020
Aggregate new vehicle sales at 31 867 units down by 30% (-14 086 units) compared with June 2019

New passenger car sales of 19 264 units down by 33% (-9 667 units) compared with June 2019

Light Commercial Vehicle (LCV) sales of 10 189 units down by 29% (-4 308 units) compared with June 2019

Exports of 18 796 units down by 38.7% (-11 871 units) compared with June 2019
Top-Selling Car Brands in South Africa for June 2020
Toyota - 8 442 units

Volkswagen - 4 448 units

Hyundai - 2 457 units

Ford - 2 138 units

Isuzu - 2 040 units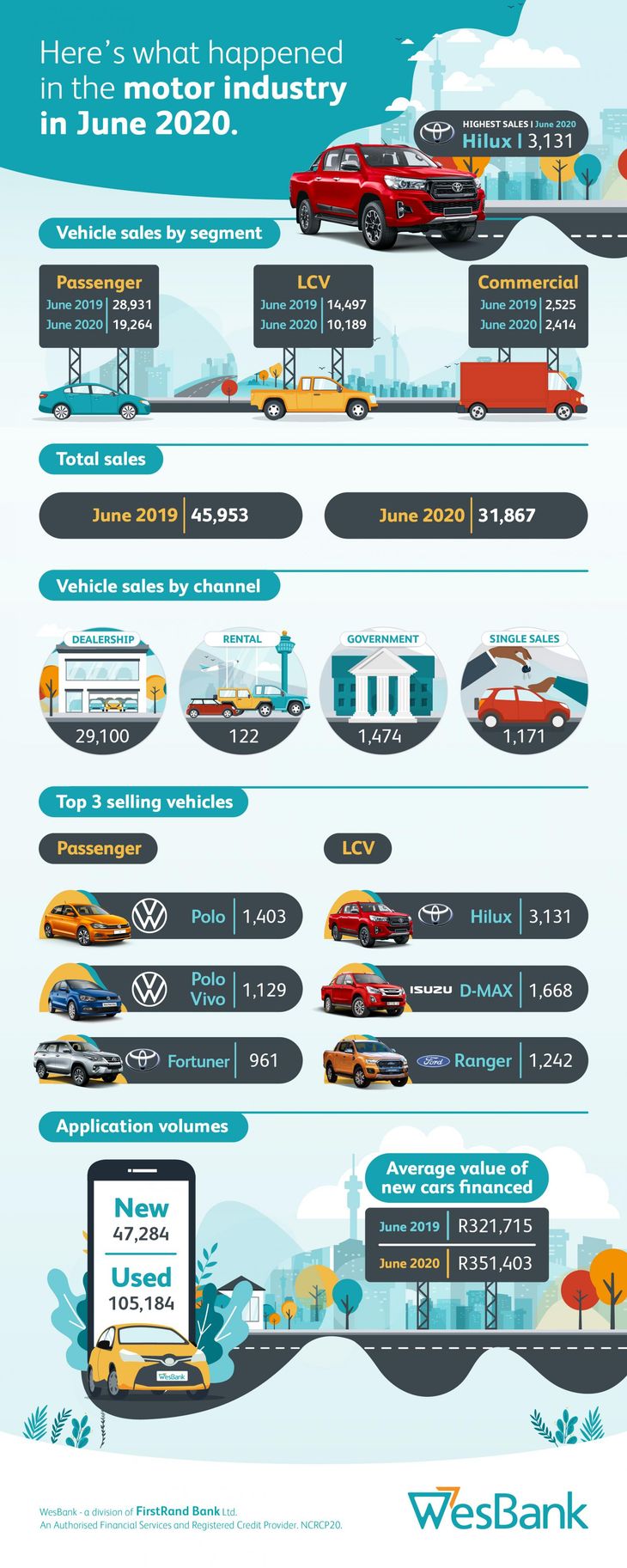 Sales outlook
The outlook on domestic demand for new vehicle continues to remain under severe pressure. Middle-class disposable income was already under huge strain prior to the national lockdown resulting from COVID-19, which has significantly exacerbated the already weak macro-economic climate in the country. National Treasury now expects the local economy to shrink by 7,2% in 2020, its largest contraction in almost a century. Although the ABSA Purchasing Managers' Index (PMI) shows that conditions continued to improve in the South African manufacturing sector, this should be seen in the context that most of the sector came to a near standstill during the nationwide Level 5 lockdown in April and only partially returned to normal production levels in May 2020. Despite the monthly uptick, production still remained below pre-COVID-19 capacity. The uncertainty of the anticipated impact and extent of COVID-19 cause planning constraints and the industry's responsiveness to react and adapt to market changes remain imperative going forward. 2020 will be a difficult year for the industry with a significant projected decline in the new vehicle market and will be testing the renowned resilience of the industry.
As far as vehicle export sales are concerned, economic activity has declined drastically in countries and regions where lockdowns have been enforced and the recovery timeframe is difficult to predict. The industry's export sales for the year will be impacted by the health of global economy and vehicle exports will likely decline due to the projected fall in global vehicle demand as a result of the impact of COVID-19.
Related content
New Cars Sales in SA: May 2020