The Automotive Business Council (naamsa) has released new car sales figures for the month of March 2021. A full year has now passed since the Covid-19 lockdown commenced which consequently sent the automotive industry into a deep downward spiral for much of the year. Now, however, the industry appears to be on the mend… See the new car sales summary below!
Commenting on the automotive industry's recovery, naamsa CEO, said: "the turnaround in the new vehicle market has commenced during March 2021 compared to the corresponding month last year when the country lockdown restrictions resulted in the temporary suspension of vehicle production and sales towards the end of March 2020.
"The industry is expected to start recapturing lost demand on its recovery path in 2021, considering the close correlation between new vehicle sales and the country's anticipated annual GDP growth rate in excess of 3%. However, structural constraints, which exist in the economy, coupled with the growing debt of the country and the ongoing electricity capacity limitations that business may be faced with in the future do not bode well for a quick recovery. New vehicle sales in 2021 may also be hampered by stock shortages of some models in the coming months, caused by COVID-19 induced manufacturing supply chain disruptions, such as the current global shortage of semi-conductors, or computer chips, an important part of modern vehicles"
New Car Sales Summary - March 2021
Aggregate industry sales of 44 217 units up by 31.8% (from 33 546 units in March 2020)

Passenger car sales at 27 330 units up by 23.4% or 5 187 units compared to the 22 143 units sold in March 2020.

Light Commercial Vehicle (LCV) sales at 14 375 units up by 52.4% or 4 941 units compared to the 9 434 units sold in March 2020.

Vehicle exports at 40 026 up by 38.6% or 11 137 units compared to the 28 889 units exported in March 2020.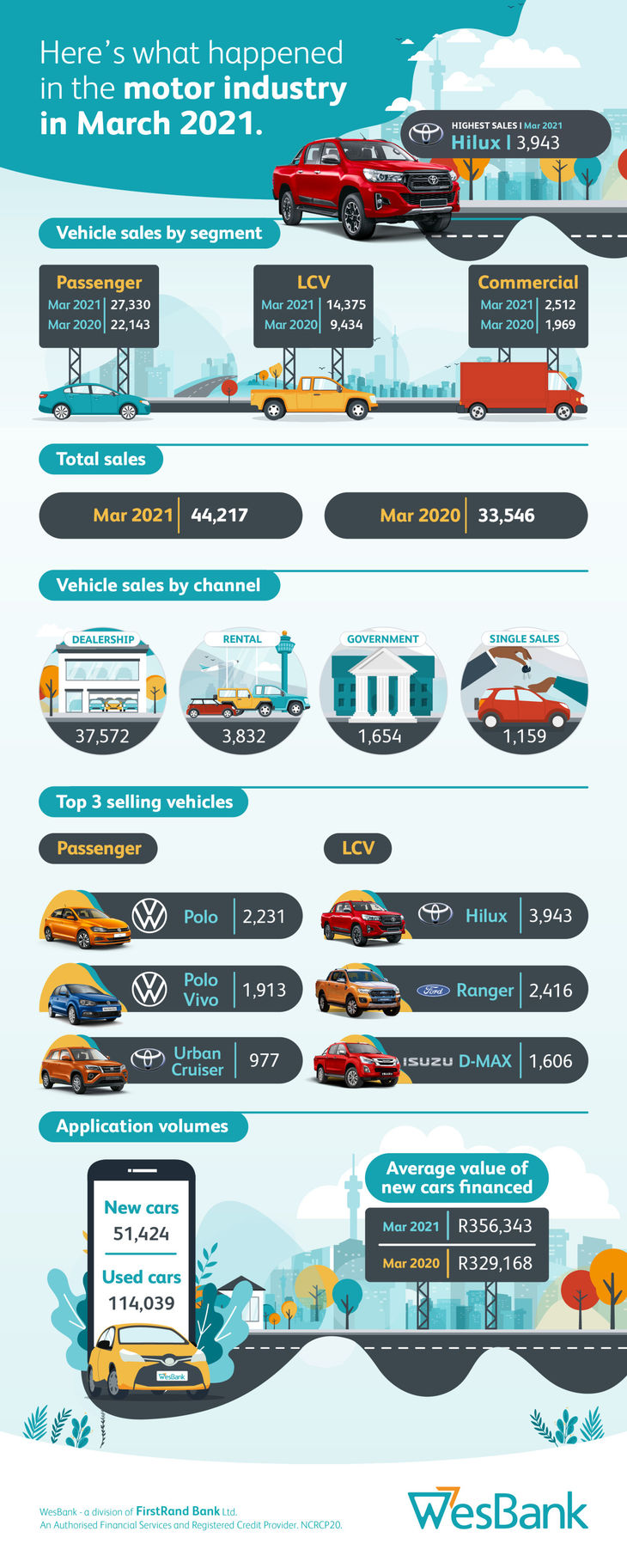 Top-selling car brands in South Africa
Sales Outlook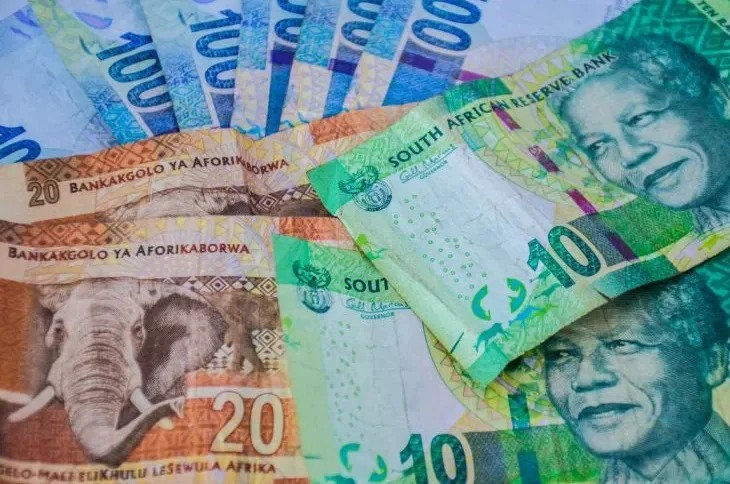 While the automotive industry and the South African economy, in general, is on the road to recovery, uncertainty driven by the ongoing Covid-19 pandemic will persist for the foreseeable future. Compounding insecurity is the increasing instability of local electricity supply from Eskom with further load shedding expected as South Africa heads into winter.
Lebogang Gaoaketse, Head of Marketing and Communication at WesBank Vehicle and Asset Finance commented, "With interest rates remaining stable at their low levels, a constantly – albeit slowly – improving supply of imported vehicles, and a slightly healthier economy operating within eased levels of restrictions, we expect the market to continue recovering well. While we have seen a significant increase in the average deal size financed by WesBank, we don't expect new vehicle prices to increase dramatically. This will also provide added stimulus to the market and is a positive sign of consumer sentiment and ability to participate in the new vehicle market."

The used car market, however, remains positively buoyant and continues to provide value for local buyers.
Shop for a used car on Cars.co.za now!