The National Association of Automobile Manufacturers of South Africa (NAAMSA) has released new vehicle sales figures for July 2020. Sales remain under pressure.
July 2020 was the second full month of vehicle sales since the mandated local lockdown. While sales are still under pressure from budgetary constraints, there was slight growth over the previous month.
Compared to June 2020, 754 more vehicles were sold in July 2020. A total of 32 396 vehicles were sold in stark contrast to July 2019 where 46 042 vehicles were sold. Aside from a slight decrease in passenger vehicle sales, most sectors were up on June 2020 results, showing there is some (albeit small) positive growth in the market. Exports seem to also be improving, which bodes well for local manufacturers although the numbers are some way off the same point last year.
New Car Sales Summary: June 2020
Aggregate new vehicle sales at 32 396 units down by 29.6% (-13 646 units) compared with July 2019

+2.4% (754 units) up on June 2020

New passenger car sales of 18 905 units down by 35.8% (-10 552 units) compared with July 2019

-1.2% (-225 units) down on June 2020

Light Commercial Vehicle (LCV) sales of 11 123 units down by 19.7% (-2 736 units) compared with July 2019

+8.8% (901 units) up on June 2020

Exports of 24 706 units down by 29.6% (-11 871 units) compared with July 2019

+23.8% (5 910 units) up on June 2020
Top-Selling Car Brands in South Africa for July 2020
Toyota - 7 464 units

Volkswagen - 5 075 units

Ford - 3 194 units

Hyundai - 2 520 units

Nissan - 2 132 units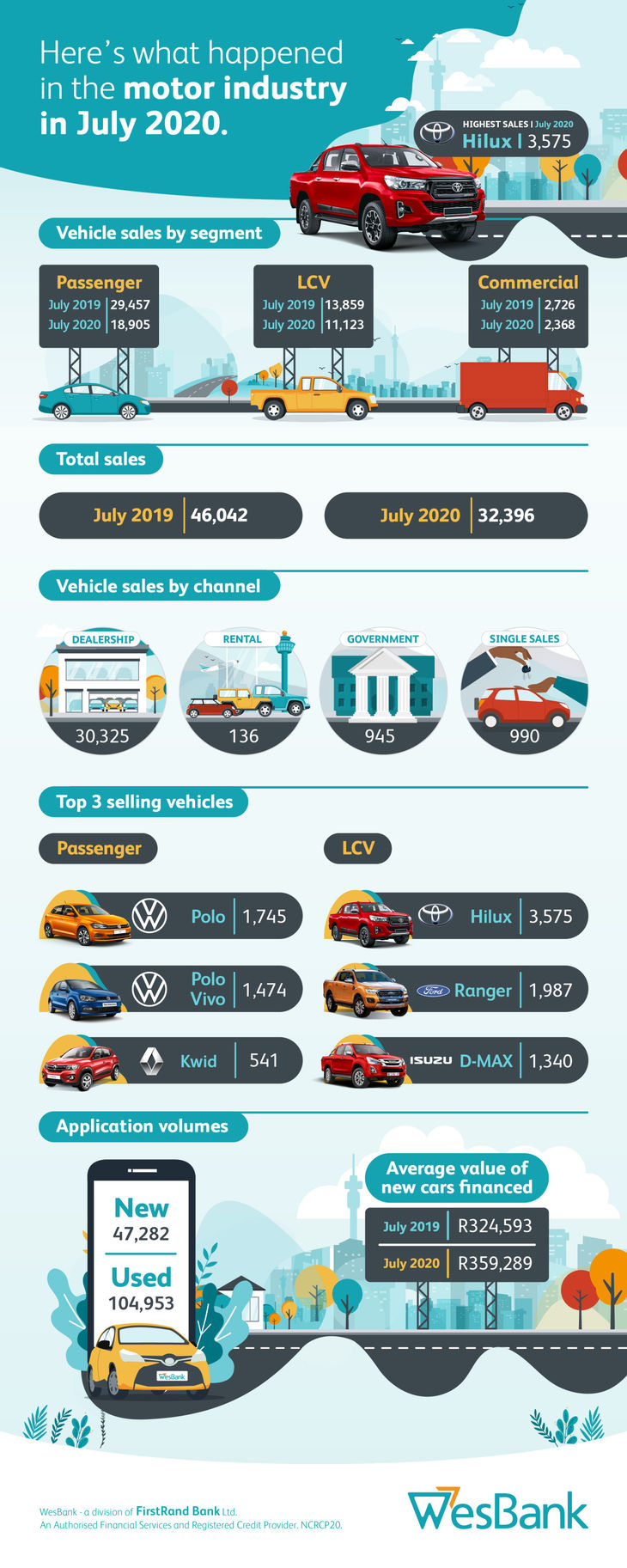 Market outlook
July 2020 new vehicle sales figures provide a picture of what could be expected for the remainder of the year with some notable changes to market behaviour by the vehicle rental companies, in particular, which could be the beginning of new trends. Although the Absa Purchasing Managers' Index (PMI) tracking business conditions in six months' time turned slightly more optimistic in July 2020, it still remains fairly subdued. Considering the most recent projected negative annualised GDP growth in the country of 7,3% by the SA Reserve Bank, it does not bode well for the outlook on domestic demand for new vehicles over the short term. Positive dynamics such as the further 25 basis point interest rate cut to a near 50-year low during the month and the already 300 basis points interest rate cut for the year, low inflation as well as dealer incentives would be expected to support consumers and businesses into new vehicle purchases. However, a recovery in the new vehicle market will most likely depend on how quickly the economy can break out of its low growth trap and how soon society will recover from the present COVID-19 lockdown.
The domestic automotive industry's vehicle export performance for the second half of the year hinges on the successful implementation of the lockdown exit strategies in the domestic industry's major export destinations. The marked improvement in the July 2020 export performance compared to June 2020 export performance provides reason for optimism that exports will gain upward momentum during the second half of the year as international markets ease their lockdown restrictions while many are also stimulating their new vehicle markets with financial incentives.
Related content
Petrol Price Increase Forecast For August 2020