The lockdown in South Africa in response to the COVID-19 pandemic has brought the automotive sector to a grinding halt and figures released by the National Association of Automobile Manufacturers of South Africa (NAAMSA) have revealed a depressing, but expected, decline in new car sales and exports.
The South African economy has been hit hard in the month of April 2020 as the COVID-19 pandemic forced a nationwide lockdown.
Few sectors have been spared and the automotive industry has suffered a crushing blow as production lines came to a stop and dealerships closed their doors.
The result makes for sad reading.
Passenger car sales for the month of April 2020 totalled just 105 units (down by 99.6% compared to April 2019) while Light Commercial Vehicle (LCV) sales racked up a meagre 318 units (down by 96.8% compared with April 2019). Aggregate new vehicles sales stood at 574 units.
Exports totalled 901 units, which represents a decline of 97.3% compared with April 2019.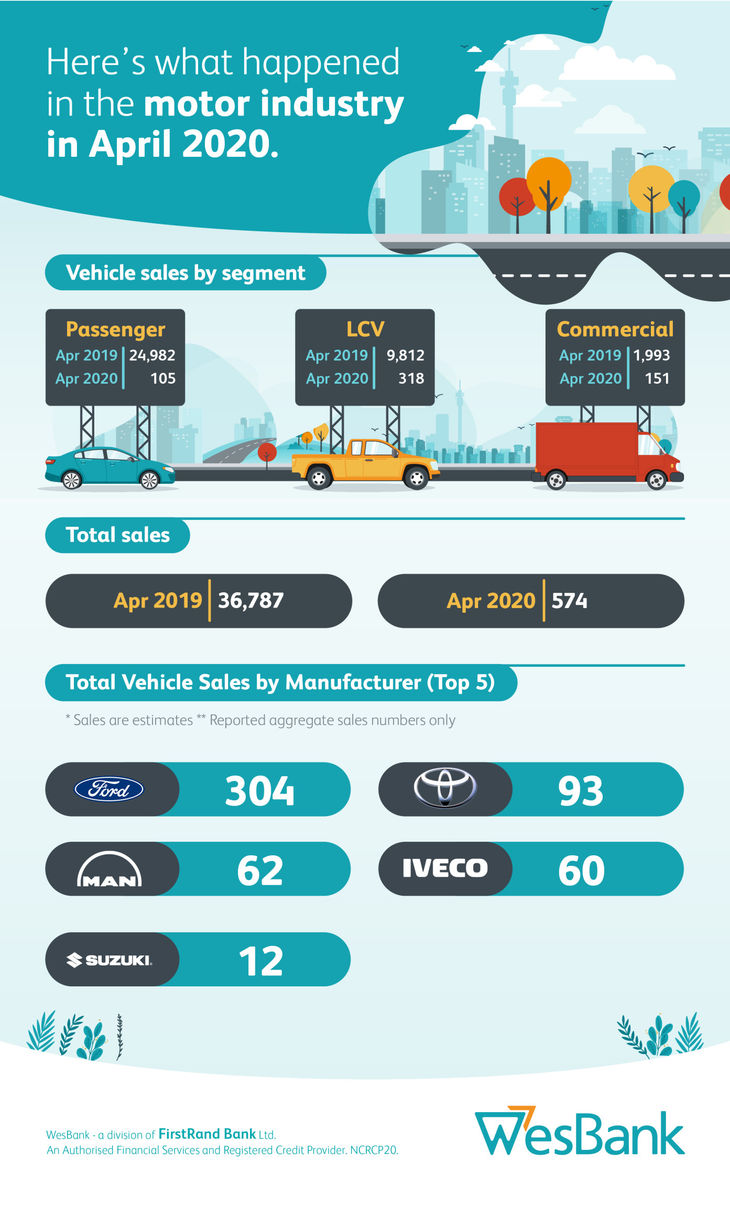 Lebogang Gaoaketse, Head of Marketing and Communication at WesBank commented, "In this unprecedented time, the motor industry is experiencing unchartered conditions and grappling with the solutions to address it. The global consequences of this pandemic will be immense for some time to come, from the economic impacts to the way corporations work and the manner in which consumers behave. How the motor industry adapts now will define just how drastic the changes will be, but one of the few certainties from this crisis is that the industry will be different."​
Despite the bleak outlook, South Africa has moved into Level 4 lockdown, regulations now permit automotive manufacturing to scale up to 50% and car sales have been permitted 'under specific directions' which have yet to be clarified. As such, and provided that the lockdown levels continue to be reduced, improvements in May 2020 are expected. However, the economic ramifications of restrictions on manufacturing and trade will continue to affect the state of the industry for the foreseeable future.
"While government's risk-adjusted and phased approach to unlocking economic activity is broadly supported, the motor industry will be looking to start operations sooner rather than later," says Gaoaketse. "The industry's significant 6.9% contribution to GDP means that many jobs are potentially impacted, across manufacturing and retail, as is foreign currency revenue from exports. Mobility plays a vital role in providing the necessary stimulus to all sectors of the economy to literally get moving."
There are however some positive aspects for consumers to take from the crisis. Fuel prices are dropping steadily and the low-interest-rate environment will help stimulate the economy, encourage car sales and provide some relief to indebted consumers.
Gaoaketse, however, warns that a return to normality isn't likely anytime soon as "there are simply too many unknowns, from both a pandemic and economic perspective. We should expect consumers to be slow in their return to the car market as they adapt to social distancing measures and remain cautious about their own budgets given the uncertainty."
Related Content
Now may be the best time to buy a new car
You Can Still Buy A Car During Lockdown