For Audi SA, new or updated models were few and far between last year, but the Ingolstadt-based brand will introduce a flurry of exciting products on the local market next month (April 2021). Our resident journalist, Gero Lilleike, headed to Johannesburg to experience the new and updated arrivals in the metal...
It's unheard of for a car manufacturer to launch 15 new or updated products in one fell swoop, but that's essentially what Audi did this week. The Covid-19 pandemic delayed the arrival of many models in the past 12 months, but for 2021, Audi is unleashing a full-frontal performance model onslaught that will bring the brand back into a brawl that has, until now, been dominated by BMW and Mercedes-Benz.

Throughout the past year, most local car buyers have tended to "buy down" (and still do) in a bid to limit their financial burdens in a tumultuous economic climate; paradoxically, there are still many well-heeled buyers in Mzansi who have the financial capacity to splurge on high-performance vehicles. In fact, despite what logic may dictate, this segment is growing in South Africa and Audi wants its share!

The firm has set an ambitious target to achieve more than 600 unit sales of RS- and R models during the rest of the year. If Audi has its way, every 1 in 3 Audis sold in SA will be a performance model. In order to achieve this, Audi is broadening its RS and R dealership footprint to 20 outlets countrywide (38 in total) and the vast range of new and updated S, RS and R models will provide the necessary diversity to give Audi the best shot possible of achieving that goal...
Powerful cars from Audi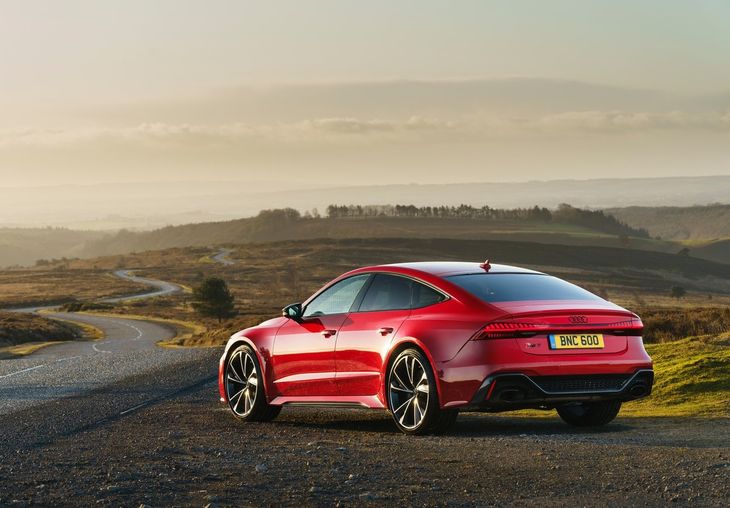 The Audi RS7 Sportback has arrived in SA with 441 kW and 800 Nm!
Audi fans have been waiting for what felt like an eternity for these new/updated products to arrive, but the wait is finally over!

Starting with the SUVs, Audi welcomes the RS Q3 and RS Q3 Sportback to market as well as the SQ7, SQ8 and finally, the mighty RS Q8.

On the sedan front, local buyers can feast on the revised RS5 Coupe and RS5 Sportback as well as the fire-breathing RS7 Sportback. Those looking for more civilized performance should consider the S8.
Despite station wagons being trumped by SUVs in our market, we are ecstatic that the thumping Audi RS6 Avant has finally made landfall in Mzansi; it stands alongside the updated RS4 Avant.

The hugely-entertaining Audi TT RS Coupe and Roadster will continue to thrill while the range-topping V10-powered R8 supercar reigns supreme in either coupe or spyder form, for those who can afford it...
Product Highlights from the SA Launch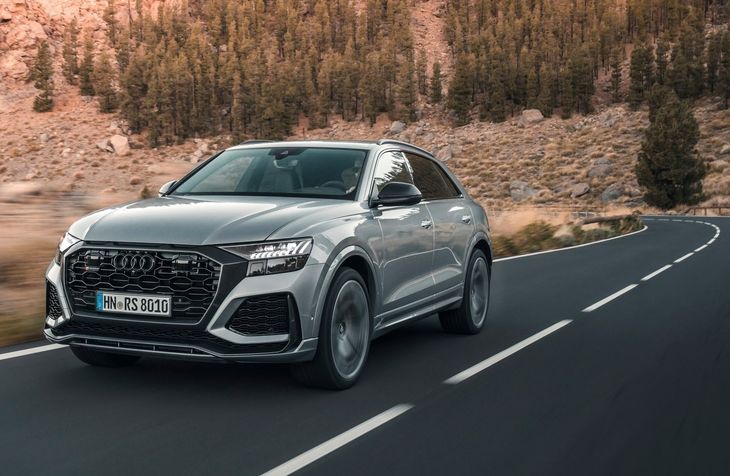 The RS Q8 boasts huge firepower, but it also delivers notable kerb appeal in equal measure.
Audi hosted a "Performance Experience event for local media on the rooftop parking of Sandton City in Johannesburg. A trio of activities, including a basic "off-road" course, suspension test and drag race gave us a brief opportunity to observe the capabilities of some of these new or updated products.

The "off-road" course gave us seat time in the SQ7, SQ8 and the RS Q8. The eagerly-awaited RS Q8, with its head-turning styling and oodles of kerb presence, was a major highlight of the day. Developing peak outputs of no less than 441 kW and 800 Nm from its 4.0-litre bi-turbocharged petrol engine, the RS Q8 is brutally fast for a sizeable Premium SUV and will accelerate from a standstill to 100 kph in 3.8 sec! The RS Q8 is not your typical off-roader and even though it's unlikely to ever go offroad, it can... if you really must. With off-road mode engaged, the air suspension can be raised by as much as 90 mm to negotiate obstacles. We also had a quick opportunity to do a launch start and all we can say is that we can't wait to give the RS Q8 a proper run. It's fast! The RS Q8 is priced from R2 354 500.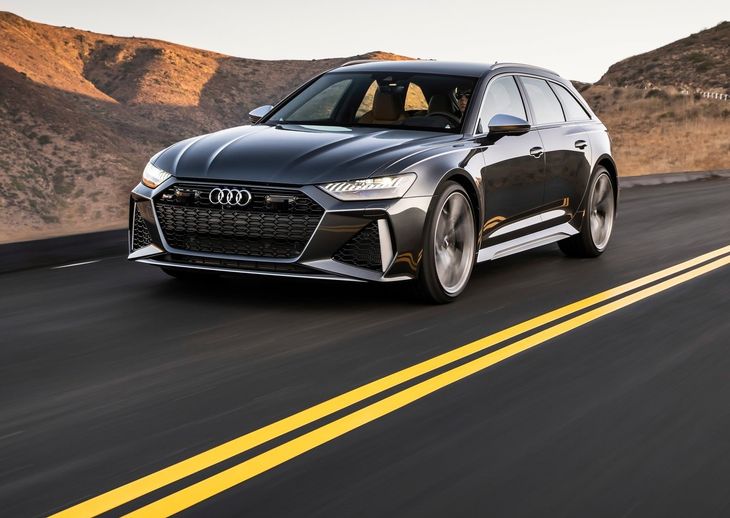 The new RS6 Avant combines a practical interior with supercar-like performance. What a stunner!

For the suspension test, Audi had the new S8 and the new RS6 Avant on hand to demonstrate their respective suspension systems. The S8 offers a sublime plush ride quality made possible by all-wheel steering and predictive active suspension that uses a camera to analyze the road ahead and adjusts the suspension at each individual wheel to ensure maximum ride comfort. But don't let the S8 deceive you, it's not just about comfort – it happens to pack some serious punch with its twin-turbocharged 4.0-litre V8 engine with 420 kW and 800 Nm of torque. The new S8 is priced from R2 484 000.
At Cars.co.za, we love station wagons and we have a particular soft spot for powerful station wagons. Audi is very good at producing "rapid estate cars" and it doesn't get much better than the new Audi RS6 Avant. Its outputs are hugely impressive with 441 kW and 800 Nm developed by its twin-turbocharged 4.0-litre V8 engine. The sprint from 0 to 100 kph takes just 3.6 sec. The RS6 Avant is also equipped with dynamic all-wheel steering and adaptive air suspension and its ride quality felt surprisingly supple and forgiving on our brief drive. The new Audi RS6 Avant is priced from R2 070 000.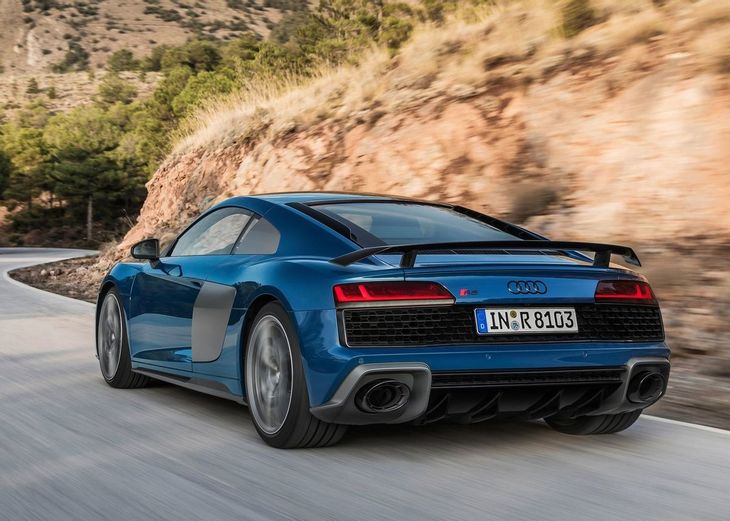 Those large exhaust outlets seen on the R8 mean serious business. The R8's V10 engine is just, incredible!

Finally, we had a brief opportunity to take part in a short drag race with the updated R8. Available in coupe or spyder body styles, the R8 is a supercar that continues to impress. Not only does it look the part, but it brings huge performance to the tar with its sonorous naturally-aspirated 5.2-litre V10 engine developing no less than 449 kW and 560 Nm! Zero to 100 kph happens in just 3.1 sec! Acceleration off the line is impressive, but the R8's braking power courtesy of ceramic brakes is stupendous. What a beast! The R8 Coupe is priced from R3 336 000, while the R8 Spyder is priced from R3 592 500.
The latest new or updated S, RS and R products from Audi will be available at select Audi dealerships countrywide as of April 2021. A 5-year/100 000 km maintenance plan comes standard with the cars.
We will hopefully have a few of these products on test in the near future, so look out for more content coming your way soon!
Buy a new or used Audi on Cars.co.za
Related content: