As Mini pushes further into premium territory, its models are being priced out of the reach of many younger buyers. With the Mini One, the Oxford-based brand hopes to garner sales with what's essentially a lower-specified and more affordable version of its Cooper. Is this 3-door version worthy of your consideration?
We like: Eager little engine, commendable economy, still fun to drive, adequate basic spec.
We don't like: Miniscule rear legroom, intrusive stop/start, priced too close to the Cooper.
Fast Facts
Price: R408 726 (September 2020)
Engine: 1.5-litre 3-cylinder turbopetrol
Gearbox: Dual-clutch transmission
0 to 100 kph: 10.2 sec
Fuel economy: 4.8 L/100 km (claimed)
​Power/Torque: 75 kW/190 Nm
Own a Mini? Tell us about your experience here.
SERIOUS ABOUT BUYING?
What is it?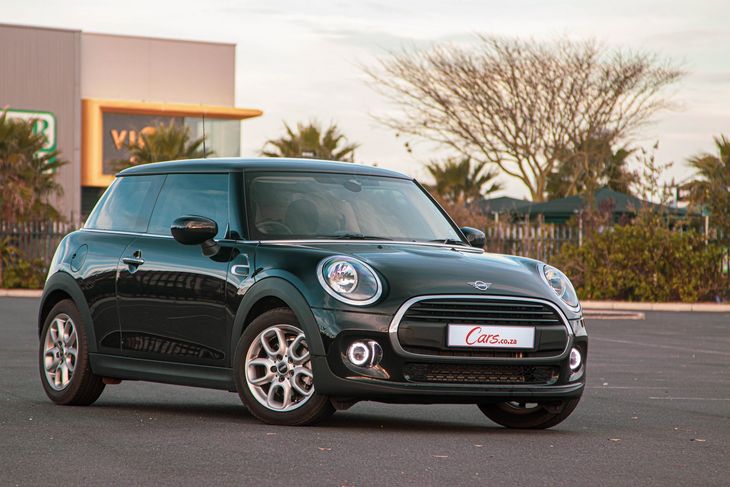 You'll be able to spot the Mini One by virtue of its model-specific daytime running lights (around the fog lamps).
This is not our first fling with a Mini One; we previously tested a pre-facelift example in 2016. What's changed in the past 4 years? Glad you asked. Mini has replaced the 1.3-litre turbopetrol motor with the same 1.5-litre unit that serves in the Cooper, but in a lower state of tune. The One has also gained a quicker-shifting dual-clutch transmission, as well as some subtle trim and packaging updates.
How it fares in terms of…
Performance and efficiency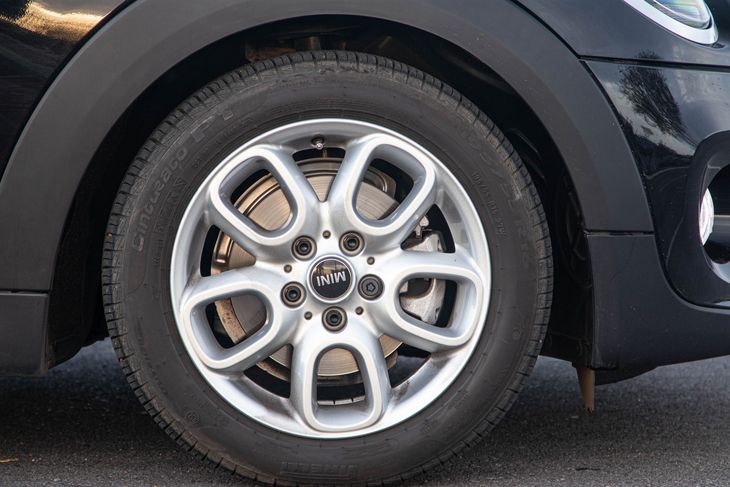 The ride quality is firm, but it's vastly improved compared to Mini's offerings of yesteryear.
Because the One's detuned motor produces 25 kW and 30 Nm less than the Cooper's, its outputs aren't significantly different to those of the old 1.3-litre unit. Peak power is still 75 kW, but maximum torque has increased (by 10 Nm) to 190 Nm. The motor powers the front wheels via a 7-speed dual-clutch automatic 'box, but if you'd prefer to change gears yourself, there is a manual version of the One 3-door, which retails for R387 450 (before options and delivery costs).
The new, quick-shifting transmission does give you a false sense of performance, but in a good way, fortunately. If you roar away from a standstill with your foot planted flat on the accelerator pedal, the Mini One will readily scurry to 100 kph in what feels like a lot less time than Mini's claim of 10.2 sec. It's just as eager when completing an overtaking manoeuvre, with the dual-clutch 'box promptly kicking down a ratio or 2 before the engine can dip into its peak torque band (1 350 to 3 600 rpm).
After we had driven the Mini One in a variety of traffic conditions during this evaluation, its trip computer indicated a consumption figure of 7.2 L/100 km, which we thought was quite a fair return, considering that we had made the keenly-priced compact premium hatchback zoom around a number of traffic circles during its test run.
This little car may be tantamount to a "Mini starter pack", but we're thankful it delivers fun-but-frugal performance that does Mini's reputation justice. One bugbear was the rather intrusive start/stop system, which would sometimes hesitate to restart the engine, but thankfully you can switch it off.
Driving experience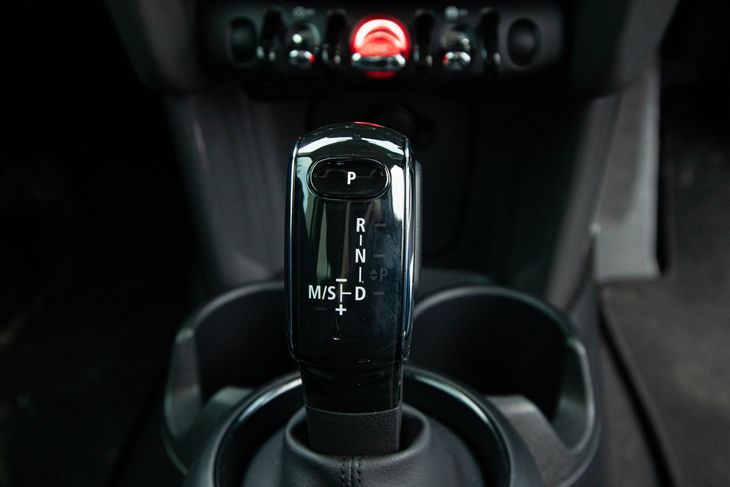 The dual-clutch transmission makes the little Mini One fun to drive, but we would have liked some paddles on the steering wheel
It may be the entry-level model in the Mini range, but, in 3-door application at least, the One remains most entertaining to drive. It's a subtle reminder that growing old is mandatory, but that growing up is not (as the saying goes). Nothing else in the segment feels this hands-on and involving to drive...
What makes the Mini so fun to wield? Well, a number of things. For starters, the One's compact dimensions give it a toy-car feel, then there's that direct and quick steering that's crisp and responsive. When you're in a hurry to get to a destination, you can make the Mini dart about like a cartoon character, while that little triple motor merrily roars. That seating position for the driver is very good too.
The dual-clutch transmission changes gear sufficiently quickly, but we would have loved some gearshift paddles on the steering wheel for a bit more driver involvement. Instead, we used the transmission's tiptronic function and effectively treated it like a sequential gearbox. If you pull the transmission lever backward, the 'box will drop a gear and if you tip it forward, it will change up.
A grin-inducing and entertaining exercise? Yeah, you bet. The best part is you can direct in the Mini into corners with gusto, but still stay comfortably within urban speed limits.
In terms of ride quality, Mini's suspension tuning has always erred on the side of firmness and the One is no exception. Our test unit rode on 16-inch alloy wheels wrapped in run-flat rubber and most ruts and road imperfections translated to the cabin without fail. Manhole covers were particularly uncomfortable to traverse, so make to use of the quick steering to dodge them if you can. The overall ride quality is not awful, to be fair and a marked improvement over previous generations of the New Mini, which could be downright unpleasant to drive on poor road surfaces.
Features and Practicality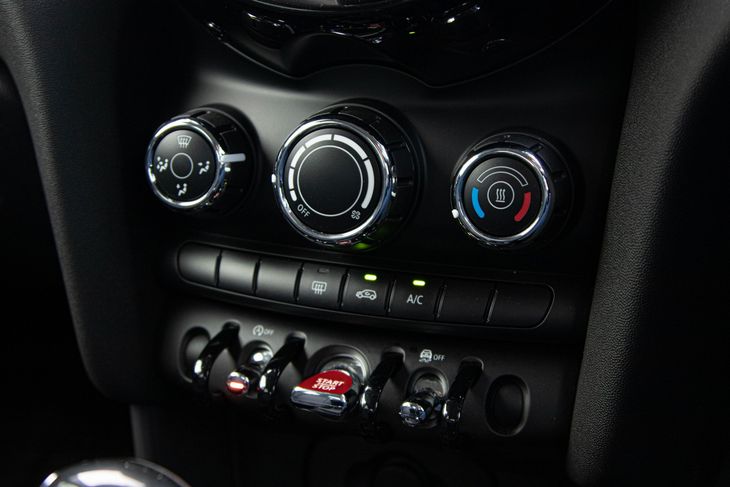 The Mini One has the basics covered, but given the derivative's R400 000 price tag, are basics enough?
The Mini One's not stripped out inside. One of the criticisms levelled at previous iterations of the entry-level offering was that you needed to dive into the options to make it feel premium, but this was not the case with our test unit. The only noteworthy additions specified were cruise control with brake functionality, rear parking sensors, a leather-wrapped sports steering wheel and a central armrest. At R400 000 for the Mini One, you do expect a certain number of standard features and the derivative comes with daytime running lights, auto wipers, manual air conditioning, Bluetooth and a USB port.
If you absolutely need to transport more than one passenger, well, the One is also available in 5-door configuration. To put it bluntly, the rear seats in the 3-door Mini One offer neglibile legroom if the driver and front passenger's seats are set up for moderately tall occupants. Those aft seats are best used as an extension of the parcel shelf. The load bay isn't the smallest we've encountered, but nowhere close to that of the segment leaders; not that the limited practicality is likely to bother the One's target market. Besides, we prefer the traditional 3-door setup as its closer to the Mini ethos.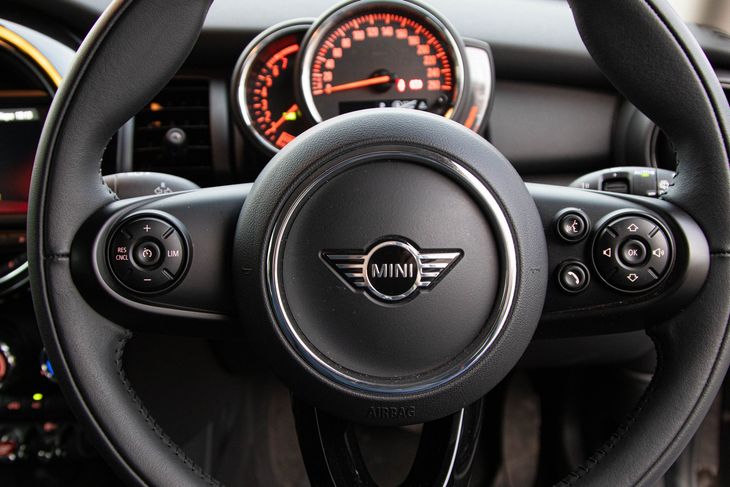 Pricing and after-sales support
The Mini One range starts at R387 450, with this One 3-door auto costing R408 726. There are a few option packs worth noting, if you feel the standard specification is not comprehensive enough. The Mini One is sold with a 2-year/unlimited-kilometre warranty and comes with a 3-year/75 000 km service plan.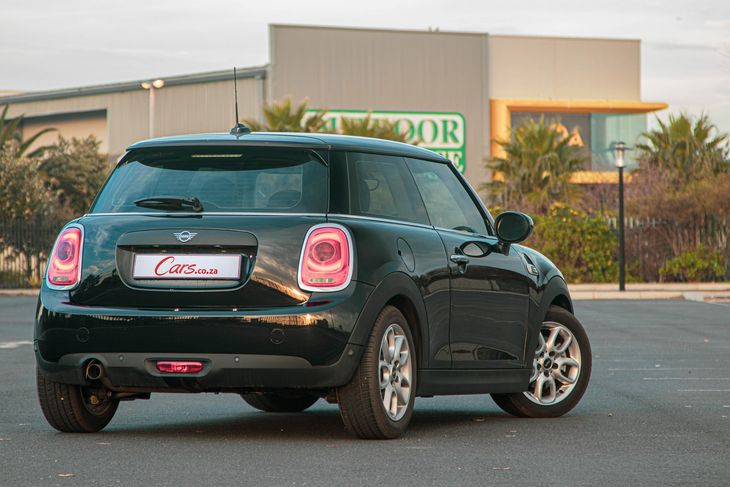 Given its price, we do wonder why people would consider the One when a Cooper is ever so close...
Verdict
There are many things to like about the Mini One, but the list of positives is frustrated by the negatives. Let's get the numbers out of the way first: That list price is uncomfortably close to a Cooper and when you're paying in excess of R400 000 for a compact hatchback, "entry level" is a bitter pill to swallow. That being said, you're not being short-changed by any stretch because the Mini One retains the brand's endearing fun-to-drive characteristics, plus it still boasts a decent number of standard features. It may be a cut-price Mini, but it's still a fun little thing to wield on the daily commute.
What's more, the 1.5-litre turbopetrol motor and dual-clutch transmission work together so sweetly! Granted, the start/stop system does stutter, but you can bypass it with a switch and, once you're rolling, the powertrain is thoroughly entertaining; the One feels quicker than it is. The packaging and interior space is limited, particularly in the 3-door – we'd go so far to say it's essentially a 2-seater.
Should you buy one, though? Given the way new-car prices are going, if you want a new(ish) Mini and have R400k to spend, a punchier low-mileage Cooper with a few options specified is tempting.
Related content:
Refreshed Mini Range (2018) Released