The new-vehicle market's most affordable battery-electric passenger vehicle is the all-electric MINI, which was recently introduced in South Africa. It blends the Oxford-based brand's go-kart-like driving experience and iconic design with emission-free motoring...
PARTNERED CONTENT
Based on the 3-door MINI, the new Cooper SE is equipped with an electric motor, powered by a 96-cell 32.6 kWh lithium-ion (gross capacity) battery pack mounted under the vehicle's floor, which gives the newcomer a low centre of gravity. That, in combination with an electric motor that's much lighter than a conventional engine, results in admirable balance and handling ability – in true MINI tradition, the Cooper SE makes cornering more fun.
Full torque, on demand
The all-electric MINI produces peak outputs of 135 kW and 270 Nm of torque, plus it can accelerate from 0 to 100 kph in 7.3 seconds, but that's only half the story. Whereas a petrol engine has to build up revs to generate torque, the Cooper SE avails its driver the maximum torque immediately.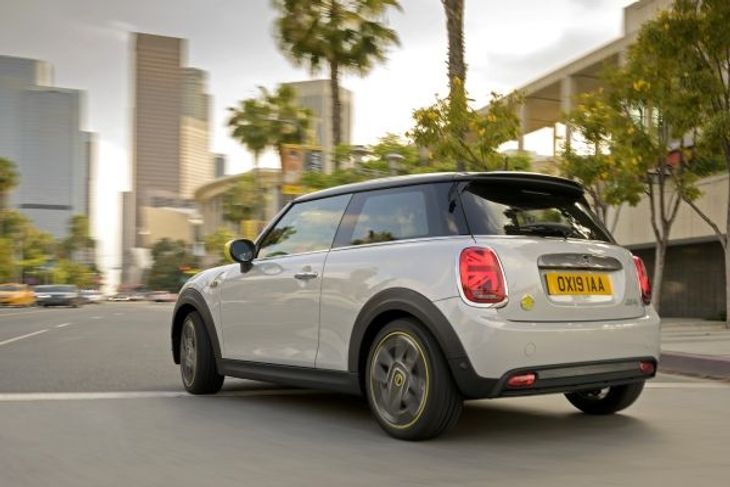 The moment you step on the accelerator pedal, the torque kicks in instantly to deliver stirring acceleration, which, of course, complements MINI's renowned dynamism. If you point the all-electric MINI at a challenging set of corners, its wide track and tightly-tuned suspension is designed to deliver sure-footed road holding.
Glide through the city
But as much as the all-electric MINI remains true to its roots, it also offers an entirely new driving experience. It can travel up to (approximately) 217 km on a full charge in near silence, which takes the stress out of city driving.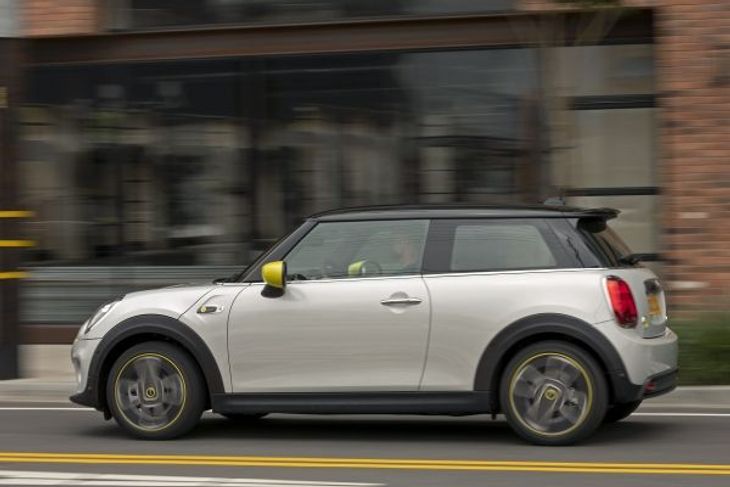 In fact, you can drive the Cooper SE almost entirely with one pedal. The motor is directly coupled to the wheels, so when you lift your foot off the accelerator pedal, the process of harvesting kinetic energy via the braking system (to the benefit of the battery's charge) lets the all-electric MINI slow down more quickly than a petrol-powered car would.
The Cooper SE is so quiet on the road that MINI had to install a noise-emitting acoustic protection for pedestrians to warn other road users of its presence. There's never any need to rev the car's motor and, apart from a faint hum when you accelerate, the only noise comes from outside. And only then at speed.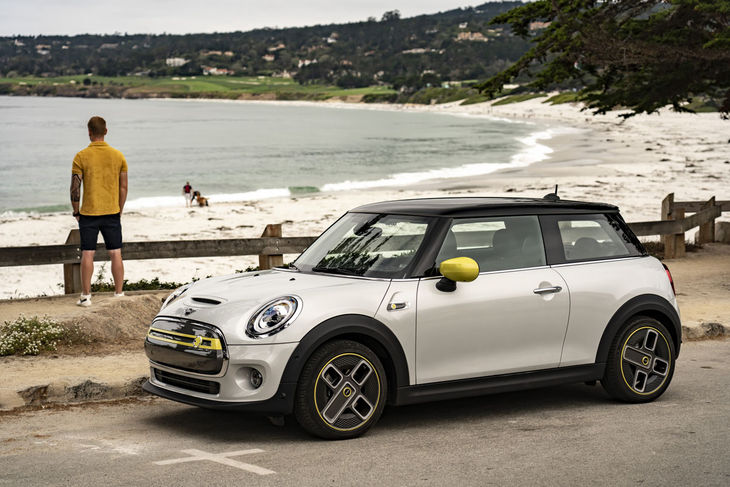 Electrifying styling
It needs to look the part – and it does! Blending aerodynamic lines with eye-catching signature details, the all-electric MINI is designed to complement vibrant city life.
The Cooper SE's sleek front grille has been given a modern interpretation – it's almost fully closed, which benefits aerodynamics considerably, and adorned with a striking yellow accent bar and MINI Electric badge. What's more, the newcomer's adaptive LED headlights incorporate the brand's iconic light rings and automatically adjust brightness and beam pattern for specific conditions, such as oncoming drivers, all of which benefits safety.
Other model-specific detailing includes the 17-inch MINI Power Spoke 2-tone alloy wheels. Exhibiting a unique style, the distinctive, asymmetric trim is almost entirely closed in design – further enhancing the Cooper SE's aerodynamic properties. Meanwhile, the striking Energetic Yellow side-mirror caps give the newcomer a distinctive road presence.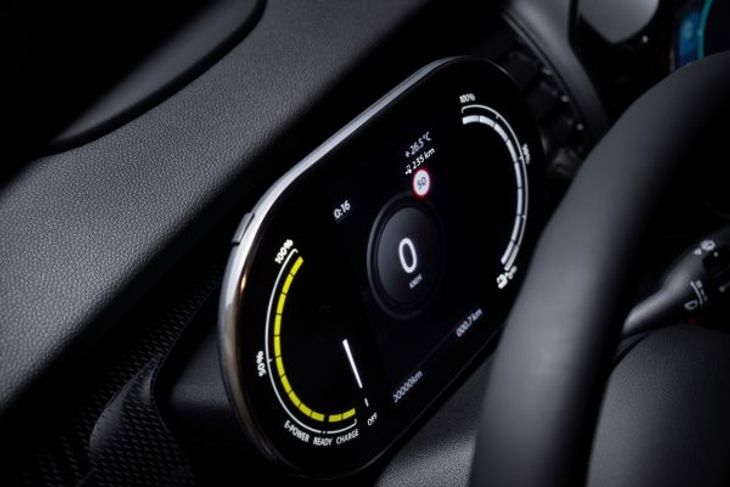 Future-forward cabin
The Cooper SE's premium cockpit makes driving as convenient as it is electrifying. The 5.5-inch digital instrument cluster in black panel design, for example, was made specifically for this derivative. At its centre, vehicle speed is shown in figures with a scale band that lights up in colours that match the drive mode: red (Sport), white (MID), green (Green/Green+).
This is complemented by a 6.5-inch MINI Connected Navigation system with touchscreen that sits in the centre of the fascia (an 8.8-inch MINI Connected Navigation Plus system is optionally available). Whichever infotainment system you choose, it's packed with innovative MINI Connected apps and services specifically orientated to electro-mobility to keep you in control – not least of the music you're playing on the standard Harman Kardon hi-fi system!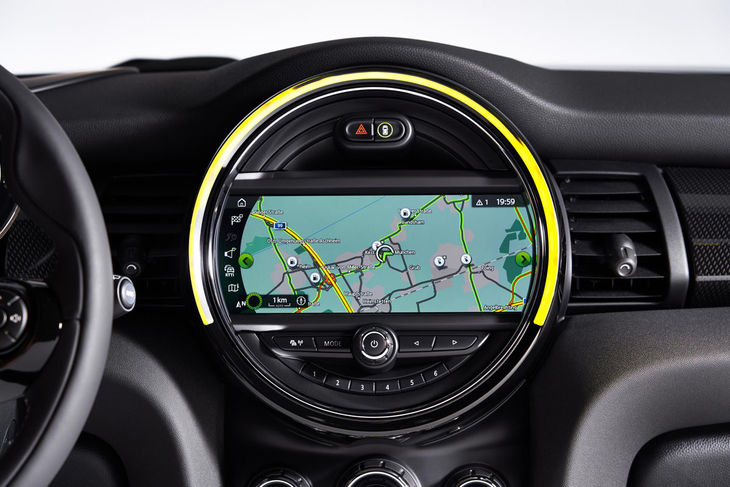 MINI eDrive services
MINI eDrive Services were specifically developed for the Cooper SE to make electro-mobility easy and convenient. For example, it provides details such as available range, charging status and the closest charging station. What's more, it tells the driver how to maximise the range by considering their driving habits to establish the most efficient route to a specific destination.
No matter where you are, you can have a seamless connection to the all-electric MINI via the MINI Connected app. Features such as interior pre-conditioning and the door lock/unlock function can be remotely activated; from a smartphone, a driver can check battery charge status and range, plus control the charging process when the Mini is connected to a power outlet.
The app provides traffic reports, weather forecasts, charging station locations and general points of interest. Ineed, you can plan trips on your phone and then send destinations to the Cooper SE's navigation system.
This video demonstrates how you can send navigation destinations through the MINI​ App:
Multiple ways to recharge
The quickest way to recharge the Cooper SE is by plugging it in at a public charging station (with a Mode 3 cable), where its battery can be replenished to 80% capacity in 35 minutes through fast-direct charging at up to 50 kW.
However, you don't need a complex installation or unit to charge at home. All you have to do is plug it into any conventional household power socket... Surveys show that an average commuter will use less than 20% of the all-electric MINI's battery charge per day. Even when charging the Cooper SE at a normal domestic electric socket (suing the charging cable and adapter, which is supplied as standard), 20% is charged in approximately 3 hours.
In other words, you can plug an all-electric MINI into a domestic household socket overnight and it will have recharged completely in about 15 hours.
Wall of power
Meanwhile, Cooper SE owners have the option of installing a MINI Wallbox to optimise the home-charging experience. A dedicated, 3-phase 11 kW wallbox connection should give users a much faster charging time (by up to 3 times), which means the car could be 100% recharged in about 3.5 hours.
The installation of a wallbox requires the expert assistance of an approved electrician. If you are interested in installing a MINI Wallbox, your nearest MINI new-vehicle dealership will help you to locate a qualified installer.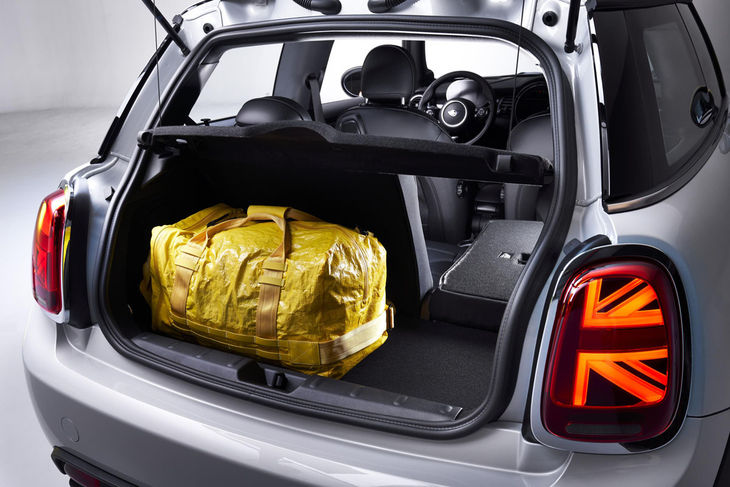 Uncompromised packaging
By virtue of the all-electric MINI's battery pack being located deep in the vehicle's floor, the car's luggage space is unchanged. Load space is claimed at 211 litres, which expands to 731 litres with the rear seats folded down.
Furthermore, like most of its internal-combustion MINI stablemates, the new Cooper SE comes standard with a Motorplan maintenance plan valid for 5 years/100 000 km. This covers all service, maintenance and repairs resulting from normal wear and tear, excluding tyres and fuel.
MINI Cooper SE – prices in South Africa (Aug 2020)