Is Mercedes-Benz's compact family car/crossover also perhaps its best A-Class? We drive the Sindelfingen-based brand's facelifted GLA to plot the curious progress of Jurassic park and A-Class.
Twenty years ago, Mercedes-Benz did something unusual. Stuttgart's most storied brand revealed products that conventional Benz customers never considered necessary: a luxury SUV and front-wheel drive hatchback.
It does make one feel a touch old. I recall the curiosity from E-Class owners about MLs in "that dinosaur movie" (Jurassic Park) and open hostility towards A-Class. In 2017, a lot of Mercedes-Benz's business concerns selling vehicles with gravel-travel ability and where A-Class was originally a retiree's city car, it's now an independent range, 3 model-lines strong.
Mercedes-Benz in 2017 is a branding execution nearly unrecognisable from what the marque stood for in 1997: daring, youthful, immersed in social media channels and digital platform marketing. Where once the Three-pointed Star was all about appealing to company directors and countries' diplomats, today the brand attempts to captivate youthful designers and, well, there's no comfortable way to say it: hipsters. How else do you explain red-seatbelts threaded through the B-pillar guides on an A-Class?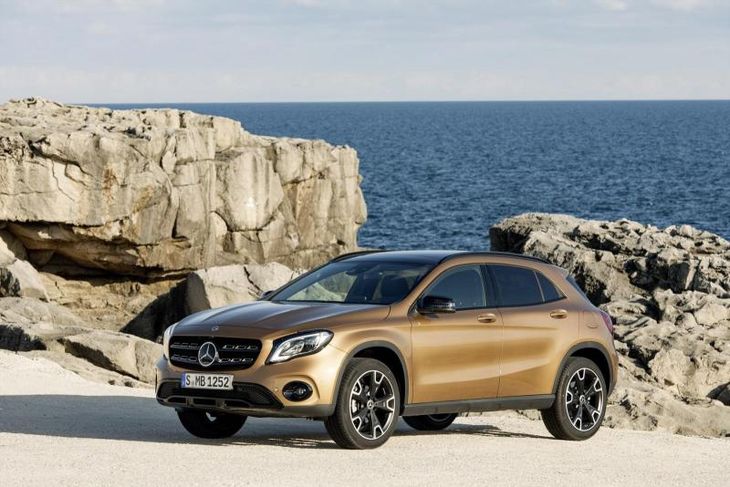 The GLA is 1 of 3 Mercedes-Benz compact vehicles. Benz-branded compact cars were unthinkable 20 years ago, yet they've carved out a substantial slice of the premium hatch pie.
No car exemplifies the promise made by Mercedes-Benz with its daring 1997 dual venture of SUVs and A-Class like GLA. If you predicted it 20 years ago, people with Three-pointed Star keyrings would have abruptly excused themselves from your company.
Whereas A-Class has been the agent of change for Mercedes-Benz's urban youth movement, globally, GLA makes terrific sense for South Africa. More so, than in many other markets, because we have gravel. A lot of it. And there's always the yearning sense of adventure to be revealed and experienced when travelling along those great tracks of gravel that connect South Africa's matrix of cities, towns and topography. And now you can chase down all those follower-generating hashtags in a new GLA. Well, a slightly revised one, to be honest.
A few new things
The car to enable a lifestyle of Instagram location expectation, and South African mobile phone data network disappointment, is GLA. There's not an awful lot which is new. It's styling and illumination engineering upgrades, mostly: LEDs replace the Bi-Xenons. We're all screen luminescence experts in a Smartphone-addicted world, so you might be interested in the trivia of these new GLA LEDs, the fronts radiate a colour close to daylight (about 6000 on the Kelvin scale) and the rear LEDs adjust their redness according to ambient lighting conditions.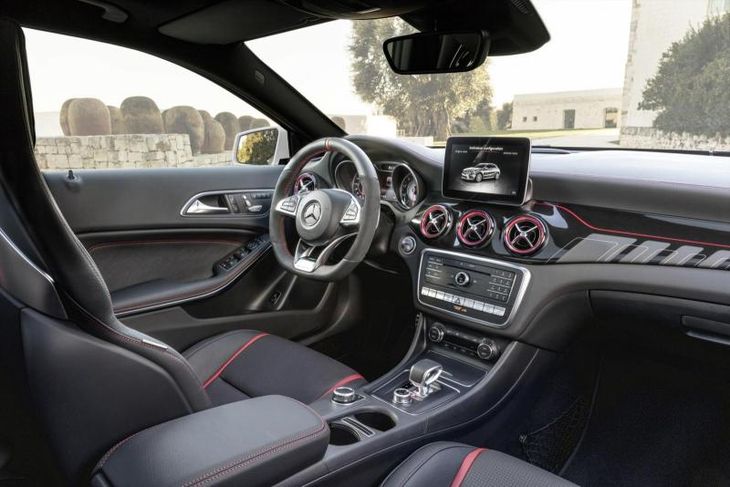 GLA offers slightly more interior space in the cabin when compared to the A-Class
Inside it's a world of artificial leather and blind spots, although the claustrophobia you feel in an A-Class, with its enormously oversized roof pillars, is lessened. Mitigating the blind spot issue is a 360-degree camera system which sweeps a compound perspective to give you a reproduced bird's eye view. Dynamic assistance systems include Active Brake Assist (autonomous brake-intervention if you're about to impact something) and Attention Assist, which warns you that your lane discipline is weakening alarmingly.
Engines are familiar compact Benz configuration, from the sedate and economical 2.1-litre turbodiesel (100 kW worth in GLA 200d, 130 kW in the 220d 4Matic), to 115 kW of GLA 200 (which is, of course, a 1.6-litre), and 155 kW of "mildly hot hatch" with GLA 250. There's the unrestrained mania of GLA45 too, powered by the world's most potent production 4-cylinder engine, AMG's award-winning M133, which converts unleaded fuel to 280 kW and 475 Nm.
First amongst equals of Benz's A-offering
What are they like? One should always declare bias, and I prefer the GLA to the A-Class. They feel less confined inside and the additional ground clearance, suspension stroke and gravel-travel appropriate wheels gift GLA superior ride quality to A-Class, which suffers terribly on South African roads with its autobahn specification wheels. GLA is also that much more liveable than an A-Class, with 140 litres of additional boot space.
Despite some less than premium bits of trim, the W123-imitation aviation-style vents and shift paddles, which are beautifully machined and shaped aluminium with a satin finish, imbue the cabin with sufficient tactility to remind you this is a Mercedes. A smaller one of unusual configuration, but always a Mercedes.
Criticisms? The turbodiesels aren't sufficiently brisk. Mercedes needs a new compact diesel engine for its A-Class cars, the current 2.1 simply doesn't leverage the benefit of having a 7-speed dual clutch transmission. GLA250 has always been the "best-buy" candidate and it's an interesting blend of performance, offering 155 kW of urge which feels true to the claimed 0-100 kph time of 7.1 sec, and traction on slippery surfaces, further aided off-road by some ABS modulated hill-descent control.
The 4Matic GLAs ride notably better than any other compact Mercedes, thanks in parts to the 215/60 dimension tyres, rolling on 17-inch wheels, but also the slightly dialled down suspension compression settings. With an astounding 15 wheel and tyre options, my advice is to ignore the R20 500 adaptive dampers. Instead, option the most generously profiled tyres, on the smallest available rim, to optimise a mechanical damping benefit which is real, instead of paying for adaptive dampers, which are a false economy of comfort if you're rolling on 20-inch wheels with low-profiles at speed, over a particularly bad section of South African B-road.
New GLA offers some inexplicable options, best avoided. South Africa has immense UV radiation, hence no requirement for the R13 900 panoramic sunroof. I think R7 400 for red brake callipers, which clamp with no additional hydraulic force to non-red ones, is slightly excessive. On the theme of red, those scarlet seat belts, at R5 800, maybe not. You might be an AMG F1 fan, but R17 500 for carbon-fibre side-mirrors are a touch too close in price to those on Lewis's W08.
OMG AMG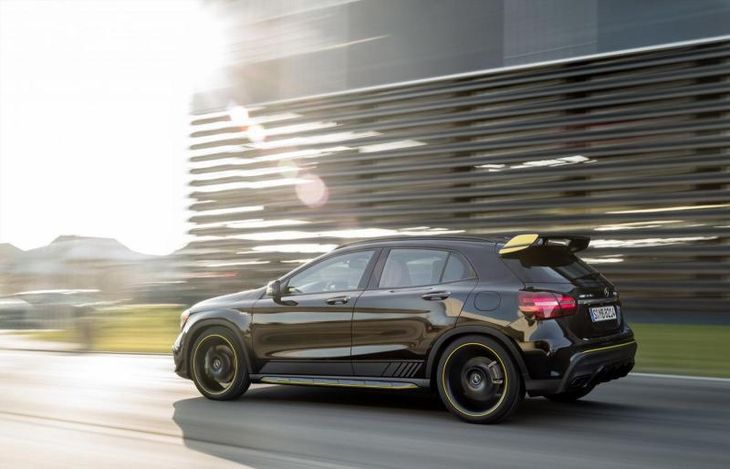 Mercedes-AMG has introduced a Yellow Night Edition package for the GLA45. Yellow trim is subtle and classy.
Facelift GLA offers a Yellow Night Edition package for AMG buyers. For R105 000 extra you get a black GLA45 with a lot yellow exterior and cabin trim, to channel your early 1990s German performance car aesthetic fetish.
Mechanically GLA45 is mostly unchanged, but for a tighter spacing of the AMG speedshift transmission's gears from three-through-seven, making it four tenths of second quicker from 0-100kph (4.4 sec). With a higher centre of gravity than A45, the GLA AMG is perhaps the safer real-world performance car, as that initial onset of body-roll happens slightly earlier, and is, therefore, a fairer warning that you're being a bit too ambitious.
The vision Mercedes had in 1997, with its compact A-Class and the venture into luxury SUVs, with original ML, has been expertly executed two decades later with GLA. It's the most convincing of Stuttgart's compact cars.
Mercedes-Benz GLA Price in South Africa (May 2017)
GLA200 R485 400
GLA250 4Matic R654 700
GLA200d R513 000
GLA220d 4MATIC R592 500
GLA45 4MATIC R856 700
GLA45 4MATIC Yellow Night Edition – R961 700

The GLA is sold with a 2-year/unlimited km warranty and a 6-year/100 000 km maintenance plan.
Want to buy a Mercedes-Benz GLA?
Find a new or used GLA on Cars.co.za
Related Content
Facelifted Mercedes-Benz GLA Shown
Mercedes-Benz GLA45 AMG Edition 1 (2014) Review
Drag Race: Mercedes S65 AMG Coupe vs Mercedes GLA 45 AMG Edition1
Audi Q2 (2017) Test Drive & Review Video
Mini Countryman (2017) First Drive
Volvo V40 T4 Cross Country In-depth Review
Volvo V40 Cross Country T5 AWD Inscription (2016) Review