The Cooper S Convertible automatic offers oodles of "let's go boulevard cruising" charm and has a characterful engine, but is the Mini really an effective sporty drop-top alternative to the Cooper S hatchback? We spent some time with it to find out...
We like: Engine/transmission performance, youthful appeal
We don't like: Firm ride, creaky cabin, compromised handling, not very practical, pricey
Alternatives
Fiery Italian: Fitted with a 1.4-litre turbopetrol engine with 132 kW and 250 Nm of torque, the Abarth 500C 595 Competizione 1.4T automatic offers similar outputs to the Cooper S, but is slightly quicker in the 0-to-100 kph sprint, with a claimed time of 6.9 sec. Like the Mini, it is too pricey at R524 900.
Teutonic allrounder: The Audi A3 cabriolet 2.0TFSi S Line automatic is more than R100k more expensive than the Mini (at R603 000), but it's more accomplished as a drop-top offering. It's powered by a 2.0-litre turbopetrol engine that produces 140 kW and 320 Nm of torque, mated with a 7-speed automatic transmission. The A3 Cabriolet is more sophisticated than the Mini and is likely to find favour with more mature/conservative-minded buyers.
Compare specification of the Mini Cooper S Convertible auto vs Abarth 500C 595 Competizione auto vs Audi A3 Cabriolet 2.0TFSI S Line auto
What is it?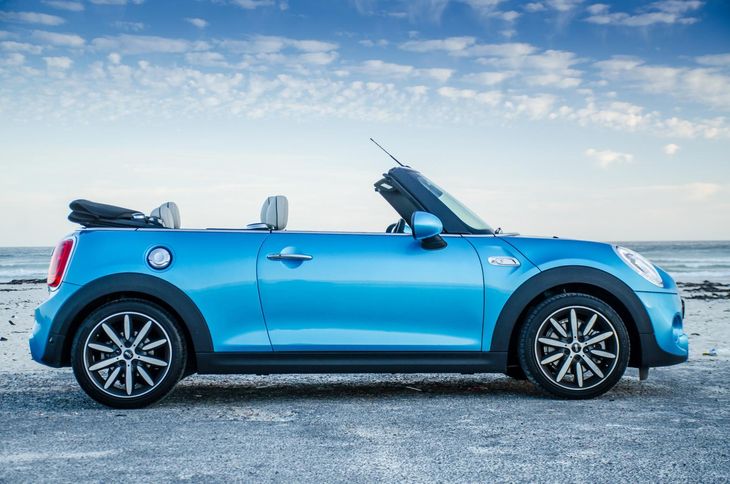 Quirky, fun and full of life is what this Cooper S Convertible is all about. However, it has some issues that can't be ignored...
Based on its Cooper S hatchback sibling, the Cooper S Convertible marries the performance offered by the hardtop 'S with the boutique appeal of a drop-top package. Mini is expected to introduce its facelifted Cooper range, which will usher in mildly revised styling, technology upgrades and more individualisation options, to South Africa around mid-2018. Does this Cooper S Convertible automatic work as a sporty drop-top city car... or will its practical/packaging shortcomings prove its undoing?
The Good
Cuteness Overload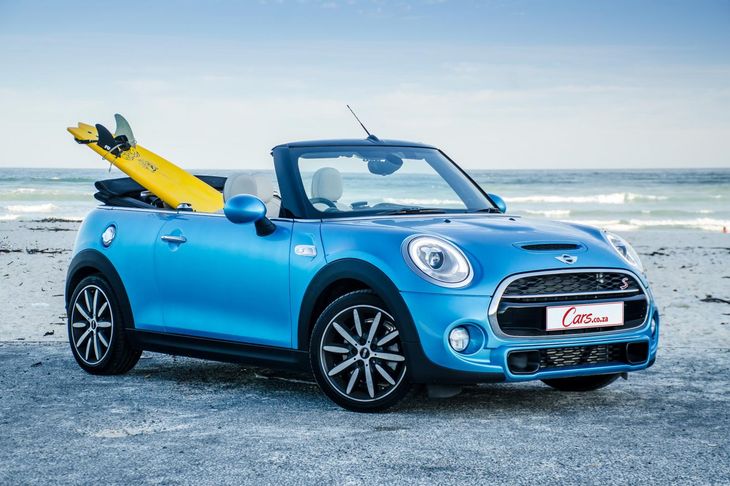 Metallic electric blue is an inspired choice of exterior finish for this Cooper S Convertible, wouldn't you say?
Dressed in an attractive metallic electric blue hue, this Cooper S Convertible drew many gazes from onlookers; it's arguably the best colour on offer from Mini. Whether the fabric top is up or down, this car brings loads of cuteness and charm to the road. As is the case with all Minis, you can add a bunch of optional equipment to suit your tastes. This test unit rides on optional 17-inch, 2-tone propeller alloy wheels, which come at an additional cost of R2 000, while that gorgeous paint job costs R2 500.
As for the interior, it's fun in a typically-Mini kind of way and while general build quality is good, its interior styling exudes youthfulness in its design, yet conservative buyers might find it too over the top... what with all those deliberate circular elements, funky LED lighting and the "disco vibe" of the Visual Boost infotainment bezel.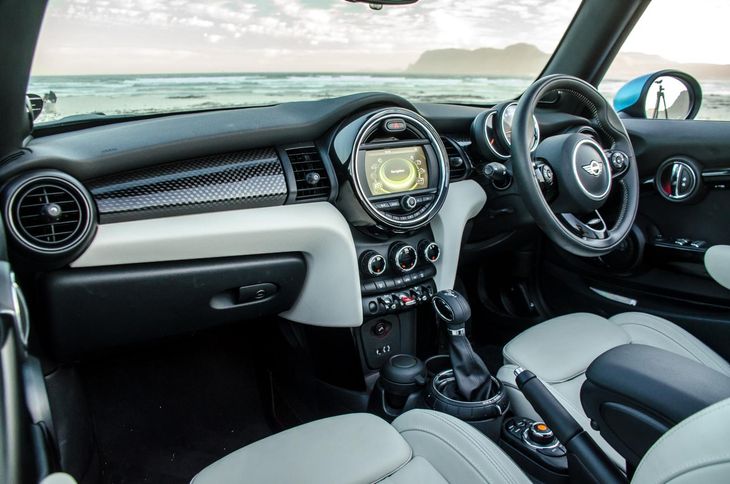 You either love or hate Mini's interior design. We like its youthful vibe...
This test unit was specced-up with a number of optional features including Satellite Grey Leather Lounge upholstery, a particularly entertaining Harman Kardon sound system, Mini Navigation System, a sports steering wheel and reverse-view camera, to name a few options. All these additional features make the Cooper S Convertible that much more appealing, but the price escalates quickly too... in this case, the total as-specced value comes in well over R550 000. Ouch!
Notable standard features include sports seats for the driver and passenger, a height adjustable driver's seat, cruise control, rear park distance control and automatic air conditioning. Safety specification includes 6 airbags, ABS with EBD, brake assist, electronic stability control with traction control, as well as ISOfix child seat mounts.
Punchy performance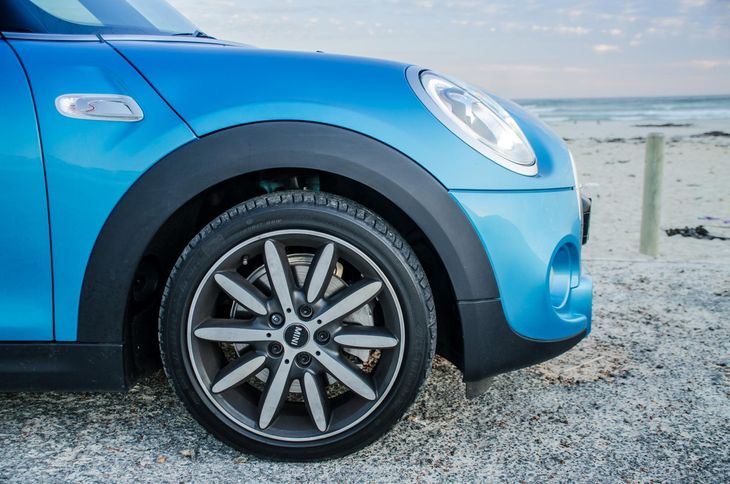 A punchy engine combined with a good automatic transmission makes the Cooper S Convertible feel rather lively on the road.
The best feature on this Cooper S Convertible is arguably its engine. It's a lively 2.0-litre 4-cylinder turbopetrol unit with peak outputs of 141 kW and 280 Nm of torque and it's mated with a responsive 6-speed automatic transmission that does a good job of picking the correct ratios when the Mini needs to hustle in and around the city.
In such a compact body, this combination delivers a fun and entertaining driving experience; there's certainly no shortage of power. With your right foot planted flat, the exhaust emits a throaty bark as the transmission swaps cogs, which adds zest to the driving experience. The Cooper S Convertible will shuffle from 0 to 100 kph in about 7.1 seconds, which is brisk. The Mini ragtop is both capable of pacy sprints between traffic lights and can easily execute swift overtaking manoeuvres at highway speeds.

Driving modes such as Sport, Normal and Eco are at your disposal depending on your driving mood. Mini claims an average fuel consumption figure of 5.8 L/100 km, but we achieved in the region of 9.3 L/100 km during our test, which is roughly what we expected.
The Bad
Poor ride quality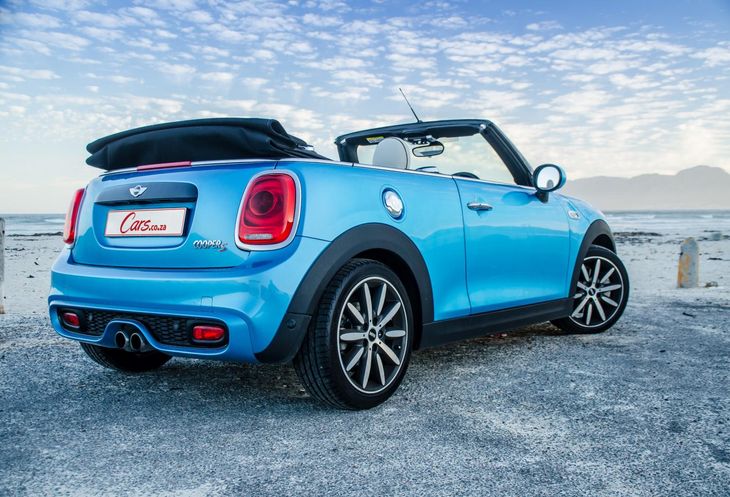 The generally firm ride quite might not be to everyone's taste, but it improves slightly when driven in Normal mode.
By virtue of its low-profile tyres and sporty suspension, the Cooper S Convertible delivers an uncompromising ride quality; its harshest critics would say the Mini can turn otherwise smooth tar into a bump fest. Larger bumps and imperfections are generally ill-absorbed and the unforgiving firmness soon becomes tiring and cumbersome.

Vibrations inside the cabin can be felt (and seen!) as the Mini traverses uneven sections of road. In fact, the windscreen can shudder and shake so much when the going gets bumpy that the vibrations may disturb the driver and other occupants' outward vision, at least until the road smoothes out to an extent... Wincing before going over bumps becomes a natural reaction and you quickly learn to cut lines in the road that provide the least resistance and anguish.
Compromised body structure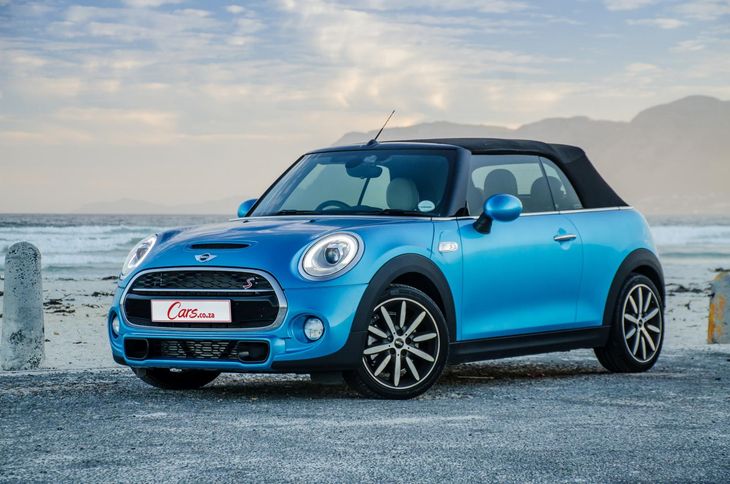 A lack of rigidity, owing to the absence of a fixed roof, has compromised the sporting ability of this Cooper S Convertible.
A major letdown for this Cooper S Convertible is the very thing that makes it attractive – its electrically folding fabric roof. Rigidity is diminished because there is no B- and C-pillar support for the car's body and the marginal structural integrity becomes all too apparent in the uneasy flex of the chassis, which is especially noticeable when cornering at speed. If you listen carefully, you'll hear creaking as a result of body flex; much, we imagine, as you would on an ageing sea vessel adrift in a stormy ocean.

The fabric roof, however, folds down gracefully (in a 2-stage process) and takes roughly 18 seconds to retract completely. Pull the switch back and the roof will open halfway, when the retractable cover acts more like a sunroof. Hold the switch in that position for longer and the roof will retract all the way for the full convertible experience, which is rather pleasant on a sunny day in Cape Town. The roof does, however, swallow up some of the luggage space when folded down.
Not very practical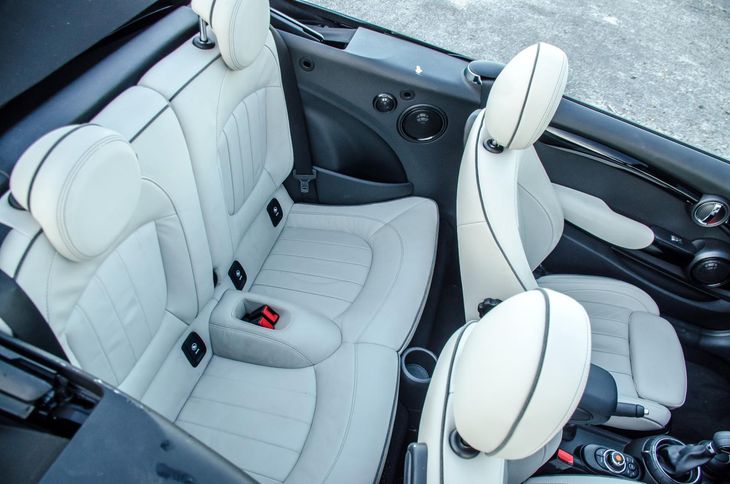 Legroom for rear passengers is almost non-existent and the rear seats are better used as additional storage space.
Although the Cooper S has seating for 2 in the rear, the Mini's rear bench can only accommodate a pair of small children. Yes, the cabin's focused on the comfort of front occupants and seating a tall driver and front passenger in comfort will just about nullify rear legroom (making the rear seats better suited as additional storage space). If you're able to squeeze yourself into the rear quarters, you will find the rear seatback very upright, which doesn't add to what little comfort is available to aft passengers.
What's more, the luggage bay is small; it offers just 160 litres of capacity with the roof down and increases to 215 litres with the roof up. There's enough space for a small bag and some daily shopping items, but not much more. The author's surf bucket would not fit into the boot, so his surfing apparel had to be stored on the back seat...
Pricing and warranty
This Mini Cooper S Convertible costs R493 710, which includes a 2-year/unlimited km warranty and a 5-year/100 000 km maintenance plan.
Verdict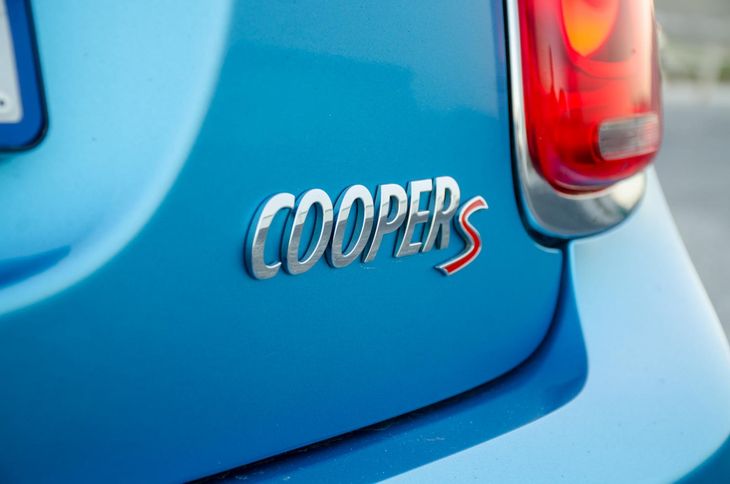 The Cooper S Convertible, although pretty, is compromised and mostly impractical. However, it still makes a cool statement...
Barring its cute looks and punchy engine, this Cooper S Convertible is difficult to recommend. It purports to be a drop-top version of its genuinely sporty Cooper S hatchback sibling, but due to its compromised body structure, it simply fails to deliver the same level of sporty ability. Sure, it performs reasonably well in a straight line, but it ultimately lacks composed, sure-footed handling ability. Therefore, in our opinion, it's not a "sporty" drop-top city car, just a mediocre one.
To make matters worse, the Mini's ride quality is generally too unforgiving and it's not very practical either, both in terms of rear passenger space and storage space. So, in essence, all this Mini Cooper S Convertible has going for it is its visual appeal, engine performance and the perceived allure of driving a convertible Mini.
Is there any way it could justify its price tag? Logic says no, but it will depend on your requirements... After all, some new cars are sheer heart-over-head propositions. So, if looking cool and hip as you cruise past the trendiest spots is what you are after, then the Mini Cooper S Convertible might pass this test, but only just. Consider a more affordable, moderately specified Cooper Convertible if you cannot resist the Mini wind-in-the-hair experience. Alternatively, if you can live without the indulgence of a folding fabric roof, but want engaging driving dynamics in a pugnacious compact package, simply buy the Cooper S hatchback. It will be far more pleasing to drive...
Related Content:
Refreshed Mini Range (2018) Released
Mini Cooper Convertible Auto (2016) Review
Mini John Cooper Works Hatch (2016) Review
Mini Cooper JCW Test Drive – Loud, Fast and Red [Video]
Interested in buying a Mini?