Mini has whipped the top off its latest Cooper hatchback and the new convertible looks set to steal many hearts. While it's undeniably cute, does the ragtop have enough substance to make it a worthwhile purchase?
We like: Style, build quality, enthusiastic engine, gadgetry, cheapest proper convertible in SA

We don't like: Vehicle rattles on bad roads, rear-view mirror less than effective when roof is down
Alternatives:
For French flair on a budget: The Citroen DS3 Cabrio e-THP 81kW does a fair job of rivalling the Mini in terms of a boutique driving experience. It's not a true cabriolet in the sense that the fabric top effectively opens like a full-length (and -width) sunroof and although the Citroen is more affordable than the Mini, its design is relatively outdated and the ragtop derivative is available with a manual transmission only.
Italian zest in a fuel efficient package: Powered by a new turbocharged 0.9-litre 2-cylinder engine that is said to consume just 4.2 L/100 km, the recently updated Fiat 500 500C 0.9 TwinAir Lounge auto may not be conventional cabriolet either (even though the roof folds down to the height of the parcel shelf, the vehicle retains its B- and C-pillars). Reasonably equipped and available in automatic guise, but the admittedly cheaper Fiat cannot match the Mini's prestige.
More practicality: The closely-priced Volkswagen Golf Cabriolet 1.4TSI Comfortline auto seems a trifle conservative compared with the Mini, but it offers slightly more in terms of rear legroom and luggage capacity by virtue of its compact hatchback underpinnings. Refinement is one of its strongest traits, but seeing that it is based on the older-generation Golf, hardly a cutting edge competitor.
Compare the Mini Cooper Convertible with the Citroen DS3 Cabrio and Golf Cabriolet.
How does it fare in terms of…
Style and practicality?
Following the discontinuation of the Mini Coupe and Roadster, the Convertible is unquestionably the most striking model in the Oxford-based manufacturer's product lineup. Perhaps it was a combination of the test unit's Caribbean Aqua metallic paint, white leather interior and a sunny weekend, but as these pictures attest, it's a pleasant vehicle to look at and, more importantly, to be seen in.
The centrepiece is the electrically operated fabric roof, which has three configurations. You can have it completely closed, partially open (to the same extent as a traditional sunroof) or you can lower it fully. Unlike some convertibles that cleverly fold and pack the roof out of sight into the boot section, the Mini Convertible's roof folds in a concertina motion and rests on the back of the vehicle. Once the roof is all the way down, it has an annoying drawback – it obstructs the rear view to the extent that you have to rely on your side mirrors instead. Ticking the reverse camera option is, therefore, highly recommended!
Luggage space is normally an issue with cars of this ilk, but the Mini offers a clever feature to compensate for the smaller boot aperture: there's enough space to slide a laptop bag in under the cargo lid, but, for the purposes of loading bigger items, there are 2 levers inside the boot that release the base of the roof assembly and make it easier to load taller items. The functionality is limited to when the roof is not fully lowered, however.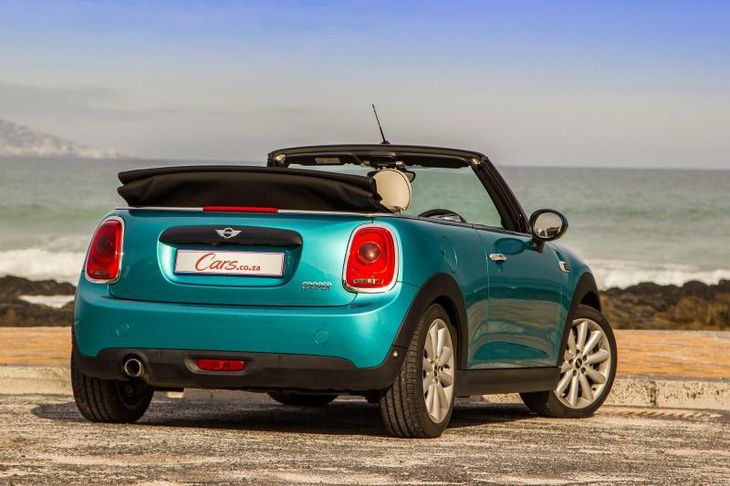 Rear visibility is restricted with the roof all the way down. The roof process takes around 18 seconds from start to finish.
Performance and refinement?
The Cooper Convertible is powered by a 1.5-litre 3-cylinder turbopetrol that has garnered praise in similarly-engined Minis we've appraised. Again, courtesy of outputs of 100 kW and 220 Nm, the 3-pot Cooper delivers a credible turn of speed. Even though this isn't the performance derivative of the range, the Cooper gives a good account of itself in a variety of driving conditions. Power is fed to the front wheels via a slick-shifting 6-speed automatic transmission. While purists will snub the auto 'box, you'll appreciate it immensely in both city confines and twisty roads. You can leave it to its own devices, or change gears by tapping the transmission lever fore and aft when in the 'box's manual/"sequential" mode.
With the roof up, sound insulation seems quite effective, but we found it difficult to hold a conversation (when speaking at the usual volume of your voice) while cruising at the national speed limit. Being a Mini, the ride is firm and sporty, something you'll appreciate when you're on a smooth road. However, the ruts and raised manhole covers on our test route resulted in some uncomfortable jarring, and the slightest undulation in tarmac exposed the convertible's relative lack of rigidity (due to the absence of a fixed roof section) through sporadic trim creaks. Also, while it has the most comfortable and best-made Mini Convertible interior to date, the rear seats remain largely ornamental (think of them as extra packing space for your shopping and/or kit).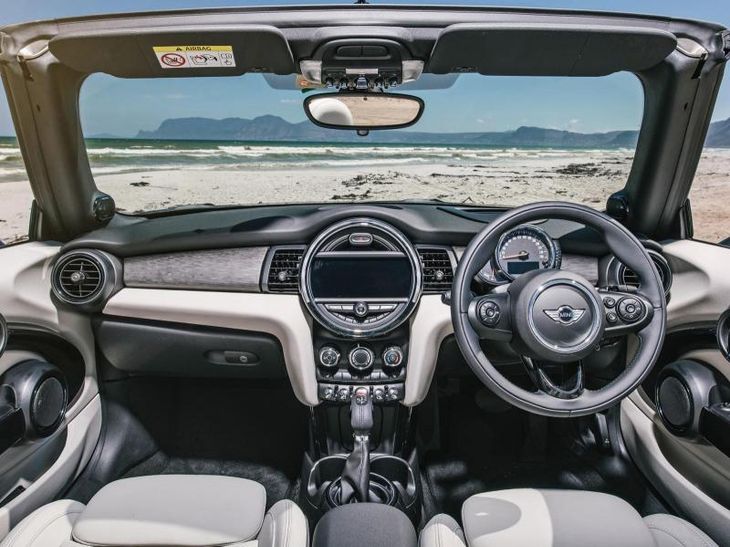 The Mini interior is smart and well put together, but be mindful that some features are optional.
Value for money?
This segment of the market is unmistakably premium and the asking price of the Mini (backed by premium parent brand BMW) reflects that. However, there's not much else in this segment that can offer the same prestige as the Mini... The Citroen DS3 Cabrio and Fiat 500C are cheerful and fun, but neither of them can match the Mini's performance, brand cachet and, crucially, true wind-in-the-hair convertible experience. The Volkswagen Golf Cabriolet, one of the last survivors of a once well-populated compact hatchback-based ragtop/coupe convertible segment, lacks pizzazz and must be due for replacement soon.
Mini offers substantial upgrades and packages to add onto your Cooper Convertible, and our test unit came with a few extras. Notable options include a head-up display, driving mode selector and Harmon Kardon audio upgrade. Like all Minis, you can go to town with the optional extras and custom interior/exterior adornments, but, be warned, they all add up... We'd suggest heated seats are a must if you wish to enjoy year-round topless motoring.
Mini Cooper Convertible price in South Africa
The Mini Cooper Convertible range starts at R389 000 for the manual, while the automatic retails for R407 456. Prices include a 5-year/100 000 km maintenance plan.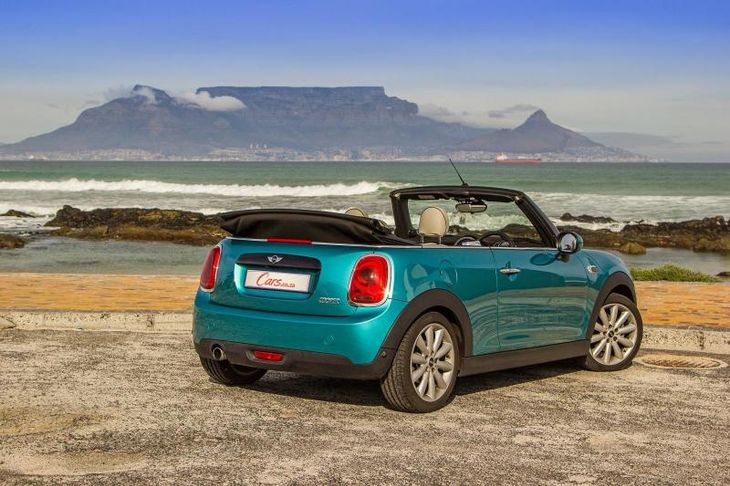 The Mini Cooper Convertible is stylish, fun to drive and made onlookers smile. Mission accomplished.
Verdict
The Convertible is a fun and stylish car that oozes charm and personality. The engine and automatic gearbox are well calibrated, and you'll find the Mini Convertible effortless to pilot. It's best suited to zipping around town as highway trips are noisy and you'll battle to hear what your passengers are saying. And, on bumpier roads, you will hear some rattles and chassis flex, but this affects most convertible vehicles – it's certainly not an indication of poor build quality, as this latest generation of Mini is quite well-made and solid. Ultimately, it is priced reasonably fairly and besides, when making a style statement effectively is far more important that enjoying the famed Mini go-kart driving experience, could anyone justify the additional outlay on a Cooper S version?
Related articles:
Mini Cooper Convertible (2016) Review
Mini John Cooper Works Hatch (2016) Review
Mini Cooper JCW Test Drive – Loud, Fast and Red [Video]
Interested in buying a Mini?