The highly-anticipated Mercedes-Benz X-Class Concept bakkie has been revealed to the world and, as expected, the luxury double-cab has polarised opinions. Here's a closer look at what some of our users have to say about the new X-Class.
Mercedes-Benz, a brand synonymous with luxury, style, elegance and performance will be entering the hotly-contested bakkie market in South Africa with its new X-Class, which is expected to arrive in early 2018. Granted, the production version is yet to be revealed, but the X-Class Concept has sparked interesting public debate and in a thriving bakkie market such as South Africa, the opinions regarding the X-Class are widespread.

Read all about the Mercedes-Benz X-Class Concept here!
The local market is currently dominated by the Toyota Hilux and Ford Ranger, two vehicles that have exceptionally loyal support as well as a long history on local soil. Mercedes-Benz's partnership with the Renault-Nissan Alliance has made the X-Class more cost-effective from a production point of view and will enable the Stuttgart-based brand to effectively "storm" the bakkie market with a new product. Irrespective of what your opinion is regarding the design of the X-Class, Benz has brand snobbery on its side and many buyers will be attracted to, and willing to pay for, the large pointed star on the nose of their X-Class bakkie.

Will the Mercedes-Benz X-Class dominate the South African bakkie market in coming years? That's up for debate, but one thing is certain, the X-Class will most definitely shake-up the local bakkie segment when it finally arrives in Mzansi. Take a look at some of our user opinions on Twitter and Facebook and be sure to share your opinion on the X-Class with us by following us on Twitter and Facebook now.
Opinions on the Mercedes-Benz X-Class
Twitter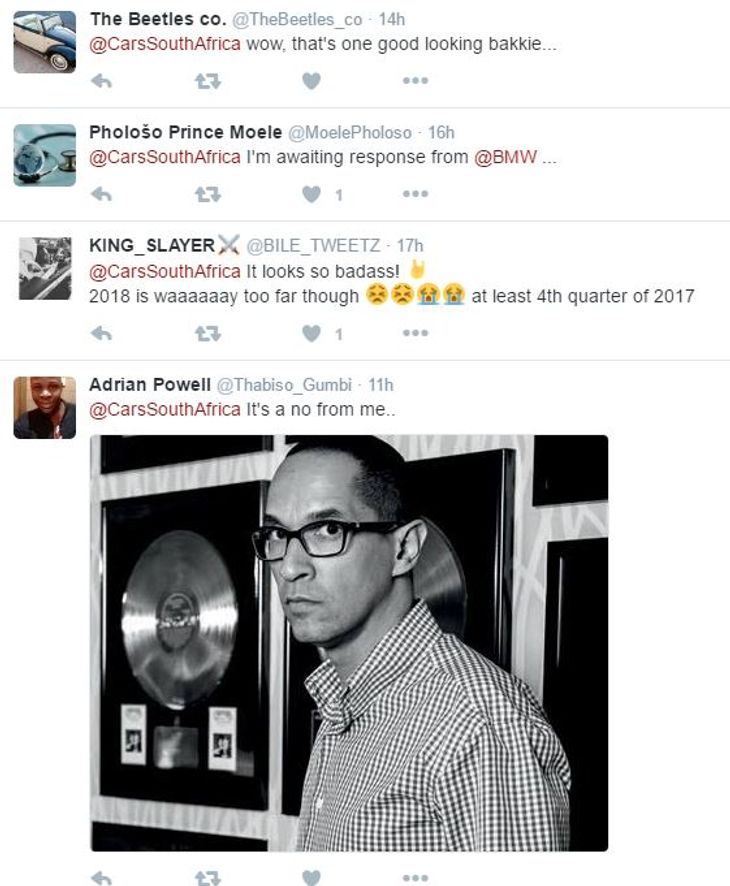 Facebook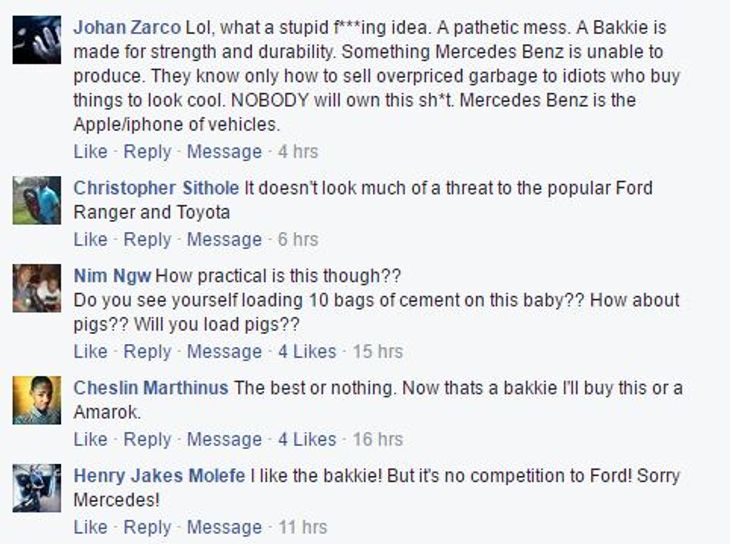 Related content:
Toyota Hilux 2.8GD-6 DC 4x4 Raider Auto (2016) Review
In-Depth Comparison: New Hilux vs Ranger vs KB vs Amarok (video)
Toyota Hilux vs Ford Ranger vs Isuzu KB vs Volkswagen Amarok (2016) Comparative Review
Drag Race: Hilux vs Ranger vs Amarok vs KB
2016 Toyota Hilux vs Ford Ranger – Offroad & Review
Ford Ranger 2.2 XLS 4x4 Automatic (2016) Review
Extended Test: Ford Ranger 3.2 4x4 Wildtrak [with Video]
Ford Ranger 3.2 4x4 Wildtrak (2016) Review
5 Cheapest Automatic Double-Cab Bakkies in SA
5 Most Fuel-Efficient Double-Cab Bakkies in SA (2016)
Want to buy a Mercedes-Benz?