Pricing and specification details of the all-new Mercedes-Benz S-Class have been announced ahead of the vehicle's showroom arrival in South Africa.
The S-Class represents the pinnacle of the Mercedes-Benz product line and apart from being an important part of the brand's history, it also serves as the spearhead, as it were, for showcasing the latest and greatest technology currently in Merc's arsenal.
This is important because the technology that's infused in the S-Class, will likely find its way into the next generation of the brand's extensive model lineup. What you see here is likely to be adopted by the all-new Mercedes-Benz C-Class - due for reveal towards the end of February 2021.
From what we can see on the local Mercedes-Benz website, the new S-Class will be offered with a choice of two engines. The S400d 4Matic is the entry-point into the S-Class family and features a 3.0-litre turbocharged 6-cylinder diesel motor. It produces 243 kW and 700 Nm, and power goes to all 4 wheels via a 9G-tronic transmission. When it comes to economy, a consumption figure of 6.7 - 7.1 L / 100km has been claimed. It's not sluggish either, with a claimed 0-100 kph time of 5.4 seconds.
The second engine is petrol-powered. Sadly the S500 is no longer powered by a throaty V8, but rather a turbocharged 6-cylinder unit. It produces 320 kW and 520 Nm, and Merc claims a 0-100 kph of just 5.1 seconds. It's a tad thirstier with a consumption claim of 8.0 - 8.5 L / 100km.
Being an S-Class, the list of standard features and technology is impressive, but a quick glance at the options list turned up some interesting items. For R76 700, the AMG Line is available, giving your S-Class some exterior styling and some cabin trim upgrades. Given the S-Class reputation for being a chauffeur-driven vehicle, the same-named package for R18 200 gives rear passengers more comfort.
The vehicle comes with 19-inch wheels as standard, but options up to 21-inch are available. If you find yourself not satisfied with the level of luxury in the Mercedes-Benz S-Class, then look to the Maybach derivative.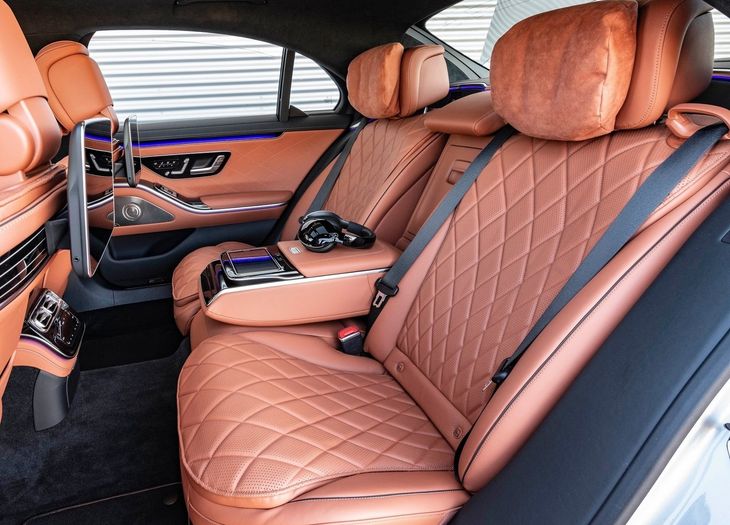 We're pretty sure this is the best place to experience the Mercedes-Benz S-Class.
Mercedes-Benz S-Class Price In South Africa (February 2021)
Mercedes-Benz S400 4Matic R2 413 360
Mercedes-Benz S500 4Matic R2 428 840
Further Reading
New Mercedes-Benz S-Class Revealed
2021 Mercedes-Maybach S-Class Brings New Levels of Luxury