Mercedes-Benz has been building the world's benchmark first-class sedan – the S-Class – for decades... and its superiority has hardly ever been challenged. Given the plethora of features incorporated in the W223 model, is the newcomer little more than a rolling tech showcase, or is it still the best in the business? Michael Taylor reports.
The Three-pointed Star has rarely produced a so-so S-Class; Benz aims to set new standards of automotive luxury with each new iteration of the model. Safer, more luxurious, more technologically advanced, more user-friendly, more intuitive and faster than it has ever been, the W223 is unquestionably the world's best grand saloon and its pilots will have every right to look down on Audi A8 and BMW 7 Series drivers. Here's why...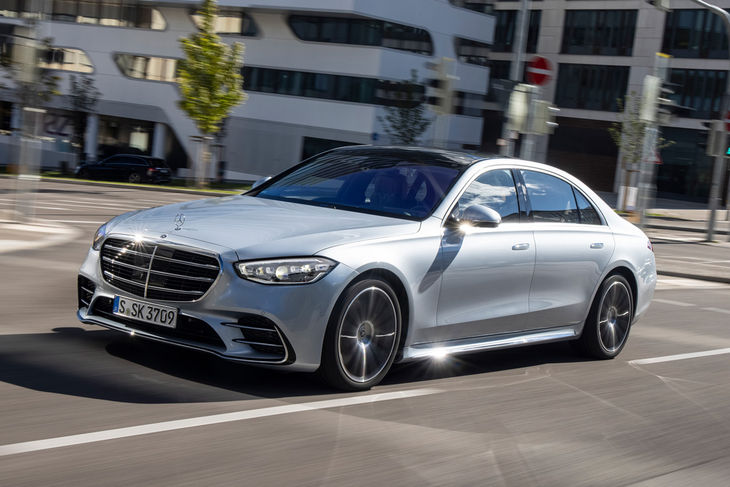 Although the S-Class seems extravagant in a time of austerity, it blends technology and comfort better than any of its peers.
Aesthetically speaking, the W223's shape represents a welcome throwback to a time when the flagship Mercedes-Benz carried a clean design that didn't age through its flashy details. It's an awfully big car, too, though it hides it well. It's well beyond the 5-metre barrier, at 5 289 mm, and it's broadened out to 1 954 mm, too. That means it's 34mm longer, 55 mm wider and 12mm higher than the outgoing S-Class.
It would seem discussions over the front-end styling are dominated by Mercedes-Benz's refusal to do anything as crass as putting its Three-pointed Star in the S-Class's grille, probably because a clumsy black plastic rectangle of a radar receiver is already there.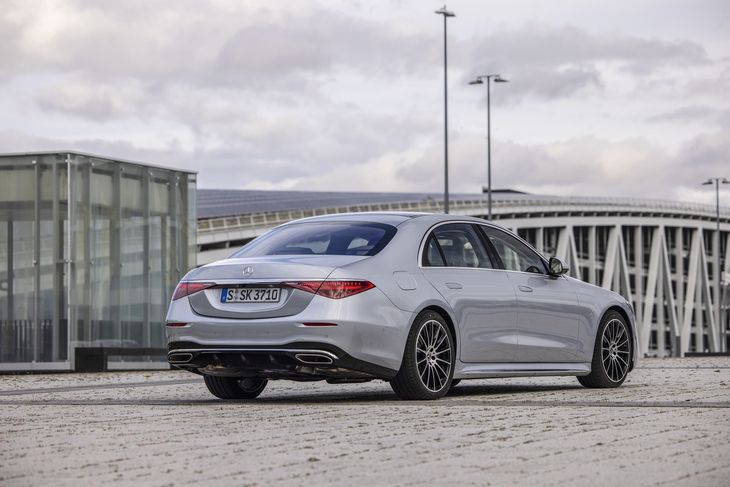 Like with every unveiling of a new S-Class, chatter inevitably turns to the sedan's styling; the W223's lines are quite unfussy.
There will initially be five S-Class variants, ranging from the S450 and S500 petrol-powered in-line sixes to three turbodiesels, from the S350d to the S400d. The brilliant V8-engined S580 and the 100 km of pure-electric range from the plug-in hybrid S580e will join them midway through next year, although we add that the South African line-up has yet to be confirmed.
The boot capacity is a practical 550 litres (30 litres more than in the outgoing car) and you won't be surprised to learn that the interior is, well, everything Mercedes-Benz can currently manage in terms of luxury and technology...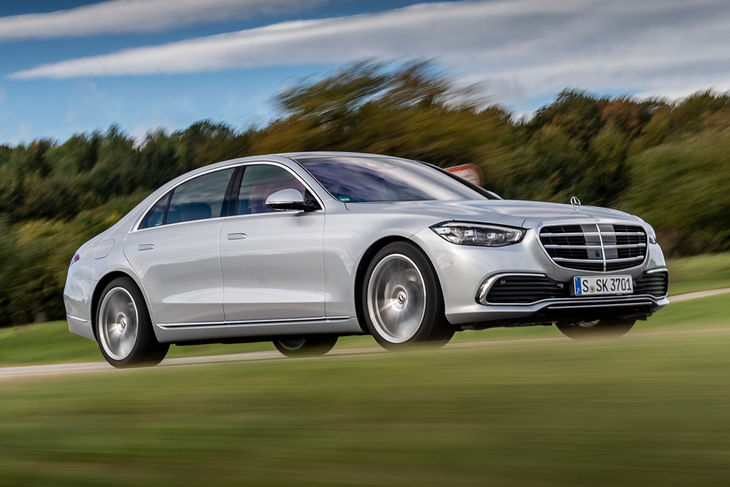 The S-Class' adaptive air suspension has achieved new heights of dynamism, but also of bump absorption – it glides!
At the international launch in Stuttgart, we drove 4 versions of the S-Class: the S450, the S500, the S580 and the plug-in hybrid S 580e.
The entry-level derivative is hugely impressive, the mid-range S500 is usefully faster and the S580, well, is simply a divine piece of engineering. All of these are part-electrified (more commonly known as "mild hybrids"). All 3 cars feature an integrated starter generator (ISG), which uses a 48-volt electric system to harvest/regenerate energy from the braking system and help the engines with pull-away and overtaking acceleration.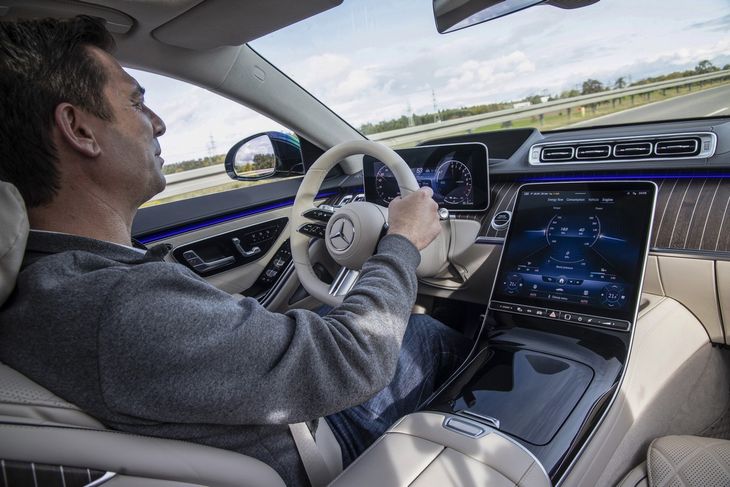 In future, instrument panels will be exactly that – thin rectangular tablets perched atop the dashboard.
This allows Benz to use smaller combustion engines. The S450 – a quality machine with more technology than we can possibly hope to cover here – is powered by a 270 kW/500 Nm version of Benz's 4.0-litre, in-line 6-cylinder engine, which is mated to the ISG at the front and a 9-speed automatic transmission in the middle. It's also the only petrol-powered S-Class available with rear-wheel drive.
It's quicker than it has any right to be, too, ripping from 0 to 100 kph in 5.1 sec on its way to a limited top speed of 250 kph.
The S500 is more of the same, with exactly the same powertrain, boosted to produce peak outputs of 320 kW and 520 Nm, and it slips under the 5-second barrier to record 4.9 seconds to 100 kph.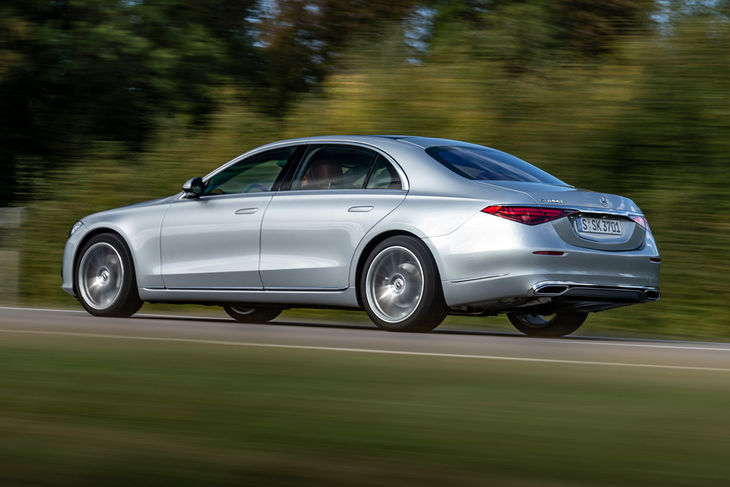 The V8-engined S580 remains the star, but the even the "entry-level" S450 delivers refined, unflustered performance.
Then there's the big boy, complete with a 370 kW/700 Nm 4.0-litre AMG-sourced V8 and mated to a 2nd-generation ISG, worth 15 kW and 180 Nm.
There are no figures on the S580 yet (for either acceleration or fuel consumption) and the only safe bet is that the derivative is electronically limited to 250 kph, but it feels like a low four-second car from standstill to 100 kph.
The gorgeousness of the S580 isn't power and speed, though it has clearly more than enough of both. It's so smooth, luxuriant, indulgent and sophisticated to drive that it just feels entirely in keeping with the rest of the S-Class's engineering.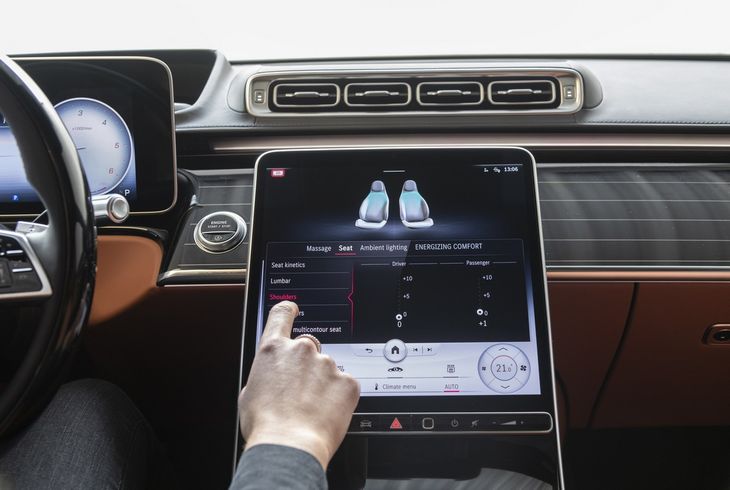 Mercedes-Benz realised that to give its infotainment screen maximum size/functionality, it had to stand proud of the fascia.
It's an engine that begins quietly and stays that way. Although the exhaust note is beautiful when the motor is tasked with producing bursts of speed, it remains a relatively quiet one, lest it intrudes upon the ambience of the cabin...
It's not just the engine that's pouring on the honey, but the chassis. The adaptive air suspension system irons out basically every road imperfection up to 60 kph, then does its best to steamroll the rest. It can lean into corners – no, not exhibit body roll, slant like a motorbike – leading to cornering speeds that are downright ludicrous in a car like this, and it's all an incredibly unflustered experience.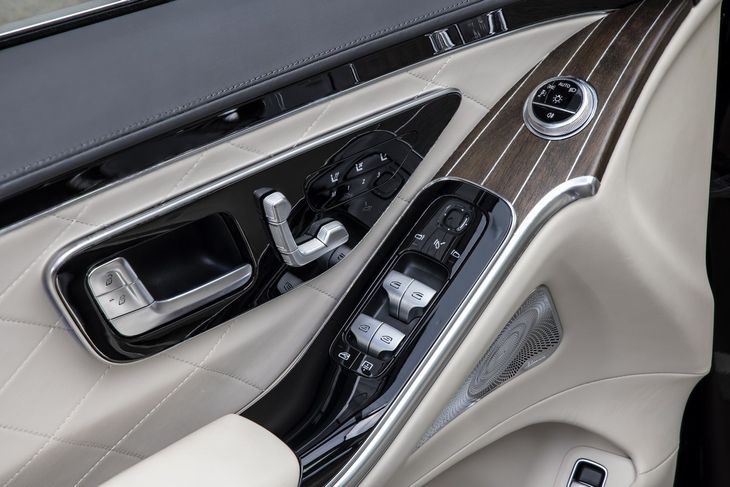 Stitched leather, metallic switchgear and gloss black inserts create a sumptuous ambience; note the redesigned seat controls.
Then there's the rear end, where the new rear-wheel-steering option delivers 10 degrees of turn, slashing 2 metres from the turning circle, but also adding a whole new level of agility and stability on the road.
There is nothing the S580 does poorly (other than using an oddly squishy, 2-step brake pedal arc), although the transmission can sometimes catch itself for the occasional jerking downshift when it's being driven quickly. The mild-mannered S450 is, oddly, less convincing, and so is the S500.
Inline-6 sound less than sonorous
The straight-sixes, so wonderful in other Benzes, feel coarser and harsher here, especially in their exhaust notes (cue sniggers from BMW loyalists). To put it another way, the 6-pots delivered gingham instead of the S580's underlying carpet of silk, though their performances are strong. The S450 is strong enough in the mid-range to make me wonder why anyone would prefer the S500 above it, to be honest.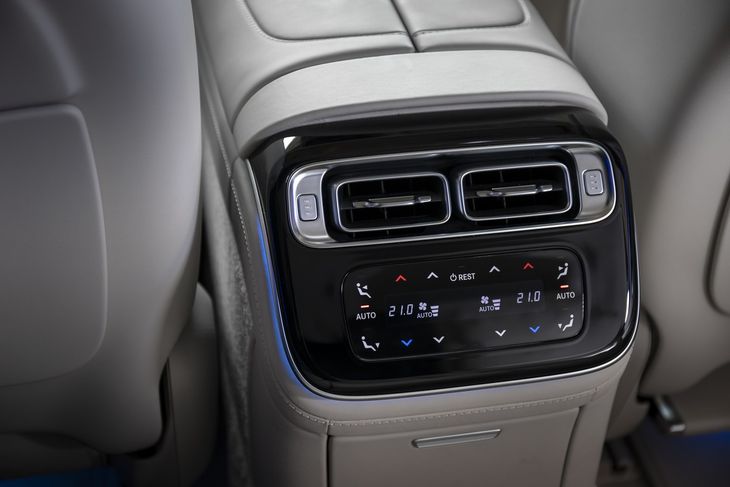 Four-zone climate control is a must-have in an S-Class; note the ambient LED lighting around the control console.
The rest of the S-Class seems to be an exercise in integrating disparate cutting-edge technologies that could have gone horribly wrong, but didn't.
There are at least 20 new active safety features. The rear seats can be optioned with their own front airbags. The adaptive suspension raises the body just before a collision, to take the hit on the strongest part of the chassis. Even the seat bolstering shoves passengers away from any collision.
It has two front radars with 130 degrees of "vision", a long-range front radar, a pair of rear radars, a front-facing stereo camera, a 360-degree camera and 12 ultrasonic sensors.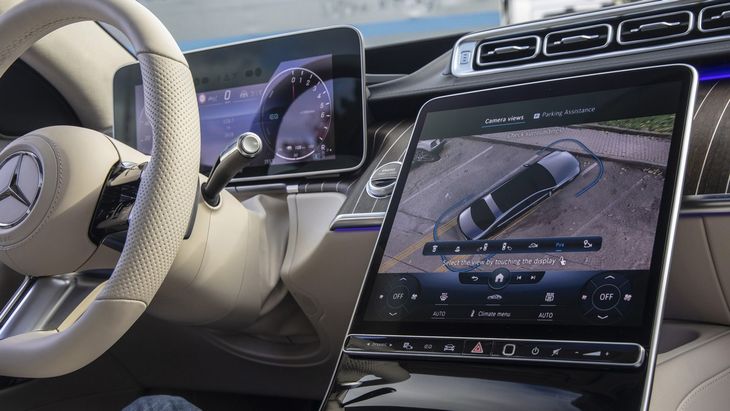 A pair of radars, a slew of cameras and a dozen ultrasonic sensors ensure that the S-Class has great visibility.
What's more, by late next year there will be optional Level 3 driver assistance, where you just push a button and the car does the rest, but only up to 60 kph (as per an incoming EU rule). There is even the option of Level 4 in special situations, like in suitably updated car parks, where you can just leave the S-Class and walk away while it trots off to find and occupy a parking space on its own.
The instrument cluster has been upgraded with the option of 3-dimensional displays and augmented reality has found its way into the head-up display. And what about occupant comfort? The seats can be optioned up to carry 19 motors each, which offers ranges of longitudinal, height, angle, backrest and head restraint adjustment to seat cushion depth and even (for the front passenger) heel support adjustment.

The flagship Benz model offers rear seat occupants ample legroom, but much adjustability and creature comfort too.
It takes tech from the previous range further in that there can be 4 vibration motors to massage each body in each seat, five fan motors, a motor for the lumbar support and another one for the adjustable side bolsters. It's just absurdly comfortable and complicated without ever feeling complex.
Intuitive user interface
This all sounds awfully gimmicky, but it works – and works beautifully. The car is almost stunningly intuitive to use after 10 minutes to familiarise yourself with it, then you dive through all of the screen options in the large, new multimedia system like you've been doing it for years.
While all of this just works, the key to the S-Class has always been "seamless luxury"... and the new version delivers! This generation of S-Class has used all of its collective technology to charge ahead at luxury and comfort and ease-of-use. It's a genius piece of development management.
If Benz can manage to put some smoothness back into those 6-cylinder engines, the car will be almost perfect, like the S580 already is. Expect the S-Class to arrive in South Africa in mid-2021, more details of the line-up, specification and prices will be published as they become available.
Related content:
New Mercedes-Benz S-Class Revealed
BMW 7 Series (2019) Specs & Price