While we await the arrival of the Mercedes-AMG A35 and A45 4Matic, the A250 AMG Line is the most performance-oriented A-Class derivative you can buy. Does it offer enough punch and status to justify its near-R600k price tag?
We like: Impressive ride/handling balance, classy cabin, strong performance
We don't like: Needs a significant number of option boxes ticked
Fast Facts
Price: R596 969 (August 2019, approx. R644k as tested)
Engine: 2.0-litre 4-cylinder turbopetrol
Gearbox: 7-speed dual-clutch
Fuel economy: 6.5 L/100 km (claimed)
Power/Torque: 165 kW/350 Nm
Own a Mercedes-Benz? Tell us about your experience here.
SERIOUS ABOUT BUYING?
Where does it fit in?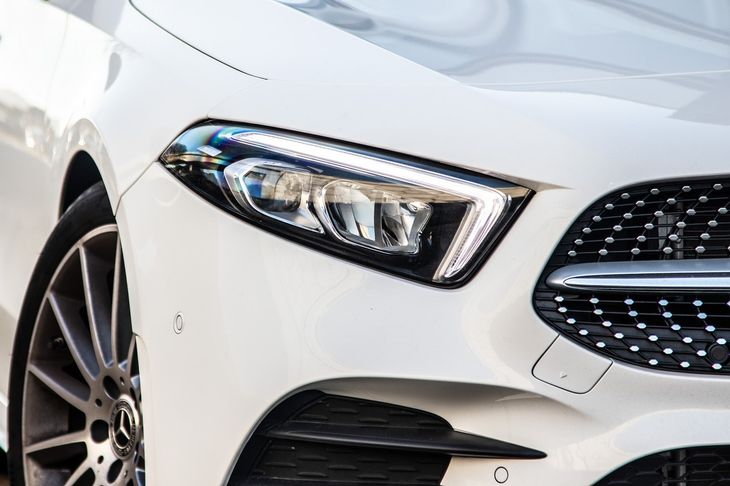 AMG Line specification does a convincing job of making the A-Class look like an AMG model. Nicely done Mercedes...
We've already published pricing details of the upcoming Mercedes-AMG A35 and an international driving impression of the fearsome A45 S. Until those hot- and super hatchbacks land on our shores, however, this is the sportiest A-Class you can buy. Natural rivals to the A250 AMG Line include the outgoing BMW 120i (in Edition M Sport Shadow trim), as well as the popular Volkswagen Golf GTI, which is also nearing the end of its product lifecycle. There isn't really a direct competitor in the Audi A3 stable – the S3 is too pricey and the 40 TFSI is comparatively underpowered.
So, let's just say the Benz is not exactly facing strong competition at this very moment, but even so, does it cut it as a well-rounded hot hatch?
How it fares in terms of...
Design & Packaging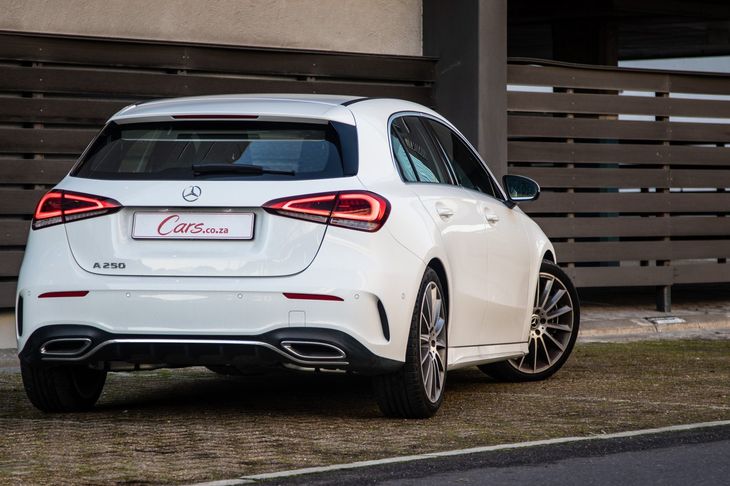 ​
To think the A-Class was once a dowdy MPV... That said, the current A-Class still manages to offer a decent level of practicality.
With its long nose, big wheels and wide-shouldered stance, the A250 AMG Line certainly looks the part. You get 18-inch wheels as standard, but our car came additionally equipped with 19-inch AMG rims that add R14 000 to the asking price. Compared with its lesser siblings, the A250 AMG Line also gets a sportier suspension setup that's been lowered by 15 mm, which contributes to the Benz's hunkered stance.
As its name suggests, the AMG Line trim pack makes the A250 resemble a much pricier Mercedes-AMG derivative (at first glance) by virtue of aesthetic adornments such as the aggressive air inlets/outlets in the front/rear bumpers and the neatly integrated exhaust outlets. LED high-performance headlamps are standard, but you'll pay R6 000 extra for a multi-beam system.
Inside, the A-Class makes a striking first impression with its minimalist fascia design, digital instrumentation and quality surfaces. The standard seats are racy-looking items and the driver's seating position is low-slung, banishing all lingering memories of the 1st- and 2nd-generation "MPV" A-Classes. There a generous range of adjustment on offer from the seat, too, but it happens manually (electric seat adjustment with memory is an R11 600 option). An extendable cushion is included (driver only). The Nappa leather-trimmed sports steering wheel is grippy and looks the part as well.
The new A-Class is admittedly not as spacious all-round as, say, the current Audi A3 Sportback, but that's not to say that it's impractical for the daily commute. Rear legroom is acceptable but it does feel a bit more claustrophobic in the back than in some of its rivals. The load bay is claimed to hold 370 litres, which expands to 1 210 litres with the rear seats folded forward. These figures compare very well with those of the A3 Sportback.
Comfort & Features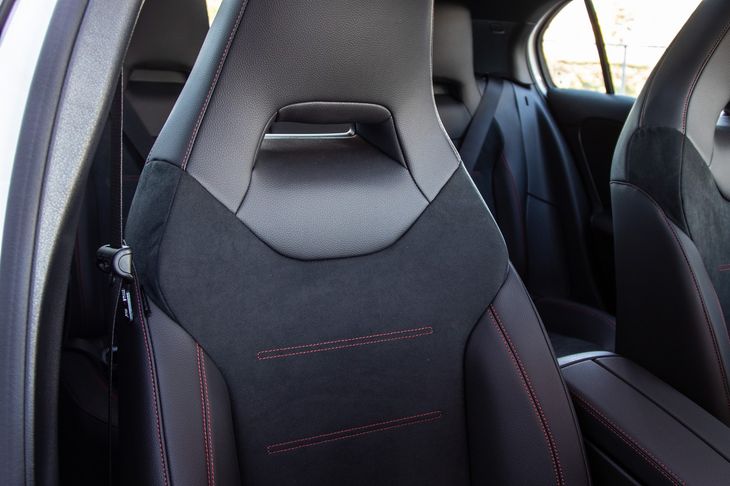 The seats are covered with what Mercedes calls Artico/Dinamica microfibre upholstery. Looks the part, and the seats are grippy.
Let's make one thing clear – you're not getting a sparsely equipped car for your nearly R600k, but at the same time, Mercedes-Benz hasn't exactly been generous with standard features either. We have no problem with the lack of full-leather upholstery (we like the look and feel of the standard trim) and we also appreciate the fitment of items such as blind-spot-, lane keep-, active brake- and adaptive high-beam assist, but we do think that at this price level, dual-zone climate control (a R9 000 option) and a reverse-view camera (R5 500) should be fitted as stock.
Of course, the A-Class cabin's party trick is its MBUX touchscreen infotainment system with integrated voice-command recognition technology. Our test unit had the smaller of the screens offered, in addition to the fully digital instrumentation, and the combination really lifts the "techy" ambience of the cabin and adds a healthy dose of functionality as well. Our car wasn't equipped with embedded navigation (an R8 200 option). We'd be very tempted to tick the box for the larger infotainment display (a R10 000 option) and a Burmester surround-sound audio system (an extra R10 200).
Performance & Efficiency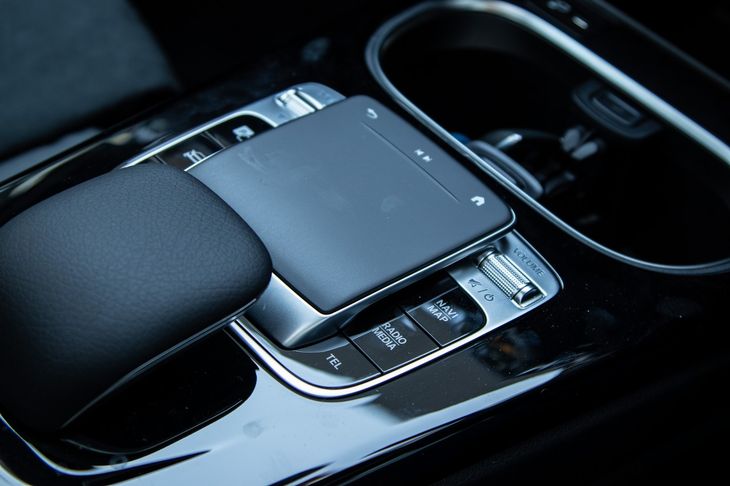 If you don't want to use the voice- or touchscreen functionality, this cluster of buttons and touchpad still offers "old-school" interfacing.
The A250 AMG Line is powered by the marque's 2.0-litre 4-cylinder turbopetrol engine that delivers strong peak outputs of 165 kW and 350 Nm of torque, the latter available from 1 800 all the way to 4 000 rpm. These figures are very much in line with what is offered by South Africa's favourite, the aforementioned Golf (7.5) GTI, and consequently, the performance figures are similar, too. On paper, however, the Mercedes-Benz holds a slight edge, with a claimed 0-100 kph time of 6.2 seconds (compared with 6.4 for the GTI) and an electronically limited top speed of 250 kph. Indeed, this is not a slow car and, compared with its more traditional rivals from Audi and BMW, it's significantly more performance-oriented.
And yet, it is a refined package too. The engine is mated with the brand's 7-speed dual-clutch transmission, a 'box that does a good job of slickly and swiftly selecting the optimum ratio during normal driving, and which also responds fast enough to manual inputs. But while it certainly delivers the shove and possesses arguably class-leading refinement, it does lack a little in the "show-off" department. Volkswagen's vrrr-pha exhaust burbs are by now a desirable characteristic of the GTI, and by comparison, the A250 AMG Line sounds a bit... normal. Then again, the A250 AMG Line is not chasing the hot hatch market as overtly as the GTI; it attempts to offer a combination of swiftness and refinement, which it does very well.
The drivetrain is also pleasingly efficient (given its performance credentials and the manner in which it was driven during our test period). Mercedes-Benz claims a combined cycle fuel-consumption rating of 6.4 L/100 km, which you'll probably struggle to match, but 8.5 L/100 km is a realistic figure.
Ride & Handling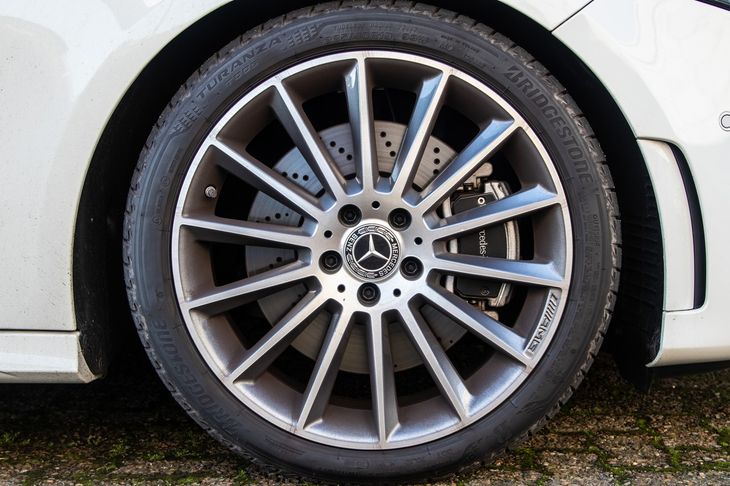 18-inch wheels are standard, but our test unit was equipped with optional 19-inch alloys. An adjustable damping system is also optional.
The current A-Class is offered with 2 rear suspension setups: more affordable derivatives make do with a less sophisticated torsion-beam configuration, but the A250 AMG Line comes with an advanced multi-link setup. While the test's unit's ride was a little noisier than expected – likely due to the firmer damping and lower ride height, combined with wider tyres – the Benz's ride/handling balance proved highly impressive, especially for a performance-oriented compact hatchback. When driven enthusiastically in the twisties, the A250 offers neutral handling characteristics and impresses with its grip and body control, but it never quite becomes playful, which is mostly due to the relatively lifeless, overly assisted steering.
Our car was not equipped with the optional AMG Ride Control (adaptive damping system), which is a R22 400 option. To be honest, we don't think the system is a must-have as the standard setup is pretty good already.
Price and warranty
The A250 AMG Line sells for R596 969 (August 2019), but most buyers are likely to spec-up their cars with a few extras. We've listed some of them earlier in the article, but you might also be interested in keyless entry and start (R9 000), heated front seats (R5 000), dual-zone climate control (R9 000) and a panoramic sliding roof (R15 200). A 2-year/unlimited km warranty and 6-year/100 000km maintenance plan are included.
Verdict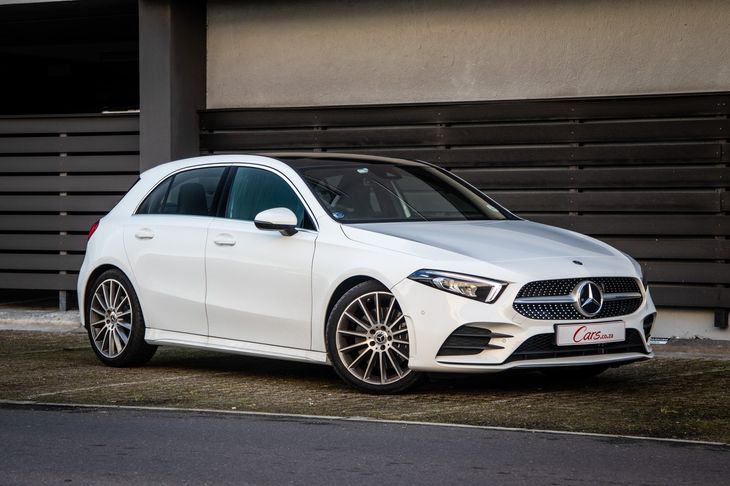 A more accomplished offering than its predecessor, the A250 becomes a tad pricey when you add items that would turn it into a sure-fire winner.
It's quite tricky to judge the A250 AMG Line accurately. Firstly, as the new vehicle market stands, the Benz lacks up-to-date rivals from Audi and BMW, plus some of the optional extras have a significant impact on the overall appeal of the car – as well as its asking price. That said, as tested, the A250 AMG Line drew plenty of praise from the test team for its combination of refinement and performance, the classy cabin (yes, even with the smaller digital screen) and overall design appeal. If you can afford it (and to tick a few option boxes), this is a car that's very unlikely to disappoint.
So, in conclusion... the A250 AMG Line may look like a quasi hot hatch, and it has the performance and perhaps even the agility of a hot hatch, but it's not really a hot hatch. This is a high-performance compact luxury car for those who place design, quality and technology high on the priority list.
Looking to buy a new/used Mercedes-Benz A-Class?
Find one on Cars.co.za by clicking here