The facelifted E-Class arguably lives in the shadow of Mercedes-Benz's recently unveiled all-new S-Class and C-Class models, but that does not mean the local arrival of updated versions of the executive range (sedan, coupe and cabriolet) isn't newsworthy, writes our contributor – #CarsAwards judge Ernest Page.
When I first drove the current generation E-Class (W213) in 2016, the Sindelfingen-based brand's executive sedan boasted the then-new MBUX system (remember the sensational debut of the widescreen cockpit?) and numerous safety advancements, many of which have become mainstays in contemporary Mercedes-Benz models. Now, some 5 years later, the E-Class range has been revised and I had an opportunity to spend some time on the road (and a track) with the various variants. Does the E still have what it takes to compete with the revised BMW 5 Series and the perennially underrated Audi A6?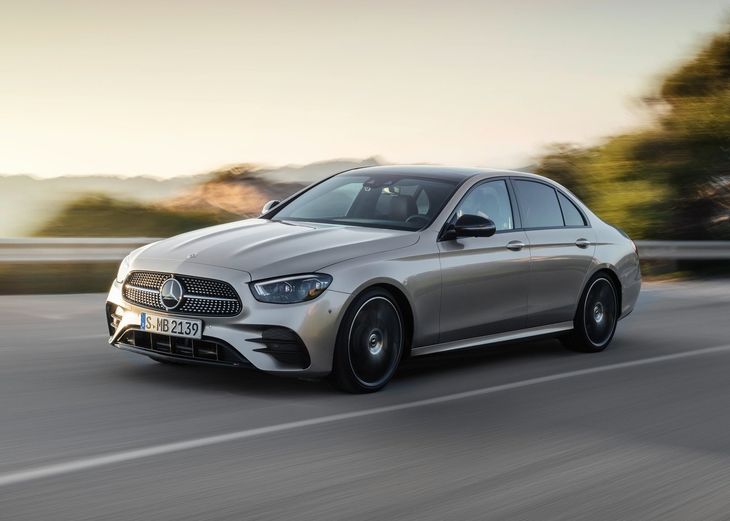 Apart from the E200- and E220d Avantgarde sedan derivatives, the AMG Line package is standard on all E-Class products.
Cosmetic changes across the range
All the derivatives in the extended E-Class line-up now come with redesigned LED headlamps and slightly-revised front bumpers that bear a more-than-passing resemblance to that of the AMG GT sedan. Other than the 2 entry-level Avantgarde versions, the AMG-Line trim level is standard, so signature AMG bonnet bulges, which seem to inspire drivers to pursue imaginary corner apexes, are included.
But to focus just on the sedan for a moment, its side profile looks much the same as before the facelift, although keen eyes will notice the provision of new wheel design options, replete with unusual metal faces, which, according to Mercedes Benz, aids aerodynamic efficiency. At the rear, the tail-light clusters are now 2-piece designs and, of course, features LED lighting elements throughout.
Visually, the E-Class doesn't seem as imposing as when I first encountered it, but then it's always been painfully understated (unless in AMG guise). It still has a sophisticated kerb presence, however.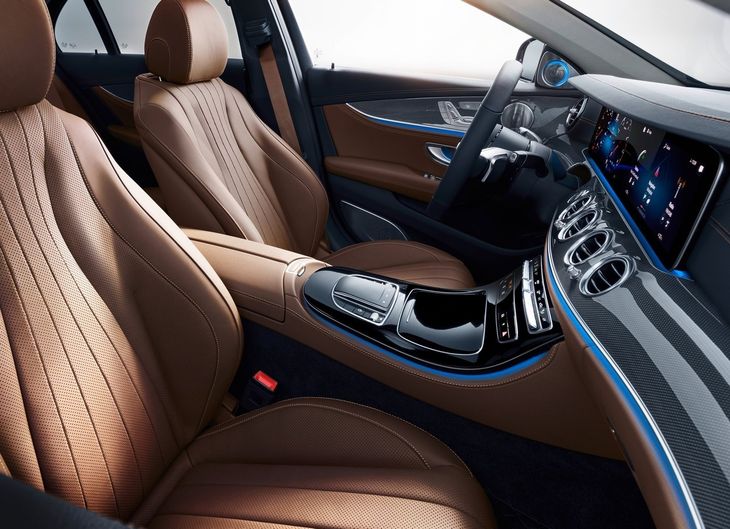 Our contributor strongly recommends trying out the E-Class' energising front-seat kinetics.
Detail interior upgrades
This E-Class facelift technically pre-dates the S-Class, which explains why its newer C-Class sibling's interior looks more like the inside of Benz's new grand saloon. Having said that, the W213's cabin still incorporates notable improvements despite its older architecture. The biggest change is the new steering wheel, which features a new design and a host of haptic buttons. At first, it seems quite a busy design, but once you've figured out all its functions, this new Benz tiller rewards the driver with more than just an improved steering feel. I do, however, wonder if prospective owners will notice the latter.
The new 'wheel also incorporates updated sensors for detecting a driver's presence, by the way. Other features that are newly available include Urban Guard, which offers all-round surveillance of the vehicle when it is parked, Active Tailback Assist, which is another lane-keeping assist system at the driver's disposal, Active Blind Spot Assist, Parking Package and a newer 360-degree camera system.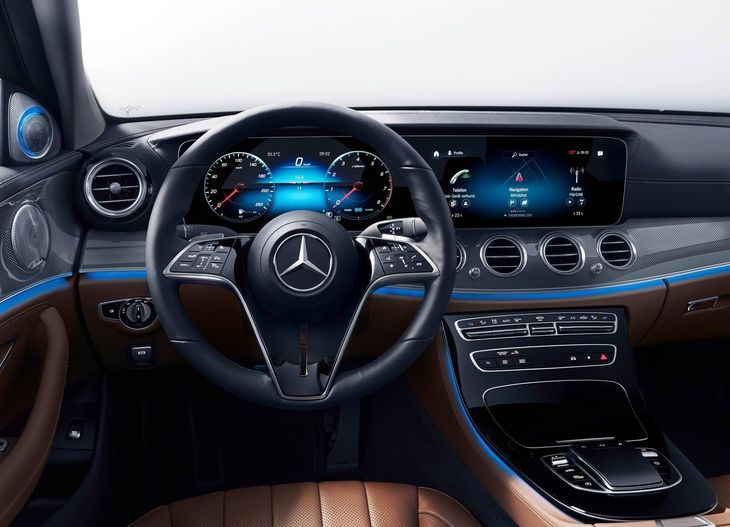 The new steering wheel has quite a sculptural design and it is littered with buttons that offer haptic feedback.
My pick of the new functions is what Benz calls "energising seat kinetics". Ever notice how one can end up squirming around in a car seat on long-distance journeys? The E-Class now does the squirming for you... the seats make minute adjustments and activate the massage function in subtle ways to stimulate the muscles you use while seated. My posterior looks forward to trying it out more in future...
The MBUX infotainment system, meanwhile, now comes standard with 10.25-inch screens, but customers can also opt for the larger 12.3-inch units. The E-Class' now-ubiquitous "Hey Mercedes" voice-control interface has been upgraded to accept additional commands, while new trim options, such as open-pore grey ash wood and aluminium with light carbon-fibre-grain inserts, are available.
On-road performance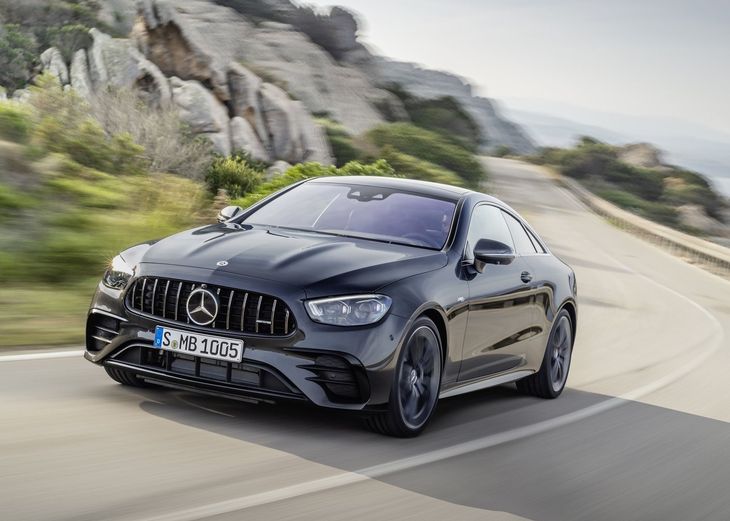 My updated E-Class driving experience kicked off with inner-city trundles in the E300 coupe, E300 cabriolet and 220D sedan respectively, all of which proved eminently comfortable to drive – potential owners will be glad to know that the revised offerings' on-road manners are just as "Mercedes-Benz refined" as can be expected of the brand's luxurious- (as opposed to sportier) derivatives.
Although the cars' steering, brakes and suspension setups can respond to enthusiastic driver inputs with reasonable levels of dynamism, they're most adept at insulating their occupants from road imperfections in an unflustered, refined manner. The E300's 190 kW/370 Nm 2.0-litre 4-cylinder turbopetrol motor delivers super-creamy performance and is ever-eager to deliver bursts of overtaking acceleration. The smaller-engined E220d, although sufficiently powered (143 kW/400 Nm), felt less inclined to respond to throttle inputs with much vigour, which points to its focus on efficiency.
My pick of the bunch was the incredibly stylish E300 convertible, which demonstrated minimal scuttle shake, and remained quite comfortable to drive despite its stiffer AMG Line suspension setup.

On track with the AMGs
Our on-track antics were focused on the respective AMG models. The Mercedes-AMG E53 is offered exclusively in coupe and cabriolet guises; it retains the same thumping 320 kW/520 Nm 3.0-litre inline-6 turbopetrol engine as before and, after doing various activities in this car (ranging from drifting to drag racing, believe it or not), the "53" managed to change my opinion about it! Not only is it an attractive and balanced package, but the coupe, especially, has an ever-so-subtle edgy side to it. Even though its "53" badge might leave some hardcore enthusiasts cold, the E53's very entertaining to drive.
A car that does let its badging do the talking, however, is the E63 S 4Matic+. Make no mistake: Affalterbach's "other super sedan" (after the bonkers AMG GT 4-door) is still a tour de force of a high-performance limousine. It features the same updates as the rest of the range, however, the AMG grille and sculpted bumper are more elaborately styled to create a menacing frontal appearance!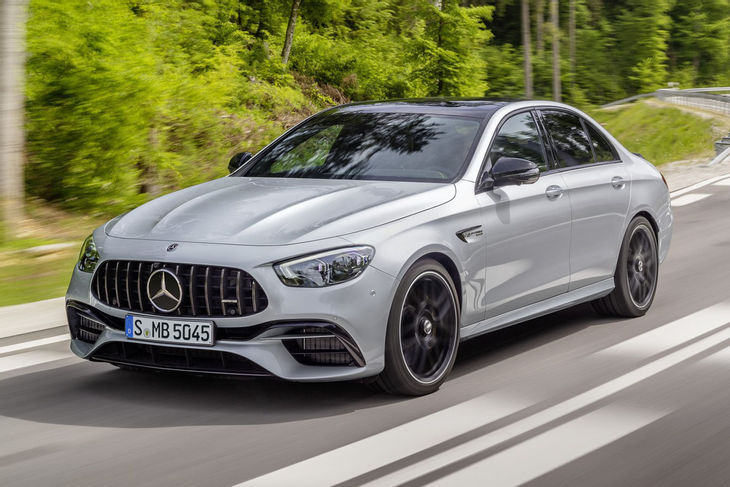 The E63 S 4Matic+ delivers mind-bending acceleration courtesy of its 450 kW/850 Nm 4.0-litre twin-turbo V8, which must be appreciated while it's still in production. The 0-100 sprint is said to take 3.4 sec and professional hooligans (such as myself) can rest assured that Drift Mode is still available, albeit after executing the kind of finger-twisting manoeuvres as you'd see in a Snoop Dogg music video.
Prices & after-sales support
Pricing for the E200 Sedan starts at R920 000, with the range-topping E63 S 4Matic+ retailing for R2 423 000. Prices include a 2-year/unlimited km warranty and 5-year/100 000 km maintenance plan.
Summary
The E-Class might not be Benz's most popular model in South Africa, but it remains a staple for Mercedes Benz in other (and major) markets. Although the SUV-fication of the South African luxury-vehicle segment (heck, most of the passenger-car market) is well advanced, loyal Mercedes owners will be glad to know the E-Class range has been updated, yet remains unchanged in the ways that matter.
Related content:
All-new Mercedes-Benz C-Class Debuts
Mercedes-Benz S-Class (2021) Specs & Price
Audi A6 40TDI S Line (2020) Review