Barring the fire-breathing AMG derivatives, Mercedes-Benz's new plug-in hybrid model, the C350e, is the most powerful offering in the C-Class line-up, and also claimed to be the most frugal. Can the first locally manufactured plug-in hybrid really offer the best of both worlds? Let's find out...
We like: Pure electric works well in stop-start traffic, all the style and sophistication of a normal C-Class, performance
We don't like: Lack of real tax benefit in South Africa, real-world consumption
Alternatives:
A more affordable, similarly powerful option: BMW's equivalent 3 Series model (the 330e) has not yet been launched in South Africa, but is coming to market in early 2017. However, if you want similar performance and even greater real-world fuel economy, look no further than the 330d. It is priced from R708 476 in M Sport sports-auto guise, making it nearly R100k cheaper... Read a review of the 330d here.
For something different: There aren't any other plug-in hybrid models of similar size available in South Africa at present (until the BMW 330e arrives), but you may also want to look at the Infiniti Q50 S Hybrid AWD for R736 700. It is similarly powerful, loaded with features and boasts all-wheel drive security, too. But, the dealership footprint is very small...
Something else from the Benz stable?: For nearly the same price, you could consider Mercedes-Benz's excellent new E220d Avantgarde, which offers great refinement and impressive frugality. It may not be powerful enough, however, so if the reason for your considering the plug-in C350e is the extra performance the package offers, you may need to look elsewhere. The E220d Avantgarde is priced at R795 600. Read a comparative review featuring the E220d and BMW's 5-Series by clicking here.

What is it?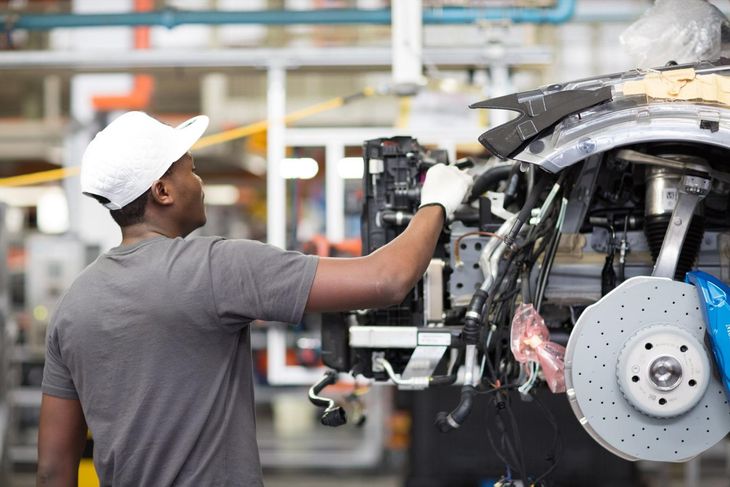 The C350e is the first locally manufactured plug-in hybrid electric vehicle.
The Mercedes-Benz C350e is the first plug-in hybrid vehicle to be manufactured in South Africa (for the local and export markets), and on paper at least seems to offer an unbeatable blend of performance and economy. In fact, it also offers the option of driving some distances (charge and situation allowing) on electricity alone, which will be highly appealing to eco-conscious – and frugrally minded – consumers. As ever, however, the real-world consumption of this product will depend highly on usage patterns and we are confident that very few owners will achieve the claimed figure of somewhere in the region of 2.1 to 2.4L/100 km. But that's only part of the dilemma... while in some countries the C350e's low claimed fuel consumption would realise a healthy tax break, that is not the case in South Africa. Does this mean the C350e is an impressively sophisticated, but ultimately "pointless" vehicle in the South African context?
How does it fare in terms of...
Real world performance & efficiency?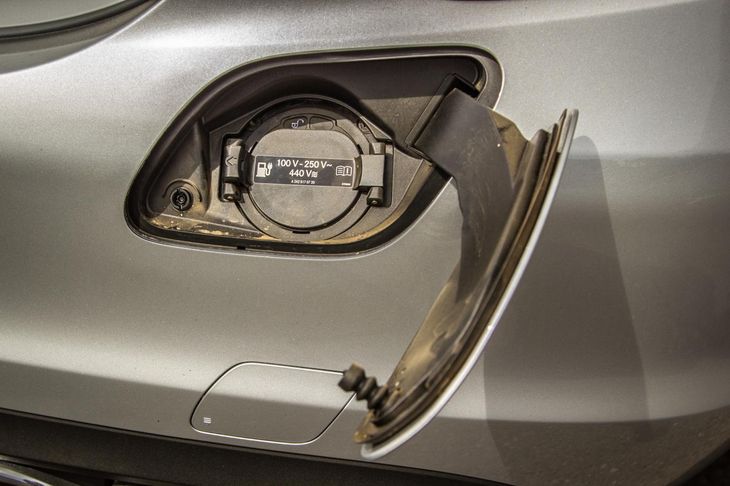 The C350e is charged using this power inlet in the rear bumper. A full charge from a household socket takes about 2 hours.
The C350e's complex drivetrain consists of a 2.0-litre, 4-cylinder turbo-petrol that develops 155 kW and 350 Nm of torque. The electric motor, which is housed in the front section of the 7-speed automatic transmission, adds a further 60 kW and 340 Nm of torque. Mercedes-Benz claims a total combined output of 205 kW and 600 Nm. These figures make the C350e the most powerful C-Class, excluding the AMGs.
The high-voltage lithium-ion battery has a total capacity of 6.2 kWh, weighs a not-inconsiderable 100 kg and is mounted in a sheet steel housing under the rear axle and can be charged at a 230V, 16A, 3.7 kW single phase wall-box in approximately 1h45min. It can also be charged using a domestic socket, in which case the charge time is around 2 hours. The packaging of the battery into the rear of the vehicle has robbed the car of some boot space, and has also raised the boot floor by about 50 mm.
That, in short, is the tech covered. But how well does it work in the real world? Is it as brisk as a 0-100 kph time of 5.9 seconds make it sound? And how realistic is the fuel consumption claim?
To answer in short, you have to really dig into the staggering number of set-up options to optimize the abilities of the C350e. Firstly, there are the driving modes on offer – take your pick from Individual, Sport, Sport+, Comfort and Economy. But beyond those, there are also several settings for the hybrid drivetrain, namely Hybrid, E-mode, E-Save and Charge.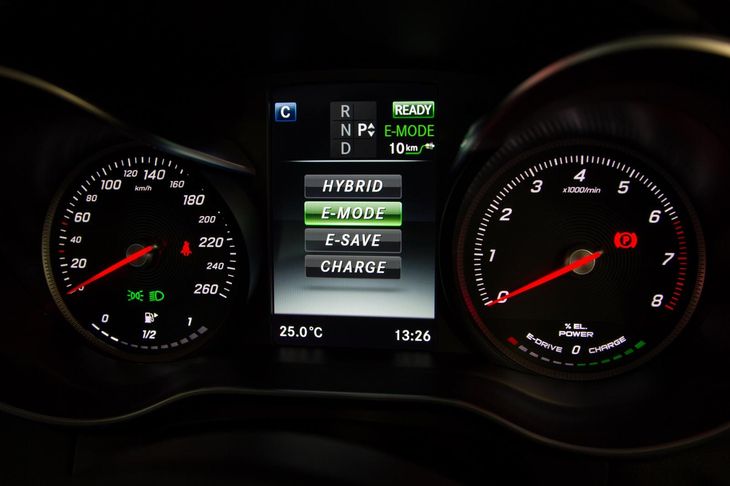 The hybrid system offers 4 modes, with E-mode allowing for driving on electricity alone.
While most economy-minded drivers are likely to leave the car in Comfort or Economy, and select Hybrid mode, you're unlikely to do much better than 8 L/100 km in general driving. To really get the full benefit of the C350e's costly tech, you need to use it in full EV model as often as possible.
According to Mercedes-Benz you can drive for a distance of up to 31 km on electricity alone, and up to useful speeds of around 130 kph. The C350e features a haptic accelerator that, when the C350e is running in electric (EV) mode, lets the driver know when maximum electric performance is being delivered by offering a point of resistance in the pedal. If the driver depresses the pedal beyond the point of resistance, the combustion engine will kick in to provide additional propulsion.
Furthermore, using the car's radar systems to gather data on the prevailing driving conditions, a double impulse from the ECO Assist function will tell you when it is more efficient to take your foot off the accelerator pedal, and then proceed to decelerate the vehicle using a mixture of unpowered (sailing) and energy recuperation – very clever indeed, and especially beneficial in traffic.
If you live relatively near to your office, and mostly face crawling traffic daily, then you could conceivably drive to work and back without ever consuming a drop of petrol. If you have access to a suitable powerpoint at the office (or the shops), you could double your EV range. In this scenario, the C350e makes perfect sense, especially as it retains all the performance capability (and fuel range) of a normal C-Class should you need those qualities... on the weekend, perhaps.
And yes, the C350e is brisk... very brisk. The power delivery is, however, very linear, so you never feel the thump of the torque arriving, as you would in a powerful turbodiesel. It never feels like a car that is overtly performance-oriented.
Comfort and Refinement?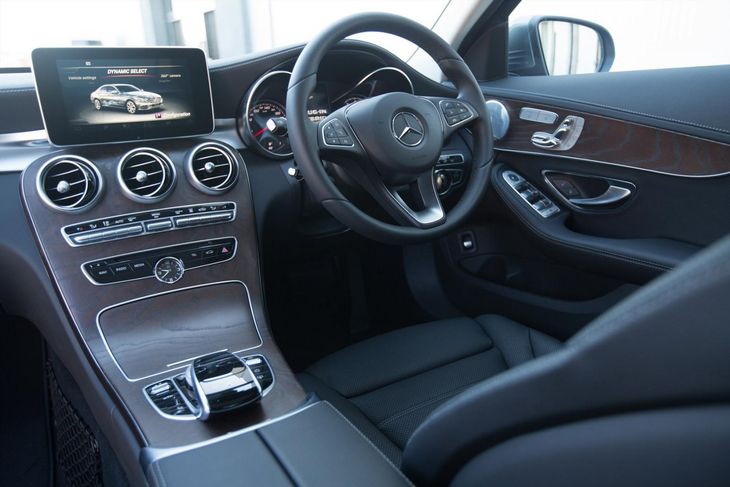 Cabin remains as classy as ever and standard specification is generous.
The C350e is offered in Mercedes-Benz's sporty Avantgarde specification as standard. As ever, however, a variety of optional extras remain available. But with most of the comfort and entertainment items you'll need as standard, extra spend will more than likely be in pursuit of individualisation – static LED or Intelligent LED lighting systems are optional, for example, as are the striking Himalayas grey 19-inch wheels fitted to this test unit.
A standard item on the C350e is Airmatic self-levelling air suspension. This addition in theory should boost ride comfort, but the reality is that it's probably there because the C350e is significantly heavier than its steel-suspended siblings, and Airmatic makes the extra bulk easier to control. Whatever the reason may be for its fitment, the C350e rides very well indeed, always feeling like a refined premium product. In its set-up and specification, it is clear that Mercedes has erred on the comfort side for the C350e, which plays well to the C-Class's inherent strenghts... just don't expect lighting fast dynamic reflexes.
If there is one characteristic, however, that is a blotch on an otherwise copybook performance in terms of refinement, it is the switch-over moment from electric to petrol. Running around in electric mode is so smooth and impressive, that it stands in stark contrast to the initial start-up phase from the 4-cylinder engine, which can be surprisingly vocal and rough.
Another high-tech item fitted to the C350e as standard is the so-called Pre-Entry Climate Control system that can be controlled via the Internet. And if you really want to impress your friends, do remember to tell them that the Hybrid system can be optimised by specifying the exact destination in the satellite navigation system – do this, and the charge and discharge of the C350e's high-voltage battery will be carefully controlled to ensure the optimal use of energy over the whole route.
Pricing & Warranty
The Mercedes-Benz C350e Avantgarde sells for R804 900 and comes backed with a 2-years/unlimited km warranty and 6-years/100 000 km maintenance plan. Service intervals are as per instruction of the on-board computer.
Verdict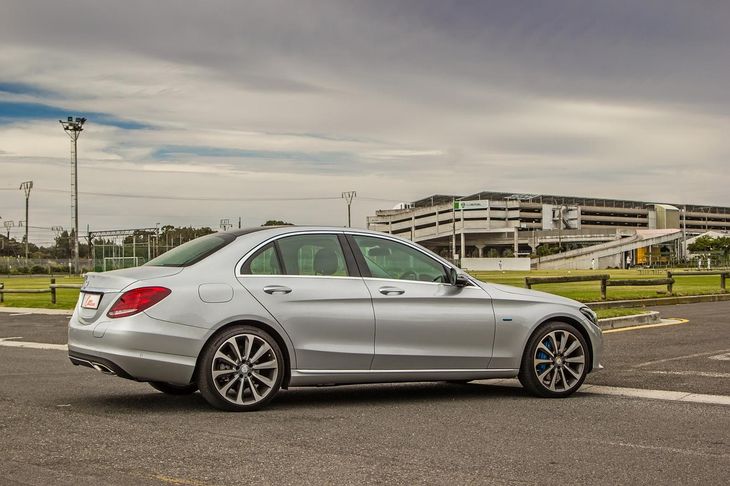 Stylish, sophisticated and clever... the C350e will appeal to first adopters.
We appreciate the technology fitted to this model and do feel a sense of pride that such a sophisticated product is built in our country. The reality, however, is that it is quite difficult to formulate a strong purchasing argument in favour of the C350e. This outcome has little to do with the product, however. In other countries, where vehicles such as the C350e realise a healthy tax break, a plug-in hybrid could make sense. In South Africa this is, however, not the case. And while the turbodiesel argument is a strong one from a product point of view, wherever you are in the world, the reality is that in Europe, specifically, there is a rising anti-diesel sentiment that further plays into the C350e's favour. But once again... this is not the case in South Africa.
So, what we have here, then, is a vehicle for first adopters who can maximise their opportunities for electric driving only. In that (admittedly limited) scenario, it does present an interesting and potentially practical solution to luxury/performance/eco-friendly motoring.
Further Reading
Mercedes-Benz C350e (2016) First Drive
The problem with Electric Mobility
Top 10 Most Fuel-Efficient Cars of 2016
Interested in buying a Mercedes-Benz C-Class?