The Mercedes-Benz C-Class is a multiple award-winner. The C250, for example, was the Business Class category winner in the inaugural Cars.co.za Consumer Awards. We spent some time with the most potent four-cylinder Mercedes-Benz C-Class derivative to see what it adds to the range.
We like: Comfort, prestige, relaxed drive, deceptive performance
We don't like: Can't match the BMW for thrills, scratch-prone black interior trim
Alternatives:
For better build quality and ride: Audi A4 2.0TFSI quattro sport
Despite the new Audi A4 taking its time to arrive, the wait appears to have been worth it. Build quality and ride refinement are exceptional, plus the interior is exemplary. While we haven't yet sampled this C300-matching and range-topping model with all-wheel drive, the rest of the A4 line-up appears excellent.
For more flair: Jaguar XE 25t
Jaguar's XE is arguably the best-looking vehicle in this bunch and satisfying to drive, but although the engine delivers good punch, it's not particularly frugal and the Jag affords the least rear occupant space in its segment. The final nail in the coffin is the price: it's R100k more than the equivalent Mercedes-Benz.

For more driver involvement: BMW 330i
BMW has been at this premium sports sedan game for 40 years and the latest iteration of the 3 Series certainly delivers. Despite the fact that the BMW's interior lacks the visual glamour of its rivals, it's still excellent to drive and boasts an impressive engine line-up.
Compare the Mercedes-Benz C300 to the BMW 330i and Audi A4 2.0T here
Where does it fit in?
Mercedes-Benz and BMW's respective C-Class and 3 Series have the most comprehensive of line-ups. In an effort to offer something for everyone, there is a multitude of engine options available. In the case of the former, the range begins with the more, shall we say "value-oriented" C180 and goes all the way up to the Mercedes-AMG C63, which is ideal of for scaring yourself and your family senseless. There's the excellent C250 which offers a great blend of performance and economy, too. A new arrival to the family is this C300, which will soon be joined by an all-wheel drive C450 AMG Sport.
Check out the entire Mercedes-Benz C-Class lineup here
How does it fare in terms of...
Engine and performance?
The previous-generation Mercedes-Benz C300 made use of an old-school V6, but for the new 2016 model, a high-output 2.0-litre turbocharged four-cylinder motor is bolted into the engine bay. With 180 kW and 370 Nm, the on-paper engine outputs seem meaty enough to give this C-Class a sporty edge. This Mercedes-Benz C300 is rear-wheel driven and power reaches these wheels through a 7G-tronic transmission, with paddles located behind the steering wheel.
Mercedes-Benz claims its C300 can hit 100 kph from standstill in 5.9 seconds and go onto a top speed of 250 kph. In terms of economy, it's said to consume just 6.3 L/100km on a combined cycle. During our week-long test we achieved an average of 9.5 L/100km following a test period that included a lot of time spent in heavy traffic and out on open roads.
Ride and handling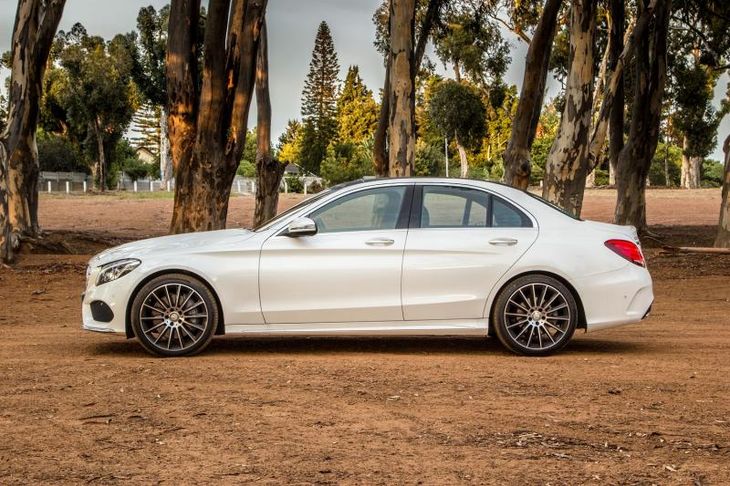 Optional 19-inch AMG alloy wheels improve the C300's stance, but are detrimental to its ride quality.
With some performance credentials under its belt, we were expecting an altogether brisker Mercedes-Benz C-Class. Did it deliver? The short answer is no. Even with Sport+ mode engaged (with the engine and transmission set to their sportiest throttle/shift mapping), it didn't reward enthusiastic driver inputs satisfactorily. The engine sounded strained at its upper reaches, but, to be fair, most turbocharged 4-cylinder motors sound rough when revved hard.
Despite its less-than-sporty engine note, the C300 still felt fast. Glances at the optional head-up display indicated that in-gear acceleration was particularly strong. It may not sound fast, but it is quick in a straight line. Gear changes were sharp too and there was a DSG-esque pop accompanying each shift.
But when you've switched off the Sport+ and reverted to the more traditional Comfort mode, you get the full Mercedes-Benz C-Class experience. It's a professional cruiser and the ride, despite the fitment of low-profile 19-inch AMG alloys, is appreciably smooth. You will feel imperfections in the roads, however.
You have the option of shifting gears with the paddles behind the wheel, but testers found it best to just allow the car's transmission to do its own thing. Upon pullaway and in start/stop traffic the C300 does tend to hesitate in response to staccato throttle inputs, but returns to its slick modus operandi when cruising.
Cabin execution and comfort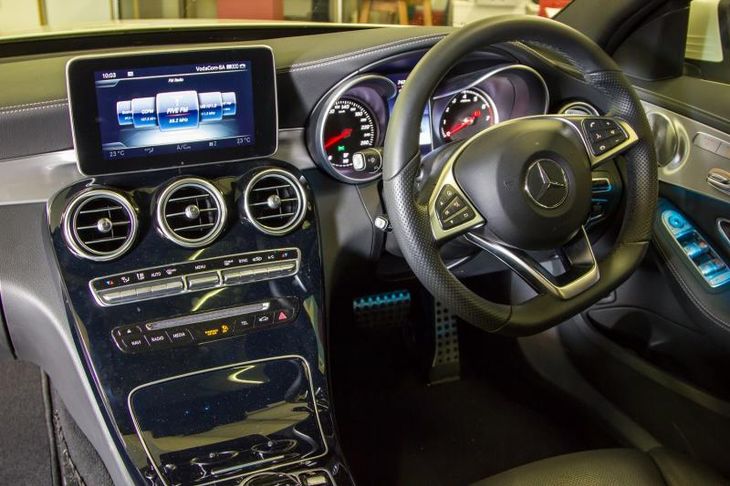 Aesthetically, the C-Class' interior is unmatched in its segment, but the black fascia trim is less than perfect.
The cabin of the Mercedes-Benz C-class delivers comprehensively in the luxury stakes and the interior never feels like anything but a premium place to be. Specification levels are high, which is what you'd expect when paying R600 000 for a vehicle. And, of course, you can open the options book and further enhance your C300… Well worth a tick are the COMAND infotainment and navigation system (R25 900) and Burmester high-end audio setup (R11 000).
In terms of safety equipment the C300 is comprehensively covered. Seven airbags are fitted as standard as well as an array of systems that will keep you safe. You can even specify further safety features if you like, such as the Driving Assistance package plus, which includes Distronic Plus with steer assist, active blind spot assist, active lane keep assist, rear impact warning, BAS Plus, cross-traffic assist, as well as Pre-Safe Plus and Pre-Safe Brake functions.
The front seats are comfortable and supportive, the centre infotainment screen features some smart graphics and the buttons/switches feel like quality. However, the glossy piano black plastic on the centre console shows marks easily and emits a creaking noise when buttons, like Radio and Media, are pressed.
Having said that, the C-Class' boot capacity is generous. At 480 litres, it's on-par with its competitors such as the Audi A4 and BMW 3 Series. You can fold the rear seats down to gain more loading capacity, but you'll pay extra for the privilege.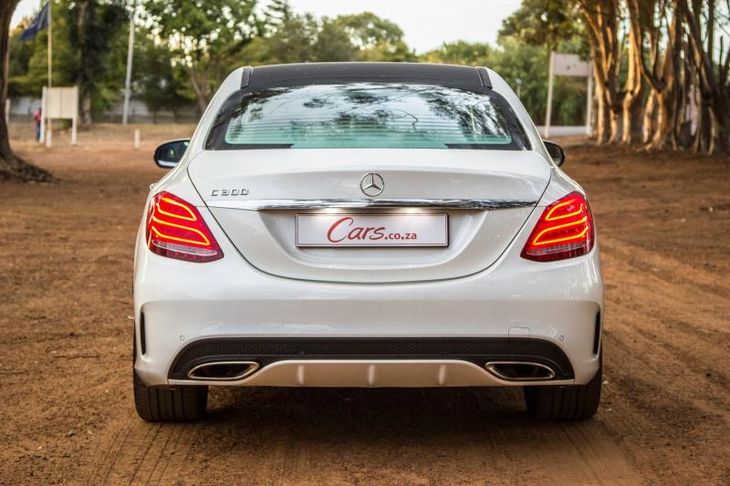 The C300 may no longer sport a 6-cylinder engine, but its integrated exhaust outlets look sporty nonetheless.
Price for the Mercedes-Benz C300 in South Africa
The C300 costs R612 518, which includes a 2-year/unlimited kilometres warranty and 6-year/100 000 km maintenance plan.
Verdict
While the C300 is an accomplished product, it can't match its rivals dynamically. If you're craving a product that will satisfy your inner driving enthusiast then it might be best look elsewhere, but if you want a refined and luxurious drive that's a cut above your stock-standard C200, then this model warrants consideration.
The styling is pleasant, as is the case with all Mercedes-Benz sedans. The cabin is spacious and glamorous, but in this segment the cheap-looking glossy black dashboard that creaks when you push a button is a letdown. Please take a leaf from Audi's Book of Great Interiors, Mercedes-Benz.
If you want even more, but don't want to step into (or can't afford) the V8-engined madness that is the Mercedes-AMG C63, then you'll have to wait for the C450 AMG Sport. Do you need 180 kW from your Mercedes-Benz C-Class? Probably not, which is why you should go for the excellent C250 instead.
Its sportier compact executive sedan rivals ask questions that the C300 can't quite answer. The BMW 3 Series is the ideal choice for those seeking an enthusiastic dynamically pin-sharp product, while the Audi A4 puts them all to shame with outstanding interior build quality and refinement. The Jaguar drives comfortably well too, but rear passengers will feel cramped in the back. How important is dynamic thrills in the real world? That's the question prospective buyers will have to ask themselves. Perhaps you simply want a fast and comfortable C-Class that looks like a superb sports machine? If that's the case and you have the bucks to spend, then the C300 makes sense.
Quick facts about the Mercedes-Benz C300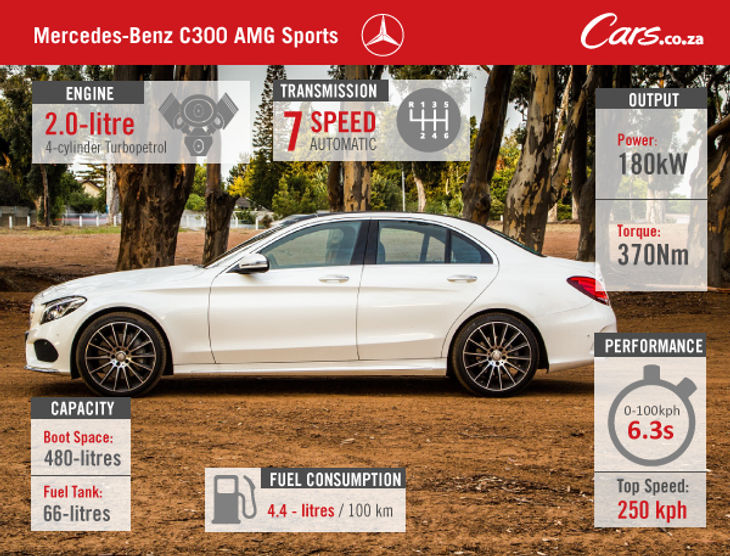 More content:
Spy Shots: 2017 Mercedes-Benz C-Class Facelift
Mercedes-Benz C-Class C250 (2014) Review
Interested in buying a new/used C-Class sedan? Search for one on Cars.co.za