There's a canyon-sized gap between the Mercedes-Benz A250 and the range-topping AMG A45 S and to bridge this gap, the Affalterbach-based performance brand has created the 35 range and carefully positioned it between the two. On paper, the A35's performance looks enticing for those whose budgets can't quite stretch to an A45 S but still want more street-cred than that offered by the lukewarm A250. Is it worth considering the A35, or should you sell your organs and rather go for broke with the A45 S?
We like: Strong and engaging engine, fun to drive, still retains the modern Mercedes-Benz premium look and feel.
We don't like: Firm ride, intrusive tyre noise, pricey
Fast Facts:
Price: R883 000 before options (December 2020)
Model tested: Mercedes-AMG A35 4Matic hatch
Engine: 2.0-litre turbocharged 4-cylinder
Power/Torque: 225 kW/400 Nm
Transmission: 7-speed dual-clutch transmission
Fuel consumption: 7.4 L/100 km (claimed)
Top speed: 250 kph
​Performance: 0-100 kph in 4.7 sec
Serious About Buying?
Check out full specification details and finance estimates
Some Mercedes-Benz dealers regularly offer specials: Look at New Car Specials here!
What is it?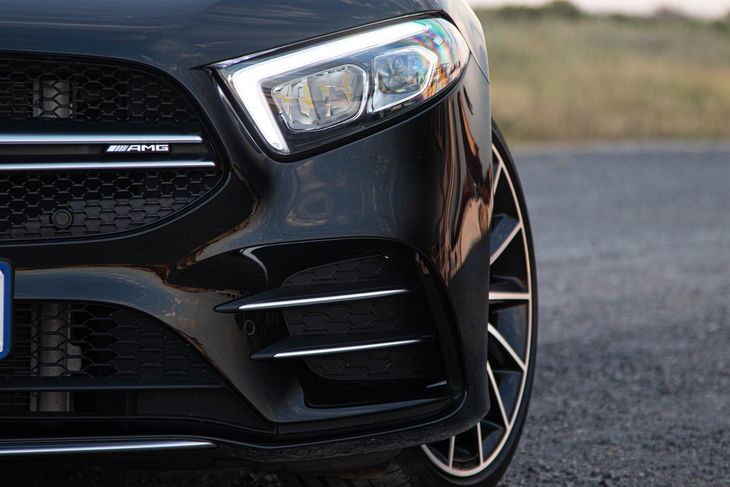 Plugging the gap between the A250 and the A45 S is the A35, and it's aimed squarely at the BMW M135i and Audi S3.
To plug the gap between the 165 kW Mercedes-Benz A250 which retails for R698 240 and the hyper-hatch that is the 310 kW A45 S (R1 156 840), Mercedes-AMG has created the A35. Available in both hatchback and sedan guise, the 35 range also includes the CLA, should you be interested in a slinky sedan coupe. It's not just internal battles that Mercedes-AMG is facing as the rest of the segment has shifted.
Rivals from BMW have neutered its flagship 1-Series, by chopping two cylinders and losing its wild rear-wheel-drive setup in favour of all-wheel drive. The BMW M135i is a match for the A35 in terms of power output, but boasts a smidge more torque. Audi has recently revealed its all-new S3 and it'll touch down in South Africa in 2021, boasting the same power and torque outputs as the A35. Finally, SA's favourite, the Golf R, now in its 8th generation will be landing in 2021, packing 235 kW and 420 Nm, which is expected to set the cat amongst the pigeons when it arrives later in 2021.
Given the pace that the segment is progressing, the Mercedes-AMG A35 must deliver AMG-like performance and Mercedes-like luxury. Does it do this with enough purpose to warrant a purchase?
How it performs in terms of...
Exterior Design & Packaging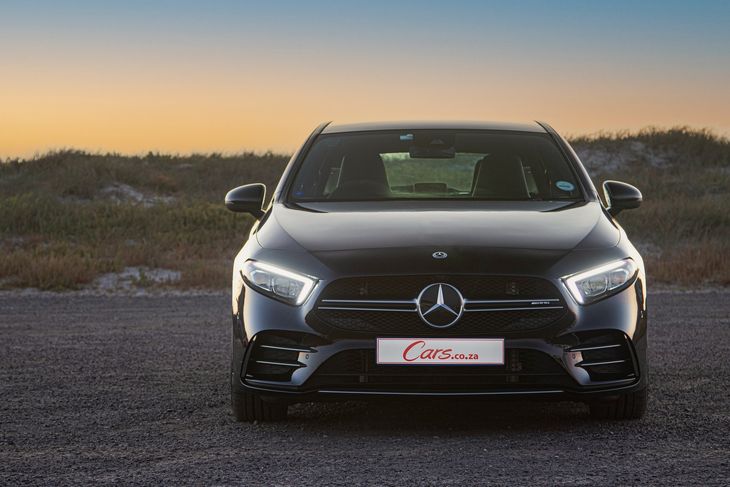 It's no Panamericana grille, but this grille with the AMG badge will have to do.
When petrolheads think of a typical AMG hatchback, perhaps an image that comes to mind is of a car with extraverted amounts of aerodynamic aids. By comparison, our A35 test unit looked remarkably underwhelming. Referenced against the configurator, we noted our test unit was rather barebones, riding on the standard wheels and finished in the standard night black paint. If you're wanting to resemble an extra from The Fast and the Furious franchise, have a casual gander in the configurator where you can get vivid yellow paint, bolder wheel designs as well as the aerodynamic package, complete with splitters and huge rear wing. There are also 4 alloy wheel designs to choose from if you must...
To separate it from both the run-of-the-mill A250 and the full-bore A45 S, the A35 receives an AMG-specific grille. It's not the Panamericana vertical slat grill as that's reserved for the A45 S, but it's enough to give the A35 its own identity. The key tell-tale sign that this is no ordinary A-Class is the twin exhausts at the rear, and given its performance, it's likely to be the view most other road users will see.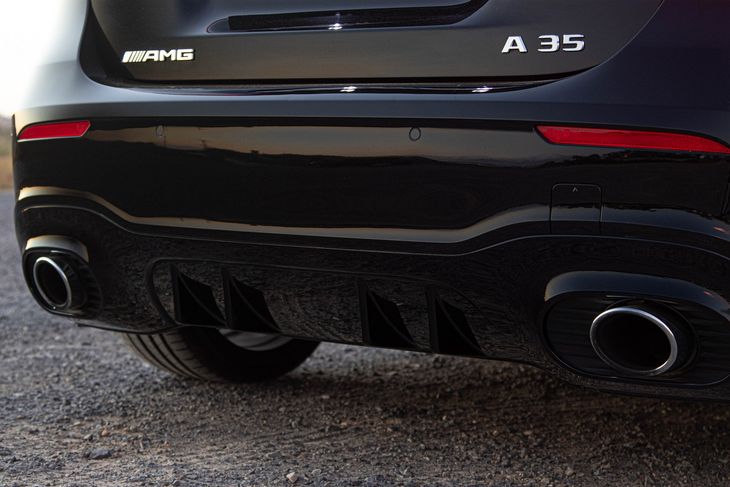 Twin exhausts and subtle A35 badge tell you this is no ordinary A-Class.
Performance and ride/handling
Powering the A35 is a modified version of the Mercedes-Benz's A250 2.0-litre motor. AMG has tweaked it and bolted on a new turbocharger, and outputs sit at 225 kW and 400 Nm putting it squarely in the middle of the segment. Our test unit featured the Race Pack telemetry system (R4 700) that allows for lap time recordings as well as performance analysis and measurements. On a long, deserted straight road, we put the system to the test and dialled up the race start function.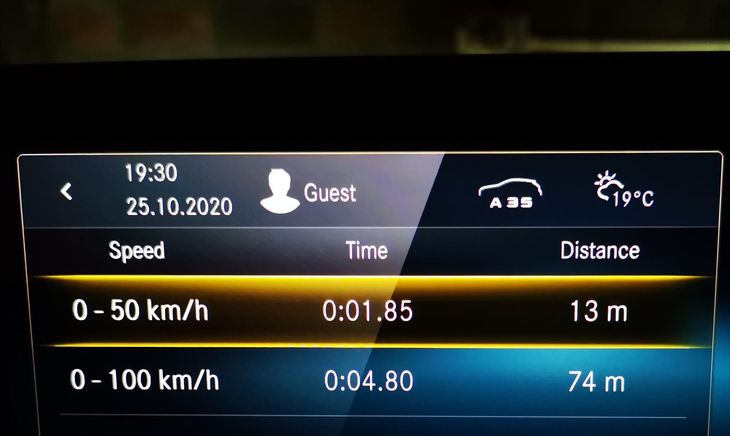 It's refreshingly easy to operate too, with a simple turn of the steering-wheel dial to Sport+. Left foot to depress the brake and hold the vehicle in position, right foot to bury the throttle all the way. A cute graphic appears and the engine revs climb. Release your left foot to unleash all 225 kW and 400 Nm onto the tarmac. Boom! The A35 scoots off the line with minimal hesitation and in just 4.80 seconds, 100 kph was reached. AMG itself claims 4.7 secs so this was a great result on the first attempt. What's really impressive is the first-generation A45 from 2013/2014 boasted a claimed 0-100 kph of 4.6 seconds, and we would bet the new A35 would run the older model very close in a straight line.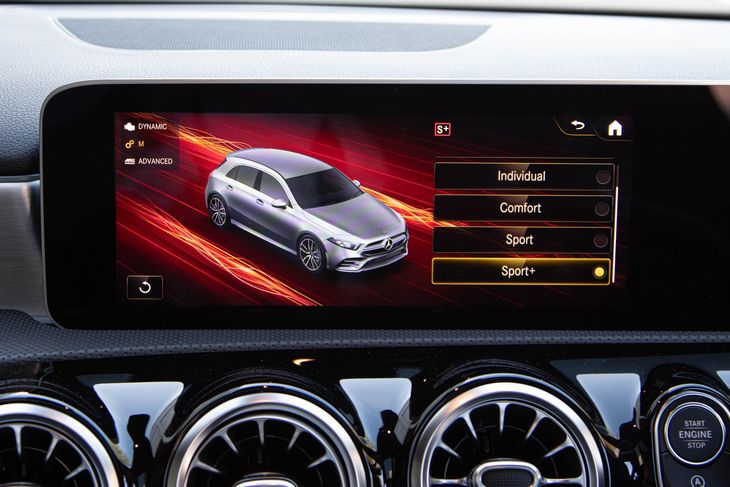 With the engine in its most dynamic setting and the gearbox set to manual, the A35 is confidence-inspiring and fun to drive in the twisties
Throw some corners into the mix and the A35 delivers some predictable fun. The 4Matic all-wheel-drive provides excellent levels of grip, but with the car in Sport+, the powertrain cleverly sends a bit more shove to the rear axle in an effort to dial out understeer, typical of all-paw performance vehicles. For those who aren't confident when pressing on, the A35 will give you an ego boost when you throw it into some mountain passes as the whole process is entirely manageable and you're not going to encounter any nasty surprises. You'll run out of bravery long before the A35 loses stability.
The steering is accurate and direct but ultimately could benefit from a bit more feel This, however, is a criticism we level at nearly every performance car these days. Try to drive a BMW M240i in the same manner and you'll be fighting the car's stability control as the rear wheels step out.
The dual-clutch transmission has been tuned by AMG too, and delivers quick shifts that give you a thump in the back. The paddles themselves have a lovely tactile action and feel. With each shift in Sport+, lovely pops and bangs are heard out the back. Speaking of sound, the engine has a pleasant growl to it. Tired of the noisy shenanigans and don't want to upset your neighbours? Simply turn the driving mode dial back into comfort, the exhaust flaps close, and the car reverts to its default setting – merely a premium hatchback doing an average commute.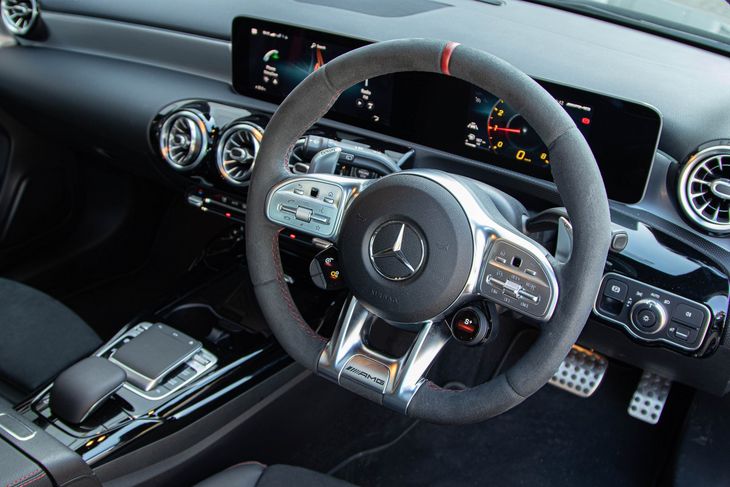 Despite lacking the full MBUX experience, the cabin is still an exciting and technology-laden place to be
Downsides? The Mercedes-AMG A35 has a firm ride, which is to be expected, but its rivals have more comfort and refinement dialled into them. While we all dream of driving these fast machines at pace to our heart's content, they still have to fulfil their primary role of transportation and a level of everyday comfort is necessary. It's adequate, sure, but you will feel those rough corrugations on the tarmac. There's also a considerable amount of road noise, even on the standard wheel setup. For additional comfort, Mercedes-AMG does offer adaptive dampers as an option for R24 000.
Interior execution and features
As we've mentioned, our test unit was curiously devoid of optional extras. Common practice from the German OEMs is to load the media demonstration units to the hilt with every conceivable option, so testers can evaluate all the tech. When we encounter a car that's not fully loaded, we assume there's been a mistake. In the case of this A35, this assumption was unfair as you're still getting a considerable amount of standard features which you'd expect in a premium product with a price tag of over R800k. Stepping inside, you'll notice the AMG steering wheel which is both a joy to look at and hold. New to the car are the rotary mode selectors, which we've spoken about above. Now it's quicker and easier to simply turn these to toggle settings like engine modes, start/stop on and off as well as activating gearbox manual override. These dials also contribute to the overall sportiness of the interior and give the driver the impression that you're driving something special.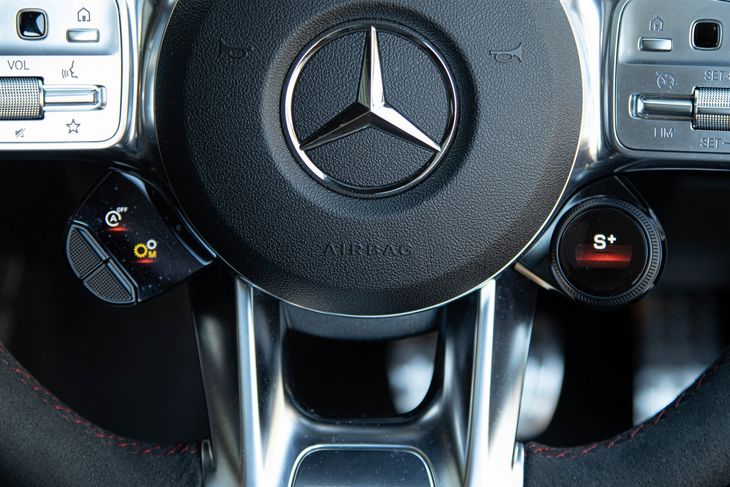 These dials are game-changers and we won't be surprised to see many other manufacturers adopt similar switchgear.
The next eye-catching cabin feature is the MBUX digital infotainment system. Granted, our test unit didn't have the full 10.25-inch display, but there are enough graphics, modes and settings here to keep most tech enthusiasts happy. Annoyingly, the vehicle comes with two USB-C ports, which will require an adaptor to allow your phone to be connected to the vehicle and make use of the Apple CarPlay/Android Auto. Our test unit came with a wireless phone charging pad (R3 600 option) but we think it's worth it. The vehicle also features the digital assistant, which is quite useful if you need to execute a specific task. Shouting, 'Hey Mercedes, temperature to 20 degrees.' is likely the quickest way to get the climate control into action without lifting a finger.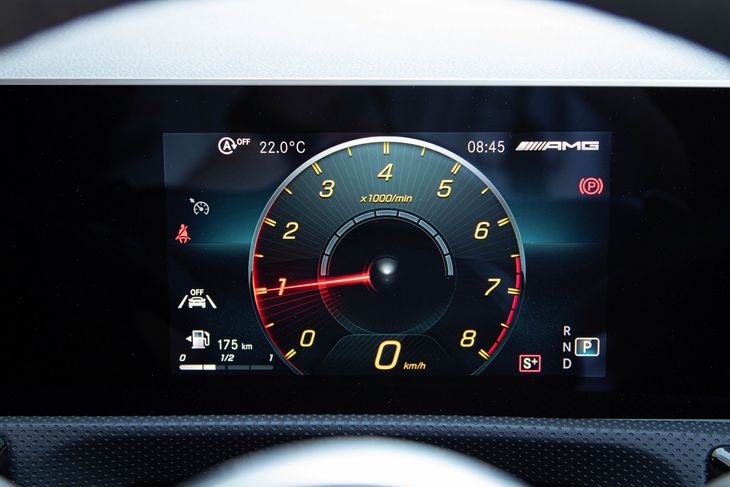 The basic MBUX features customisable themes and all the info you'd need is delivered on a crisp and colourful display.
Our test unit featured the standard sport seats which are both comfortable and supportive, and really embrace the sporty theme with the red seat belts. Mercedes-AMG offers a number of seating options, but if your budget allows, we'd go for the full bucket seat experience complete with heating and electronic adjustability, for R61 000. In terms of practicality, rear legroom is a tight squeeze, but we'd happily sacrifice that in favour of a substantial and spacious boot, something which the A35 does boast.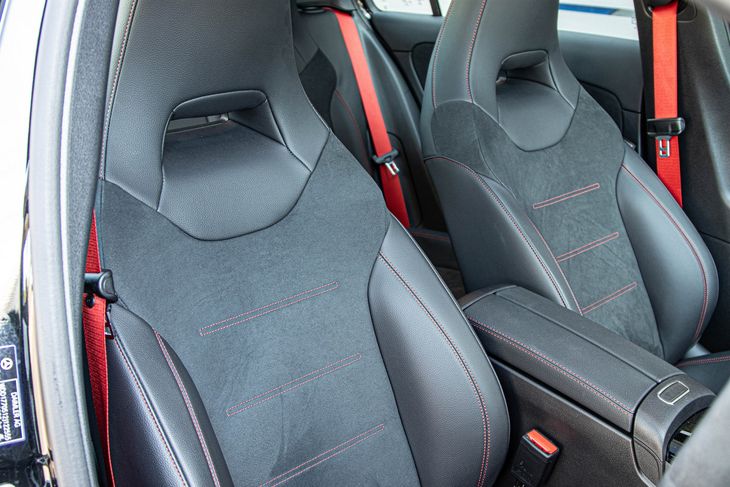 Sporty seats with red seatbelts? Yes please!
Price and after-sales service (December 2020)
The Mercedes-AMG A35 hatchback retails for R883 000 before options, and there is a sedan model available for R890 520. The vehicle is sold with a 2-year/unlimited km warranty and a 5-year/100 000 km maintenance plan.
Browse for a new or used Mercedes-AMG A35 on Cars.co.za
Verdict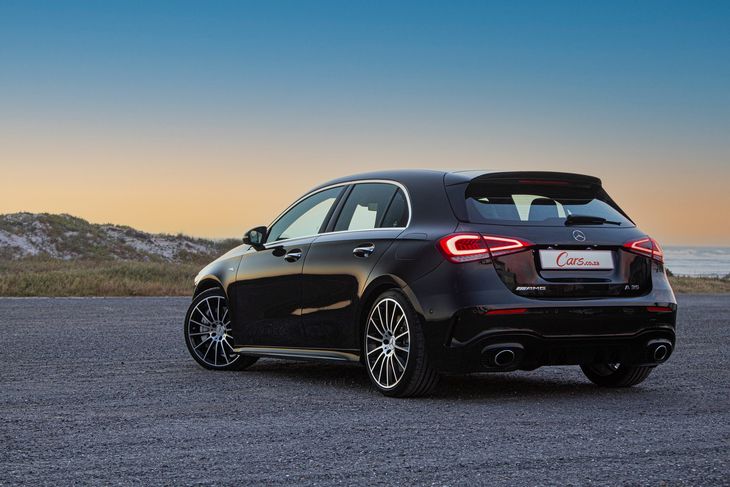 This is the cheapest way to get an AMG product in your driveway and petrolheads can take comfort in knowing this is no tarted-up A250. While the engine may not be one of those fabled handbuilt units that Affalterbach is known for, AMG has still worked its magic and the motor delivers significant thrills. Let's not forget AMG's hard work in other areas either, like the gearbox software, the suspension and the brakes. If you're not keen on following the masses and going for the current shape Volkswagen Golf R and don't want to wait for the newer model or its Audi S3 sibling, then the A35 offers an attractive balance between performance and luxury. Having driven the BMW M135i and Audi S3, we'd say the Mercedes-AMG A35 has both licked terms of engagement and thrills. It feels exciting and engaging to drive quickly, which is not something that can be said for the BMW and Audi but they do however pip the A35 in terms of ride comfort.
We've come to know AMG as a power-crazed brand, but the A35 doesn't echo this ethos. Instead words like predictable and safe come to mind, but there's still credible performance to satisfy the average motorist. Plus, if you choose your options carefully, you can create a vehicle that has every comfort and convenience feature ticked. You could go all out and make your A35 resemble an A45 S, or go the subtle and stealthy understated look like this black test unit...
Should you buy one? If you're someone who is wanting to tick those performance and luxury boxes in one easy move and don't require the additional space that an SUV can offer, then the A35 is an easy sell. Or is it? As we near the end of 2020, the first A45 S units have started to appear on Cars.co.za and other listing sites and we estimate that 6 months from now, we're going to be seeing the price of low-mileage hyper hatches move into the same bracket as fully-loaded new A35 units. Decisions, decisions...
Related content:
Mercedes-AMG A35 4Matic (2019) International Launch Drive
Mercedes-AMG A35 4Matic Sedan (2020) Launch Review
Mercedes-AMG A35, CLA 35 (2020) Specs & Price
Volkswagen Golf R (2021) International Launch Review