Powered by Maserati's first in-house-designed engine in 20 years, the new carbon fibre-tubbed and butterfly-doored MC20 is powered by a twin-turbo 3.0-litre V6. It utilises its lightweight body and advanced aerodynamics to accelerate from standstill to 100 kph in less than 2.9 sec and on to a top speed of 325 kph.
Like the now discontinued Alfa Romeo 4C, the MC20 is packaged around a carbon-fibre monocoque (this one was developed in partnership with racing-car builder Dallara), which Maserati has designed to underpin not only this version of its newcomer (the coupe), but future roadster and electrified variants of the car as well.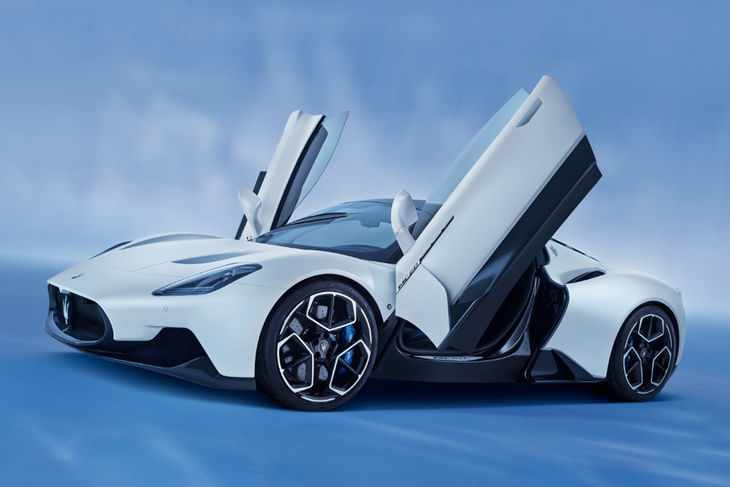 In an era in which aerodynamic addenda can make a car's design look fussy, the MC20 is sinewy and eminently elegant.
The Maserati's beautifully simple exterior design, which references the revered MC12 hypercar, is the work of FCA chief designer Klaus Busse as well as the result of more than 2 000 man-hours in the Dallara wind tunnel and more than a 1 000 computational fluid dynamics simulations. The brand's Trident sits in the low, wide grille, while large air intakes sit beneath restrained LED headlights. At the back, slim, elongated LED tail-light clusters accentuate the car's width, while a pair of exhaust ends protrude below and to either side of the number plate just above the diffuser.
The aerodynamic addenda are very subtle. The MC20's sculpted front end incorporates a system of vortex generators and its fully-encased floor gradually rises in the centre. Channels behind the front wheels effectively push the front axle downwards, while door-sill ducts channel air to cool the motor and the rear diffuser and discreet spoiler utilise the up-washed air to create downforce.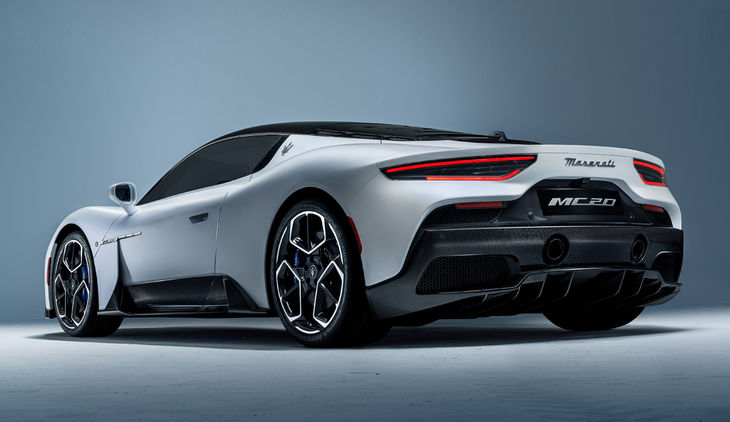 You can see the side-sill vents and elaborate rear diffuser in detail from this angle.
Meanwhile, the Maserati's twin-turbo 3.0-litre powerplant utilises twin-combustion and F1-derived pre-combustion technology to produce peak outputs of 463 kW at 7 500 rpm and 730 Nm of torque from 3 000 to 5 500 rpm. Named the Nettuno, the motor is, according to the Modenese brand, the most powerful 6-cylinder petrol engine in production with a specific output of 157 kW/litre.
The highlights of the motor's construction are: pre-combustion chambers placed between the respective primary spark plugs and conventional combustion chambers, additional side spark plugs that facilitate smooth combustion when the use of the pre-chamber is not necessary (it reminds of twin-spark technology of Alfa Romeo's of yore), as well as a dual (indirect and direct) injection system, which, in combination with the fuel-delivery pressure of 350 bar, lowers mechanical noise at low rpm and contributes to reduced fuel consumption/emissions.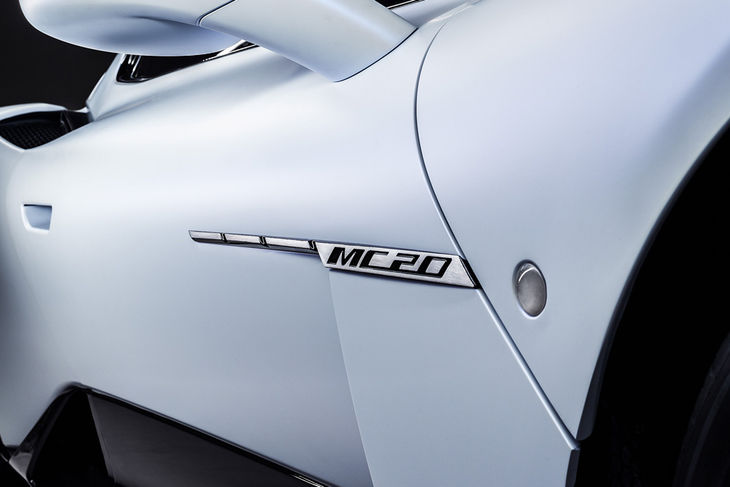 In MC20, MC is the abbreviation for Maserati Corse – or Maserati Racing ­– while the 20 refers to 2020.
The MC20's motor is mated with an 8-speed wet dual-clutch transmission, as well as a limited-slip diff. Thanks to the liberal use of carbon-fibre composites in its construction, the Maserati tips the scales at under 1 500 kg, which gives it a weight/power ratio of 2.33 kg/hp, the firm says. Thanks to a drag coefficient of under 0.38, the car's said to sprint from 0 to 200 kph in under 8.8 sec.
Meanwhile, the newcomer's adaptive suspension features double wishbones fore and aft, replete with a virtual steering axle; Maserati says 97% cent of the car's dynamic development was done digitally, but the brand has begun a road-and-track testing programme to refine the car's handling feel.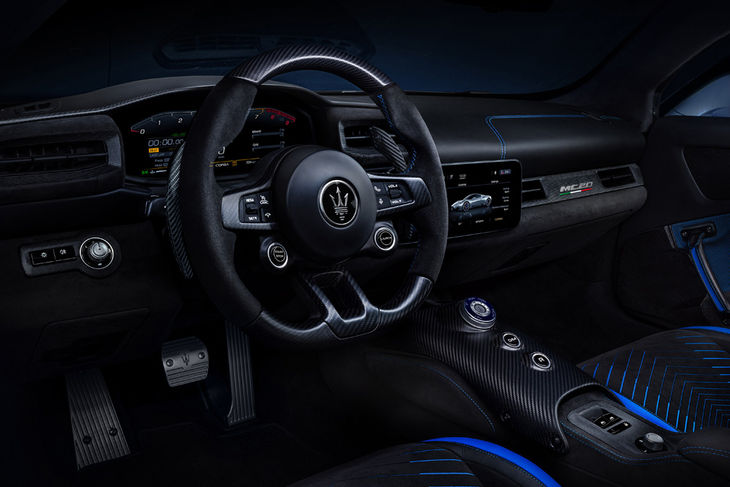 The Maserati's cabin is sporty, but not overly so. There is no shortage of carbon-fibre and the switchgear is marvellously ornate.
Inside, the MC20 is sportily-clad in leather and Alcantara with bright contrast stitching and no shortage of carbon-fibre finishes, especially on the steering wheel (which is endowed with large paddle shifters) and centre console, where drivers can switch between Wet, GT, Sport and Corsa drive modes via a rotary switch. There are also buttons to select automatic/manual and reverse.
There is a pair of 10-inch screens in the cabin – the digital instrument cluster and a touchscreen multimedia system (it is said that drivers can connect to the car through a phone or watch app), while a wireless charging pad and multimedia control console are provided and connectivity services include web-based navigation, Alexa and a wifi hotspot.
The MC20 will be produced on new production line has been created at the Viale Ciro Menotti plant outside Modena (where the GranTurismo and GranCabrio cars used to be assembled). We'll bring you details on the newcomer's expected date of arrival in South Africa (as well as pricing info) as soon as they become available...
Related content:
Maserati Sedans Gain Ferrari V8s
Ferrari Roma launched in South Africa
Novitec cranks up power, volume of F8 Tributo