The less-than-elegant exterior styling – and outlandish name – of the Bentley Bentayga have set tongues wagging, but that may be immaterial to buyers who crave the most luxurious and refined luxury off-roader in the world. Our UK-based correspondent, Andrew Frankel, investigates...
Why do they make it so difficult? Before you can settle into those large deep chairs, and appreciate the best panoramic view ever afforded by a closed Bentley, you have to first be happy to tell people you drive a Bentley Bentayga, and second, be prepared to put up with a shape that is both stunningly lacking in presence for a car of its size and woefully short of the beauty that for too long failed to be a hallmark of Bentley design.
It gets in the way. I know it shouldn't, because my job is to tell you how this car drives and what it might be like to live with, not waste precious words bemoaning its looks and curious name (which you are as qualified to judge as I am), but to me, it all forms part of the picture.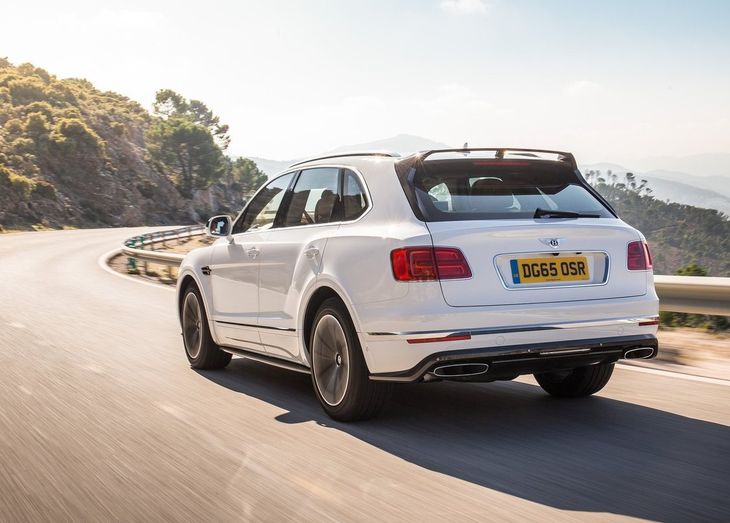 Despite its polarising styling and hefty asking price, the Bentayga is in high demand.
However, I find the potentially still larger, albeit philosophical, stumbling block concerning what on earth Bentley thinks it's doing building an SUV somewhat easier to negotiate. In fact, it doesn't bother me at all, and for two reasons. First, it's not as if Bentley has spent its entire existence building lightweight 2-door sports cars, as did Porsche at the time of the introduction of the Cayenne. Second, the Cayenne business model shows that far from damaging great brands, these SUVs have such high margins and sell in such vast numbers, that their enormous profits mean that more money can be spent on perhaps more "proper" models than would otherwise have been conceivably possible.

Why do you think Porsche makes a broad range of GT models – Cayman GT4, 911 GT3, GT3 RS and soon GT3 R – and sell more of them than ever before? Because it can afford to. Thanks to its SUVs, Porsche is the most profitable car company in the world: even before the introduction of the Macan, the Cayenne outsold every other model combined all by itself.
So, I have high hopes that the Bentayga's success (demand for which is so great that Bentley has already upped production from 3 600 units per year to 5 500) will result, at the very least, in the Speed Six 2-seater being built, a car that promises to be the most entertaining Bentley production car since Rolls-Royce stepped in, saved the company, but spoiled the fun back in 1931.
Is it a true Bentley?
Elsewhere, journalists will obsess about the fact that the Bentayga shares a wheelbase and a few substructures with the Audi Q7 (as will the next Porsche Cayenne). The Continental GT was pointlessly lambasted for its even looser links to the VW Phaeton, so it's reasonable to assume the same will happen here. Ignore them: what matters is that the moment the massive door heaves shut behind you, this thing feels like a Bentley.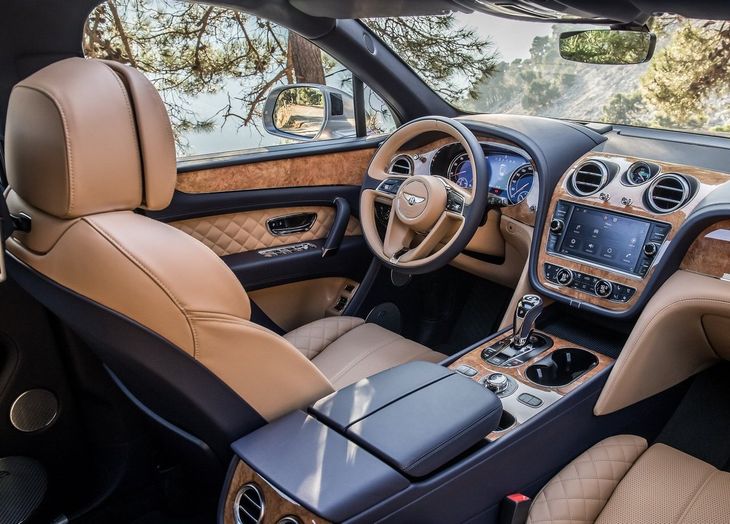 You won't be left wanting in the Bentayga. Its interior is sumptuously equipped and the fit and finish is top-notch.
Scrutinise the wood, the leather, the chrome, the fit, the finish and the options list (our Bentayga test unit came with over R1.3 million worth of new goodies, that's almost enough (if sacrificed) to put a brand new Porsche 911 in the garage next to it. In this regard, it's as worthy of the wings as any Continental GT or Flying Spur ever was.
Supremely powerful
It sounds like a Bentley, too. As per the modern vogue, the Bentayga is being launched in "top-down" fashion, so while there is a 298 kW V8 turbodiesel and a similarly powered V6 hybrid on the way, the only Bentayga for sale right now has the full-fat 6.0-litre twin-turbocharged W12 motor under its bonnet. Although it retains the same external and internal dimensions as the engine that first appeared in a Bentley in 2003, the company claimed not a nut, screw or bolt has been carried over. It has 447 kW and 900 Nm of torque on tap, which sounds impressive, but it's an uncommonly lazy output for the forced induction engine of a high-performance car these days.

Then again, not only will the Bentayga gain extra power when Speed models come along (as they most assuredly will), for now it doesn't need it. More counter-intuition is needed here, because when I tell you that, at 2 400kg, the car is actually relatively light, you might splutter into your cornflakes. But thanks to its predominately aluminium construction (it accounts for almost all the body and underlying structure save areas where, for safety, high tensile steel is required), this massive SUV is lighter than the convertible Continental GT. It's lighter too than a Cayenne hybrid, and only 90 kg heavier than a Turbo S.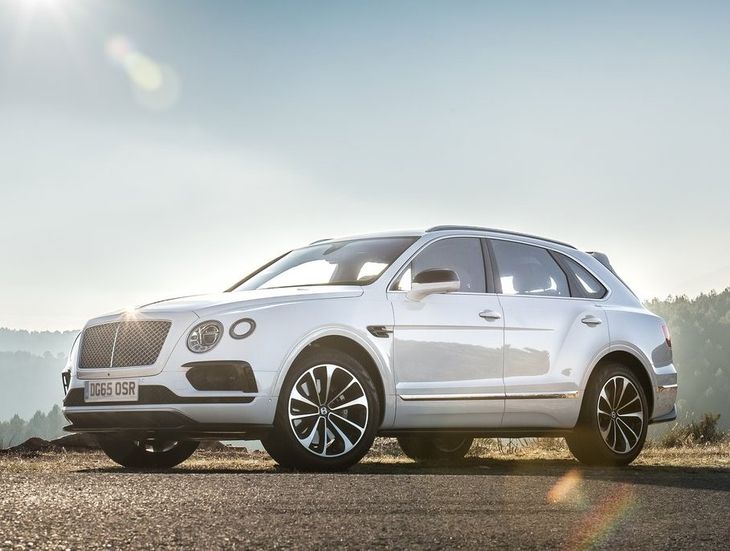 Fast and refined, the Bentayga's performance belies its size.
So with all that power (not to mention the accompanying cliff face of torque), it does things other SUVs cannot, such as reach 100 kph from standstill in 4 seconds, which is as fast as an AMG GT and quicker than a BMW M5, the aforementioned Porsche Cayenne Turbo and, perhaps most implausibly of all, every other Bentley on sale.
In short, it's quick enough. Impressively, however, it doesn't feel that way. There's no uncouth urgency here, no sense of having to rein the power in, even in the most aggressive of its many driver-configurable settings. It does what a Bentley should do, which is glide inexorably on part throttle, keeping gear changes to a minimum and letting the torque do the work.
Refinement at its best
At once you notice the superb ride quality. I'd call it the best of any SUV I've driven were I not inherently suspicious of the way all cars ride out here in California. Then, you realise just how quiet the Bentayga is. Being rather familiar with the local law enforcement community in this part of the world, I'll skip the details and say simply that at any speed at which you are likely ever to want to cruise anywhere in the world, not even a Range Rover gets close to these levels of refinement.

The Bentayga proved to be surprisingly capable offroad.
We did, of course, do all the off-road stuff too, on dirt tracks, sand dunes and even a race track in the desert, and it coped, well, as well as you could imagine a 2.4-tonne SUV would cope... It wasn't fun, in a balance-the-throttle-and-let-it-drift kind of way, but what were you expecting? All Bentaygas have suspensions that allow everything from literally zero roll to almost uncoupled anti-roll bars, depending on what terrain you are on. This feature, combined with sound suspension design, a stiff structure and a whole lot of rubber provides a phenomenally wide operating envelope. In the sand and mud, it was impressive and on the limit on the track with that W12 howling away, it was never less than enjoyable.
Verdict
Bentley has a hit on its hands, and that's not my judgment, but rather of the marketplace: with a base price of R3.9 million (in South Africa), it has the field to itself. Others will come and make things tougher but they will find they're up against an immensely capable and, if you can get past the looks and the name, likable car. Does it deserve to be called a Bentley? So far as I can see, yes, as much as any from the VW era with the possible exception of the flawed but wonderful Mulsanne. It's a car I liked more than loved, but I'm not exactly the target audience. Those plutocrats, world-famous sports people and self-made entrepreneurs who are, will, in all likelihood absolutely adore it.
Related content:
Top 5 Cool Facts: Bentley Bentayga
​Would you do this to your Bentley Bentayga?
Mercedes-Benz GLS 500 (2016) Review
Rolls-Royce Ghost Series II (2015) Review
Rolls-Royce Ghost Series II - Driven & Reviewed in South Africa (Video)
Want to buy a Bentley?