Cars.co.za journalist, Gero Lilleike, spent the festive season with the Suzuki Ciaz 1.5 GLX. Take a look at what he discovered about Suzuki's top-spec budget sedan below...
My colleague, Ashley Oldfield, reviewed this Ciaz 1.5 GLX in 2019 and I won't bore you with another review of the same car. You can read Ash's review here!
What I will do though, is give you some of my feedback on the Ciaz based on my experience over the holiday season. The Ciaz covered over 1 500 km and took me from Cape Town to Knysna and back, while also serving as my companion on several surfing strike missions up and down the coast.
Here are a few aspects I liked about the Ciaz as well as some aspects I didn't like.
3 Things To Like about the Suzuki Ciaz
Performance and economy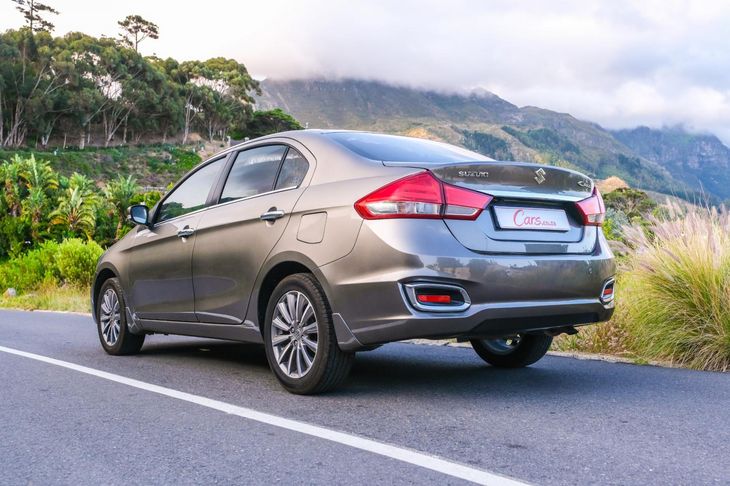 The Ciaz's 1.5-litre petrol engine offers good overall performance while also returning pleasing fuel consumption figures.
The Suzuki Ciaz is equipped with a naturally-aspirated 1.5-litre, 4-cylinder petrol engine that offers 77 kW and 138 Nm of torque. Now while those numbers are not very inspiring on paper, real-world performance is actually far better than you would expect. This is quite a peppy daily runner!
Mated with a 5-speed manual transmission directing power to the front wheels, the Ciaz gets up to highway speed without feeling underpowered or sluggish. Quick overtakes are also easy to execute and the transmission has a positive action and gears can be engaged with confidence.
The Ciaz was also delivered good fuel consumption figures and our test consistently yielded figures around 6.4 L/100km.
Interior comfort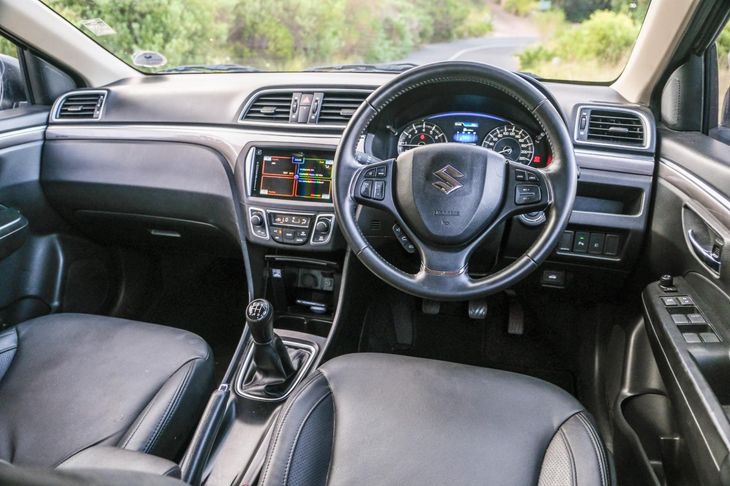 The top-spec Ciaz GLX comes well-specced with standard features.
This top-spec Ciaz 1.5 GLX comes with leather seats which I found to be suitably comfortable for long-distance driving. Not only does leather lift the perceived interior quality appreciably, but it's also a bit more practical in terms of maintenance as they can be easily wiped down. It's also worth mentioning that rear legroom is good too.

Standard specification is decent and some nice-to-have features include climate control air conditioning, cruise control, electric windows, rear park distance control with a rear-view camera and folding rearview mirrors.
Big booty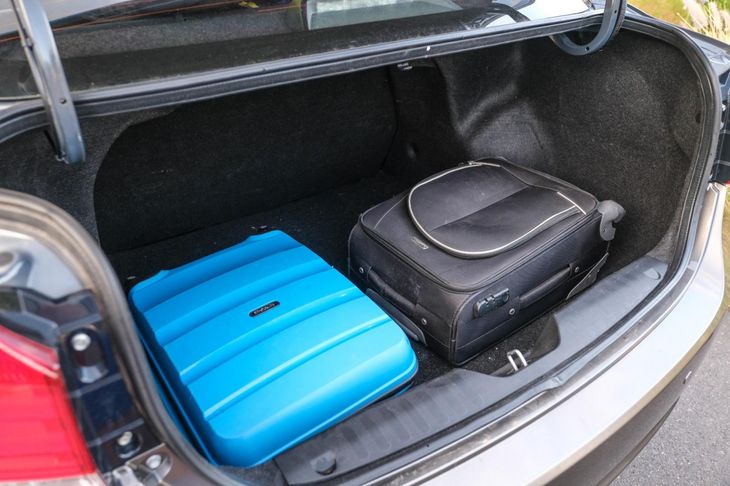 The Ciaz's boot is capacious and can accommodate a wide range of luggage of various sizes.
If you like a big booty, then you will like the Suzuki Ciaz! The boot is very generously-sized and offers a claimed 480-litres of space. During the holiday period, the boot was packed with a wide range of items of various sizes including lots of luggage, surfing paraphernalia, a braai and a ton of Christmas presents. The Suzuki had no problem carrying everything!
3 Things to Dislike about the Suzuki Ciaz
Clunky Infotainment System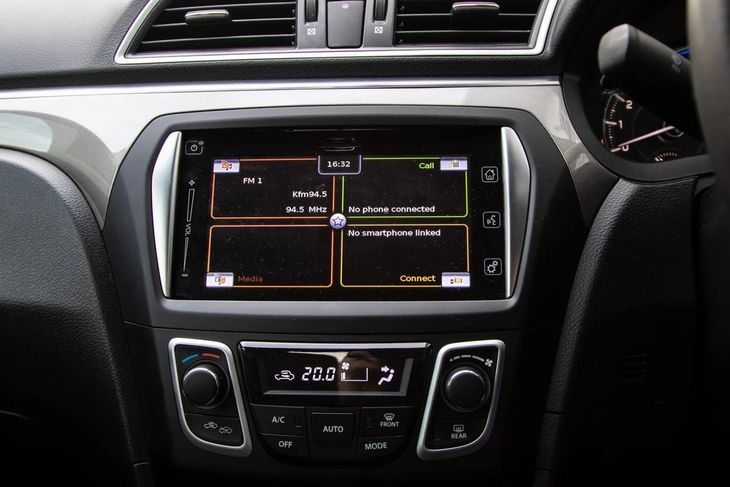 The infotainment system can be slow and occasionally unresponsive. It does offer Apple CarPlay and Android Auto though.
I appreciate that Suzuki has adopted touchscreen infotainment technology in its latest offerings and buyers, in particular, will be happy to know that Android Auto and Apple CarPlay is offered. Nonetheless, I found the 7-inch system in the Ciaz to be frustratingly painful to use at times.
I had no problem connecting my smartphone via Bluetooth but the system, in general, is quite slow to respond to inputs. In fact, certain functions such as play/pause, skip and so forth froze on me on numerous occasions and no matter how I touched the screen, the screen was simply unresponsive to my inputs. Touchscreen technology has come a long way in recent years and while Suzuki was a late adopter in this regard, I do hope to see better systems making their way into Suzuki's lineup in the future.
The rear seats don't fold down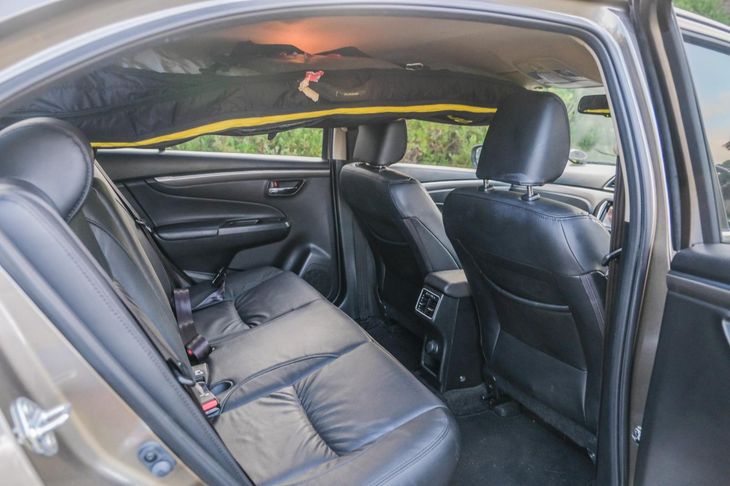 Long items, such as a surfboard, are difficult to transport as the rear seats can't fold.
The fact that the rear seats in the Ciaz aren't split and can't fold down might disappoint you. While this is unlikely to bother everyone, if you need to transport longer and bulkier items, it might very well become a problem as it did for me.
I had a surfboard to take on holiday with me and without a roof rack, there was no way in hell I was leaving my surfboard behind. I made a plan by sliding the surfboard up against the roof inside the car and although it impacted on my wife's headroom in the front passenger seat, I was grateful that I could bring it along. A Gero without a surfboard is a very grumpy Gero…
Without a front passenger, a surfboard is somewhat easier to transport as it simply lies on the front seat.
Granted, in most cases, cars aren't necessarily manufactured to cater for surfboards but they are a good acid test for how spacious and adaptable a car's cabin is to accommodate long and bulky items.
Faulty Boot Lid Mechanism

How many times should you try to close a boot lid? I lost count...
My most frustrating experience with the Ciaz was by far the boot lid. Instead of the boot lid closing the first time, a faulty mechanism often meant that I had to continuously slam the boot lid to get it closed and it often took longer to close than should ever be experienced. It's unclear whether it's an issue with this particular test unit or if it's a common problem for the Ciaz. Either way, it was hugely annoying...
Final thoughts
The Suzuki Ciaz 1.5 GLX proved to be a capable holiday companion and not only did it offer good general performance but it also returned commendable fuel economy on a daily basis. In GLX guise, the standard specification is good too and for R249 900, we think the Ciaz 1.5 GLX is worth a closer look if you are willing and able to accept its pitfalls. The Ciaz, however, is ideally positioned to cater for the Uber/taxi market and it, therefore, warrants your attention if that's what you are looking for. In terms of mechanical reliability, Suzuki has proven to be one of the top brands in the country scooping overall Brand of the Year awards as well as individual vehicle wins in the Cars.co.za Consumer Awards - powered by WesBank.
Suzuki offers a 3-year/100 000 km warranty as well as a 3-year/60 000km service plan.
Buy a Suzuki Ciaz on Cars.co.za
Related Content