What happens when an avid mountain biker goes on holiday with a traditional family sedan, instead of something with proven ability on gravel roads? Cars.co.za correspondent Lance Branquinho did just that with Honda's new Ballade and learnt that you don't know you miss some things until they are gone. Or reappear.
Time waits for no-one, so the saying goes... In 2000, a Honda Ballade was very much the average South African family vacation vehicle. Twenty years later, I have to explain to strangers what it is.
This Japanese compact sedan is no longer a favourite of South African families. If a vehicle doesn't have some lower-door cladding, a raised ride height and chunky tyres, well, nobody seems interested.
Double-cab bakkies, SUVs and crossovers are now the dominant modes of family motoring. But what about a month spent at the 'wheel of Honda's new Ballade? Does it rekindle a familiarity of something that was once entirely adequate... or trigger frustration?
3 things to like about the Ballade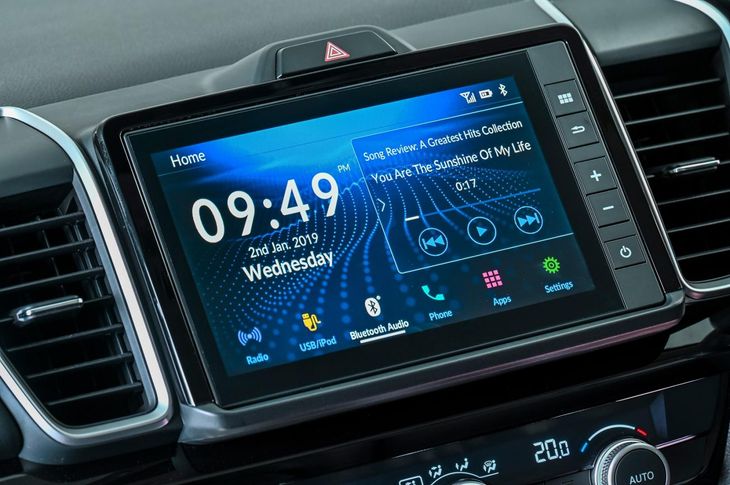 The new-generation Honda Ballade offers a much more presentable, functional and user-friendly touchscreen interface.
Timely infotainment upgrade
I am, by and large, technology-agnostic, but I do recognise that a quality infotainment setup can make a very meaningful difference to the contemporary in-car experience. That said, Honda has been quite poor with its touchscreen offerings. The graphics on Honda's infotainment systems tend to look like something from a late 1990s console game, with menus about as intuitive as a French cuisine recipe... in French.
The Ballade features Honda's latest infotainment system and, suffice to say it's vastly superior to that of its predecessor. Goodbye to bizarre cosmic graphics, hello to legible icons and slicker interfacing.
Look, I'm unlikely to ask too much of an infotainment system. All I need it to do is to pair with my smartphone and make it easy for me to select the AM band on the radio. Thus the new Ballade proved entirely competent at fulfilling my limited infotainment needs. It never caused frustration, which was a refreshing experience, considering my technophobic lack of user intuition.
Although the Ballade faltered in its ability to provide convenient storage for my mountain bike (but more about that later), it has some ingenious touches within the cabin's architecture... The parking brake lever is flanked by a pair of utility slots for coins and smartphones. If you feel like a fool for putting your smartphone in the cupholder (like most of us do), these storage spaces are brilliant.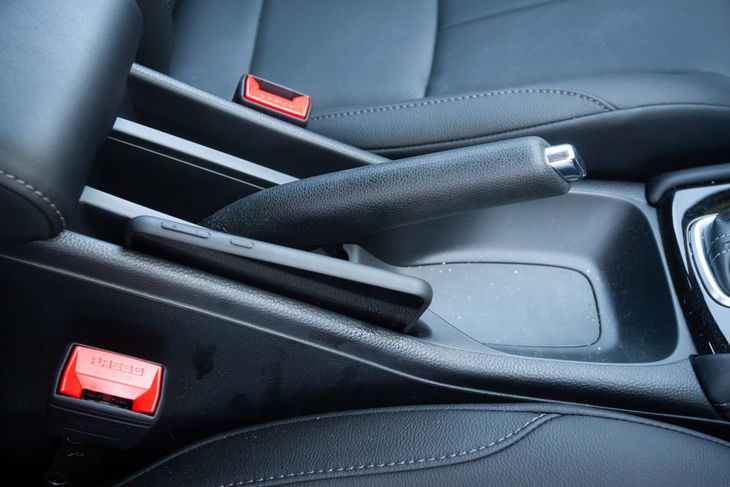 Honda avails a pair of slots (1 on either side of the parking-brake lever) to house the driver and front passenger's smartphones.
Endearing transmission
The Ballade's powertrain is anything but revolutionary. Whereas many vehicles priced around R400k in the local market are turbocharged, this Honda is powered by an atmospheric 1.5-litre petrol engine.
The peak outputs are 89 kW and 145 Nm, which are hardly stirring. And then there is the gearbox, which, well, doesn't actually have any gears. "Transmission" is a more accurate description – the Ballade utilises a continuously variable example (CVT). Have you ever met a car enthusiast who likes a CVT? Exactly.
Living with Ballade for a month forced me to reconsider some biases, though. During the usual 7-day test cycle, the droning nature of a CVT is bound to be annoying, but that is largely due to unfamiliarity.
By the time I had been driving the Honda for 2 weeks, I found the CVT's constant rev-range performance pleasing. And quiet. Refined. I have been a CVT transmission sceptic for many years and scoffed at engineers when they attempted to explain its benefits: less internal friction, lower maintenance and smoother performance...
The Honda's unbothered driving experience is a boon. Cars with modest power outputs and conventional planetary-geared auto 'boxes, by contrast, tend to spike shift points and create surges of engine noise.

A raised ride height has its place, but the on-road stability and manoeuvrability of a compact sedan are just as valuable.
The inherent stability of a sedan
I did not venture onto dirt roads with the Ballade often. Although gravel routes link some of South Africa's greatest venues and adventure locations, it is hardly the natural terrain for a compact family sedan.
After a year of driving mostly bakkies, SUVs and crossovers, it felt rather peculiar to spend a few weeks in a model with a much lower ride height than those (comparatively tall) vehicles. You have to relearn a sense of dimensional awareness with the car, anticipate where its corners are when you're parking and be particularly mindful of high kerbs in the claustrophobic urban environment.
The raised ride height of a bakkie, SUV or crossover delivers a more confident field of view. There's no question about that. But it also makes for an inherently less agile vehicle. You can't undo the physics that control lateral stability and raising a vehicle's centre of gravity makes it more susceptible to body roll and pitch.
Despite its incongruous 'RS' badging, the Ballade reminded me how much we take a lower centre of gravity for granted. It tracked with such confidence, despite its humble platform, suspension and tyres.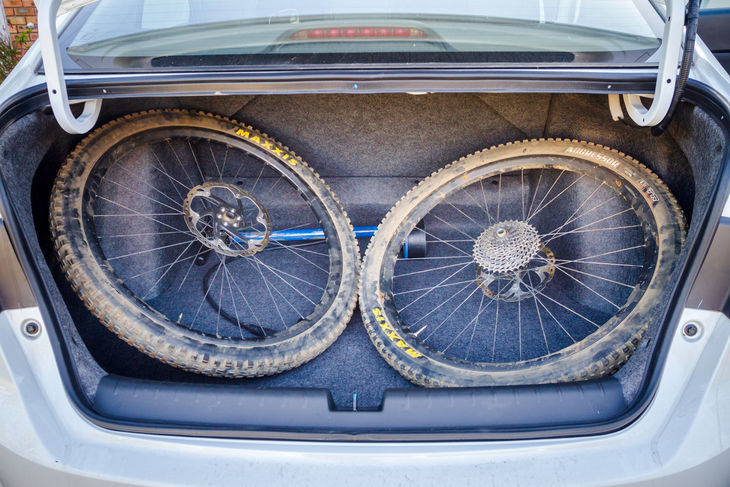 The Ballade's rear seatback doesn't split and fold forward, which made it tricky to transport a mountain bike in the car.
Dislikes?
Limited practicality
Okay, I admit it: I'm a bakkie person... My legacy outdoor activities include mountain biking and water sports and the gear required to pursue those hobbies doesn't fit conveniently (if at all) in a mid-sized family sedan. Some sedans have folding rear seats, but the Ballade isn't one of them. It's simple: rear benches with hinges and 2-piece structures add to the production cost and, therefore, asking price of a vehicle.
Despite the Ballade not having a tailgate or seats that fold, I was determined to make it work as a utility vehicle. My intentions were swiftly defeated, however. The only way that I could get my mountain bike into the Honda was by removing both wheels, but they did, for the record, fit rather tidily in the boot.
Having carefully draped a towel or blanket over the rear seats and floor, I gingerly eased the bike frame into the cabin through one of the rear passenger doors. It managed to fit. Just. But I also needed to slide the front passenger seat as far forward as it would go on its rails. If you have mountain bikes or surfboards to transport, the Ballade isn't ideal, but that could be said of most similarly configured sedans.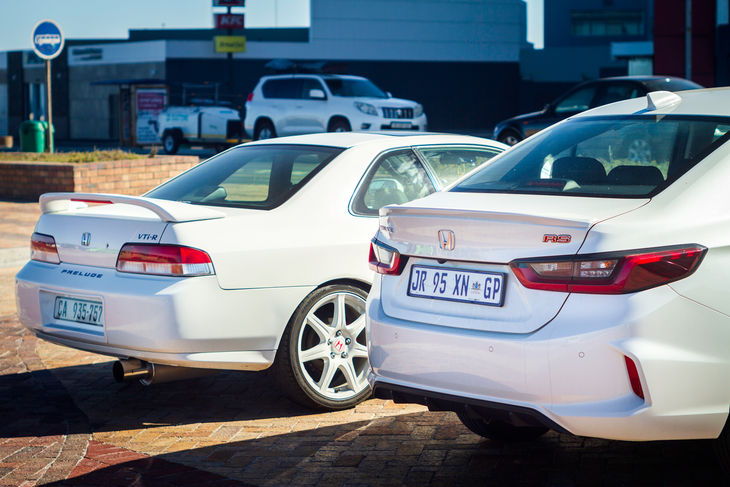 The Ballade's name is as historic as that of the Prelude, although the RS badge would be better suited to the venerable coupe!
Buying advice
Believe it or not, the Ballade was once SA's premier premium front-wheel-drive family sedan. It combined daring design, brilliant Honda engines – and a strange association with Mercedes-Benz – in the Republic. Over the past 2 decades, however, the Japanese brand (like so many others) has gained a much more diverse product portfolio, with much less of an emphasis on the traditional sedan business.
No, the new Ballade does not have the cachet of is 1980s or 1990s forebears. But it is an entirely honest compact family sedan.
Toyota dominates the shrinking mid-sized value market for sedans in South Africa with the Corolla Quest. Honda, meanwhile, now appeals mostly to retirees or buyers who see some sense in its lower sales volumes. How is it advantageous that Honda isn't a huge brand in South Africa? Well, in theory, you are more likely to get a service booking, on schedule, at a Honda dealership. In theory.
Honda has a great reputation for reliability and that makes its products terrific long-term ownership propositions, something that should mitigate the steep depreciation from a relatively high purchase price.
To reiterate, if you have many outdoor toys and use them frequently, the Ballade isn't for you. That holds true for most of its rivals as well. You will be much better served with a comparable crossover or SUV. But if you live a very urbanised routine and want to drive something dependable with 4 doors that isn't a Toyota, the Ballade offers a much better experience, overall, than one might expect at 1st acquaintance.
Related content:
Honda Ballade (2020) Launch Review
Honda goes full-crossover with new Jazz