Honda recently welcomed its keenly-priced WR-V to the South African market and while the newcomer joins a hugely popular – but hotly contested – compact family car segment, the Japanese firm looks to further capitalise on the small-crossover craze. Gero Lilleike recently put the WR-V through a gruelling test to bring you this review…
We Like: Practical city runner, build quality, composure at highway speed, rear legroom
We Don't Like: Sluggish acceleration, less-than-ideal ground clearance, no automatic version
Fast Facts
Price: R319 900 (Pricing as of December 2020)
Model tested: Honda WR-V 1.2 Elegance
Engine: Naturally-aspirated 1.2-litre petrol
Power/Torque: 66 kW/110 Nm
Transmission: 5-speed manual
Fuel consumption: 6.4 L/100km (claimed)
Fuel tank capacity: 40 litres
Load capacity: 363 to 881 litres
Serious About Buying?
Check out full specification details and finance estimates
Some Honda dealers regularly offer specials: Look at New Car Specials here!
What is it?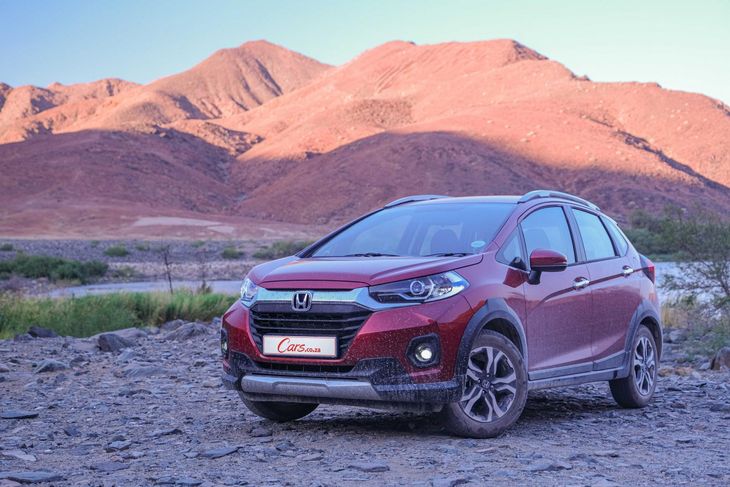 Honda's new WR-V comes to market in a compact and well-specced package.
The diminutive WR-V is a based on the Honda Global Small Car platform, which also underpins the Honda Jazz (the new version of the compact hatchback is expected to arrive here in 2021). It's produced in India and Brazil; South African WR-Vs are imported from the subcontinent.
Only 2 derivatives are available locally – an entry-level 1.2 Comfort and the range-topping 1.2 Elegance – the latter of which is on test here. We'd say the WR-V is fairly attractive, if you like lots of "brightwork", as the Honda features a bold chrome-look bar up front along with LED headlights and -daytime running lights. The WR-V is also recognisable by its distinctive C-shaped taillights and rides on 16-inch alloy wheels.
For this test, we took the WR-V on a 1 500-km fishing adventure to the Orange River, which (for those of you who don't know) forms a natural border between South Africa and Namibia. This extensive test would not only reveal the WR-V's strengths, but also its weaknesses...
How it performs in terms of...
Performance and economy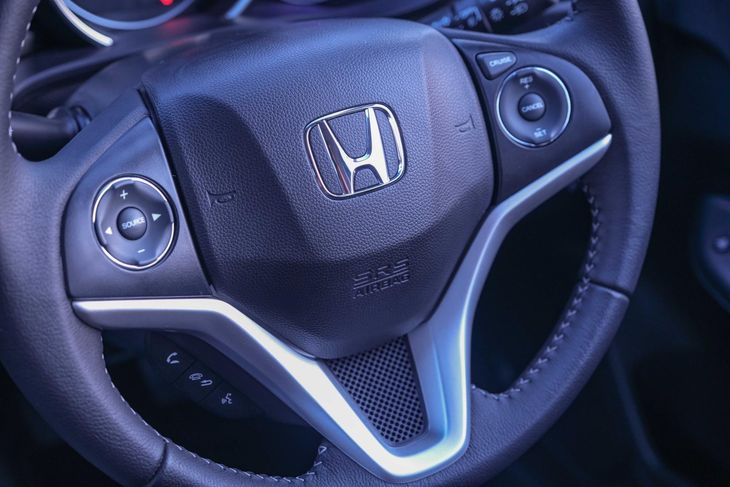 Without turbocharging technology, the WR-V's performance might be problematic for some buyers, particularly at altitude.
Most would consider the WR-V a near-ideal small crossover for a life in the city, but how would it fare on a longer out-of-town journey? We were keen to find out and with fishing rods and supplies on board, we set course for the border town of Vioolsdrift, which skirts the mighty Orange.

The WR-V's naturally-aspirated 1.2-litre petrol engine delivers workmanlike performance. With middling outputs of 66 kW and 110 Nm, it lacks the urgency that many of its turbocharged rivals provide and it's offered exclusively with a 5-speed manual gearbox, which drives the front wheels.
Within the proverbial urban sprawl, the Honda motor's performance is acceptable, but overtaking acceleration is less than inspiring. However, once the WR-V gets up to speed, it cruises along quite effortlessly; we were particularly pleased with how composed the WR-V felt at highway speeds.
The steering wheel, although palpably easy to twirl, has a positive feel to it and while engine noise is generally well suppressed in the cabin, we did notice a fair amount of wind noise (ostensibly generated around the Honda's side mirrors), which was a minor annoyance.
Considering the WR-V's peak power is developed at a heady 6 000 rpm, you really have to wring the 1.2-litre motor's neck to get the most out of it. Overtaking manoeuvres, therefore, require careful planning. The WR-V also loses puff on long uphill sections of highway... as a consequence, you will have to work the stubby manual gear lever (which is perhaps the smallest gear lever on the market) often to keep the 4-pot on the boil. We expect buyers will feel the WR-V's performance drop off at altitude (Gauteng), particularly when the vehicle is loaded with luggage and passengers.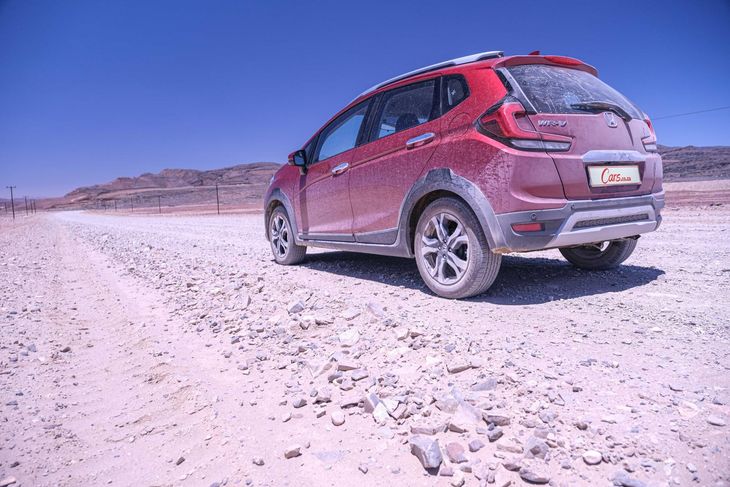 Our test pushed the WR-V well beyond its comfort zone and we discovered that it's more of a city slicker than an outdoor conquerer.

To be fair, we drove the WR-V on terrain best suited to high-riding SUVs and although the WR-V coped reasonably well in the harsh conditions, it's happiest when traversing various grades of tarred roads. The 173 mm of ground clearance is adequate to deal with odd gravel routes with a fair degree of composure, but the Ford EcoSport, for example, has 206 mm of ground clearance, which is far more useful on more rigorous terrain.
In terms of fuel efficiency, Honda claims a combined consumption figure of 6.4 L/100 km and during our test, the trip computer returned an average of 7.9 L/100 km. With a 40-litre fuel tank, the WR-V has an optimal range of just over 500 km.
Interior execution and practicality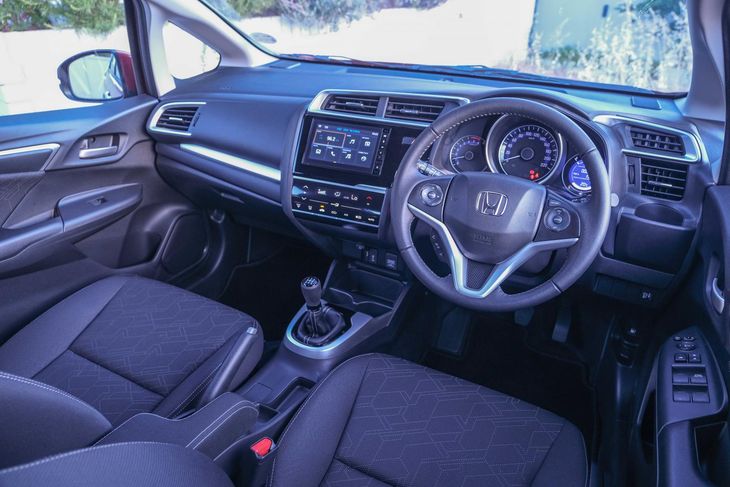 Simple but well-equipped, what more do you want? General build quality is good too.

In terms of interior appointments, the WR-V's cabin offers just about every feature you can reasonably expect to get at this price point. There's a good balance between hard and soft-touch surfaces and perceived build quality is admirable. The seats are upholstered in cloth and this top-spec 1.2 Elegance derivative gains a leather-wrapped multifunction steering wheel, as well as a pleasing leather finish on the gearknob.
The interior's design is clean and uncluttered with a neat 7-inch touchscreen providing Android Auto, Apple Carplay and Bluetooth functionality. A reverse-view camera is a useful addition, as are rear parking sensors. Other nice-to-have features include cruise control, keyless entry, push-button start, electric windows and automatic air conditioning; the latter's touch-panel controls afford the lower fascia a luxurious feel.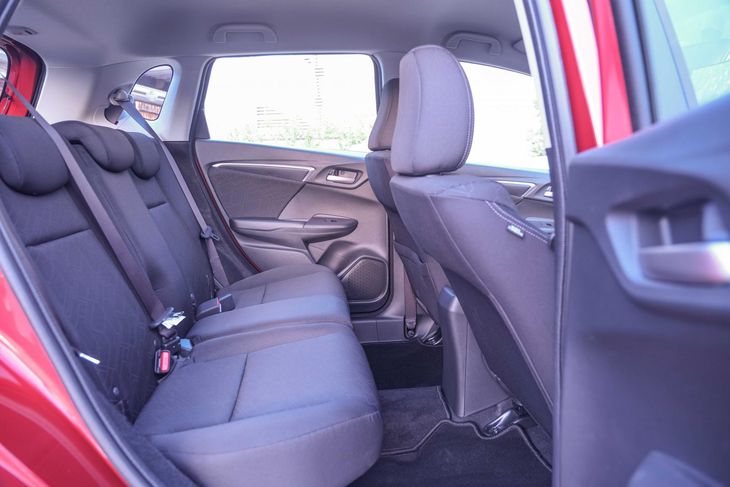 Rear legroom is a highlight in the WR-V as is the loading flexibility afforded by Honda's 'Magic Seat' system.
As far as practicality is concerned, the WR-V retains Honda's "Magic Seat" system, which is designed to accommodate tall and long objects by simply folding the rear seatback into the desired position. The load bay has a 363-litre capacity and offers up to 881 litres of utility space with the 60:40 rear seats folded down, which is slightly bigger than in the Ford EcoSport, but not quite as spacious as the Renault Captur.
For added convenience, front occupants are availed with cupholders, while the door mouldings feature small bottle holders. A small central bin can also be used to store valuable items, such as smartphones and wallets, out of sight.
It's worth mentioning that we were particularly impressed by the generous amount of legroom afforded to rear passengers – most adults should be able to get comfortable on the back bench.
In terms of safety, the WR-V has 6 airbags, ABS with EBD, as well as brake assist, but electronic stability control is unfortunately not included.
Pricing and warranty
The Honda WR-V 1.2 Elegance costs R319 900, which includes a 5-year/200 000 km warranty and a 4-year/60 000 km service plan.
Buy a used Honda WR-V on Cars.co.za
Verdict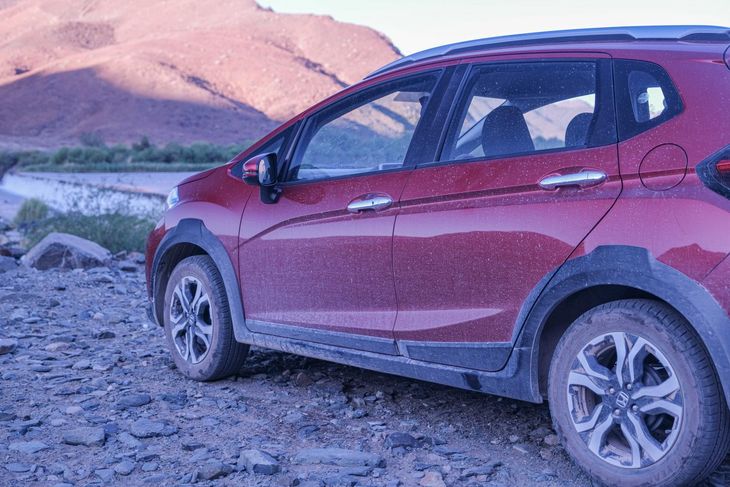 The WR-V will appeal to some but not to all, but as a city runabout, it ticks many boxes and is worth a closer look in this segment.
The WR-V is a practical and likeable compact family car and in 1.2 Elegance guise, in particular, it's well equipped with enough features to satisfy most buyers in this segment. The WR-V's performance is sluggish compared with punchier turbocharged offerings in this segment, although the Honda's simpler naturally aspirated motor and manual 'box combination undoubtedly contributes to the keen asking price. Still, we suspect that many potential buyers, especially those living at the Reef, will find the WR-V's performance only adequate, especially when it's fully loaded.
If like me, you are an adventurous type who enjoys travelling off the beaten track now and again, the WR-V is limited by its nominal crossover-like ground clearance. Moreover, Honda doesn't offer an automatic/CVT option, which limits the model's appeal in the broader market.
That's where the bad news ends. For those unconcerned with outright acceleration and gravel travel, the WR-V offers much as a city runabout, especially when you consider that it's notably cheaper than the Ford Ecosport 1.0T Trend (R339 300) and the Renault Captur (R331 900).
The WR-V is also backed by a comprehensive 5-year/200 000 km warranty for added peace of mind and we would imagine that the WR-V would be as bulletproof (mechanically speaking) as its Jazz sibling, which bodes well for long-term ownership. Other options to consider include the Opel Crossland X 1.2 Enjoy (R321 000), Hyundai Venue 1.0T Fluid (R330 900) or the pricier Volkswagen T-Cross (R345 700).
Related content:
Honda Ballade (2020) Launch Review