Honda has introduced the new, 8th-generation Ballade in South Africa. We drove the Japanese compact sedan at its local launch (in Cape Town) to find out what it has to offer...
The Honda Ballade is a well-known nameplate in South Africa; it was first launched locally back in 1982. The new Ballade has moved upmarket and, in terms of price, it now straddles the B- and C- sedan segments where the Toyota Corolla and its Quest sibling hold significant market share.
The rise of crossovers and SUVs has pretty killed off the compact sedan market (unless you're an Uber driver), but there are still a few sedans available and yes, many of which serve in the e-hailing service or rental fleets. At just under R400 000, you can opt for either a Toyota Corolla or the pocket-friendly Corolla Quest. Volkswagen's Polo sedan, Fiat Tipo, and the Hyundai Accent occupy the lower end of the pricing bracket.
Does the Ballade have what it takes to attract new customers to the fold and increase its market share in this segment? Perhaps, but let's take a closer look at what the new Ballade has to offer… See also: Honda launched its new WR-V compact SUV in South Africa this week!
What's on offer?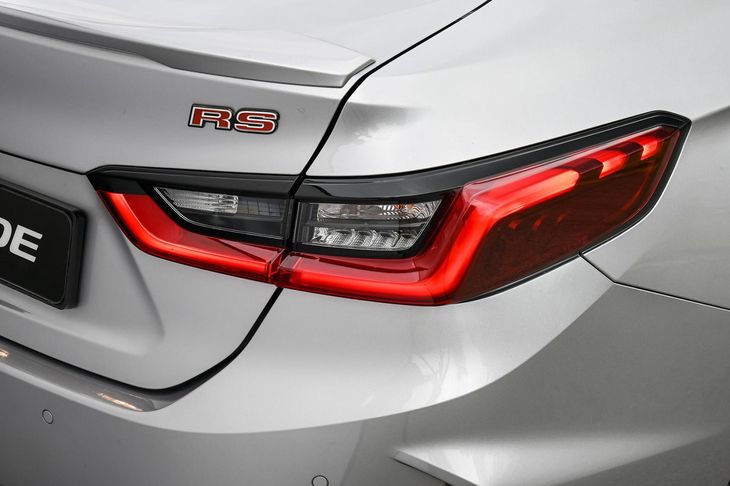 The Ballade range is now headlined by a new RS derivative which boasts some sporty visual enhancements.
The new Ballade is built on the same platform as the outgoing Ballade, but it's 110-mm longer, 55-mm wider and sits 10-mm lower (the wheelbase is unchanged). The range comprises 3 trim grades: the entry-spec Comfort, mid-spec Elegance and, for the first time, range-topping Ballade RS.
The Ballade RS sure sounds like a sporty name, but RS actually stands for "Road Sailing", which highlights the Ballade's smooth cruising ability. Honda's RS trim is similar to product lines such as Volkswagen's R-Line or Toyota's GR Sport; it focuses on cosmetic execution, not performance.
The bold and broad chrome wing on the face of the Ballade is its most defining feature and the RS is decked out with styling enhancements such as a boot spoiler, faux carbon-fibre diffuser, 16-inch alloys, a sunroof, honeycomb grille and LED headlights. Comfort and Elegance versions are a bit more demure; they ride on 15-inch wheels with halogen headlights, but LED daytime running lights and taillights are standard on all derivatives.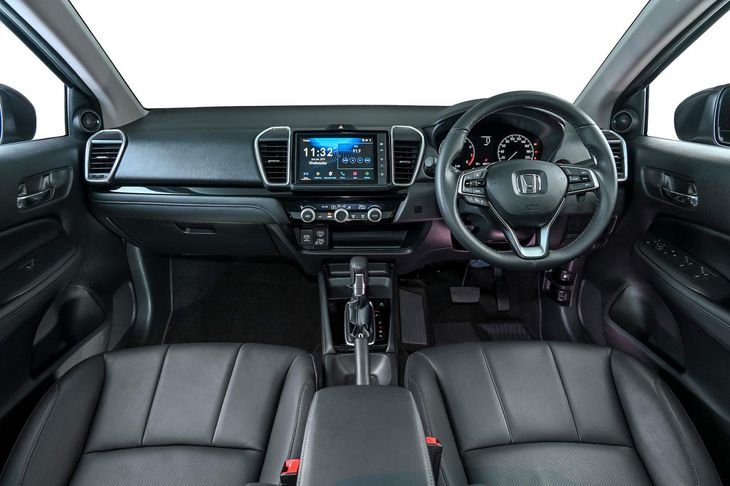 The Ballade's interior is well-equipped with features, especially in RS guise.
As for the interior, Honda has taken a minimalist approach to the Ballade's interior execution and we think it looks fairly smart. New seat designs provide more comfort and while Comfort and Elegance derivatives feature cloth upholstery, the Ballade RS' cabin sports leather trim instead.
Meanwhile, the Honda's perceived interior build quality is good. All derivatives feature a multifunction steering wheel, electric windows, cruise control and auto aircon, while the Elegance gains an 8-inch touchscreen infotainment system with Bluetooth, voice control and Android Auto and Apple CarPlay compatibility. The RS also features automatic walk-away locking, a reverse-view camera and a 7-inch multi-information display.
On the safety front, the Ballade is equipped with 6 airbags as standard, as well as ABS with EBD, brake assist and electronic stability control. Rear parking sensors are standard on Elegance and RS derivatives.
What's it like to drive?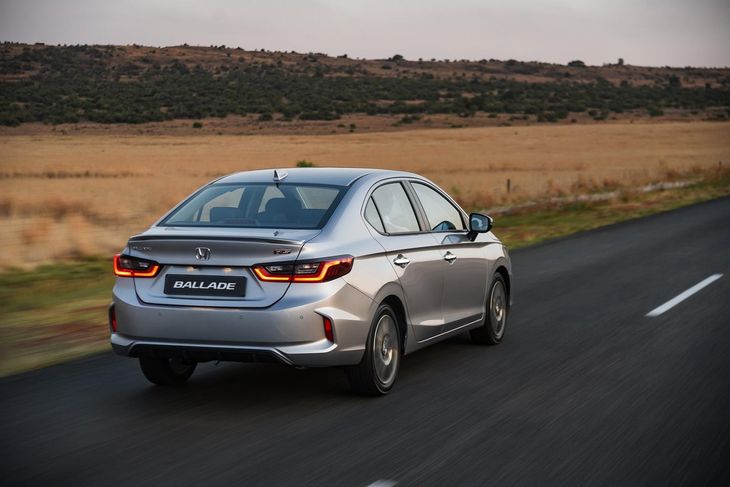 The new Ballade is only offered with a CVT in SA and it delivers good performance overall.
For this new Ballade, Honda is pressing on with its naturally aspirated 1.5-litre petrol engine, but it's been enhanced for better performance (89 kW and 145 Nm), as well as efficiency. All versions of the newcomer feature Honda's improved CVT transmission, which has been augmented by what the brand calls "G-Design" shift control with integrated artificial "gears" or "steps", which can be selected via steering-wheel-mounted shift paddles.
On our drive through the Cape Winelands, the new Ballade's powertrain delivered good overall performance. The engine didn't feel underpowered and, with the mounted paddles, you can effectively manipulate the CVT to deliver the desired result, whether it be for making swift overtakes or keeping the engine ticking over in its power band (helpful on an uphill). It's also quite a refined setup; while some CVTs have been criticised for being overly noisy/droney, the same can't be said for Honda's combo. It's actually relatively pleasant to drive without being intrusive or offensive.
Granted, the Ballade's performance will be somewhat compromised at altitude (Gauteng) but we suspect it will only become more pronounced when all your aunties, uncles, kids and all their luggage are crammed into the Ballade. For the most part, performance should be adequate for the average commute. In terms of efficiency, Honda claims a combined fuel consumption figure of 5.5 L/100km.
Another highlight of this new Ballade is its ride quality! It dealt with poor road surfaces very well; the suspension is pliant/forgiving almost all of the time. Moreover, the steering feels responsive and communicative, which helps when you are pitching the Ballade through corners at speed...

We would have liked to spend more time driving the Ballade, but we should have it on test soon – expect a thorough review in the near future.
Honda Ballade – price in South Africa (November 2020)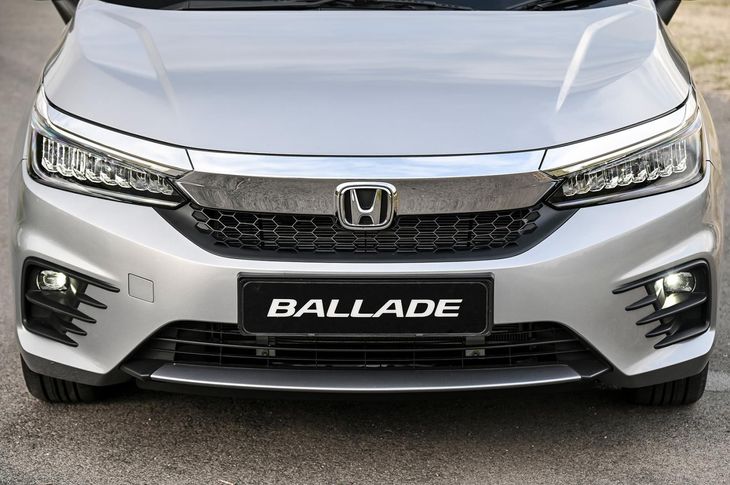 The Honda Ballade is well worth a test drive!
As mentioned, pricing for the Ballade has shifted further up the pricing ladder, but the Ballade undercuts the new Corolla (from R380 200) and is aggressively priced against offerings such as the Hyundai Accent auto (From R324 900) and Volkswagen Polo sedan auto (from R309 100).
The new Honda Ballade is sold with a 5-year/200 000 km warranty, 4-year/60 000 km service plan as well as 3 years of AA roadside assistance.
1.5 Comfort CVT - R336 500
1.5 Elegance CVT - R366 900
1.5 RS CVT - R396 900
Further Reading: