The second-generation Q7 has been a long time coming. Leaner and loaded with tech, it has a real shot at segment glory.
Highlights
-More than 300kg lighter than before
-Superb fit and finish in classy cabin
-Extensive (and expensive) options list
The first-generation Audi Q7, launched in 2005, was around for a decade. In the automotive world ten years equates to a veritable eternity. But there was, seemingly, method in Audi's apparent madness. Firstly, the Q7 continued to sell well, even in the twilight of its career. More importantly, perhaps, the follow-up model would be so important that Audi just had to get it right. Either way, it is here now and enters a fiercely contested segment that doesn't only include old rivals from BMW (X5) and Mercedes-Benz (GLE), but also the new Volvo XC90.
Crisp, yet sombre styling
The first-generation Q7 was often criticised for its somewhat ungainly and bloated design. The new model, though obviously still a large Audi SUV, boasts a significantly more restrained look. If it appears smaller, it is because it is smaller, albeit only slightly so. The bodywork stretches tight over its underpinnings and the lines are crisp and modern. The front-end is dominated by the latest take on Audi's single-frame grille, and it's huge. And very, very shiny. The grille is flanked by neatly detailed headlamps that can be specified with Audi's smart Matrix LED technology – a R38 500 option. Various wheel designs are on offer, too, with most of the 20-inch items costing just shy of R30 000 for a set. Overall, the Q7 errs on the side of caution but such designs often date well. Perhaps Audi is eyeing another ten-year model life?
Fantastically elegant interior
Audi interiors have been among the class leaders for a good few years now, but with the latest TT it has laid down a design direction that is particularly striking. Using strong horizontal themes, virtual cockpit displays and stylish new control interfaces Audi's designers have created a modern, minimalistic look that has now been applied to the Q7. And it works. Beautifully.
The facia appears expansive and wide, mostly because of the a strip of ventilation outlets that seems to run the full width of the cabin. Fronting the driver is Audi's now familiar "virtual cockpit", which is a R8 950 option, and allows the driver to switch between several displays, including the standard MMI navigation. A striking info-tainment screen glides majestically out of the top of the facia and can be retracted at the touch of a button. As with the TT, the main controls for the ventilation system boast integrated digital displays. And lower down, the stubby gearlever resembles the throttle of an airliner. The attention to detail is quite extraordinary, in fact, down to illuminated strips hidden between trim panels that add to the ambience at night.
The new Q7's cabin is not just pretty to look at, but also very comfortable to sit in. Granted, our test car boasted a generous list of options that included electrically adjustable sports front seats, alcantara leather and a huge panoramic sunroof, but even so we were mighty impressed with the interior. For one, it is notably better packaged than before. It offers more space throughout the cabin than its bigger forebear. Legroom in the second row is particularly generous, and though our test unit lacked third-row seating (a R20 750 option), we're told it's bigger back there too. The boot is claimed to hold 890L, which is commodious indeed.
Rear seat passengers have access to two 12V power points, ventilation outlets and the backrests of the seats offer a reclining function, too. We took the Q7 on an extended trip fully loaded with passengers and luggage and the general consensus was that the Q7's cabin was not only comfortable, but actually soothing. NVH (noise-vibration-harshness) control is excellent. Auto lights and wipers, as well as cruise control are standard fitment. The attractive, leather-wrapped steering wheel offers gearshift paddles that feel particularly solid.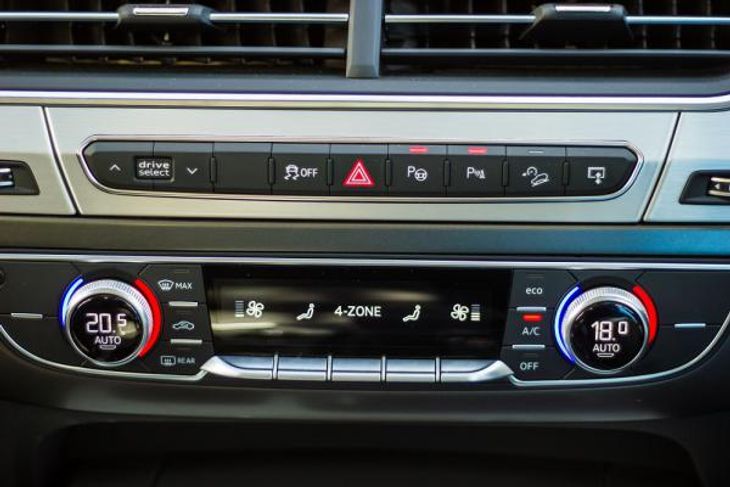 Light-footed performance
Based on the Volkswagen Group's new MLB-Evo platform, the Q7 is more than 300kg lighter than its predecessor. You can feel it almost immediately. With a 0-100kph time of 6.9 seconds it is every bit as perky as the slightly more powerful BMW X5 xDrive30d. But straight-line performance is not the Q7's greatest talent. The lower weight, power delivery characteristics, Quattro all-wheel drive and slick eight-speed automatic transmission combine to deliver a very refined driving experience.
With less weight to lug around and efficiency improvements just about everywhere, the Q7's 3.0-litre turbodiesel engine is also impressively economical, with a claimed figure of 6.3L/100 km being very reasonable indeed.
Our test unit also featured the optional adaptive air suspension system which costs R30 500. Though this may appear rather expensive, it's an option box that we'd recommend ticking. While Comfort mode is obviously the most cossetting, leaving the electronics to automatically adjust to circumstances and driving style sees the Q7 adopt a loping, refined ride that smooths out the bumps and roughness of our roads. In fact, the ride refinement is very possibly class leading, and is coupled with excellent body control when pushing on. Dynamic mode further tightens things up. Its predecessor suddenly feels like a lumbering dinosaur in comparison. Oh… and another upshot of the air-suspension system is the fact that, using buttons in the sidewall of the boot, you can actually lower the rear end of the car to make loading bulky items simpler. Clever.
Very few Q7s are likely to go off-roading and Audi certainly doesn't promote its flagship SUV as being a Range Rover rival in extreme conditions. That said, it's not without capability. The all-wheel drive system usually runs in a 40:60 power split (front to rear) but up to 85% of the power can be sent to the rear if required. The Drive Select system, now accessible via a simpler two-button system, offers an Off-Road mode, but you have to keep in mind your Q7's footwear… Audi does, however, offer what it calls "robust tyres" as a no-cost option for those who may want to venture off the beaten track. The tyres are 285/45s. Also keep in mind that if you specify your Q7 with the optional third-row seating, you can't have a spare wheel. Even our five-seater only had a temporary spare.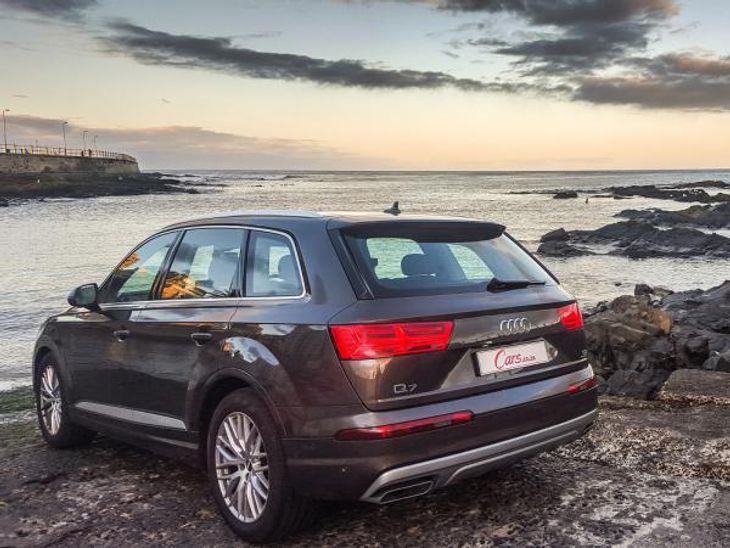 Conclusion and Summary
The new Audi Q7 is one of those cars that doesn't bowl you over immediately, but rather wins you over slowly. The key ingredients to its slow – but powerful – seduction abilities are refinement and cabin design. This refinement is not restricted to any particular facet of the Q7, but is omnipresent. Similarly, there is precious little to fault in the modern, solid and tech-laden interior. Whatever points the Q7 may lose for its rather bland exterior, the interior more than makes up for it. If it had arrived earlier in the year, we think the Q7 would have been a very, very strong challenger in the Cars Awards. Keep an eye on it as a candidate for some recognition next year.
Audi Q7 3.0TDI quattro Price in South Africa
The Audi Q7 3.0TDI quattro costs R924 000 and comes with a one-year/unlimited km warranty and five-year/100 000 km Maintenance plan. Service intervals are according to the on-board indicator, but can be up to 30 000km apart.
Test team opinion
If ever there was a car that perfectly embodied the phrase, "Don't judge a book by its cover," it's this one. It's nondescript on the outside, but step inside and you're experiencing one of the finest cabins in this segment. Brimming with technology and beautiful finishes, the Q7 is magnificent. The ride quality is exceptionally refined too. The downside? Some of those extras are frightfully priced. -David Taylor
Ride comfort is taken to a whole other level with the Q7. It works over every terrain and maintains poise and balance. The engine and gearbox only enhance the feeling of comfort and refinement as Audi has really developed its diesel engines over the years.
We Like: Beautifully made and designed cabin, refinement, comfort, ride quality
We don't Like: Some of the options should be standard such as electric seats/adaptive suspension
Also consider: BMW X5, Mercedes-Benz GLE, Volvo XC90
Compare the Audi Q7 3.0TDI Quattro with the BMW X5 xDrive30d and Mercedes-Benz GLE350d here