The new Land Rover Defender will arrive in South Africa soon and the Coventry-based firm's Special Vehicle Operations (SVO) division is expanding the range by launching Hard Top commercial derivatives that evoke memories of workhorse iterations of the iconic off-roader.
With asking prices of the new Defender beginning at just over the R1-million mark, some may be forgiven for thinking of the newcomer as little more than a luxury off-roader that merely shares its famous name and some derived design cues with the boxy, utilitarian original model – but little else. View New Defender Specs & Prices in South Africa
However, apart from reportedly working on a V8-engined version that should set the Defender up for a showdown with the Mercedes-Benz G-Class, Land Rover's Special Vehicle Operations (SVO) is determined to develop more applications for the aluminium-intensive D7x platform, of which the body architecture is claimed to "to be 3 times stiffer than the best body-on-frame designs", the British marque claims.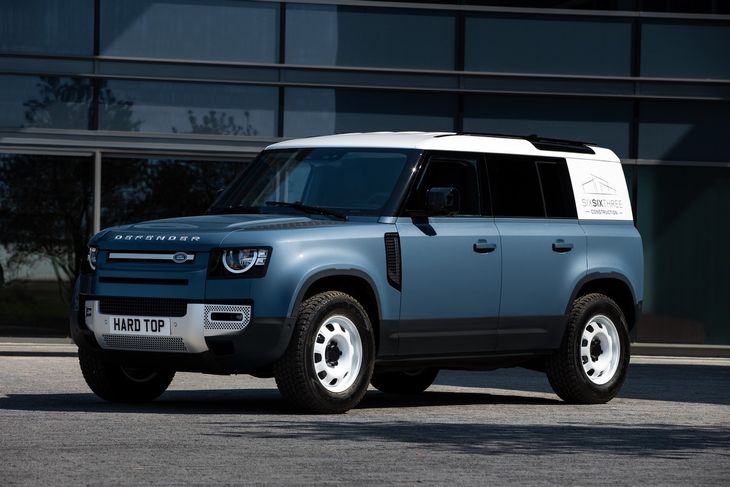 We don't believe the white "Hard Top" is detachable this time around, but it's tastefully matched with the minimalist wheels.
Land Rover will introduce new commercial Defender 90 and 110 Hard Top derivatives later this year, which will "combine unstoppable all-terrain capability with 21st-century connectivity to give professionals a unique combination of cargo space, practicality and premium comfort," the firm says.
The Hard Top name dates back to 1950, when demountable Hard Tops were introduced to add security and protection from the elements to early Land Rovers. Remember, Defenders aren't only highly regarded in the off-roading/overlanding fraternity; many workhorse iterations were often put to work as recovery vehicles in remote areas, to tow heavy trailers and in other commercial roles. Much like the Professional-spec of previous Mercedes-Benz G-Class ranges, the Hard Top versions of the Defender range are shorn of luxury features and trims (as well as 2nd or 3rd-row seats, to increase loading space), but can accommodate up to 3 occupants with the optional front-row jump seat.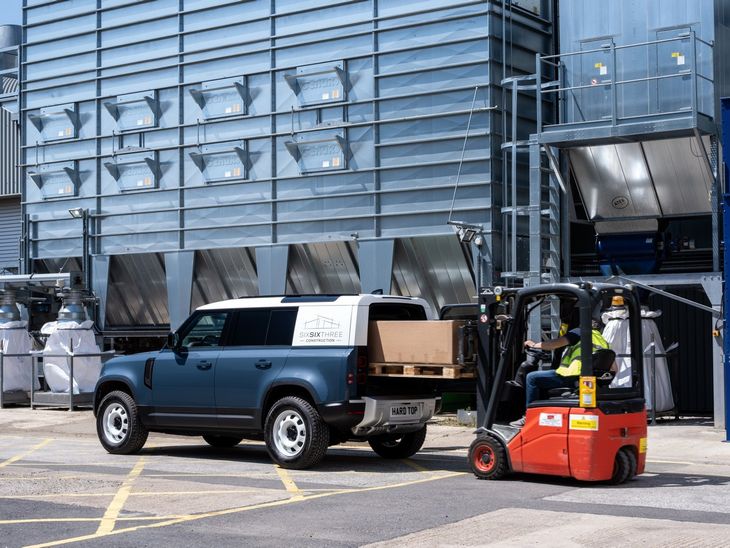 Land Rover has yet to reveal the official payload of the Hard Top derivatives, but maximum towing capacity will be 3 500 kg.
They're not completely stripped out inside, it must be said. Hard Top derivatives will feature Pivi Pro touchscreen infotainment system, which is Apple CarPlay and Android Auto compatible and supports Software-Over-The-Air (SOTA) update capability courtesy of Twin eSIM technology. The ClearSight Rear-view mirror system, meanwhile, preserves rearward visibility when the jump seat is occupied, or when the load space is full, by relaying a feed from a rear-facing camera to give drivers an unobstructed view.
In addition, "a comprehensive suite of advanced driver assistance systems" will be offered, such as Land Rover's 3D surround camera system, which helps drivers manoeuvre safely in tight spaces. In addition, a remote smartphone app allows businesses to keep track of the location, fuel level and journey history of their vehicle(s) remotely.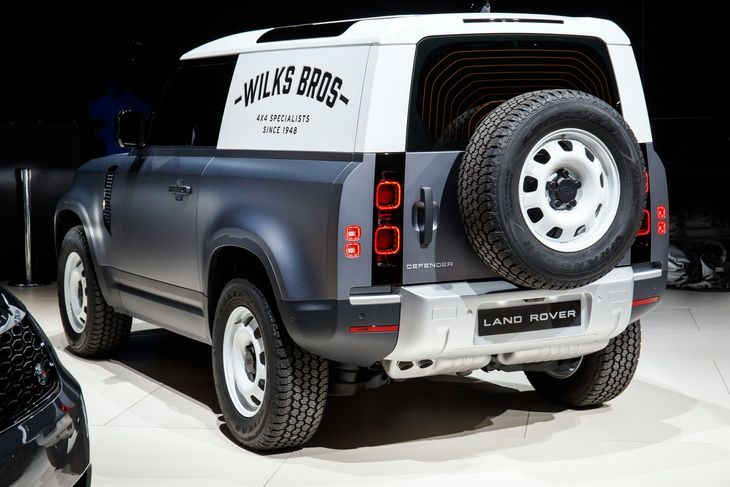 The 90 Hard Top has oodles of Tonka Toy appeal, it's a practically-minded product, but also a great marketing opportunity...
The 90 and 110 Hard Tops will feature independent coil-sprung suspension, with an air suspension setup available on the latter version. Both configurations will provide "outstanding off-road geometry", Land Rover says, with ground clearance of 291 mm, while the 110 Hard Top will have approach-, breakover- and departure angles of up to 38-, 28- and 40 degrees respectively (in Off-Road height). The maximum wading depth of 900 mm is supported by a new Wade programme in the Terrain Response 2 system.
Apart from "an impressive payload", which will be probably confirmed when the newcomers are officially launched, the Hard Top derivatives will have a towing capacity of up 3 500 kg, with a suite of technologies to help hitch, drive and reverse safely while towing a trailer. Land Rover's intelligent Advanced Tow Assist system, for example, makes it easier for drivers to execute tricky reversing manoeuvres by allowing them to steer trailers with their fingertips using a rotary controller on the centre console.
ICYMI: We drive new Defender on one of the world's toughest 4x4 terrains: Namibia's Kaokoland
"New Defender 90 and 110 Hard Top will be the toughest, most capable and most connected commercial 4x4s we have ever produced," Nick Collins, Land Rover Vehicle Line Director, said. Although the products are sure to appeal to high-end businesses, both in workhorse applications – not least as rolling marketing vehicles, the SVO division's new creations also set the scene for upcoming derivatives, which should include more hardcore off-roader versions kitted out with 4x4 accessories and associated paraphernalia...
Related content:
Land Rover Defender (2020) Specs & Price
Land Rover Defender (2020) International Launch Review
Land Rover developing V8-engined Defender?