We get behind the wheel of Volvo's flagship premium SUV. It offers plug-in petrol-electric hybrid technology, top-of-the-range safety features and serious performance potential, but does it have what it takes to be a class leader?
We like: hybrid technology, fuel economy, safety features, still retains 7-seat practicality, refinement
We don't like: battery life is short, fuel consumption climbs rapidly when battery's charge is depleted.
Alternatives
BMW X5 xDrive40e – the BMW arrived on the market at the same time as the Volvo, but its hybrid SUV is more expensive, has only five seats, less power & torque and its claimed fuel consumption is higher than the Volvo's.
Lexus RX450h – Lexus has been offering (a non-plugin) petrol-electric hybrid system in a premium SUV for years. The latest version is a seriously refined product, but it's not as thrifty as the Volvo, also has only 5 seats and less specification, but it costs a bit more.
Porsche Cayenne S e-Hybrid – it's the most expensive out of these three rivals and comes substantially down on spec when compared to the Volvo. Its hybrid system is not as efficient as that of the Volvo and it too has 5 seats in comparison to the XC90's 7-seat setup. Untested.
Compare the Volvo XC90 T8 Inscription with its rivals here.
What is it?
When Volvo released this generation of XC90, the evocatively-styled premium SUV caused a sensation. As the first all-new Volvo to be produced under new parent company Geely's ownership, the newcomer had to affirm the Swedish brand's finest attributes and plot a bold course for the future. It succeeded.
The Volvo has received many accolades, including one from us... The D5 Inscription was named the Best SUV in the inaugural Cars.co.za Consumer Awards, which was well-deserved. However, our experience of the Volvo XC90 has shown there are drawbacks to the Drive E generation of forced-induction 2.0-litre four-cylinder motors. Especially in petrol guise, the smaller engine needs to work hard to maintain the hefty 7-seater SUV's momentum and, as a result, the Volvo's fuel consumption (especially in an urban environment), tends to be higher than what the manufacturer claims.
Enter the T8 Twin Engine AWD Inscription – that's its full title. This T8 is visually similar to its siblings, however, under the sleek and shiny sheet metal there's an electric motor to complement the T6 2.0-litre engine. Does the additional technology give the XC90 that winning edge again?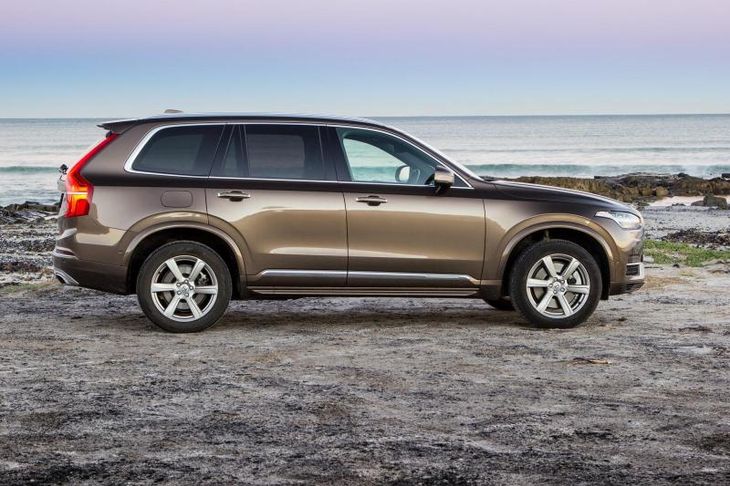 It looks like a standard XC90 on the outside, but the powertrain is far from standard.
How does it fare in terms of…
Efficiency and Performance?
The XC90 T8's powerplant comprises a petrol engine with electrical assistance. Interestingly, the XC90 is built on Volvo's new scalable platform, which was designed to include an electric motor, whatever additional circuitry may be required and affiliated battery packs. Up front is a turbocharged and supercharged 2.0-litre petrol-powered motor that produces 235 kW and 400 Nm. The latter powers the front wheels through an 8-speed automatic transmission.
Then there's an electric motor nestled on the rear axle that powers the rear wheels and produces 65 kW and 240 Nm. The system's combined outputs, 300 kW and 640 Nm, are more commonly associated with a sportscar, yet here we are in a hybrid 7-seat SUV! Clever packaging from Volvo has resulted in the 9.2 kWh battery being positioned in the tunnel that runs through the middle of the floorpan, so the standard luggage space/7-seat configuration remains.
Volvo claims a surprisingly brisk 5.6-second dash from 0 to 100 kph, but doing repeated sprint runs decimates XC90's T8's battery life and, frankly, defeats the purpose of this vehicle. The other eye-opening claim is that the Volvo consumes 2.1 L/100 km and emits 49 g/km of CO2.
In reality, the fuel consumption is good, but it's not that good. See, it all depends on the state of the battery. If it's fully charged and you don't need to go on the highway, you can get away with not using any petrol power whatsoever and it was possible to drive home from the office on electric power only. At one stage we saw an incredible consumption readout of 1.9 L/100 km!
However, the battery's power reserve doesn't last long, particularly if you're in a hurry, and once the petrol engine has to operate on its own, fuel consumption climbs. When driving in a normal style with the battery depleted, it's a trifle disappointing to see a consumption display over 10.0 L/100 km.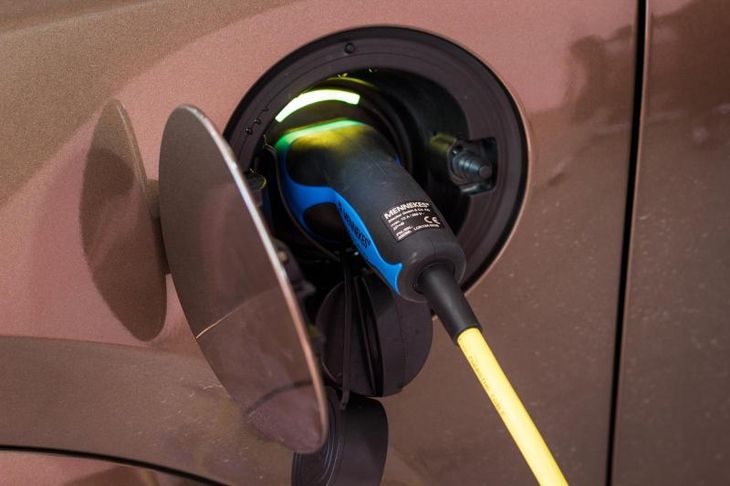 Charging takes three hours and you don't need Volvo to come install anything at your home or office.
Charging the XC90 T8 is simple. There's no need to visit a dealership and no need for Volvo to install anything at your home. The derivative comes with a charging cable that plugs directly into a household wall socket in your garage (or at least within the cable's reach). The process takes 3 hours and the connector clicks safely into a port located on the left side of the car near the front door. We routinely would plug the T8 in at the office so it was fully charged by the time we were scheduled to head home. With another overnight charge, we could commute back to work without tapping into the petrol engine at all.
See how the powertrain works here:
Drive quality?
There are 5 drive modes (Pure, Hybrid, Power, All Wheel Drive, Off-road), but Pure and Hybrid are likely to be used most often. Pure gives you the option of electric power at speeds of up to 125 kph with the petrol engine completely off (battery charge permitting), while Hybrid is the default setting with a blend of electric and petrol power. Power mode summons every last Volt and cranks up the responsiveness of the petrol engine for maximum performance, which is ideal for achieving maximum acceleration from a standing start, should you ever need it. Rather don't mash your foot down because while the vehicle can deliver spirited performance, the engine note sounds rather strained and unrefined under that circumstance – hardly in keeping with the XC90's personality.
The drive quality is not too dissimilar to that of a standard XC90 – refined and luxurious, but the way the vehicle cleverly switches between electric power and petrol was particularly impressive. The vehicle can recoup some of the electric energy with regenerative braking as well as the Charge mode. You can set the car to harvest more energy by selecting Brake mode on the gear selector: when you take your foot off the accelerator the car will gradually decelerate as if someone has pushed the brake pedal for you. It's not as apparent as, say, the BMW i3 which almost negates the need for a brake pedal with its aggressive regeneration. We spent the majority of our time with the car set to the default hybrid mode (with brake regeneration on) to eke out maximum efficiency.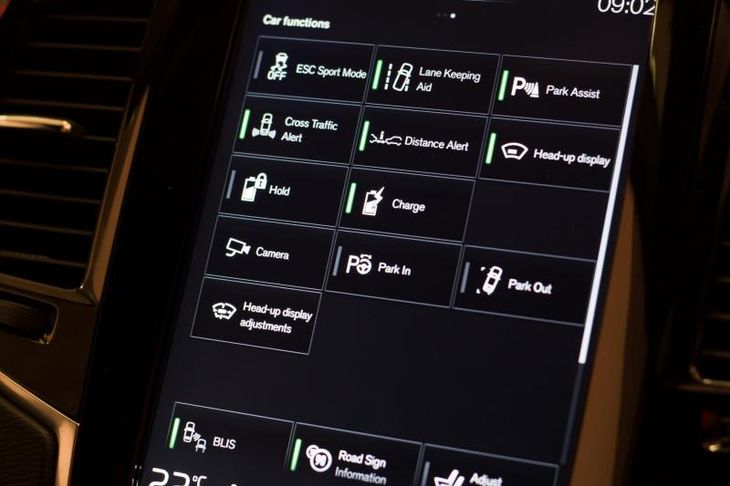 Volvo's tablet interface continues to impress. Charge and Hold functionality are unique to this model.
Safety?
Volvo continues to make major advances in terms of vehicle safety and the XC90 is, unsurprisingly, one of the safest SUVs on the road. Standard safety specification includes 7 airbags, pedestrian & cyclist detection, run-off-road mitigation with impact-absorbing seats, auto brake at intersections for oncoming traffic, front collision warning with auto brake, lane departure warning and road sign information. Our test unit came with adaptive cruise control (including Pilot Assist), which is a R19 000 option.
Pilot Assist is Volvo's smart traffic assistant and while it's not being marketed as semi-autonomous technology, it takes the chore out of negotiating gridlock traffic. The XC90 essentially follows the vehicle in front of it up to a speed of 50 kph and it won't stray out of its lane. It's eerie watching the steering wheel make tiny adjustments without any driver input, but you can't take your hands off the wheel for too long (the onboard system will sound an alert). While it's a great step forward in terms of avoiding bumper bashes and the advance of low-speed autonomy, control of the T8 still ultimately rests in the driver's hands.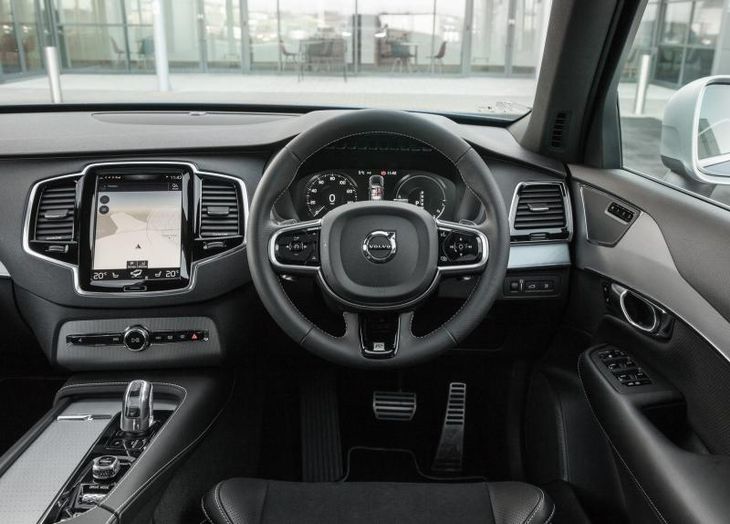 The XC90 cabin is spacious, minimalist and well built. The T8 model gains a crystal gear selector.
Volvo XC90 T8 Twin Engine price in South Africa
The Volvo XC90 T8 Inscription is priced from R1 116 100 and comes with a 5-year/100 000 km warranty. There's also a 5-year/100 000 km full maintenance plan. Our test unit was specified with some extra features courtesy of the Premium Pack, which is a R55 500 option.
This pack is well worth the money and includes: heated front seats, heads up display, visual park assist with 360-degree HD cameras, power adjustable side supports in the seats, 19-speaker Bowers & Wilkins premium audio system, keyless entry and start as well as blind spot info system with cross traffic alert.
As mentioned earlier, Pilot Assist with adaptive cruise control is a R19 000 option. Other options worth noting are privacy glass (R4 750), compass in rear-view mirror (R1 275) and the big 19-inch alloy wheels are a no-cost swop out.
Verdict
This Volvo XC90 T8 Twin Engine Inscription makes a serious case for itself. It's more affordable than its rivals, yet retains 7-seat capability despite the addition of an electric engine and batteries. The tech is impressive and it moves the segment's goalposts a little further forward. It's easily one of the most advanced hybrids on sale today and should help dispell that negative perception that hybrids are a bit uncool. What's cooler than being able to drive to and from work without using any petrol, but still be able to undertake long trips (utilising petrol power) when you want to?
The XC90 T8 is currently the best hybrid SUV on sale and its technology is staggeringly good. We'd wish the battery life was a little longer as the electric charge just seemed to deplete rather quickly when we were on the highway, but we found the T8's consumption quite acceptable at slower speeds.
Products such as the T8 and its rivals are too new for us speculate on how eager South African consumers will be to adopt the new technology. As things stand, the plug-in hybrid market is comparatively tiny and for some buyers, the technology will be intimidating, as plug-in hybrids are relatively unproven in our market. Therefore, we predict that few T8 derivatives will find owners compared with non-electric XC90 models.
Nonetheless, the technology in this Volvo is deeply impressive and should set a trend amongst automakers. While the premium SUV plug-in hybrid market may be small and comprise just three entrants (Volvo XC90, BMW X5 40e, (as yet untested) Porsche Cayenne e-Hybrid), the Volvo is our pick of the litter.
Quick specs of the Volvo XC90 T8 Twin Engine Inscription: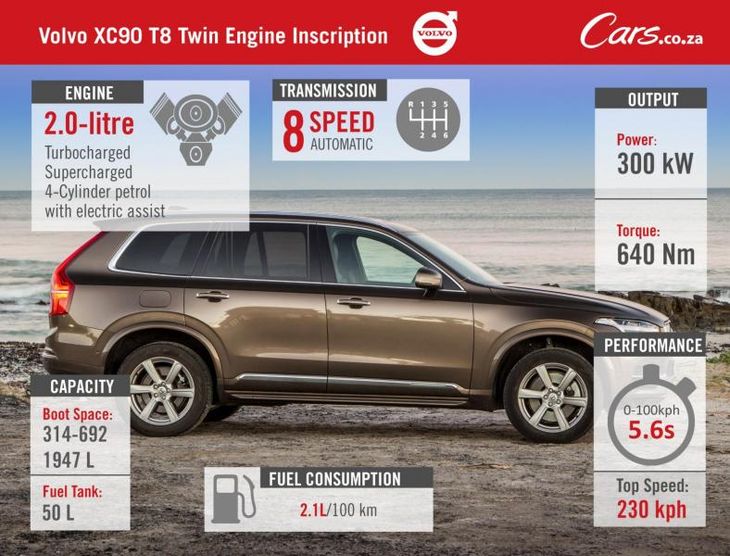 Related content
Check out the latest Volvo news here
Shootout: Volvo XC90 vs Audi Q7
Interested in buying a Volvo XC90?