We finally get our first taste of Lamborghini's new super-SUV – the Urus – on local soil... Does it live up to the brand's near-mythical status?
The automotive world had a nightmarish 2019, but Lamborghini sold 8 205 vehicles last year, which is a whopping 43% increase over the St'Agata-based firm's 2018 sales total. So, how exactly did the Italian company manage that? The answer is very simple: the Urus (the brand's new super-SUV) accounted for than 5 000 of those 8 205 sales. But is this cause for celebration – or concern? Is Lamborghini at risk of losing that extra-special appeal that makes it uniquely hardcore, even among other supercar makers? We sampled the Urus on local roads to find out...
Fast Facts
Price: R3 495 000 (March 2020, no options)
Engine: 4.0-litre V8 twin-turbo
Gearbox: 8-speed automatic
Fuel economy: 12.3 L/100 km (claimed)
Power/Torque: 478 kW/850 Nm
Performance: 0-100 kph in 3.6 sec (claimed)
I've experienced this moment before. It was in early 2004. I had just been given the keys to the 1st-generation Porsche Cayenne. The arrival of the Zuffenhausen-based firm's premium SUV had been widely criticised; even the most ardent Porsche enthusiasts viewed the newcomer with acute scepticism. It seemed everyone was having a good, fat moan about it. To be honest, I too expected the Cayenne would be like any contemporary SUV in its segment... that it would lack that special Porsche DNA.
It took just one jaunt on Cape Town's De Waal drive at the 'wheel of that Cayenne for me to be well and truly won over. How was this possible? This awkward-looking behemoth handled and steered with uncanny precision. From that moment on, I've always had a soft spot for Porsche's SUV, and the fact that it essentially bank-rolled the marque into the powerhouse that it is today had precious little to do with it. The Cayenne was just plain good to drive, against all expectations and, importantly, Porsche-like where it needed to be – from the start, and increasingly so in later generations.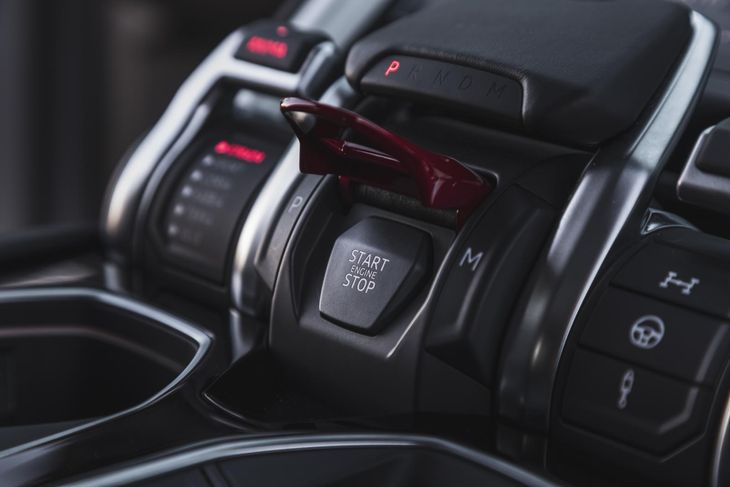 As in other Lamborghinis (and fighter jets) you have to flick open the red lid to press the starter button.
Roll on 16 years, and I'm faced with a similar situation as I slip onto the firmly-bolstered driver's seat of a dark metallic grey Lamborghini Urus. I'm really hoping that it will live up to the reputation of its revered manufacturer, because it's a brand I've always held in high esteem. I admire the marque's hard-edged, uncompromising approach to things in a world that's become so "bubble-wrapped".
First indications are positive. Although some of the switchgear is obviously sourced from the VW Group parts bin, there's enough Lamborghini style in here to make just sitting in a Urus an occasion. There's also an awful (or wonderful, depending on your point of view) lot of Italian wording to get used to. What would typically be called something like "Drive Select" is called "Tambura" in the Urus and instead of "Normal", "Sport" and "Sport+" you get "Strada", "Sport" and "Corsa". Tick some option boxes and you also get off-road (Terra) modes, including "Neve" (Snow) and "Sabbia" (Sand).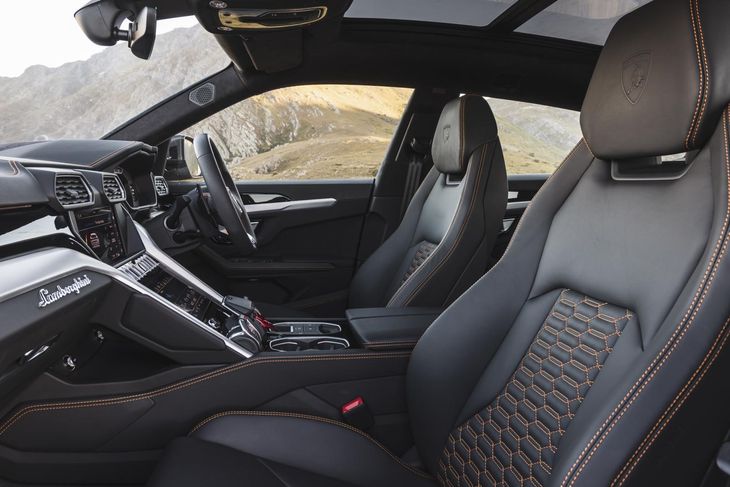 The dramatic interior is spacious (even in the rear), and though the seats are firm, they proved to be comfortable on our long-distance test drive.
There's also that cool red cap over the starter button that has to be flicked open – fighter-jet style – before the Urus can be thumbed into action. It fires up with a nice rorty crackle. I pull back on the right steering-mounted shift paddle to engage drive and we duly edge our way out of the Lamborghini showroom in Cape Town with nervous excitement. The first 2 ratios of the 8-speed 'box are short, so even in the default Strada drive mode, the Urus feels eager to respond to throttle inputs.
The ride quality feels firm, possibly too firm, at low speeds. I suspect this can be attributed to the Urus' massive wheels, shod with suitably low-profile rubber... 21-inch wheels are standard but our test unit featured colossal 22-inch items. If you want, you can also have 23-inch wheels. As speeds rise, however, the adaptive air suspension (with electromechanical roll-stabilisation) gains a more supple character and as we were to find out later, the Urus is a very effective high-speed, cross-continent cruiser, whatever the road surface might be like (we didn't venture off-road, however).
'Explodes into action with an almighty roar'
It's been a while since I've driven a Lamborghini, but the directness and weighting of the steering feel vaguely familiar, as does the eagerness of the drivetrain. The Urus is powered by a twin-turbocharged 4.0-litre V8 that delivers a whopping 478 kW and 850 Nm of torque, the latter figure being on tap constantly from 2 250 to 4 500 rpm. It's mighty... this bull.
The 2.2-tonne Urus can effortlessly blast to from standstill to 100 kph in 3.6 seconds, 200 kph arrives in 12.8 seconds and the top speed is 305 kph. But those astounding numbers alone don't tell the full story. While always responsive to throttle inputs, even in "normal" Strada mode, the Urus explodes into action with an almighty roar when you stomp on its accelerator pedal. That level of ferocity is bound to leave first-time Urus drivers somewhat breathless and bewildered (like I was). This. Should. Not. Be. Possible.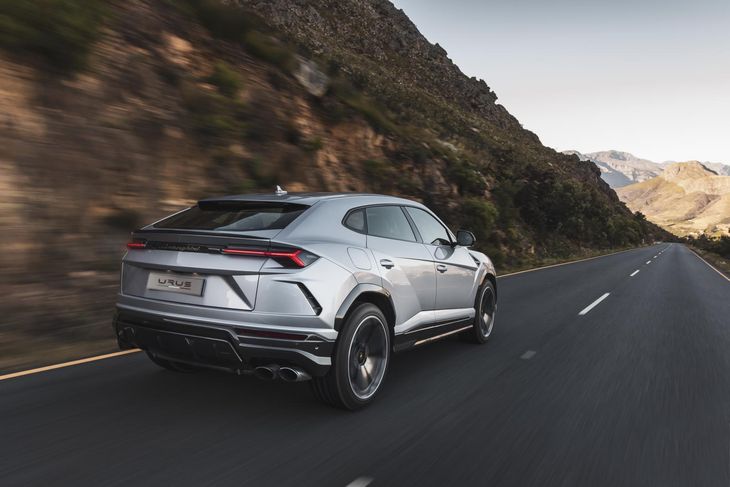 Mean machine. Dramatic looks are backed up by a driving experience to match.
There's no fancy dual-clutch transmission in the Urus, just a torque-converter 8-speed 'box, but it does a very good job. Its shifts are calibrated to ensure strong acceleration from rest, as well as efficient cruising at higher speeds. Lamborghini claims a combined cycle consumption figure of 12.3L/100 km which, during our test, was never on the cards. We were simply having too much fun!
Happily, our test drive route included some mountain passes. One wouldn't think that a tight and twisty ribbon of tarmac would be the ideal playground for a heavy, large SUV. But as the Cayenne proved many years ago, engineers are nothing if not resourceful. Torque is split 40/60 front-to-rear as standard, but the Urus can shift up to 70% of its torque to the front, or up to 87% to the rear, depending on the situation. Another feature is active torque-vectoring via a rear limited-slip differential, and in Sport or Corsa modes, the Urus adopts a more "oversteery" handling nature.
And then there's rear-wheel steering, adopted from the Aventador S hypercar. At low speeds, the rear-axle steering angle is opposite to that of the front wheels, which effectively shortens the wheelbase by up to 600 mm, with the main benefit being a smaller turning circle. At higher speeds, the rear-axle steering angle is in the same direction as the front wheels, which results, Lamborghini says, in improved stability and ride comfort as well as "optimum" driving dynamics.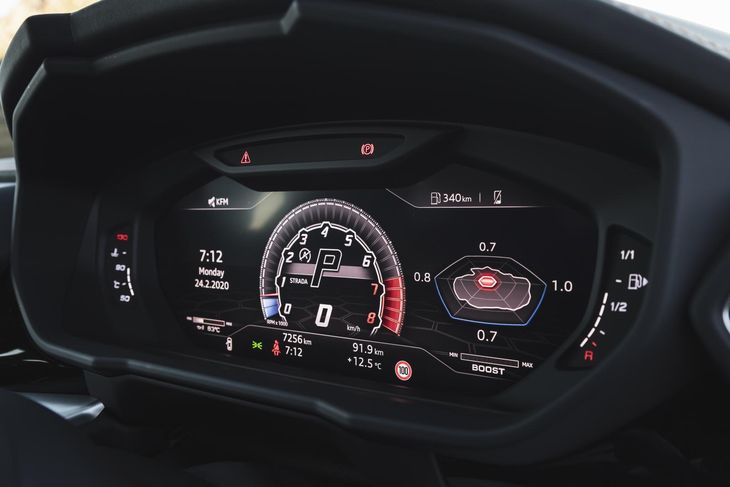 Large facia instrumentation display changes layout depending on the drive mode selected.
It works. Well, don't get me wrong... you can't expect the Urus to deliver Aventador or Huracan-like theatrics, but the Urus corners with the kind of poise and agility that a vehicle weighing this much should simply not be able to muster. To be fair, it's not a vehicle that ever feels particularly keen to slide at the rear, and even in Corsa mode a degree of body roll remains, but the Urus just has so much grip and, as a result, cornering speeds are high and the ability to rocket out of bends impressive, to say the least. And unlike many fast SUVs, the Urus is fun to drive fast – the precision and speed of the transmission play a big role in that, as do the weighting of the steering and the motor's wicked soundtrack. There just isn't another sports-SUV that feels like this. It's as simple as that.
Verdict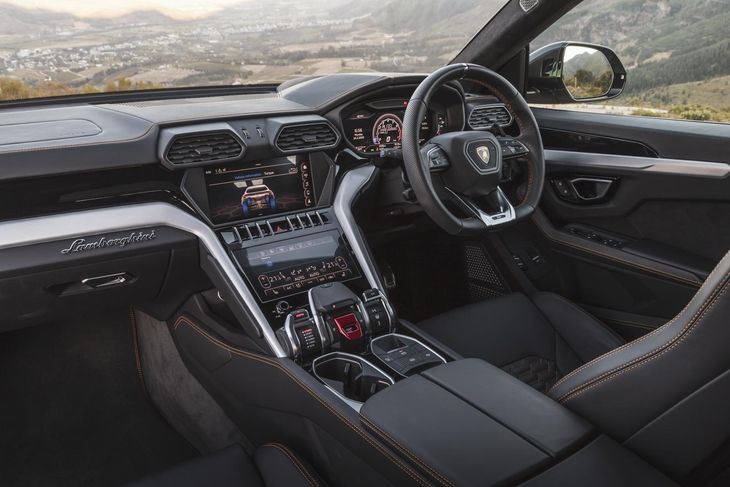 As ever, there are many options to choose from, but even as standard the Urus's cabin delivers a real sense of occasion.
Like the Cayenne did many years ago, the Urus has rewritten the sports-SUV rulebook. At the same time, it is helping to fund the development of future, more traditional sports machines from the Lamborghini stable. It remains to be seen what the upcoming Audi RS Q8 will cost, and how close it will come in matching the Urus for driving and emotional appeal, but for now we rate the Urus as actually attractively priced (for a Lambo) at R3 495 000, particularly because its healthy dose of emotional, irrational, typically hardcore Lamborghini appeal is matched by its real-world abilities.
Related content:
Mansory's Geneva 2020 Specials