South Africa is set to have 3 major electric-car introductions in 2019 and Jaguar flicked the proverbial switch by rolling out its I-Pace, which is now on sale in Mzansi. We sent Ciro De Siena to Jo'burg to put it through its (i)paces.
Right up to February 2019, South African motorists had a very limited choice in terms of fully electric vehicles. You could either buy a BMW i3, or you could opt for a BMW i3. That was it; since Nissan SA discontinued sales of its 1st-generation Leaf (and has hesitated to introduce the vastly improved second-generation Leaf, which made its global debut as long ago as 2017), the EV market has been rather quiet.
Jaguar is set to change this current malaise in 2 important ways: firstly, by putting a thoroughly up-to-date product on showroom floors, and secondly, by investing heavily in charging infrastructure that will enable owners of EVs (from any brand) to charge their cars.
Unfortunately, and largely thanks to a ridiculous tax structure, motorists are going to have to dig deep into their pockets to get involved.
Own a Jaguar? Tell us about your experience here.
What is it?

The new I-Pace blends SUV/Coupe and some Shooting Brake
Different, that's for sure. The new all-electric I-Pace is the halo car in the Jaguar stable. From 2020, every model in the Jaguar stable will have an electrified derivative (mild hybrid, plug-in hybrid or full EV), but right now, the i-Pace is leading the charge.
It's a properly luxurious car, which Jaguar insists is an SUV. If it is, it looks like no other SUV in existence. Its profile is properly dynamic and while it has a fairly high ride-height as standard, which the optional air suspension can increase at the touch of the button, the I-Pace seems to incorporate design cues from a shooting brake, a coupe, a 5-door hatchback and an SUV. While this sounds like a sure-fire recipe for an absolute eye-sore, it really, really works. This is a trailblazing car and it needed a strikingly unique design to signal its intent, and I think the designers have nailed it.
Interior comfort, features and space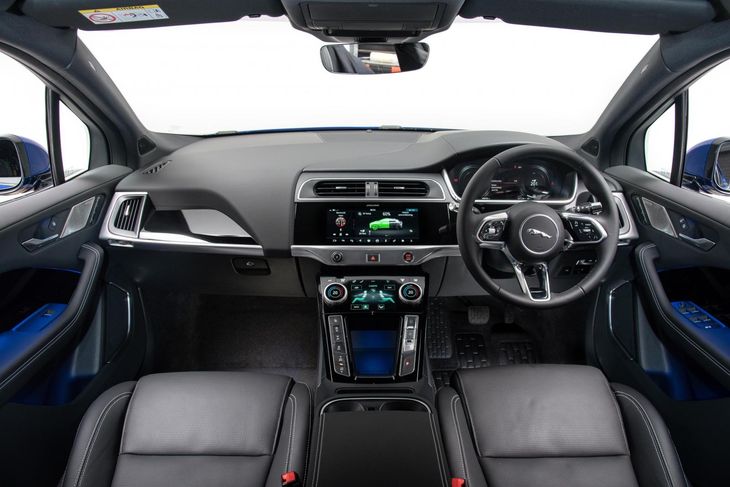 The interior is very upmarket with a choice of 3 digital screens to focus on.
The interior fit and finish are remarkable – I'd say on par with the very best in the Jaguar/Land Rover line-up. High-quality materials and acres of leather fill the cabin and, of course, everything is digital, with a digital instrument binnacle, large centre display and a 3rd, lower-set screen for such functions as climate control, dominating the fascia. Allround visibility is good and, with the high shoulder line, you do feel cocooned in every seat.
With the wheels pushed to the corners of the car, interior space is generous with comfortable seating for 4 adults, while a 5th passenger could squeeze into the rear seat. Due to a 2nd motor sitting on the rear axle, the load bay is fairly compact (shallow, in terms of height, but decently deep, in terms of length. Because SA-spec cars will be fitted with spare wheels, the space-saver will sit on top of the floor (in a custom cover), further eating into your luggage space. It should be sufficient for the daily commute or school run, but it will be a tight squeeze for 4 people's luggage.
Dynamic on-road handling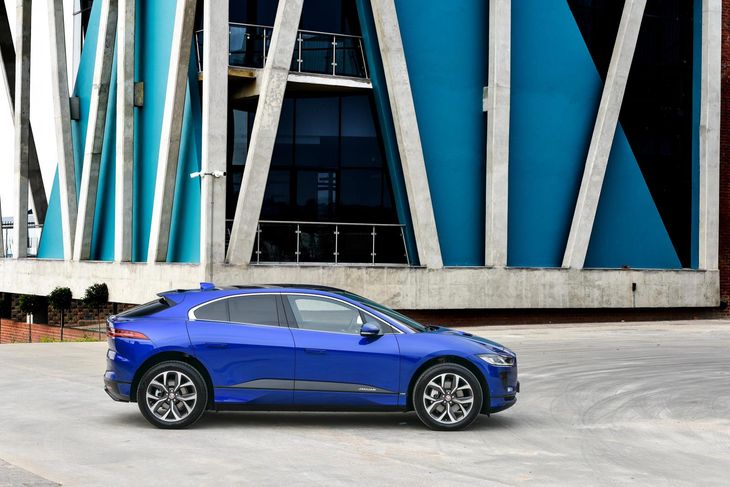 Despite its mass (the batteries alone weigh 600 kg), it has a low centre of gravity, cornering with agility.
The i-Pace is quick, really quick, especially off the line. With nearly 700 Nm of torque available from a standstill (that's right, zero rpm) and 294 kW on tap, the Jaguar's party trick is certainly off-the-mark acceleration. Part of the launch was an opportunity to drag race the I-Pace against the fastest Jaguar available in South Africa, the F-Type SVR. With similar torque, but significantly more power, and vastly less weight, the SVR was repeatedly neck and neck or just outpaced by the I-Pace. It's a phenomenal thing to witness and you can watch it happen in the video below.

With the 600 kg battery pack situated in the floor of the car, the centre of gravity is incredibly low, and even at high speed, the I-Pace is capable of changing direction sharply and with remarkably little drama, only understeering slightly when you're really driving like a buffoon. Out on some of the twisty roads towards Hartebeesport Dam, it proved thrilling to drive, with mountains of traction from the all-wheel-drive system (with torque vectoring), and piles of torque from the Jaguar's pair of electric motors. The car will hit 100 kph from standstill in 4.8 seconds and, remember, the torque delivery is instantaneous – be careful when changing lanes; don't accelerate too early or you might find yourself in someone's boot.
Of course, there is no fossil fuel being burnt here, and so the experience is almost unsettlingly quiet at first. There is the option to pump some artificial engine noise through the sound system if you wish, but after a brief spell in the car, you become accustomed to the sheer tranquillity of it and the lack of mechanical noise actually becomes calming. The ride quality and ride comfort are simply incredible, there's little-to-no wind noise and overall, progress is made in as smooth a manner as you could wish from any high-end, luxury car.
And of course, all of this is happening without a single gram of CO2 being left behind.
Driving an electric vs internal-combustion powered car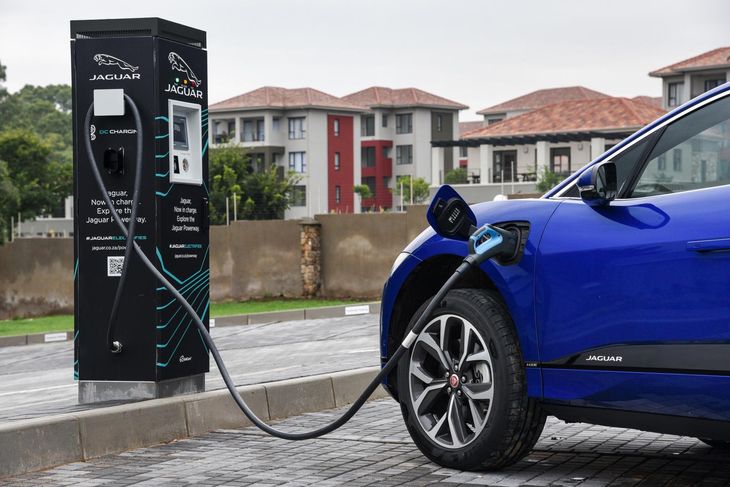 Charging points are available along many routes but most owners will charge at home or at work.
The most significant difference that drivers will need to adapt to is the way they interact with the I-Pace's accelerator pedal. I've read before that some owners of Teslas only replace their front brake pads after 8 years, and after driving an electric car with powerful regeneration, I understand why. In normal city driving, you barely touch the brake pedal at all.
Under deceleration, the motors exert a drag on the drivetrain, which creates a braking effect. The "brake" force is so strong that the car activates the brake lights automatically as soon as you lift off the accelerator pedal, and the regeneration effect has the bonus result of charging the battery.
What it means in practice is that you effectively drive the car with one pedal, accelerating as one needs to and backing off when you approach a corner or want the car to come to a stop. It takes far less time to adapt to than you might think, and once you're used to it, it becomes an enjoyable and relaxing aspect of the EV driving experience.
Off-road capability
A surprising aspect of the launch was taking the I-Pace on the off-road course at the new Jaguar Experience Centre in Lonehill, Gauteng, followed by the drive route taking us, quite literally, through the Jukskei River, as you'll see in the video below.

When approaching a water obstacle in the I-Pace, your survival instincts certainly kick in and I even asked the instructors over the walkie-talkie if they were sure about this. But the I-Pace actually has a wading depth of 500 mm, which is the same as a Jeep Cherokee!
The I-Pace has a crawling feature known as All Surface Progress Control. By activating the feature, the driver can set the crawl speed via the cruise control toggle (from 3.6 kph to 30 kph) on the steering wheel, allowing for "feet-off" control of the vehicle as it accelerates, brakes and uses torque vectoring (brake-enabled and by bypassing either engine) to negotiate tough terrain. This is particularly useful in snowy and icy conditions, but down here, in the Republic, we used it to crawl over some particularly nasty-looking rocks.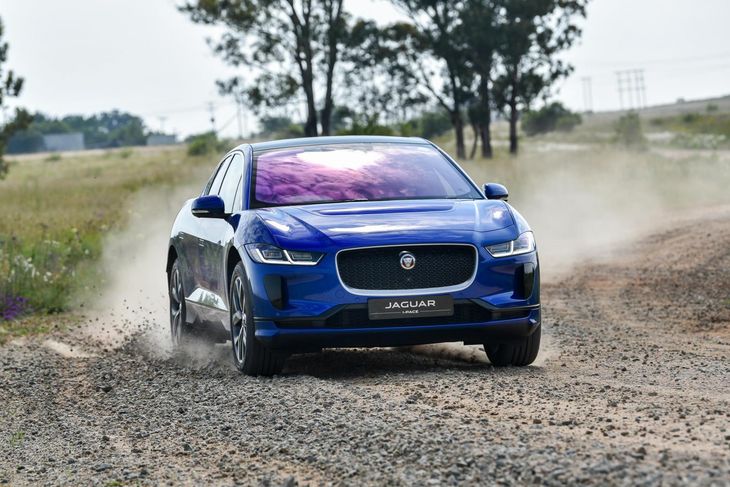 Dirt is not really teamed with electrically powered cars, but in the I-Pace's case, it handles it well.
Additionally, part of the launch route featured about 50 km on gravel roads, which was also an unexpected part of the launch programme. With Goodyear SUV tyres, and particularly in the unit I was driving (which featured air suspension), the I-Pace traversed the gravel roads with ease.
I can't imagine many I-Pace owners would ever drive their cars through a river, over a rock garden or perhaps even on gravel roads, but the reality is that Jaguar's newcomer has been built for it. And, given that local motorists really do use their cars for road trips to far-flung corners of the country, Jaguar is very keen for the public to know that their fully-electric car is not a city-bound princess.
Charging method, charging cost and range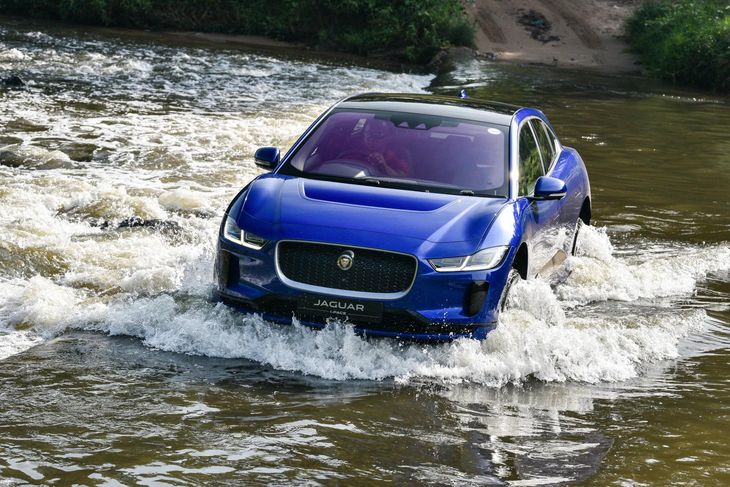 Wading depth on the I-Pace is 500 mm, only 400 mm of a Land Rover Discovery...
And the issue of road trips brings us neatly to the prickly subject of actually charging the car in this country, made worse by the current climate of load-shedding and the dramatic issues affecting Eskom. I often talk about electric cars on talk radio stations and without fail, a listener will call in and tell me that, "if we can't keep the lights on in this country, how on earth are we going to charge all of these electric cars!"
Let's start with the range. While official figures would suggest a range of 470 km, in the real world you can expect a range of around 400 km. This is a genuinely usable distance, given that the average motorist in South Africa drives around 60 km per day. But in my personal use case, I live 10 km from the office. If all I ever did was drive to the office and back, I would only have to charge my car every 20 days.
The reality is that electric cars are, by and large, charged by their owners at home. The wall box for your I-Pace will be supplied and installed in your home for around R30 000, but that price can fluctuate depending on the unique layout of your home (for instance, if your garage is far from the main house). Interestingly, as car makers have adopted a standard connection, even if you decide to eventually buy an EV from another brand, you can still use that wall box. It is a 7.4 kW charger, which means that if your car battery was absolutely flat, it would take around 12 hours to fully charge.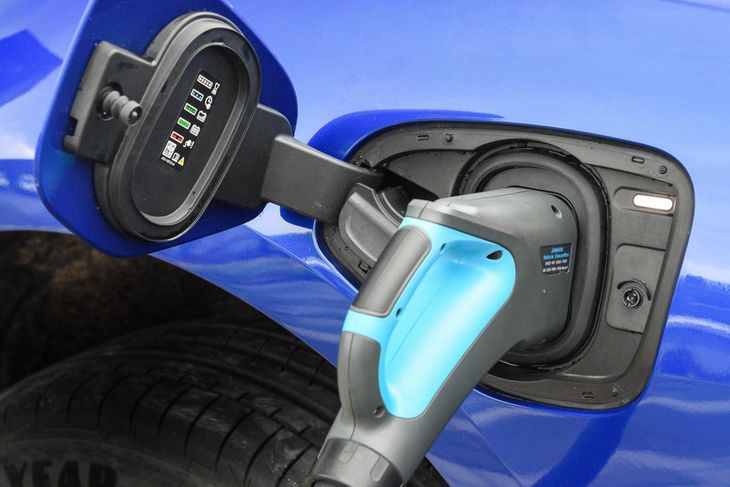 Thankfully most electric car manufacturers have made their plugs interchangeable, so you can charge at any station.
However, the idea is to get into the habit of not waiting until the battery is dead, but rather topping it up, in the same way as you plug your smartphone in at night, regardless of its battery level.
The benefit of charging at night is two-fold and is important in the South African context. Firstly, the owner can make use of off-peak tariffs, which means a "full tank" will cost you even less. In Gauteng, the price per unit of electricity scales up depending on total power consumed in the month, with the highest price per kWh set at R1.94. With a 90 kWh battery, the iPace will therefore cost R174.60 for a full charge, resulting in a price per kilometre travelled of 43c (assuming an actual range of 400 km). This compares extremely favourably with the running costs of petrol or diesel powered cars. Do note, however, that the price of a kWh at public charging fluctuates, depending on the deal agreed with the property's owners.
The benefit to the country is that, as most of our power comes from coal stations, those stations can't be turned off at night; they continue to generate the same amount of power as during the day, which means that while we're all sleeping there is vast extra capacity in the grid, which sounds about perfect for electric cars to tap into. The reality is we do have the capacity to run a massive fleet of electric cars on our roads.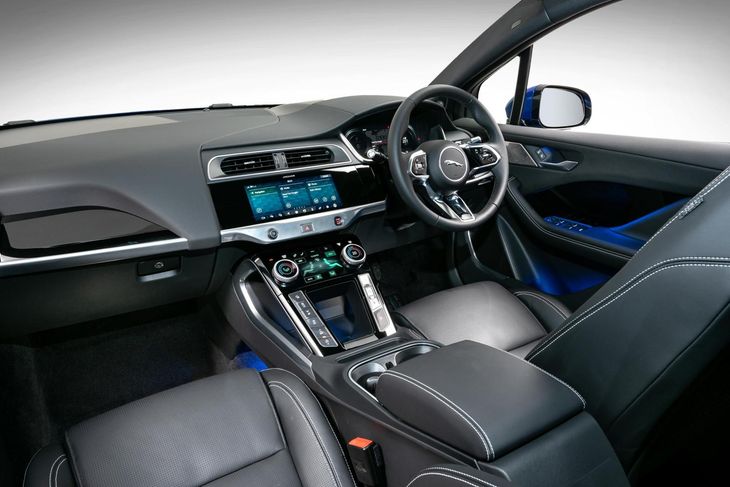 As far as performance SUVs go, it's priced around the competition, but it's not quite the same size as the likes of a Range Rover.
Additionally, Jaguar has invested more than R30 million into a charging network known as the Jaguar Powerway, which will allow I-Pace owners, and importantly owners of EVs (irrespective of the automotive brand that produced them), to charge their cars across the country, and enable those motorists to travel between the major hubs such as Joburg to Durban, or Joburg to Cape Town. The network of 82 superchargers will be positioned in convenient locations such as malls and petrol stations. The powerful 60 kW superchargers can charge an I-Pace from 0% battery to full in about an hour and a half, but can provide the car with enough charge for 100 km of range in around 20 minutes.
On the launch, we drove out of town and back on a three-and-a-half-hour round trip, and arrived at the hotel with 196 km left "in the tank". In my opinion, range anxiety really should now be a thing of the past.
Price
All this does come at a price, and the situation is not helped at all by government taxing electric vehicles 7% more than standard cars. In some countries, electric vehicles are zero-rated or in some cases incentivised with tax rebates, and one can only hope that that becomes a reality for local motorists in the very near future. The price of the iPace ev400 (to give it its full name) is as follows:
S R1 687 230
SE R1 745 540
HSE R1 829 880
First Edition R1 920 700
Jaguar provides back-up in the form of an 8-year/160 000 km battery warranty and thanks to the low maintenance nature of electric vehicles, service intervals are at 2-year or 34 000-km intervals.
Summary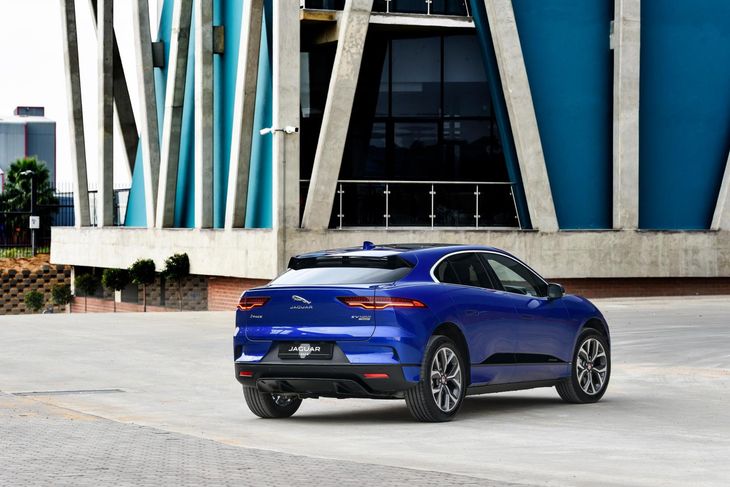 While government applies extra duties on electric cars, we will have to pay more than necessary for the privilege of driving one.
If the only place you ever charged your EV was at home, given a range of 400 km, the I-Pace truly becomes a viable form of motoring. Without mentioning the green credentials of zero-emission vehicles, the savings on running costs and maintenance will be staggering.
Of course, with a purchase price of nearly R1.7 million, you'd have to drive to the moon and back to recoup your initial investment. But what the I-Pace represents is the tantalizing prospect of a new era of motoring, and with the company's investment in the infrastructure, they have paved the way for wider adoption of the technology.
The I-Pace is a phenomenally impressive product. I haven't driven the upcoming Audi eTron or Mercedes Benz EQC, but in my experience, the breadth of the I-Pace's abilities is virtually unrivalled in the automotive world, especially by traditionally powered vehicles, and I remain very jealous of those who can afford one. This is a car I would happily drive every day of my life.
Related content:
Jaguar I-Pace Drives from Jhb to Durban
Audi e-tron (2019) International Launch Review
Audi Goes on Plug-In Offensive