South African might soon have a new car brand, from Iran.
Mureza Auto Company has announced its intention to launch a hatchback locally, with funding from the UAE securing its operational capital.
This new venture will be debuting its Prim8 hatchback at the Automechanika show in Johannesburg, which opens this week.
What do we know about the Prim8? The platform and most of its engineering are sourced from Iran's SAIPA group, which has been building vehicles on contract for the Iranian market since 1965.
The Prim8 features a 1.5-litre naturally-aspirated petrol engine, producing 87 kW. As one would expect from a hatchback of its size, the Prim8 is front-wheel drive.
Mureza is keen to offer comprehensive equipment levels with its Prim8. Its best trim option for the local range will include keyless entry, a seven-inch touchscreen infotainment system, SatNav, rear-view camera, parking sensors and air-conditioning.
You'll also get electronic stability control, tyre-pressure monitoring, a powered driver's seat and four airbags.
Price? Mureza isn't confirming a specific retail structure but quotes a figure within the relatively narrow band of between R180 000 and R200 000 for the best-equipped Prim8.
What is particularly interesting about the Mureza Auto project, is how it intends to source and produce these Prim8s for the local market.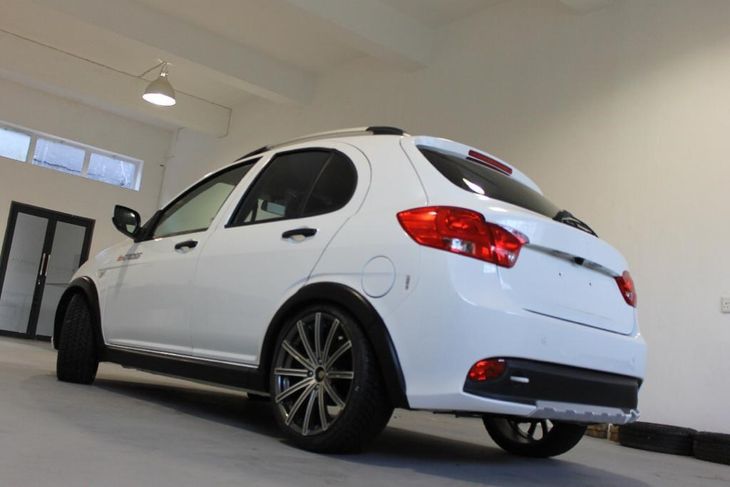 This Prim8 appears to be locked up in someone's office.
The initial assembly will commence in Rosslyn, with plans to expand to another facility in Zimbabwe. Mureza is also considering a revival of the former Hyundai assembly plant in Botswana. The latter is a viable option with geographic advantages, considering its proximity to the large South African and relatively robust Namibian new vehicle markets. Whether Zimbabwe will be capable of facilitating vehicle assembly and transhipment during its current economic crisis appears unclear.
Mureza is positioning the Prim8 in a very competitive market segment, which is dominated by the VW Polo Vivo and Toyota's Etios. It will also face competition from Hyundai and Kia, which although smaller in size, have proven technology and an established South African presence.
The local hatchback market has not been kind to emerging brands. Tata tried. And failed. Most of the Chinese hatchbacks marketed in South Africa have been removed from the local market too. Mureza would have to do something extraordinary to achieve substantial sales volumes.
It is aiming for assembly volumes of 10 vehicles per day and hoping to grow that to 35 units. If Mureza's assembly facility only runs on weekdays (which would be potentially unprofitable for an automotive assembly plant), that would put conservative monthly production at 200 Prim8s.
Don't expect to see a Mureza dealership, though. To avoid the costly set-up infrastructure for countrywide distribution and dealership networking, Mureza plans to sell the Prim8 through used vehicle outlets. There is talk of an online sales channel too, but no clear details about this venture at the moment.
And the name? Well, 'Mureza' means The flag in Shona.
Related content
Budget Car Comparison (2019) Datsun Go vs Renault Kwid vs Kia Picanto vs Mahindra KUV vs Suzuki Celerio