Are you looking to buy a new budget car? We compare 5 of South Africa's most affordable budget cars in the new vehicle market to find out which one deserves your hard-earned Rands most. Let the Budget Car Showdown begin!
Several manufacturers endeavour to produce budget-priced cars with a good blend of build quality and mechanical reliability, a reasonable balance of performance/efficiency and a modicum of safety features. However, which one of those brands' products offers the best ownership proposition?
Budget cars provide personal mobility solutions to a market clamouring for affordable new cars and these compact runabouts are often the "best I could afford" starting points of car owners' (or some of their dependents') motoring lives.
Because manufacturers need to make profits (even small ones, in the case of budget cars, of which they need to sell many, many units to make series production worthwhile), they're compelled to make packaging compromises to bring affordable models to market at affordable price points. Indeed, no entry-level product is perfect... some are even delivered replete with a foamy-tapeworm-like USB port that crawls out of your glovebox (to see proof, watch the video embedded in this article...).
This comparative test is our biggest yet, featuring 5 of South Africa's most affordable budget cars, including the Mahindra KUV100 Nxt 1.2 G80 K2+, Suzuki Celerio 1.0 GA, Renault Kwid 1.0 Dynamique, Datsun Go 1.2 Mid and, finally, the Kia Picanto 1.2 Start.
*Please note that we wanted the 49 kW/95 Nm Kia Picanto 1.0 Start (R154 995) for this test, but the manufacturer's local distributor could only supply us with a 1.2 Start derivative. We will, therefore, not deliver any evaluation of the 1.2-litre engine's performance and efficiency, but the 1.2 Start's ride and handling characteristics (and specification list) remain the same as that of the Picanto 1.0 Start.
Which one should you buy? Let's find out!
Performance and efficiency

Despite the Mahindra KUV100 Nxt's odd styling, it put in an impressive performance in this test.
*click on the car names to view full specification details
Mahindra KUV100 Nxt 1.2 G80 K2+
Suzuki Celerio 1.0 GA
Renault Kwid 1.0 Dynamique
Datsun Go 1.2 Mid
Kia Picanto 1.2 Start
Price (as of July 2019)
R137 999
R139 900
R144 900
R150 000
R164 995
Engine
1.2-litre,
3-cylinder, petrol
1.0-litre,
3-cylinder, petrol
1.0-litre, 3-cylinder, petrol

1.2-litre,

3-cylinder, petrol

1.2-litre, 4-cylinder, petrol

Power Output
61 kW
50 kW
50 kW
50 kW
61 kW
Torque Output
115 Nm
90 Nm
91 Nm
104 Nm
122 Nm
Transmission
5-speed manual
5-speed manual
5-speed manual
5-speed manual
5-speed manual
Fuel Consumption (Claimed)
5.9 L/100 km
4.7 L/100 km
4.7 L/100 km
5.2 L/100 km
5.0 L/100 km
Overall Performance Rating
(out of 10)
7.5
7
5
5.5
-

Let's get the worst out of the way, shall we? We felt the Renault Kwid delivered the least impressive engine performance in this test; the 1.0-litre engine is gutless and unrefined – it emits a hollow-sounding noise at higher revs. In desperate attempts to extract more performance from the 3-pot motor, that persistent drone is likely to lead to irritation. Its fuel consumption is good, however. Our 2nd least favourite car to drive was the Datsun Go, it too suffers from a hollow and tinny engine sound, but at least it has a little bit more torque than the Kwid to help move it along...
The Suzuki Celerio offers a better driving experience overall (in terms of refinement and efficiency) but could do with a stronger punch of torque. The Mahindra KUV100 surprised us with its stronger engine performance; it felt more willing to push on and is definitely not the worst engine here.
We think the Mahindra has the edge over the Celerio in terms of outright performance, but the Suzuki is more fuel-efficient overall. It's a close win for the Mahindra! Go Mahindra!
Ride and handling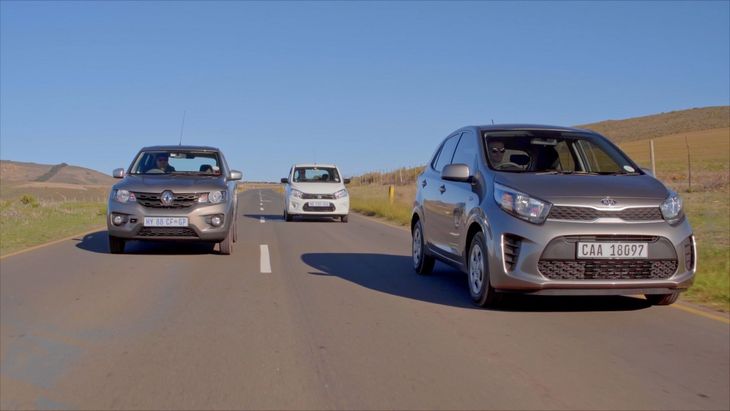 The Kia Picanto offers good ride and handling while the Renault Kwid was the most disappointing in this regard.
By virtue of its refined and comfortable ride quality, while simultaneously (and somewhat incongruously) feeling like the most nimble car in terms of outright handling ability, the Kia Picanto finished on top in this group. The Mahindra KUV100 surprised us (again) with a forgiving ride on tar and, indeed, gravel, where its increased ride height proved to be beneficial, something that many frequent gravel-travellers will appreciate. The Celerio, with its relatively responsive steering and pliant ride, also performed well overall to claim a place in the Top 3 in the ride and handling department.
The Renault Kwid's steering felt a mite imprecise and wooden in feel (with poor feedback) and, like the Datsun Go (which also offers close to no steering feedback), it suffers from excessive body roll when cornering. The ride of the Kwid and Go is average at best and dynamically-speaking, these 2 cars felt the most compromised. The Kwid is built on the same platform as the Go, so this is an example that sharing is (not always) caring.
Interior quality and features
| | | | | | |
| --- | --- | --- | --- | --- | --- |
| | Mahindra KUV100 Nxt 1.2 G80 K2+ | Suzuki Celerio 1.0 GA | Renault Kwid 1.0 Dynamique | Datsun Go 1.2 Mid | Kia Picanto 1.2 Start |
| Infotainment System | None (aftermarket) | None (aftermarket) | Touchscreen with Android Auto, Apple Carplay, Navigation, Bluetooth | Touchscreen with Android Auto, Apple Carplay, Bluetooth | Built-in radio with Bluetooth |
| USB/Aux | None | Yes | Yes | Yes | Yes |
| Air Conditioning | Yes | Yes | Yes | Yes | Yes |
| Electric windows | None | None | Front only | Front & Rear | None |
| Bonus Features | Height adjustable driver's seat | Trip computer | Trip computer, remote central locking | Trip computer, rear park distance control, electric mirrors | None |
| Perceived Build Quality Rating | Average | Average | Average | Average | Good |

In terms of overall interior execution, the Kia Picanto ended on top of the pile thanks to its modern interior with good perceived build quality. It does, however, lack some nice-to-have features (see table above). The Mahindra KUV100 and Suzuki Celerio disappointed us because they came fitted with aftermarket radio units, while the Datsun Go and the Renault Kwid, in particular, offer comprehensive touchscreen infotainment systems, which are unrivalled in this segment. In fact, beyond their expansive infotainment setups, the Go and Kwid's suites of standard features are unbeatable!
The KUV100's interior is relatively roomy, but its build quality is average, with some finishes of marginal quality. The Celerio's interior is bland-looking but it has a more solid feel to it. However, like the Mahindra, the Suzuki lacks a few nice-to-have features. The Go and Kwid's interior build quality is average, but some of the cabin trim elements are of iffy quality. The Datsun, for example, is the home to the aforementioned foamy tapeworm USB port and it's also worth mentioning that the Renault's interior feels small; full-figured occupants are likely to feel cramped in there.
So, in summary, the Picanto is the standout winner in terms of perceived interior build quality, while the Kwid and Go score favourably in terms of standard features, all of which means buyers will have to weigh up what's more important – look and feel or standard features? Hmm.
Practicality
While the Renault Kwid's interior feels small, the French car happens to have the largest load bay (300 litres). The parcel shelf, however, does not want to stay in an upright position, which is annoying. Rear passenger space is on the tight side and the rear bench itself is not very comfortable.
The Datsun Go's load bay, at 265 litres, is sizeable, but the Japanese model's parcel shelf is of very poor quality. While there is slightly more space for passengers, it's by no means generous and the seating is not particularly comfortable either.

The Kwid, surprisingly, has the largest load bay and the Picanto is the only car here with a split-folding rear seat and a false boot floor.
The Kia Picanto is relatively practical with a 60:40-split rear seatback (it's the only car in this group with that feature) and the load bay measures 255 litres. The Picanto does have a false boot floor though, which means you can increase the height of the load bay or store valuables out of sight. The seating in the Picanto is more comfortable, but taller passengers may struggle to get comfortable in terms of rear legroom and headroom.
The Mahindra KUV100's load bay offers 243 litres of luggage space and is quite deep with a high load sill, which will make it difficult to load up or unload heavy items from the rear. As previously mentioned, the Indian contender's interior looks and feels more spacious compared with its rivals and rear passengers are afforded good leg- and headroom, but unfortunately the seat/cushion quality is marginal. There's also a generous interior storage space up front and even a secret storage compartment under the 2nd-row floor... sneaky, but nifty nonetheless.
Lastly, the Suzuki Celerio may have the smallest load bay on paper (the manufacturer claims a capacity of 235 litres), but thankfully the former #CarsAwards winner's interior is quite spacious, offering reasonable levels of comfort and space for rear passengers.

In terms of general practicality, the Kia pips its rivals by offering a good balance of practical features such as a split rear seatback, interchangeable boot floor and reasonable passenger space and comfort, but the Mahindra and the Celerio run the Korean car close in terms of practicality.
Safety features
| | | | | | |
| --- | --- | --- | --- | --- | --- |
| | Mahindra KUV100 Nxt 1.2 G80 K2+ | Suzuki Celerio 1.0 GA | Renault Kwid 1.0 Dynamique | Datsun Go 1.2 Mid | Kia Picanto 1.2 Start |
| Airbags | 2 | 2 | 1 | 2 | 1 |
| ABS and EBD | ABS and EBD | ABS and EBD | ABS only | ABS only | None |
| Brake Assist | No | No | No | No | No |
| Electronic Stability Control | No | No | No | No | No |
The Mahindra, Suzuki and Datsun are fitted with 2 airbags and ABS, which is admirable. The Renault and Picanto, however, are lacking somewhat in terms of safety features: They offer only a driver airbag, while the latter, disappointingly, is not fitted with ABS, which we find unacceptable.
Value for money
Mahindra KUV100 Nxt 1.2 G80 K2+
Suzuki Celerio 1.0 GA
Renault Kwid 1.0 Dynamique
Datsun Go 1.2 Mid
Kia Picanto 1.2 Start
Warranty duration

3-year/100 000 km vehicle warranty

5-year/150 000 km powertrain warranty

3-year/100 000 km
5-year/150 000 km
6-year/150 000 km
5-year/unlimited km
Service Plan
Optional
Optional
Optional
Optional
Optional
Verdict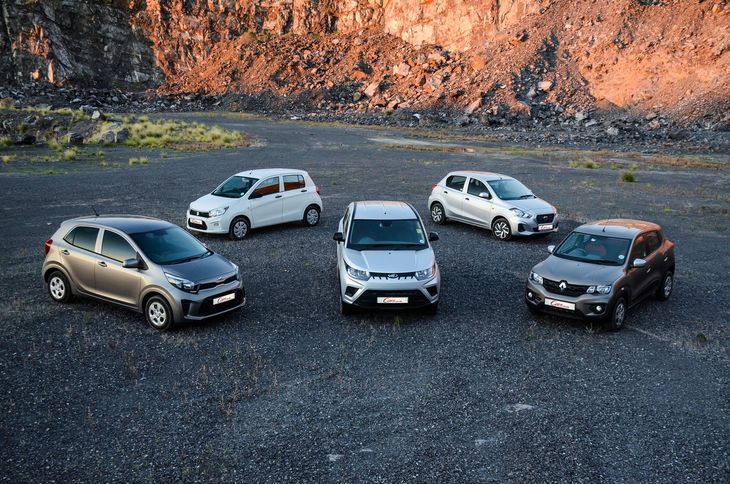 This test taught us that safety really does matter and that you should never underestimate the underdog.
The Kia Picanto is the standout vehicle in this test and it would almost represent the ideal budget car if it weren't for its meagre safety specification. We don't think that any car should go sale in South Africa, in 2019, without ABS and at least 2 airbags and that renders the Picanto a loser in this test. The lack of safety features also rules this Picanto derivative out of the Cars.co.za Consumer Awards – powered by WesBank.
So, which car would get our top recommendation, then? The Datsun Go and Renault Kwid generally failed to impress us (despite the fancy touchscreens) and in terms of overall value-for-money, we think it's a tie between the Mahindra KUV100 and the Suzuki Celerio.
However, thanks to our Ownership Satisfaction Survey, thousands of real South African owners of these cars have told us that Suzuki offers the best overall ownership experience of all the car brands represented here. The data also indicates that Mahindra offers a very good overall ownership experience. It's also worth noting that Suzuki has previously won the coveted #CarsAwards Brand of the Year award not once, but twice, which is further testament to the brand's excellent after-sales service and reliability in the mind's of South African car owners. That counts for a lot...
With that in mind, it's worth noting that the best budget buy isn't necessarily the cheapest car here. In the case of Suzuki, we think that the higher-spec Celerio 1.0 GL (R156 900) is a far better proposition than the base-spec Celerio on test here. It's still more affordable than the Kia Picanto and comes reasonably well-specced too with a factory-fitted Bluetooth radio, electric windows and a multifunction steering wheel, for example.
The outcome of this test may (or may not) be surprising. You probably have your own opinion as to which one of these budget cars you'd buy and why. We want to hear your thoughts, share them with us and complete our Owner Satisfaction Survey to have your say about the car you own.
Related Content:
Most Fuel Efficient Budget Cars in SA
9 Tips: Buying a Car on a Budget