After a long period of spy photographs and teasers, we finally get to see the 2022 Hyundai Santa Cruz revealed.
Let's get the bad news out the way first. Hyundai says its new Santa Cruz will be assembled at Hyundai's facility in Alabama, United States. This means it's certainly exclusive for the US market and will be built in left-hand drive only. But, as we know, markets like South Africa and Australia are bakkie crazy and demand for such a product may coax Hyundai into making some right-hand drive models.
"Santa Cruz, with its bold styling, breaks open all-new segment territory, both for Hyundai and the industry as a whole. Open-bed flexibility coupled with closed-cabin security meets the changing everyday needs of its adventure-oriented buyers, while powerful and efficient engines and superb manoeuvrability ensure it is a pleasure to drive in urban or off-road environments. Our customers will wonder just how they managed before owning one," said Jose Munoz, president and CEO, Hyundai Motor North America.
While looks are subjective, you have to agree the Hyundai Santa Cruz is a good-looking and fresh vehicle. That face is remarkably similar to that of the new-spec Hyundai Tucson. Classed as a Sport Adventure Vehicle, Hyundai reckons its urban-based future customers will be wanting to escape the cities and go on adventures on the weekend. Think of your mountain bikers for example. The Hyundai Santa Cruz features a smart load bed with a lockable tonneau cover and hidden storage compartments. Similar smart and practical elements can be found inside, with the rear bench being able to lift up, revealing further storage.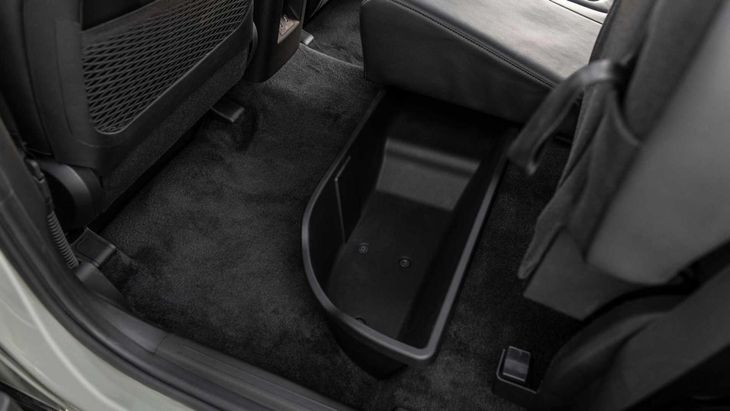 The cabin looks smart and connected, and the Hyundai Santa Cruz comes with an 8-inch colour touchscreen with wireless Apple CarPlay and Android Auto. There's a wireless Qi charger and digital key functionality through an app. An eight-speaker Bose premium audio system takes care of the in-car entertainment.
Hyundai Santa Cruz engine
As far as engines go, the Hyundai Santa Cruz will be available with a choice of two powertrains. First up is a 2.5-litre four-cylinder petrol engine with an estimated 141 kW and 244 Nm. This engine is mated to an 8-speed automatic gearbox. The 2nd engine is a 2.5-litre turbocharged petrol engine that packs 205 kW and 420 Nm. This motor is paired with an 8-speed dual-clutch transmission and there are shift paddles on the steering wheel.
Both derivatives feature HTRAC all-wheel-drive capability. There's an electronic variable torque split clutch that directs power and torque between the front and rear axles. Setting the car in Sport mode sends a bit more power to the rear wheels and there's a centre differential lock as well as hill descent control. Customers can choose from 18- to 20-inch alloy wheels.
While it looks like it's America-only for now, we can't help but hope Hyundai makes a plan for its right-hand drive markets. Given both South Africa's and Australia's love for the bakkie, we think the Hyundai Santa Cruz deserves to be on our roads.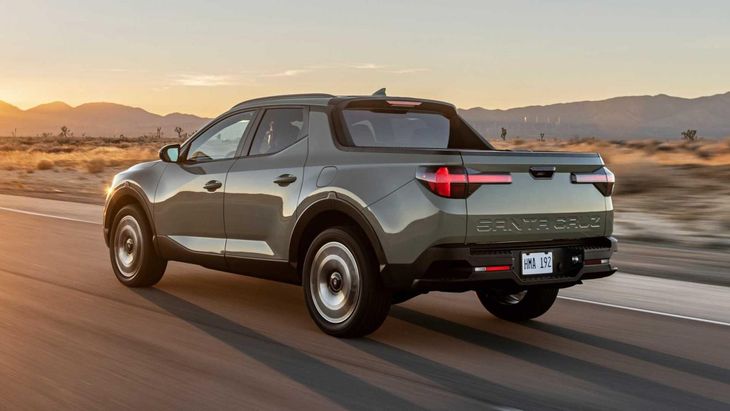 Hyundai Santa Cruz size
The Santa Cruz is a little on the small side in terms of overall footprint compared to something like a Ranger with a length of 4.97m. For reference, a Ranger double-cab is 5.35m long. The wheelbase is set at exactly 3m (Ranger is 3.2m) while the all-important loadbay is 1.32m long compared to a Ranger which is 1.55m long. It gives you some idea of where Hyundai plans to position the Santa Cruz. It won't be a double-cab bakkie as we're used to but more of a lifestyle double-cab that easily fits in the city.
Further Reading
Want to buy a new or used Hyundai? Browse stock now
Hyundai Staria Confirmed for South Africa