Hyundai has shared more details about its all-new Staria MPV and confirmed the model's introduction to South Africa.
Hyundai joins other car brands who have shifted their business focus from car maker to smart mobility solution provider, and the Staria is the first model that will come from its future purpose-built vehicles (PBVs).
Using this platform, the Hyundai Staria is available 2- to 11-seat configurations and in two variants: Staria and Staria Premium. The premium model makes no secret it wants a slice of the lucrative luxury bus segment and we expect it to rival the Volkswagen Caravelle and Mercedes-Benz V-Class.
"We are thrilled to introduce the Staria, which represents our latest effort to spearhead the evolution of mobility, and to address emerging lifestyle needs as we adapt to new ways of living," says Thomas Schemera, executive vice president and global chief marketing officer. "The Staria is a step forward in connecting us more closely with our environments so that we can get more out of our everyday lives and do more for ourselves in transit."
Styling-wise, the Hyundai Staria looks like something out of a science fiction movie. There's a horizontal daytime running lamp running across the front of the vehicle and the entire Staria appears creaseless. Inside, Hyundai says its Staria's cabin was inspired by cruise ships and it 'delivers an open and unique atmosphere through its innovative design architecture. The vehicle's lower beltlines and panoramic windows create a spacious, stimulating environment for all passengers.'
There aren't any pictures showing the dashboard, but Hyundai says the driver's seat has a 'futuristic high-tech look with a 10.25-inch front display screen and button-type gearshift lever.' Both the driver and passengers have access to USB ports, cup holders, and additional space to store items. Taking things up a notch is the Staria Premium 7-seater that has reclining relaxation seats. The 9-seat Premium model's individual seats in the second row can swivel 180 degrees to face passengers in the third row.
When it comes to South Africa, the Hyundai Staria will be powered by a 2.2-litre VGT turbodiesel engine, which also powers the updated Hyundai Santa Fe, due to be launched in April 2021. Outputs could be around the 149 kW and 441 Nm mark, and the vehicle will have an 8-speed automatic gearbox.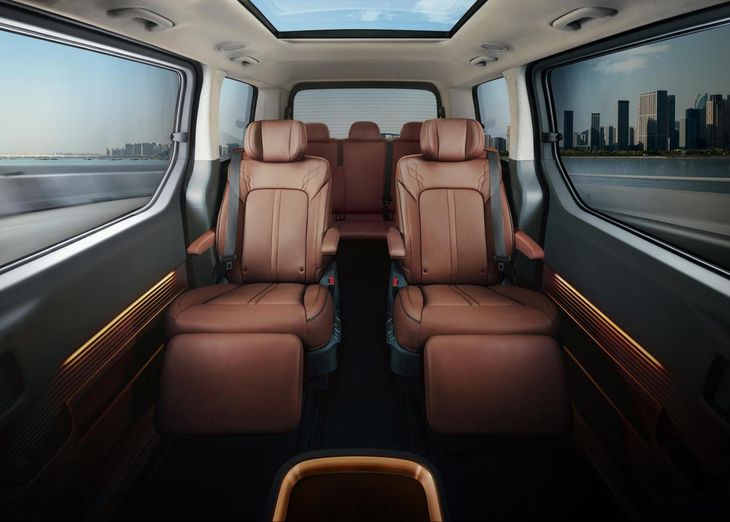 When is the Hyundai Staria coming to South Africa?
Hyundai South Africa is aiming for a local launch of the Staria towards the end of 2021. "We are examining all configurations of the Staria – from the luxury 7-seater to the panel van version – to determine what the range in South Africa will consist of. With the luxury derivative, Hyundai will enter a segment for multi-purpose vehicles in the country where the brand did not compete before," says Stanley Anderson, sales and operations director of Hyundai Automotive SA. "Further good news is that we shall still have a large people-carrier to offer in the range as a replacement for the popular H-1 9-seater bus that has served many families and businesses well over the years."
Further Reading
Staria is Hyundai's Glitzy People-Mover
Hyundai Alcazar Expands Creta Range
Volkswagen Kombi (2021) Launch Review
Mercedes-Benz V300d (2020) Specs & Price