The Kona is aimed at a youthful, nonconformist target market. While Hyundai's funky crossover is unlikely to be as popular as its Creta sibling, it represents a marked departure from the Korean brand's run-of-the-mill offerings. After driving the manual turbocharged Kona, it was time for us to sample the automatic, naturally-aspirated derivative...
We like: Styling, standard features, smooth powertrain, comfortable ride
We don't like: Shallow load bay, powertrain is not performance-focused
Fast Facts
Price: R399 900 (Jan 2019)
Engine: 2.0-litre 4-cylinder naturally-aspirated petrol
Gearbox: 6-speed automatic
Fuel economy: 7.2 L/100 km (claimed)
Power/Torque: 110 kW/180 Nm
Own a Hyundai? Tell us about your experience here.
SERIOUS ABOUT BUYING?
Where does it fit in?
The Kona is an interesting offering from the Korean manufacturer: aesthetically speaking, its exterior execution is "out there" compared with those of the brand's other products. Nothing in the stable is as flamboyant, even the discontinued Veloster. This compact family car has been available in Europe for some time (where an award-winning electric version is offered) and has proved quite popular. Here in South Africa, we get 2 derivatives.
We reviewed the 1.0-litre turbocharged 3-cylinder manual Kona and came away impressed with its punchy compact engine. We then had a chance to sample the naturally-aspirated 2.0-litre Kona, which is equipped with an automatic transmission (a self-shifting Kona should find favour especially with motorists who commute in congested urban areas). The key differences are in the powertrain: both derivatives are offered in Executive spec.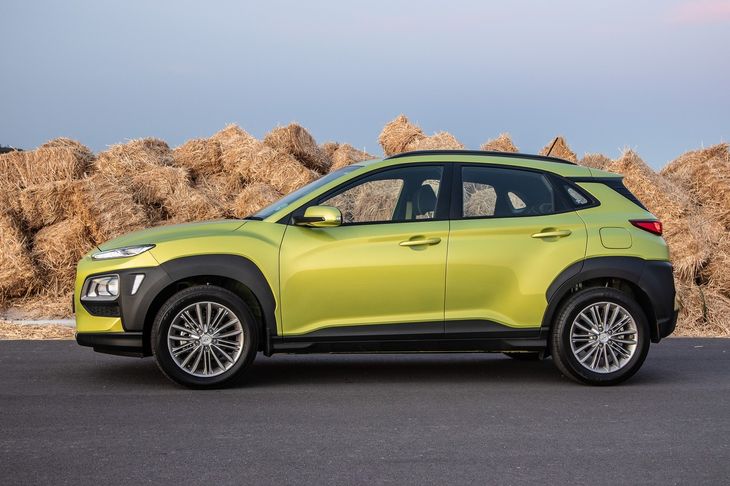 The Kona is a striking compact SUV which boasts surprisingly good ground clearance.
The good stuff
Styling
We've come to realise that with the Hyundai Kona, you have to opt for one of the more bright and colourful paint finishes to benefit from the Korean car's full visual impact, both inside and out. See, the exterior colour also dictates the cabin trim colours so you can expect fantastic splashes of colour like around the transmission lever, aircon vents, seats and seat belts. Our test unit was lime green and we appreciated the vibrant ambience.
On the outside, the Kona features some black cladding around its wheel arches and bottom of the bumpers, which gives it a rugged appearance. While it's not marketed as an offroader, the 170 mm of ground clearance gives it the ability to mount kerbs or confidently traverse gravel roads.
Standard specification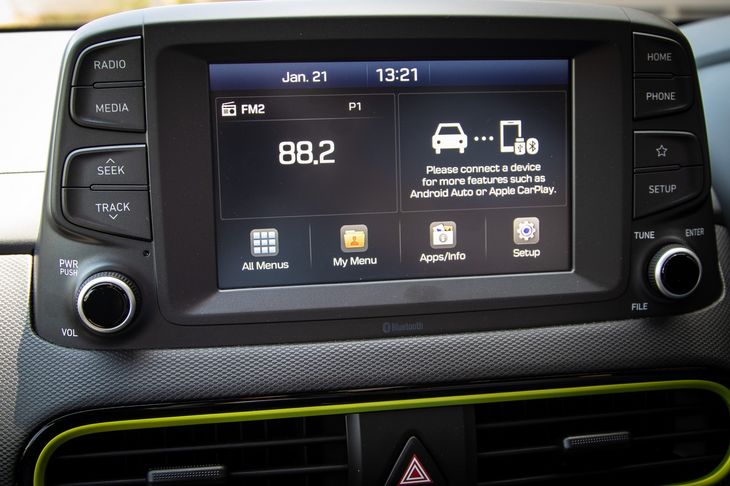 The latest in Hyundai infotainment includes Apple CarPlay/Android Auto compatibility and the entire system is easy to use
One of the highlights (and massive selling points) is the Kona's standard features list. You really are buying a vehicle with "all the bells and whistles". For the connected generation, there's a smart infotainment system replete with Apple CarPlay and Android Auto, the latter now officially in SA. This allows the car to use your phone's navigation as well as music streaming services, and importantly, removes the need to touch your phone while driving, as everything can be controlled by voice. The screen itself has a nice feel to it and looks to be made of a fingerprint-resistant glass.
The multifunction steering wheel controls the audio system, telephony and cruise control/speed limiter; rear park distance control, a reverse-view camera, electric windows, auto lights, USB/Aux inputs, and a whole host of safety features are fitted; there are 6 airbags, ABS, EBD, Brake Assist and, as a bonus: a tyre pressure monitoring system. The Kona has hill descent control, activated by a button to the left of the transmission lever.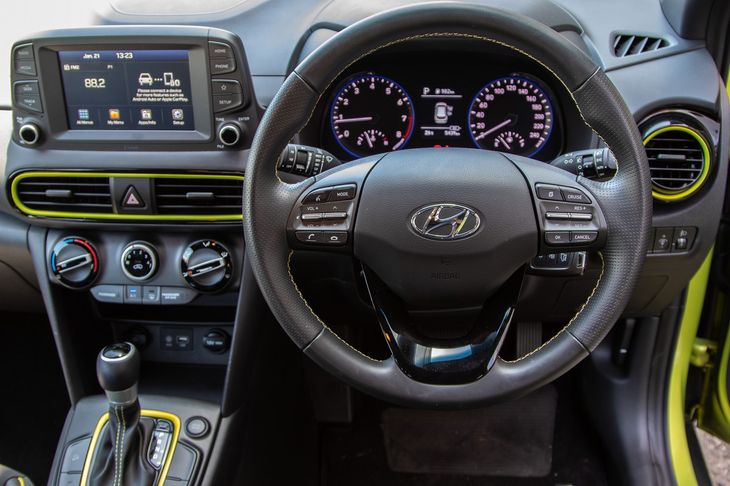 We love the green detailing in the Kona. The driving position is comfort orientated and the dials are crisp and clear.
Smooth Powertrain
Unlike its turbocharged sibling, this version of Hyundai Kona makes do with a naturally-aspirated 4-cylinder motor mated with a 6-speed automatic transmission. This 2.0-litre unit produces peak outputs of 110 kW and 180 Nm, with power going to the front wheels. It's reasonably frugal too... the Korean brand claims an average consumption of 7.2 L/100 km and our trip computer readout hovered around the 8.0 L/100 km figure.
While there are driving modes such as Comfort, Sport and Eco, we couldn't feel a massive difference between them, save for the Sport mode, which holds onto each gear a little longer. We left the Kona in Eco as default and couldn't find fault with its relaxed power delivery and driving style.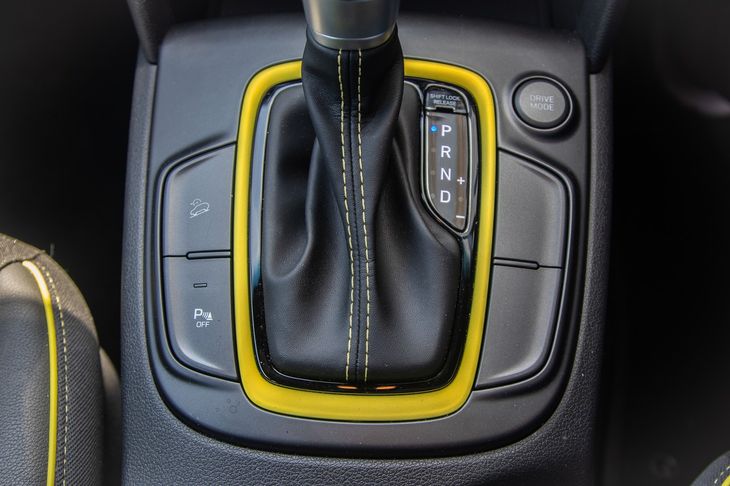 Park distance control, Hill Descent Control and Driving modes are activated by the gear selector. More green detailing!
Ride Quality
Despite the Kona riding on a torsion-beam suspension setup at the rear, the ride quality is firm, but more than adequate when it comes to soaking up road imperfections. We prefer a firmer, more poised suspension as opposed to a marshmallowy/wallowing one, anyway. What we liked about the Kona is that even when you left the tarmac and ventured onto some gravel, the crossover didn't lose any of its surefootedness and composure.
The steering is worth a mention too – it feels reassuringly firm when you're pressing on. Usually, some vehicles in this segment have light and vague steering, which is great for inner-city maneuvres, but the Kona seems to strike a great balance of good solid feedback and ease of use.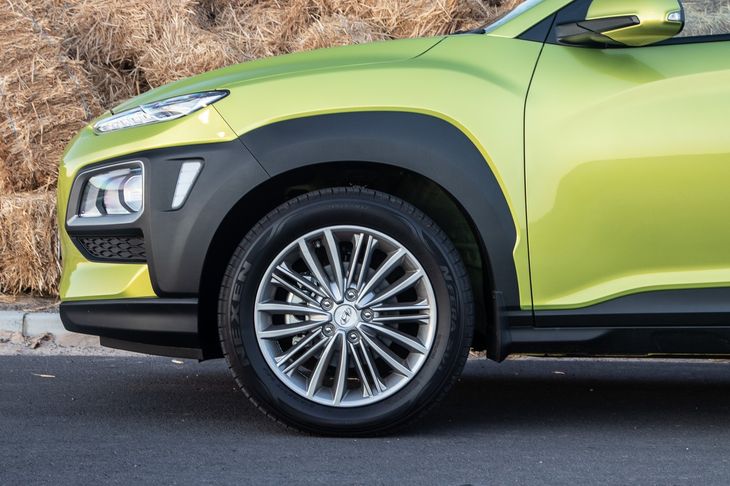 The Hyundai Kona drives well. Suspension setup is nice and firm, but not at all uncomfortable
The not so good
No Real Urgency
The engine doesn't like to be worked in this 2.0-litre automatic Kona. Whereas we enjoyed the manual gearbox's driver engagement and the willing turbocharged engine, we found the naturally-aspirated motor with automatic transmission setup much more suited to a relaxing drive. Sure, you can mash your foot to the floor, but it doesn't sound good when you do: the engine note degenerates into a loud noise, with little of it translating into overtaking power (a drawback of the middling 180 Nm). We think the transmission is conservatively-mapped, ostensibly to optimise fuel efficiency.
Shallow load bay
While the luggage area isn't the smallest in the class, we did note that it's quite shallow and lacks a lip to keep items inside. That being said, there is a full-size spare wheel, which provides some peace of mind, and if you do require more space, then you simply fold the seats down in a 60/40 split.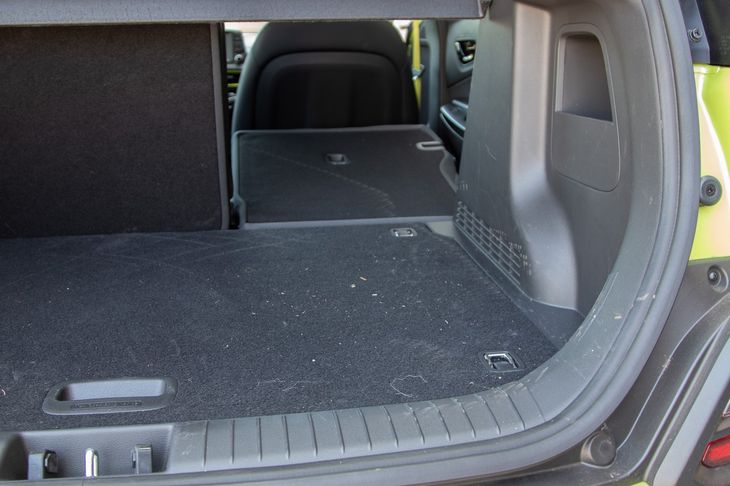 The lack of a boot lip was a minor bone of contention amongst the staffers, but once the seats were folded down, the boot was genuinely useful
Pricing and Warranty
The Hyundai Kona range starts at R379 900, while this 2.0 Executive retails for R399 900. The Hyundai Kona comes with a 5-year/100 000 km warranty with an additional 2-year/50 000 km drivetrain warranty. The service plan is valid for 5 years or 90 000 km, whichever lapses first.
Verdict
The Kona sits in an awkward position in Hyundai's line-up. It's priced a little higher than the more practical Creta, but feels better built and has far more standard features. Whereas the Creta feels practical and utilitarian, the characterful Kona offers standout kerb appeal. We'd assume that the majority of Hyundais are purchased for the following key reasons: long warranty, good spec, -practicality and -safety features. Well, the Kona has all of those, but by virtue of its charming personality, it moves from a sensible proposition to one that's desirable at an emotional level. Despite its relaxed driving demeanour, we'd opt for this auto version over its manual-'box sibling purely for the daily commute; shifting gears and clutch-in-clutch-out is so... 2000. If you do venture down the Kona route, do the vehicle justice and get one in a bright colour, you won't be disappointed.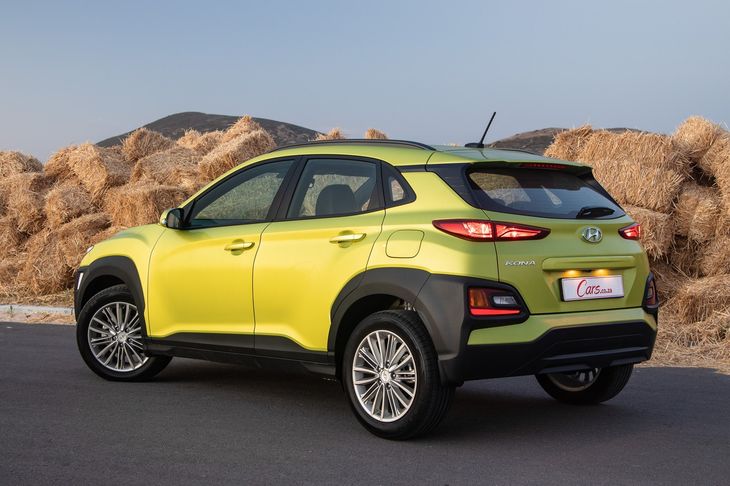 The Hyundai Kona is an honest, colourful and desirable vehicle which is far more interesting than equivalent hatchbacks.
Looking for a new/used Kona to buy?
Find one on Cars.co.za today by clicking here
Related content:
Hyundai Kona (2018) Launch Review
Hyundai to Reintroduce Atos in 2019
Hyundai Santa Fe (2018) Launch Review
Hyundai Creta 1.6D Executive (2018) Video Review
Hyundai Creta 1.6D Executive (2018) Quick Review
2018/19 Cars.co.za Consumer Awards – powered by WesBank; Finalists