Hyundai has stepped out of its comfort zone with the local introduction of the Kona compact family car, which is less practical than its Creta stablemate, but significantly more stylish... We drove the newcomer in the Western Cape to find out what it's like.
What is it?
The Kona is a relatively new offering from the Korean brand (it's been available overseas for a while...), which fits into the compact family car segment. You might think the Indian-made Creta (a multiple #CarsAwards category finalist) already represents Hyundai in that market – and you'd be right. But, whereas the Creta is a practical and spacious small SUV, the Kona is funkier and less utilitarian; it's a crossover lifestyle vehicle aimed at fashion-conscious upwardly mobile singles or couples.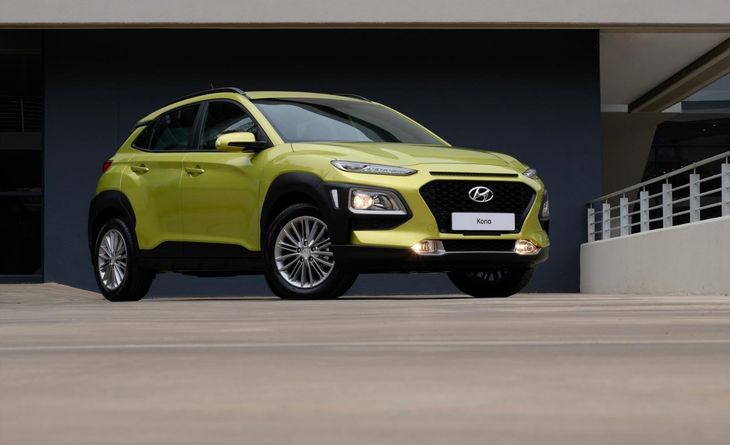 Funky and stylish, not your average family-oriented crossover.
It's notably also the first Hyundai in South Africa to utilise the Korean manufacturer's turbocharged 1.0-litre 3-cylinder turbopetrol engine. To some, a downsized "triple" might be assumed too weedy to propel a crossover with zeal, but bear in mind that competitors such as the Ford EcoSport, Renault Captur and Opel Crossland all employ similar 3-cylinder forced-induction powerplants. If that's not enough to satisfy you, there is also a 2.0-litre naturally aspirated derivative in the range's line-up.
How big is it?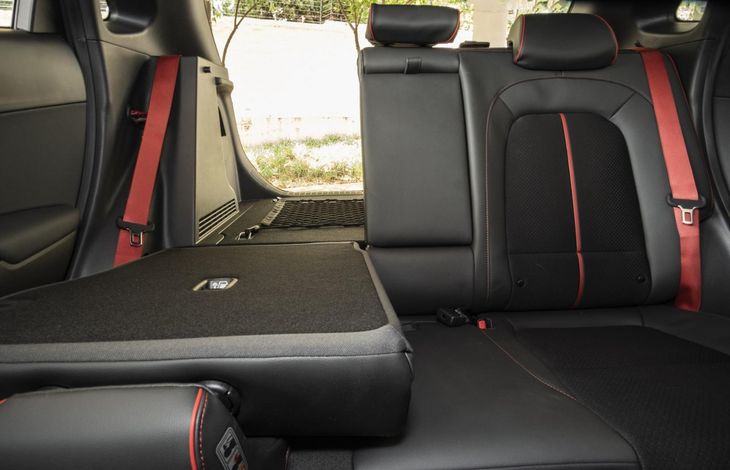 The luggage bay is smallish (361 litres), but the split rear seatback can fold flat to free up more load space.
In terms of dimensions, the Kona is a little smaller than its Creta sibling, but the most notable difference between the pair is claimed luggage capacity. The Kona's bay is said to offer 361 litres of load space, which is about the same as the competitors mentioned above, but 40 litres smaller than that of the Creta.
Occupant space up front is pretty good, with sufficient room between occupants to eliminate fears that you're going to brush the front passenger's knee each time you reach for the gear lever (when driving the manual derivative). Rear passenger space is a little tight for adults (especially in terms of legroom), but fine for children.
The newcomer's closest match in terms of proportions and design is the Mazda CX-3, but the Korean offers a much larger luggage bay than its Japanese rival.
Two engine choices
To reiterate, you can either have the Kona with a 1.0-litre 3-cylinder turbopetrol engine (mated with a 6-speed manual gearbox) or a 2.0-litre naturally aspirated petrol motor, combined with a 6-speed automatic transmission. That's the choice, there's no turbodiesel or hybrid alternative and both come with the same interior features.

Manual and turbo or auto and naturally-aspirated, those are your only drivetrain options.
The turbopetrol produces 88 kW and 172 Nm of torque – peak outputs that are very competitive with those of the Kona's triple-turbo competitors. The bigger 2.0 litre is claimed to offer 110 kW and a smidge more torque (8 Nm, for a total of 180 Nm). For the record, neither motor produces thrilling performance, but work well enough so that you'd be happy to load them up with light luggage or a quartet of occupants (maybe not both) and head to the nearest trail running park or wine farm.
Overtaking in the automatic derivative requires a few kick-downs from the auto box, but it's certainly capable on the freeway and outskirts of the city. If you plan to do longer journeys with the auto, it will likely be more fuel efficient than the turbo, which is better suited to inner city driving. Whereas the non-turbo automatic is said to consume 7.2 L/100 km and the turbo manual 6.8 L/100 km, we found the former to be the more efficient of the pair on our drive around the Cape Winelands area.
What's it like to drive?
The Kona's driving experience had to feel different from the other SUVs in Hyundai's stable to live up to its outlandish looks and quirky design. The engineers focused on the steering by speeding up the rack and adding a bit more weight to the 'wheel. It's certainly quite responsive to steering inputs and the meatier tiller creates an impression of better stability at speed and instils confidence when cornering. No, it's not a sportscar, but certainly the most nimble of Hyundai's SUV/Crossover crop.
The Kona is underpinned by McPherson-type struts up front and a torsion-beam suspension at the rear, all of which does a fine job of absorbing most road imperfections. The newcomer is admittedly a little more stiffly-sprung than other Hyundais, but still rides pliantly over bumps while remaining planted and surefooted over a variety of tarmac surfaces. We didn't attempt much in the way of dirt-road driving, but that's something we will test when we get the Kona back for a full evaluation.
Is it as cool inside?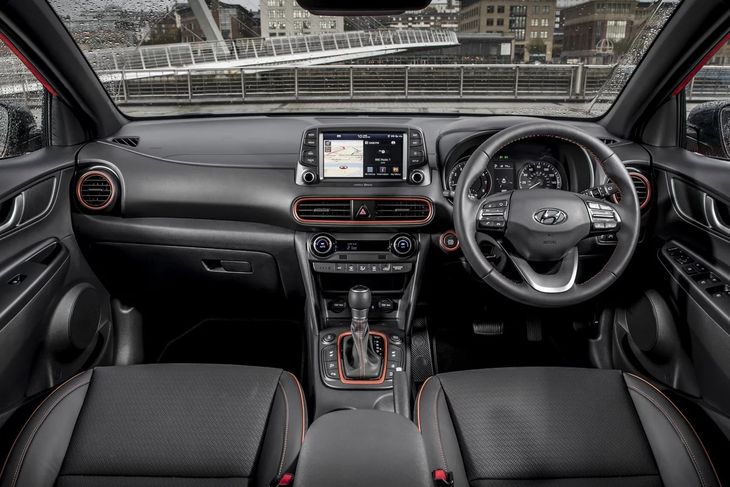 Well-appointed interior with a smartphone capable infotainment system.
No, Hyundai did not go quite as wild with the Kona's interior execution as many may have expected; it's actually pretty standard Hyundai fare when you step inside the newcomer's cabin. You do, however, get a choice of red or yellow piping for the seats and the same choice for the air-vent surrounds and seatbelts.
To its credit, the Kona's quite well specced inside, with the seats coming in part leather and part cloth, the touchscreen infotainment system is Apple Carplay and Android Auto compatible and there's park distance control with a reverse-view camera.
Safer than a Creta
The Kona is sold across Europe and therefore requires electronic stability control to be fitted as standard. Thankfully, our model retains this feature, as well as a full complement of 6 airbags, ABS, EBD and brake assist. It's also the first local Hyundai to be fitted with a tyre pressure monitoring system.
Summary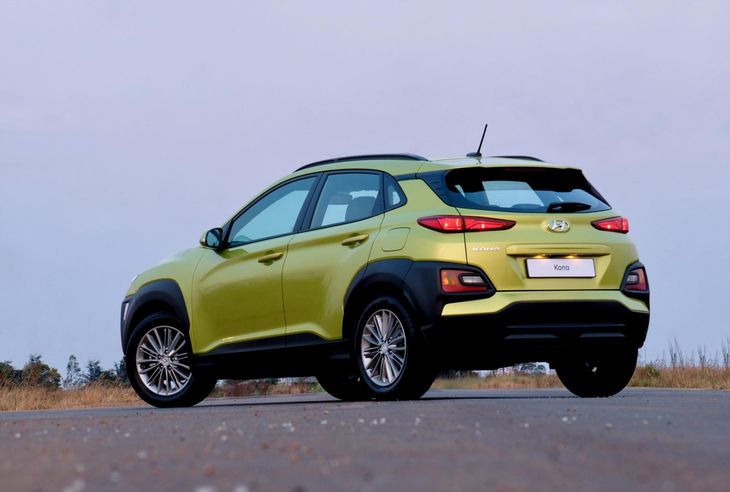 The Kona's major rival is the Mazda CX-3, which is coming towards the end of its current life cycle.
The practically-minded and family-oriented among us may think it silly for Hyundai to launch (what may be construed as) "a smaller and more expensive Creta" into the market, but not everyone buys a car based on its overall utility. The Mazda CX-3 is proof of this: it is one of the top sellers in the segment, yet probably the smallest to load things into or sit inside. It is a very stylish offering though, and the Kona looks to appeal to the CX-3's clientele... The couple who wants to take their bikes or boards away for a weekend and maybe don't need loads of space, but want something cool and stylish that doesn't look or feel bland – that's the newcomer's target market.
And here's another point to ponder: the crossover/SUV segment is also just about the only one that is registering growth in the new vehicle market at this moment, so you can't blame Hyundai for trying to give you as many desirable options as possible. Is this the perfect filling in a Creta-Tucson sandwich? Perhaps it is.
Pricing and after sales
The Hyundai Kona comes with a 5-year/100 000 km warranty with an extra 2-yr/50 000 km drivetrain warranty. The service plan is valid for 5 years or 90 000 km.
Kona 1.0 TGDI Executive Manual - R379 900
Kona 2.0 NU Executive Automatic - R399 900
Related content
Hyundai Kona (2018) Specs & Price
Ford Ecosport (2018) Video Review
Mazda Updates CX-3 Range for 2017