The substantially updated Hyundai Grand i10 has launched in South Africa. Here are detailed specifications and pricing for the new budget segment offering.
The Hyundai Grand i10 has been a popular model in the budget segment. The 2nd-generation model sold almost 50 000 units in South Africa between 2014-2020 and the vehicle was the third best-seller in the segment behind the Volkswagen Polo Vivo and the Renault Kwid.
The third-generation model has changed considerably when compared to the outgoing Hyundai Grand i10. The vehicle has physically grown, with the newer model being longer and wider at the slight expense of height. Critically, the wheelbase and boot space have been increased - both important factors in the budget car segment.
What's on offer?
Hyundai South Africa is offering the 3rd-gen Grand i10 with a choice of 2 engines, 2 transmissions, and 2 levels of trim. In terms of engines, the 1.0-litre 3-cylinder motor produces 49 kW and 94 Nm with a choice of either a 5-speed manual gearbox or a 4-speed automatic. When it comes to fuel economy, Hyundai claims 5.4 L/100 km and 5.9 L/100 km for the manual and automatic respectively.
The second engine is a 4-cylinder offering and the new 1.2-litre offers up 61 kW and 114 Nm. Customers have a choice of either a manual gearbox or an automatic transmission. In terms of fuel economy, the Korean brand claims returns of 5.9 L/100 km and 6.9 L/100 km for the manual and automatic respectively.
Trim Breakdown
There are 5 colours to choose from, plus 2 2-tone options. Both vehicles have a single USB port, touchscreen infotainment system with Android Auto/Apple CarPlay and Bluetooth connectivity. Both vehicle also have a basic air conditioner and in terms of safety, offer up two airbags and anti-lock brakes with EBD.
Motion
14-inch steel wheels with covers
Cloth trim
Black grille
Fluid
15-inch alloy wheels
Indicators on mirrors
Daytime running LEDs
Heated side mirrors
Front foglights
Artificial leather trim
Rear park assist
Silver grille
60/40 folding seats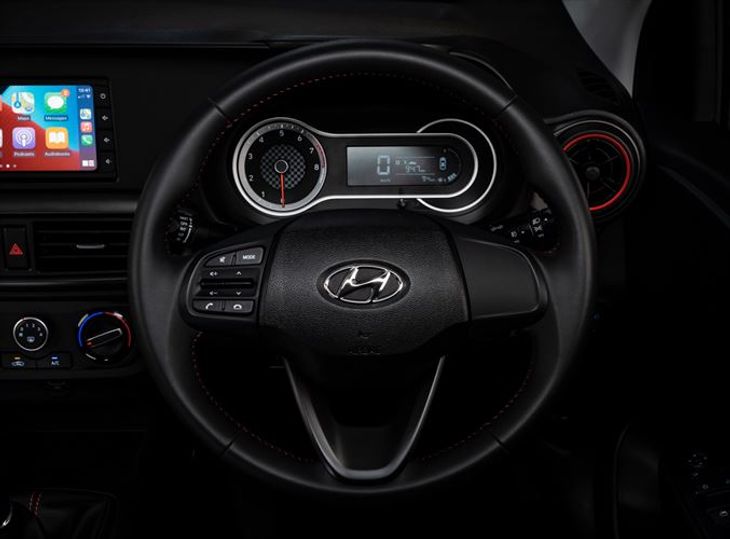 Hyundai Grand i10 Price in South Africa (October 2020)
The 3rd generation Hyundai Grand i10 is sold with a 7 year / 200 000km manufacturer warranty, 1 year / 15 000 km service plan, and as well as 5 years / 150 000km roadside assistance.
Grand i10 1.0 Motion MT R191 900
Grand i10 1.0 Motion AT R216 900
Grand i10 1.0 Fluid MT R216 900
Grand i10 1.2 Fluid MT R230 900
Grand i10 1.2 Fluid AT R256 900
Further Reading
Hyundai Grand i10 (2018) Launch Review
Hyundai Grand i10 1.2 Glide (2018) Quick Review
6 Cheapest Automatic Cars in SA