Hyundai has expanded its line-up of N models with the introduction of the i20 N, which produces 150 kW/275 Nm, tips the scales at 1 190 kg (it's said to weigh as much as the i20 WRC car) and can zip from 0 to 100 kph in 6.7 sec. This new rival to the Polo GTI and GR Yaris is available exclusively with a 6-speed manual 'box.
Because the ST version of the Ford Fiesta is not destined for our shores, the Peugeot 208 GTI has been retired and Renault has yet to reveal an RS variant of its 5th-generation Clio, the Volkswagen Polo GTI is the only baby hot hatch in our market, although the Toyota GR Yaris is set to arrive here at some point during 2021... Will the newcomer breathe new life into the shrinking performance-oriented supermini melee?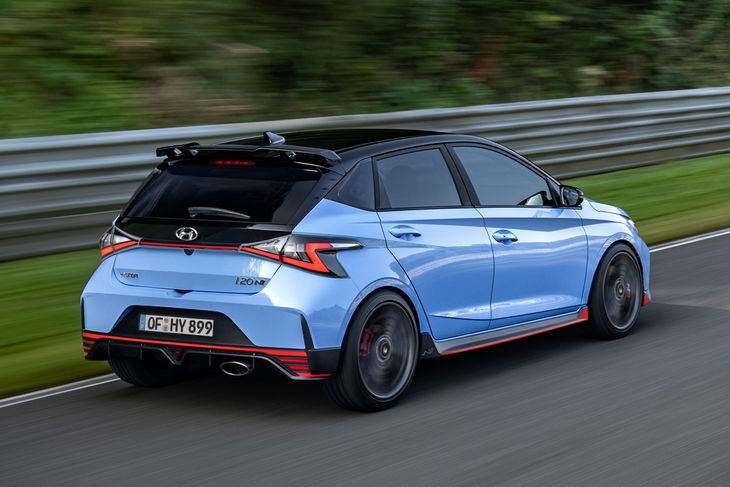 There is no shortage of Tomato Red accents on the i20 N, especially on the lower edge of the rear bumper.
The newcomer is the first N model to incorporate the Korean brand's Sensuous Sportiness design language and, as a result, its exterior execution is a lot more expressive than the i30 N's, with almost cartoonish features such as the slanted LED headlamps, triangular black foglamp surrounds, oversized air intake and grille (replete with chequered flag-patterned mesh), as well as a black lip spoiler with red striping.
That eye-catching (perhaps a bit too shouty?) red detailing extends to the i20 N's broadened side skirts, while the wheel arches are filled ably by 18-inch grey matte alloy wheels, which are nicely contrasted with (again, red) N-branded brake callipers.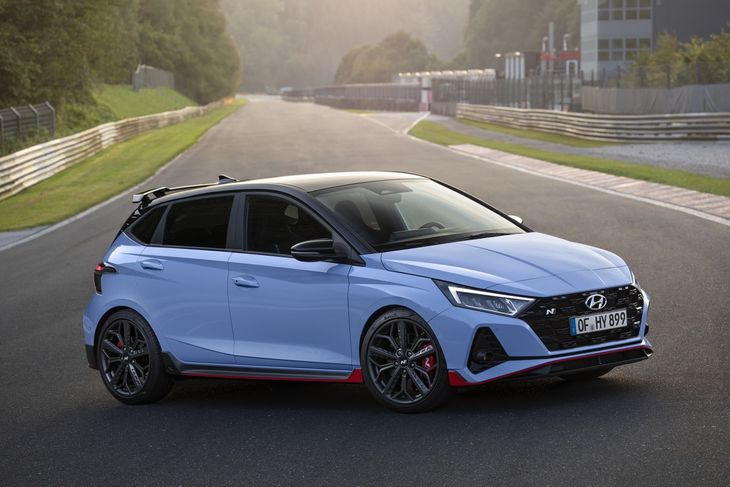 The i20 N rides 10 mm lower than its standard siblings and has a beefed-up suspension, it certainly has a purposeful stance.
The Hyundai's rear aspect is characterised by a WRC-inspired roof spoiler, a beefy rear bumper (with built-in diffuser-like elements and triangular rear fog lights, as seen on the facelifted i30 N with 8-speed N DCT), as well as a large-bore exhaust end.
Under the double-creased bonnet of the i20 N lies a 1.6-litre 4-cylinder turbocharged and intercooled petrol engine with a 350-bar high-pressure injection rail- and continuously variable valve duration (CVVD) systems. The motor delivers its peak power (150 kW) at a relatively heady 5 500 rpm, but produces peak torque (275 Nm) between 1 750 and 4 500 rpm, which bodes very well for mid-range flexibility.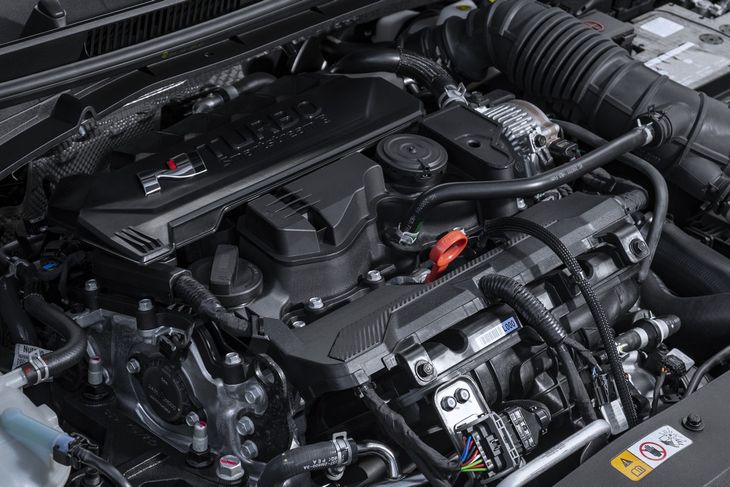 The installation of the turbocharger is different in the i20 N than, say, turbopetrol derivatives of the Hyundai Tucson.
Hyundai says that by virtue of its WRC-car matching kerb weight of 1 190 kg, the i20 N has one of the best power-to-weight ratios in its class. The newcomer is said to be capable of achieving a maximum speed of 230 kph, but moreover, its 0-100-kph time of 6.7 sec is bound to raise eyebrows, because it is identical to that claimed for the Polo GTI, which produces 45 Nm more, but is heavier than its Korean rival (kerb weight: 1 355 kg).
Meanwhile, the 6-speed manual transmission has been reinforced especially for its installation in the i20 N. Powertrain software offers assistance via a launch-control mode, as well as rev-matching technology, which synchronises the engine to the output shaft and has its own dedicated activation button on the steering wheel. A mechanical limited-slip differential (or N Corner Carving Differential, as Hyundai calls it) is optional.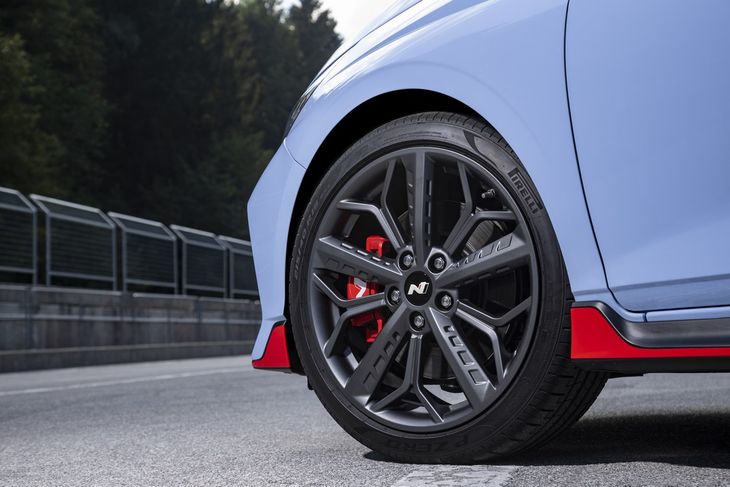 The handsome 18-inch alloys are shod with 215/40 R18 Pirelli P-Zero with "HN" (Hyundai N) markings.
Other motorsport-inspired features include an electric sound generator and variable muffler control, as well as left-foot braking calibration, a brake pad wear indicator (PWI) and dedicated 215/40 R18 Pirelli P-Zero ultra-high-performance tyres with "HN" (Hyundai N) markings, Hyundai says.
Meanwhile, the newcomer's chassis has been reinforced in a dozen places, while the suspension features reinforced front domes and knuckles with adjusted geometry, as well as a new anti-roll bar, springs and shock absorbers. The all-new front N Power Sense axle and rear dual-coupled torsion beam axle (CTBA) provide higher stiffness for improved ride and handling performance.
The i20 N's front brake discs are also 40 mm larger than the regular i20's, for better fade-resistance and a more consistent brake pedal feel.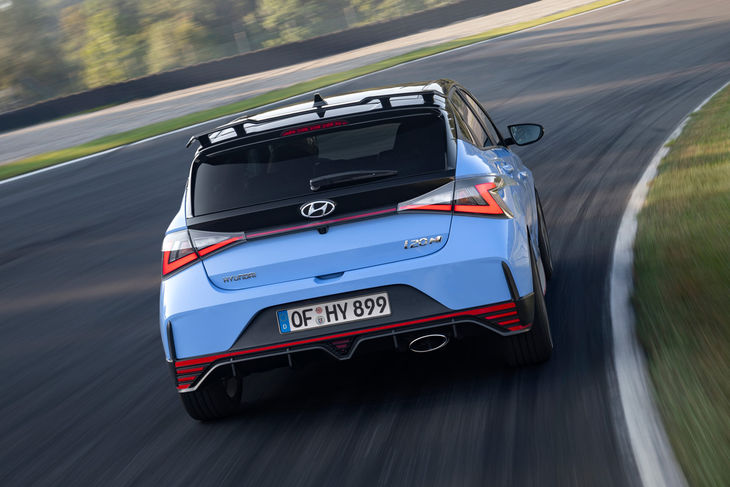 Hyundai has quickened the i20 N's steering ratio and tuned the column-mounted motor-driven power steering system.
As for the i20 N's interior, it features accoutrements such as front sports seats with integrated headrests, as well as an N steering wheel, -gear knob and metallic-finish pedals. Although the black interior trim (including headliner) is a bit sombre, there is a handful of Performance Blue accents.
The digital instrument cluster features a variable LED red zone, which varies according to engine oil temperature, and the shift-timing indicator, which shows the driver the best time to switch gears.
What's more, the car pictured in this set of press images features the optional 10.25-inch LCD touchscreen navigation system with dedicated N content, as well as Apple CarPlay and Android Auto connectivity.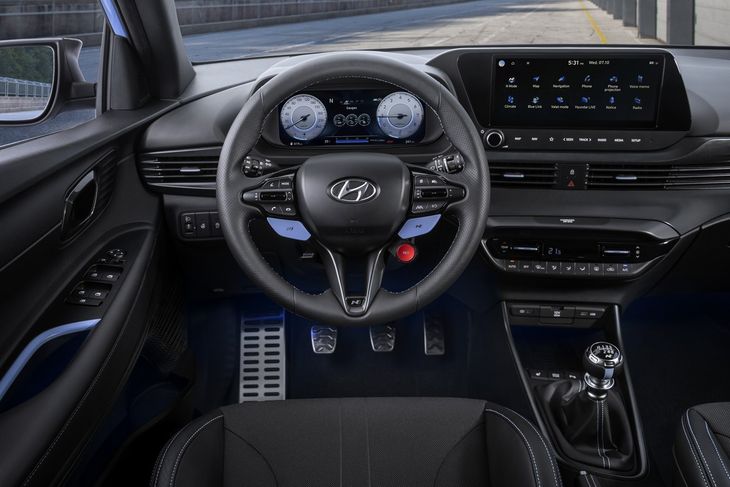 The red button on the Hyundai's steering wheel is not for starting/stopping the engine, but toggling the rev-matching function.
As is the case with the i30 N, its sibling comes equipped with an N Grin Control System with 5 drive modes (Normal, Eco, Sport, N and N Custom) that allow a driver to adjust the parameters of the engine, electronic stability control, exhaust sound and steering to suit a variety of conditions.
In the N Custom mode, a driver can select from Normal, Eco, Sport and Sport+ settings for each of the mentioned components via a "Spider diagram" on one of the infotainment touchscreen's menus; the onboard system incorporates Performance Driving Data System that saves and displays driving data, including information on power, torque, turbo boost. It also comes with a lap and acceleration timer.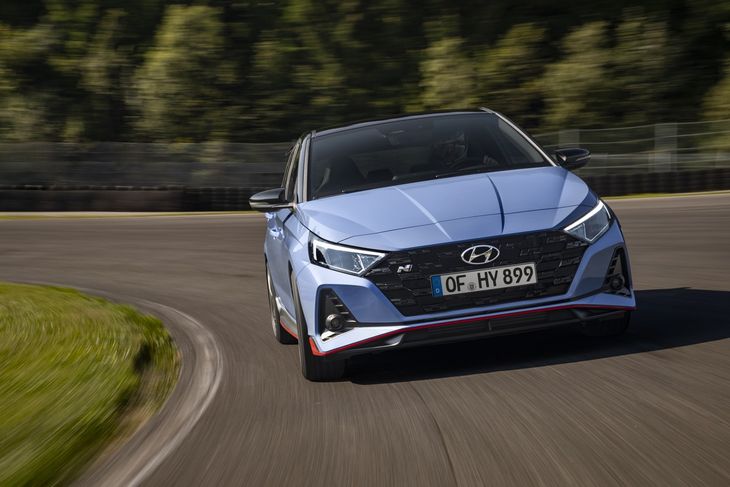 Moreover, dedicated N keys on the steering wheel allow pre-sets to be mapped according to individual needs and, for the bravest (or most skilled) drivers, the electronic stability control (ESC) can be operated in three stages: on, sport and fully off.
Could the i20 N come to SA?
What are the chances of the i20 N being offered in Mzansi? We had to wait a while after the i30 N's global introduction for the Korean firm's first hot hatch to arrive here... It will depend on a number of factors, primarily the exchange rate, but what counts against the newcomer is that its target market is comparatively tiny – certainly smaller than the i30 N's. Having said that, if Toyota could make a case to introduce the fire-breathing GR Yaris in the local market, perhaps Hyundai could do the same for i20 N. As soon as we get more information, we'll be sure to let you know.
Related Content:
Hyundai i20 (2021) International Launch Review
Hyundai I30 N Review - Better than a GTI?