Hyundai's Grand i10 has quietly established itself in the past few years as one of the most popular vehicles in its segment. Now, following the discontinuation of the i10, the Grand i10's role as an entry-level car is even more important, but this flagship Glide derivative also has to wear a more "upmarket" hat.
We like: Spacious cabin, good standard specification, build quality, long warranty
We don't like: Lack of electronic stability control, scratchy gearbox, smaller boot than same-price rivals
Alternatives:
An established top seller: Volkswagen has just launched its new Polo Vivo, a slightly reworked version of the previous-generation Polo. Surprisingly, many of the elements that made the previous Polo so appealing has remained, making it easily the most "premium-feeling" budget offering on the market. It's likely to be strong on resale, too. Have a look at our first review here. For this money, you can get the 1.4 Comfortline which has decent standard equipment, but you may wish to add a couple of extras, such as a service plan. Thankfully, they're not too pricey.

For lots of features and some flair: Renault's Sandero Stepway has always been a popular offering in SA and it's easy to see why. In Stepway trim it has that quasi-crossover look that consumers love, and in Dynamique specification, also a lot of features (such as ESP and navigation) as standard that you pay extra for on rival offerings. It's a spacious, comfortable car, and has a good warranty, too. Read about it here.
Compare the Hyundai Grand i10 1.2 Glide with the Volkswagen Polo Vivo 1.4 Comfortline and Renault Sandero Stepway Dynamique by clicking here
Facts & Figures
Price: R202 900 (March 2018)
Engine: 1.2-litre, 4-cylinder petrol
Transmission: 5-speed manual
Power: 64 kW
Torque: 120 Nm
Fuel consumption: 5.9 L/100 km (claimed)
0-100 kph: 12.2 seconds (claimed)
Top speed: 168 kph (claimed)
Where does it fit in?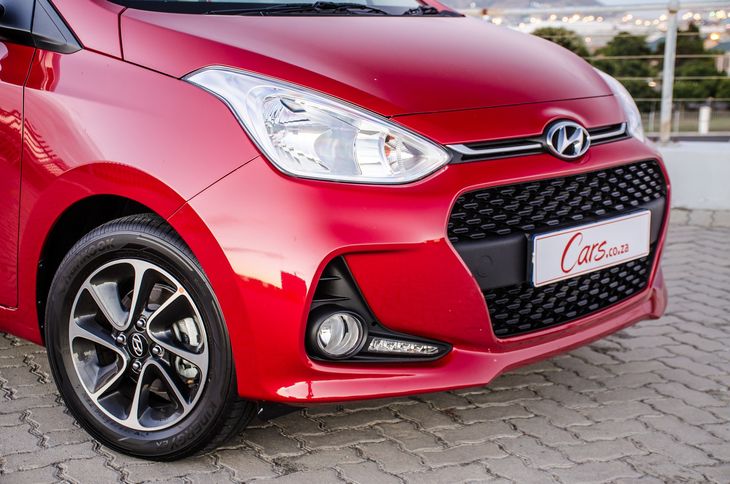 LED daytime running lights, 2-tone alloy wheels and a dash of chrome here and there distinguishes the Glide's exterior from lesser siblings.
While arguably the big news with the introduction of the upgraded Grand i10 is the new entry-level model to broaden the line-up, the vehicle on test here is the flagship 1.2 Glide, which is positioned to appeal to those seeking a compact car packed with luxury features. As such, Hyundai has added to its specification sheet and included some interior/exterior details to differentiate it from cheaper derivatives. Priced at just over R200 000, it has to compete with a wide variety of slightly bigger, same-size, or slightly smaller vehicles of varying specification levels. It's a cut-throat part of the market, so does the Grand i10 Glide have what it takes to merit a place on your shortlist?
The Good
Mix of features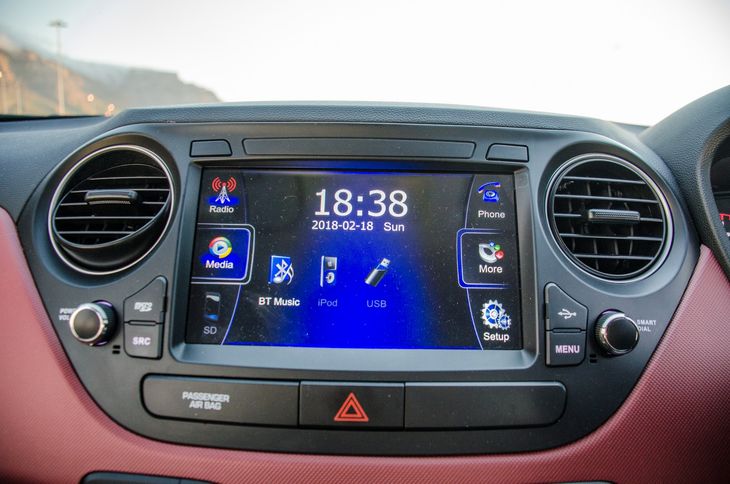 A large colour touch-screen is standard in this model, but you pay an extra R2 500 to make it really useful (adds navigation).
For your money you are getting a decently – though not extravagantly – equipped compact car. There's not much missing from an infotainment point of view as it comes standard with a large touchscreen with the usual Bluetooth and USB functionality. For an extra R2 500 you can get navigation, too. The leather-wrapped steering wheel offers remote audio controls and the air-conditioner proved super effective in the very hot Cape Town summer. We also appreciated the inclusion of rear park assist and electrically heated/folding side mirrors as standard.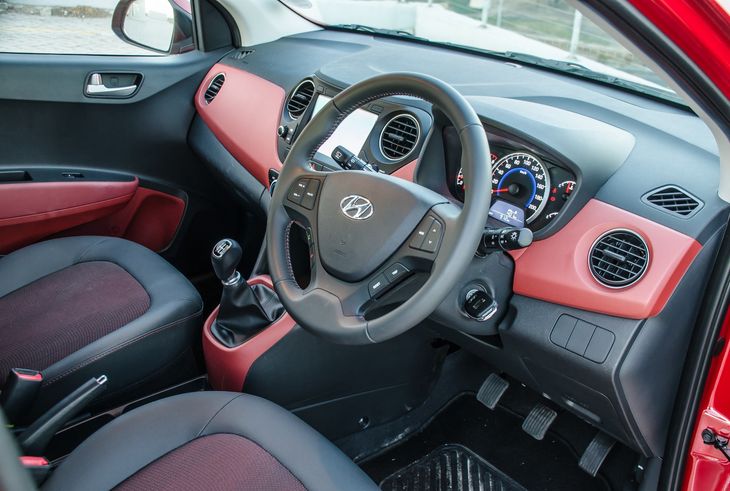 Splashes of red and the leather-wrapped steering wheel creates a sportier ambience in the Grand i10's cabin.
In terms of comfort and convenience, the Grand i10 Glide also does well. The driver's seat is height-adjustable, so the fact that the steering wheel can only be adjusted for rake, is not too much of a problem. The use of imitation leather/red cloth upholstery is a nice touch at this price level and matches well with the red plastic that stretches across the facia. It adds a welcome element of youthfulness to a car that is otherwise quite "serious".
Surprisingly spacious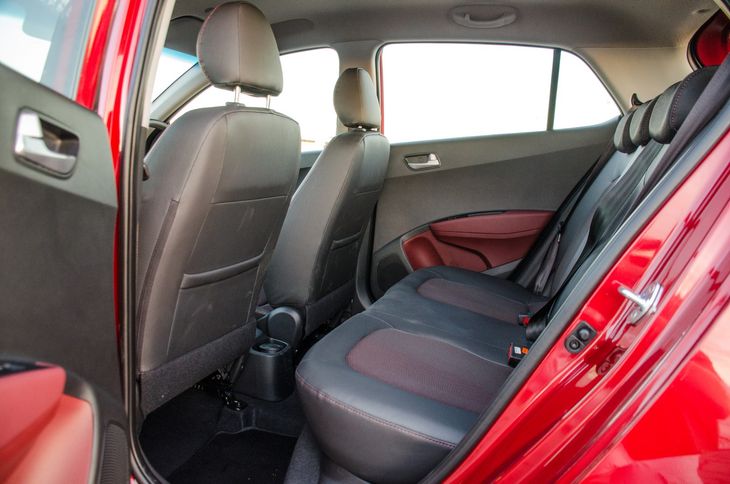 Rear legroom is good for such a compact car.
There is good space in the Grand i10 for occupants, perhaps even surprisingly so given the overall size of the vehicle. Rear legroom is particularly impressive, as is headroom overall. A useful storage tray can be found underneath the front passenger seat and there are numerous little storage spaces dotted throughout the vehicle. The 256 litre load bay may be smaller than some of its price rivals, but it's nicely shaped and quite wide. Surprisingly, there is a full-size spare underneath the boot floor.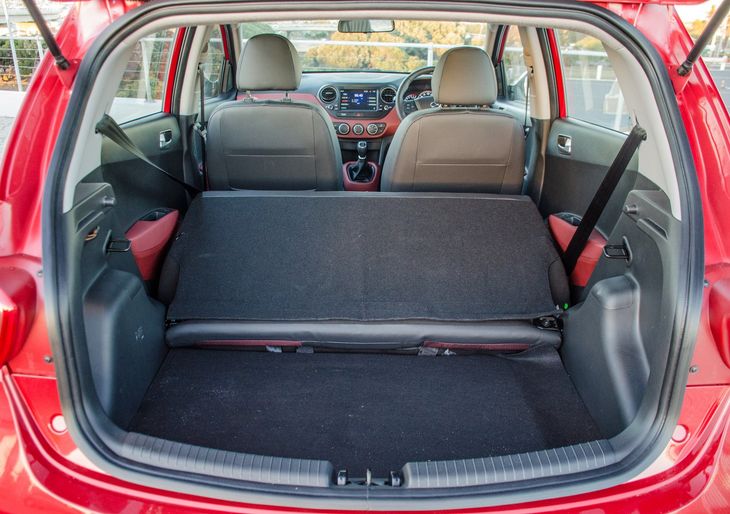 Rear bench folds as a single piece, which is not ideal. The load bay is of a decent shape/size.
A drawback is the fact that the rear bench folds as a single piece, which means that transporting long items immediately turns the Grand i10 into a 2-seater. Still, with the rear seat folded there is good utility space (1 202 litres) available, but the floor isn't flat.
Drive/Efficiency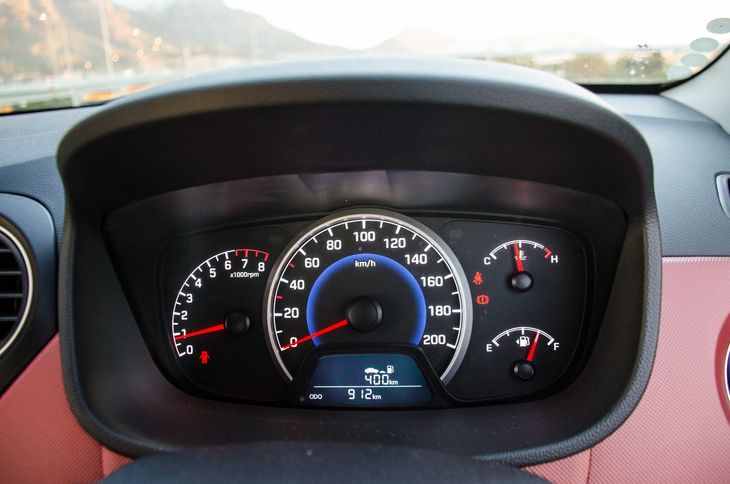 Simple instrumentation includes a range-to-empty display which is always useful.
The 1.25 litre engine in this Grand i10 pushes out a competitive 64 kW, but is slightly down on torque compared with most rivals, offering only 120 Nm at a fairly high 4 000 rpm. In reality, however, it doesn't feel sluggish and keeps up with traffic very easily. Its light weight undoubtedly has a positive impact here. In terms of fuel economy, Hyundai claims a combined cycle figure of 5.9L/100km, which is very optimistic. We achieved a figure closer to 7.4L/100km, which is still in line with the competition's real-world figures.
We also found the Grand i10 good to drive. It's a nippy, agile city runner and it's a breeze to park with its light steering and rear park assist. Visibility out of the vehicle, an often-ignored aspect, is excellent. For such a small car, the Grand i10 has always impressed with its ride composure – it rides bumps like a bigger car.
Good warranty
A major attraction for many people will be the standard warranty. The vehicle carries a 5-years/150 000km warranty, which is already superb, but some major drivetrain parts are actually covered by a 7-years/200 000km warranty! A 2-years/30 000km service plan is standard.
The Bad
Still short on safety features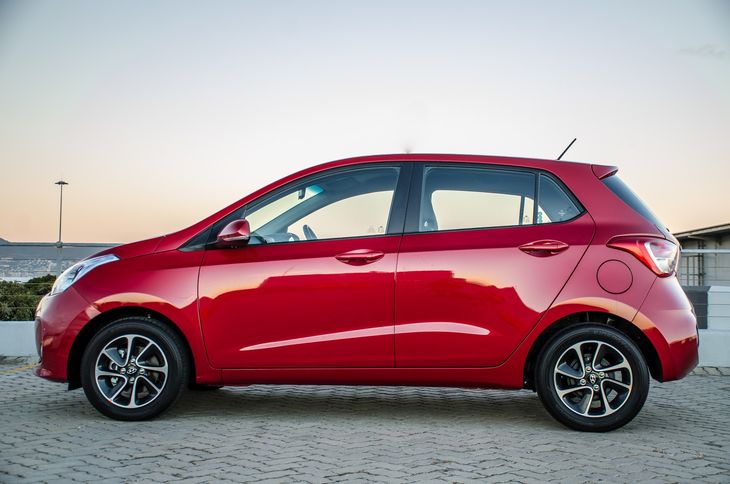 While Hyundai has added an extra airbag, the Grand i10 still falls short on safety (no ESP is available, even as an option).
During this round of upgrades, Hyundai added a front passenger airbag to the specification, but this only serves to highlight how far behind the game the Grand i10 is in this regard. Sure, the new Polo Vivo also comes with 2 airbags only as standard, but at least there is the option to add electronic stability control at (minor) extra cost. The Grand i10 doesn't offer this option. A vehicle such as the Renault Sandero Stepway Dynamique has 4 airbags as standard, as well as ESP...
Scratchy gearbox
It's not the first time that we've found the 5-speed manual transmission fitted to the smaller Hyundai/Kia models to be somewhat recalcitrant. It's not a gearbox that likes to be rushed, and we at times struggled to get reverse to engage. On the move and during general shifting, however, it proved to be fuss-free.
Verdict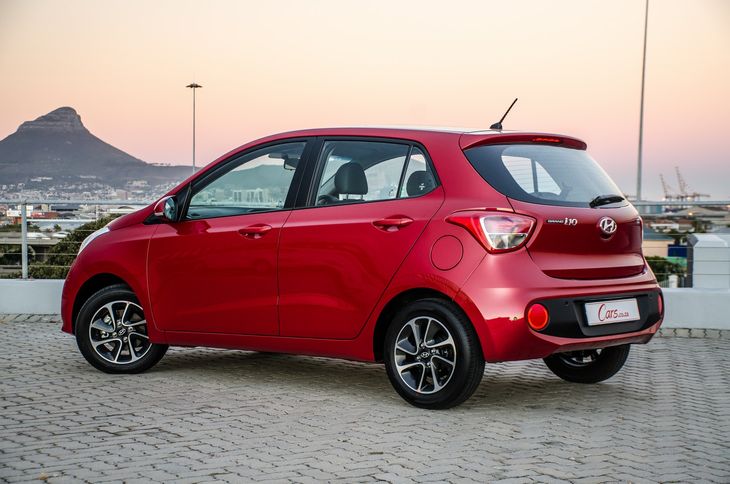 A neat, easy-to-live with offering, the Grand i10 will appeal to those looking for fuss-free motoring with a dash of luxury.
In this extremely tough part of the market, it's not easy to deliver a stand-out performance. The Grand i10 Glide certainly has its shortcomings, particularly in terms of safety equipment (standard or optional) and the scratchy gearbox was disappointing. It ticks the boxes in most other respects, without ever delivering a crushing blow to its rivals. But the one area in which it claws back considerable ground is on the warranty side. So, for buyers looking for a car that will offer peace-of-mind motoring, but who don't want to compromise too much in terms of life's little luxuries, the Grand i10 still makes a good case for itself.
You may also be interested in;
Hyundai Grand i10 (2018) Launch Review
Hyundai Grand i10 (2018) Specs & Pricing
Spy Shots: Next Hyundai i10, Atos and i20
5 Alternatives to the VW Polo Vivo
Looking for a new / used Hyundai Grand i10 to buy?