Renault has facelifted its popular budget-car-with-a-crossover-flavour and we got the opportunity to review it. Does the facelifted Sandero Stepway (in Dynamique trim) make enough of an impact to sustain the model's sales success story?
We like: Interior space, standard features, great warranty
We don't like: Engine needs to be pushed to deliver optimum performance, not as fuel-efficient as hoped
Alternatives
Bigger engine required? The Volkswagen Polo Vivo Maxx is the most expensive one of this trio and is the fastest, thanks to a bigger engine. It offers decent build quality and space, but can't quite match the Stepway in terms of features. It will probably be replaced by a newer version before the end of 2017.
Tough as nails! The Indian-built Toyota Etios Cross(over) was recently updated and its overt cladding makes it look a combination of strange and unresolved. Still, it offers a reasonable experience and the peace-of-mind that comes part and parcel with Toyota ownership is a big drawcard.
Not needing a crossover? The Ford Figo might not be a crossover vehicle, but its generous rear legroom is a big bonus. The sedan has a big boot.
Compare the Renault Sandero Stepway to the Volkswagen Polo Vivo Maxx and Toyota Etios Cross here.

New grille and daytime running lights are the main changes on the front of the Renault Sandero Stepway
New vehicles sales statistics attest that the Renault Sandero is a firm favourite in the budget sector. It just does so much right – an attribute that led to it being named the Budget Car of the Year in the 2015/16 Cars.co.za Consumer Awards. Fast forward 2 years and a new-look Sandero range is on sale in South Africa... there is only 1 hatchback derivative, while the popular Stepway baby crossover is available in 2 levels of specification. Suffice to say the Stepway has been a great success for the range and it's the derivative we're evaluating here.
What's new? Well, the Renault Sandero Stepway has gained some mild visual upgrades in the form of tweaks to the grille and lights (the addition of daytime running lights is particularly welcome). Inside, some ergonomic issues were addressed, such as the front window switches that have been moved from the centre console to their more traditional location in the door cards. What's more, there's a new infotainment system with satellite navigation, lifted straight from the Renault Duster and Kwid.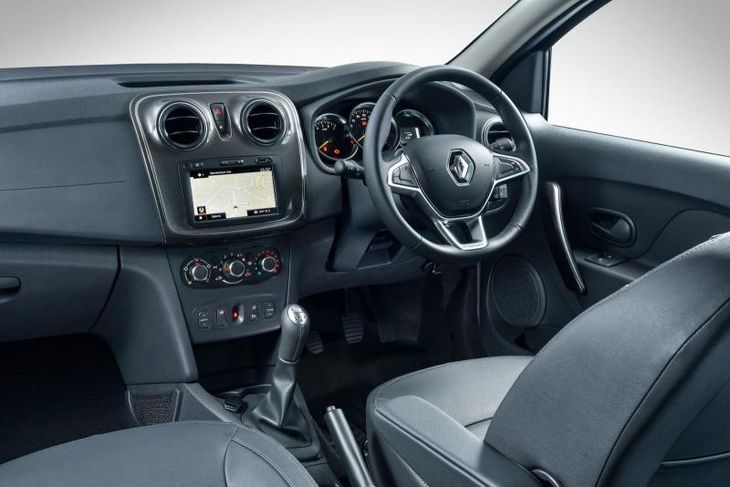 Interior has not changed dramatically. Window switches have moved to their more traditional location, by the window.
How does it fare in terms of...
Performance & efficiency?
The engine has not changed in the new-look Renault Sandero Stepway. It's still the 0.9-litre 3-cylinder turbocharged mill that we're familiar with. Pushing out 66 kW and 135 Nm, this motor's outputs sound acceptable on paper when compared to its rivals. Fuel economy is rated at 5.4 L/100 km, but in reality, you're going to struggle to get close to that. On a normal commute during which we drove on a combination of open road, gridlock traffic and suburban roads, we could only manage 7.9 L/100 km.
Another thing we noticed was that the little engine needed to be pushed to get the best out of it. It's okay if you're pottering around, but if you want to keep pace with traffic, be sure to counter the small amount of lag with mild flexes of your right foot. With the engine delivering optimum shove around the 3 000 rpm mark, you'll find the Stepway more eager around that mark. What's really nice about the turbocharged engine is that it provides substantially more torque than its naturally aspirated rivals, meaning overtaking is less stressful and easier.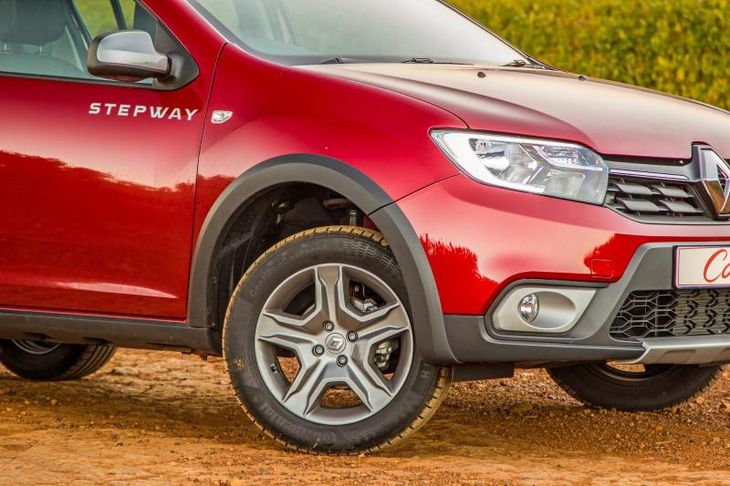 Thick, chunky rubber and good ground clearance means you can tackle gravel roads with ease
Ride & handling?
The Renault Sandero Stepway rides on high-profile 16-inch alloy wheels which, combined with a pliant suspension, provide a fair ride quality on the majority of road surfaces. Designed to suit Eastern European conditions, the Stepway feels right at home on poor quality roads and we noticed it was quite settled on gravel routes. Stepway specification means that ground clearance has been raised to a not-quite-city-car level of 193 mm. It'll effortlessly tackle speed bumps and if you need to, the Renault will mount pavements at will.
The steering is quick enough to execute urban manoeuvres but seems sufficiently weighted to make the Stepway feel substantial to drive. The rim is leather-trimmed in Dynamique spec.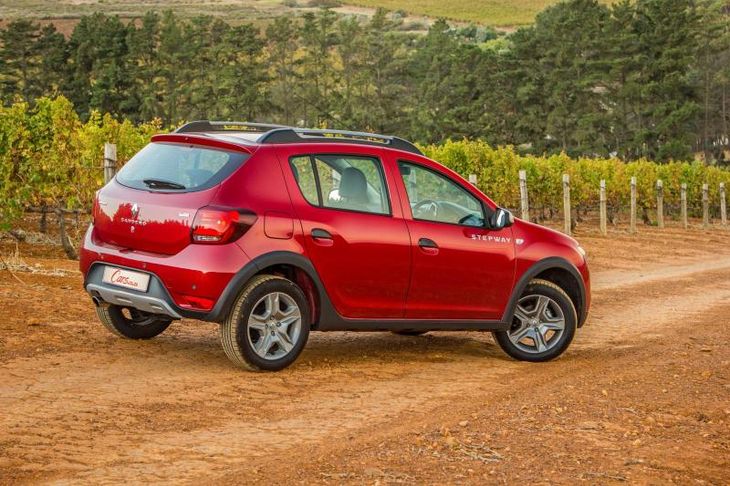 Be it in town or on a wine farm, the Renault Sandero Stepway is comfortable in both environments.
Features & space?
This is a department where the Sandero really excels. Not only is there plenty of rear legroom, but the luggage space is larger than that of its rivals, meaning that for the money, the Stepway is one of the most practical cars in its class. We can thank the platform for this spaciousness as the Renault's wheelbase is longer than that of its immediate rivals. The claimed 292 litres of luggage space can be increased by folding down the rear seats, which are split 60/40, therefore you can still accomodate a rear passenger if you've loaded in a surfboard...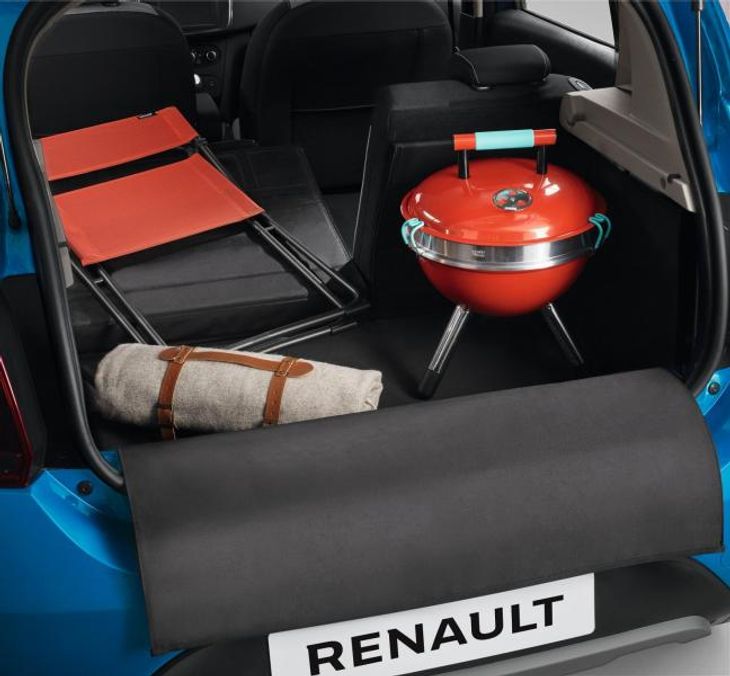 The loading area offers good capacity. Fold one section of the seatback down to increase space and retain space for a rear passenger.
To complete the Royal Flush, the Sandero's specification trounces anything in the segment, making it a particularly attractive offering. No other vehicle in the segment boasts satellite navigation, for example. Admittedly the unit fitted comes straight from the Duster and Kwid, but part sharing helps keep costs down. The base-spec Sandero Stepway is already well equipped, but Dynamique offers virtually everything you'd ever need from a "budget car" offering.
Standard features include cruise control, rear parking sensors, electric windows all round, electrically adjustable mirrors, a touchscreen infotainment system with USB/Bluetooth connectivity, remote central locking, remote audio controls and comprehensive trip computer. Indeed, there's no skimping, because the safety features are more than generous too. These include ABS with EBD, brake assist, an electronic stability programme, dual front airbags, side airbags, ISOfix mounts and hill start assist.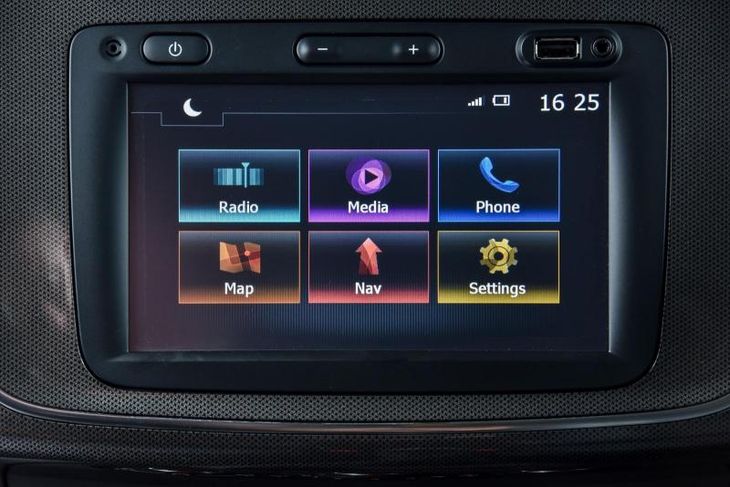 The Sandero Stepway features the same infotainment system as the Duster and Kwid. It's easy to use and the satnav features speed camera alerts.
Value for money?
With all of these standard features, a willing engine and fair ride quality, this review seems in serious danger of turning into one of those cheesy infomercials. But wait, there's more... The Renault's pricing is very competitive (as you'll see below and in comparison to its rivals), which suggests the Sandero Stepway will carry on being a popular and top-selling vehicle.
It's interesting to note that the Renault Sandero comes with a substantial 5-year/150 000 km warranty and 2-year/30 000 km service plan with service intervals set at 15 000 km.
Renault Sandero Stepway pricing in South Africa
The Sandero Stepway 66 kW turbo Dynamique retails for R189 900, which includes a 5-year/150 000 km warranty and 2-year/30 000 km service plan. Service intervals are at 15 000 km.

We predict the 2017 Sandero Stepway will carry on being a sales success for Renault.
Verdict
It's hard to fault the Sandero Stepway. It's an honest and affordable player in the budget segment, and our experiences with previous iterations were favourable too. Renault has been strategic in capitalising on the crossover market and making two Stepway derivatives available strengthens its appeal. The drivetrain and ride quality are good, but the specification levels and added practicality are the real drawcards. Who said cheap had to be small and spartan?
Watch a video review of the Stepway here:
Related content:
Renault Sandero (2017) specs & pricing in SA
Cars.co.za Consumer Awards - Powered by Wesbank, segment winners
Renault Kwid (2016) video review
Interested in buying a new/used Renault Sandero?