After months of teasing and speculation, Hyundai has finally released the production version of the i30 N performance hatchback. Here's what you know about the Korean answer to the class-leading Volkswagen Golf GTI.
It's officially called the Hyundai i30 N and its the brand's first high-performance vehicle. N stands for Namyang (not Nurburgring), which is Hyundai's Research and Development centre in Korea. However, this vehicle was perfected and tuned at the Nurburgring and we saw it in action at the Nurburgring 24 Hour race. Inspired by the brand's efforts in the World Rally Championship, the i30 N represents motorsport know-how translated into a road-going production vehicle.
"The Hyundai i30 N has been developed for no other purpose than to deliver maximum driving fun to our customers in an accessible high-performance package," says Albert Biermann, Executive Vice President Performance Development and High-Performance Vehicle Division.
"With the high-performance N models we will enhance our brand's appeal with emotional products that cater to the needs of people who love to have a smile on their face when they drive their car on a winding road and listen to the sound of the engine. That's why we measure high-performance in BPM, heart beats per minute instead of only RPM." The name Biermann may sound familiar if you're a BMW fan as he used to work for them and was headhunted by Hyundai.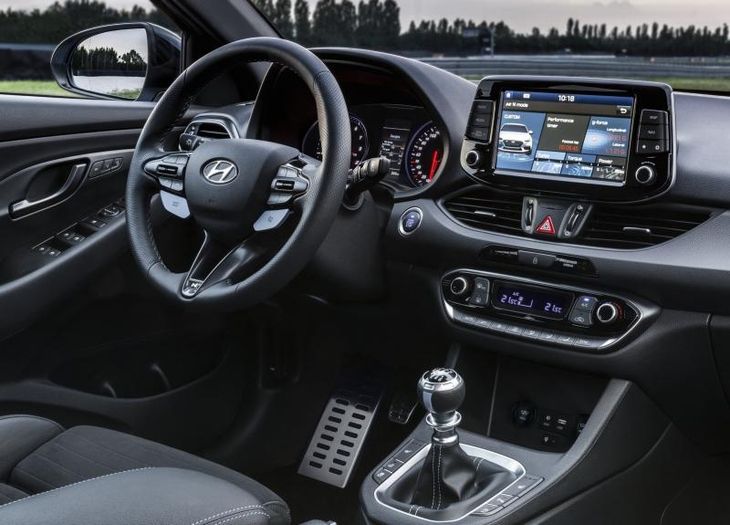 A performance cabin for a performance car. Note the six-speed manual gearbox which comes with rev matching tech as well as launch control
Two flavours
The new Hyundai i30 N comes in two states of tune. Both derivatives feature turbocharged 2.0-litre engines. In the Standard Package, there's 184 kW and 353 Nm, while the Performance Package offers up 202 kW and 353 Nm. Both max out at 250 kph, while the 0-100 kph time is dispatched in a claimed 6.4 seconds. The Performance Package is capable of 6.1 seconds to 100 kph. Power goes to the front wheels via a six-speed manual transmission.
Visually, you'll be able to differentiate the Performance Package from the lesser model as it features 19-inch Pirelli P-Zero high-performance Hyundai N tyres, distinctive red N brake callipers and larger brake discs (18-inch at the front, 17-inch at the rear). To spice things up even further, there's an Electronic Limited Slip Differential (E-LSD) and Variable Exhaust Valve System.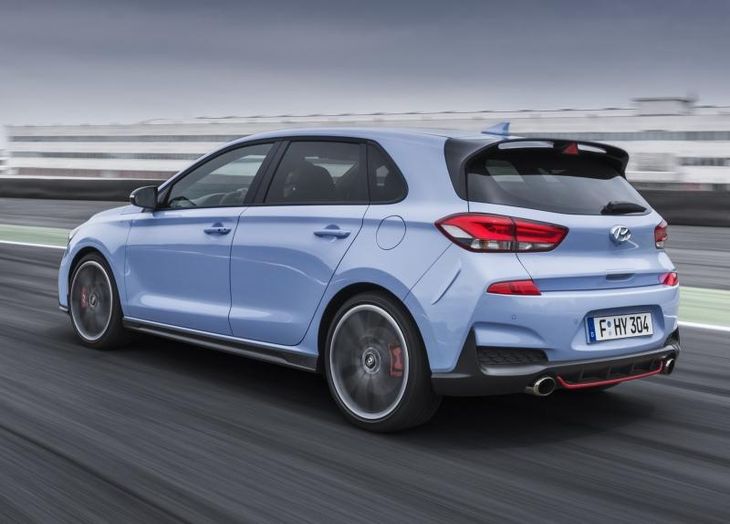 With twin exhausts, big alloy wheels and numerous aerodynamic aids, the Hyundai i30 N ticks all the boxes in the looks department
Fun to drive
The Hyundai i30 N is not just about straight line prowess and it has been engineered to be both fun and entertaining to drive, without compromise. There's even a launch control system, the powertrain features rev matching technology and there's even an electronic controlled suspensions which adjusts the damping at the touch of a button. The cabin features an electronic sound generator which fills the cabin with performance sounds, but what you really want is the variable exhaust valve system which is available on the Performance package. The driver has the choice of different exhaust sounds.
We're impressed to see Hyundai offering five driving modes; Eco, Normal, Sport, N and N Custom. The different modes change the character of the car, adjusting the parameters of the engine, the dampers, Electronic Stability Control (ESC), Electronic Limited Slip Differential (E-LSD), engine sound, steering and rev-matching. In the N Custom mode, drivers can select from Eco, Normal, Sport and Sport+ settings for each high-performance component to match driving preferences and road conditions. You'll be able to set the suspension to softest, with the exhaust set to loudest...
Cabin
Despite its performance aspirations, Hyundai has fitted the i30 N with all the comforts you'd need. There are uniquely designed high-performance sports seats with lumbar support and extendable seat cushions. Customers can choose from a combination of suede and leather or cloth. There are two infotainment screens available. Standard is a 5.0-inch or go big for the optional 8.0-inch touch screen with navigation, featuring information on power, torque, turbo boost as well as a lap and acceleration timer. The vehicle is also compatible with Apple CarPlay and Android Auto, and there's even a wireless inductive charging pad for mobile phones.
Watch the Hyundai i30 N in action:
Interested in buying a Hyundai i30?