While the upcoming unibody-based Hyundai Santa Cruz is unlikely to be produced in right-hand-drive guise (which rules it out for South Africa), the Korean firm and its sister brand, Kia, remain on track to deliver conventional ladder-frame bakkies in 2023, if not sooner.
The featured image – inspired by the Kia Mohave off-roader – was created by SRK Designs.
Earlier this month, frequent Cars.co.za contributor Calvin Fisher shared 5 reasons Hilux and Ranger should worry about a Korean bakkie onslaught. He based his opinions on, inter alia, the fact that Hyundai and Kia had achieved significant successes in virtually every new market segment the firms had launched products in recent memory.
The introduction of a Hyundai-badged bakkie, in particular, is quite topical at the moment because the Korean firm is set to finally put its Santa Cruz Concept (circa 2015) into production at its Alabama plant in the States next year. We've published a spy photo of a side profile of the pre-assembled bakkie, as well as a render based on that image.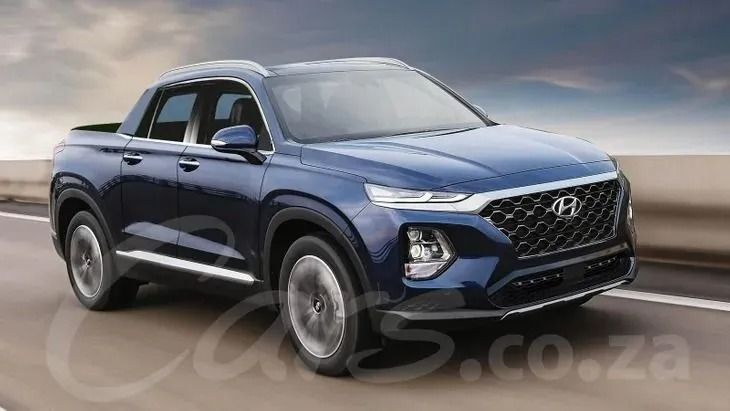 Cars.co.za's automotive artist Duwyne Aspeling anticipates that the upcoming double-cab will look like this.
As things stand, however, we need to curb our enthusiasm about the upcoming Santa Cruz, because, as opposed to the off-road capable and workhorse-cum-lifestyle ladder-frame-based bakkies that are so wildly popular in Mzansi, the model that's set to debut Stateside in 2021 is a unibody-based vehicle that shares its underpinnings and powerplants with the Santa Fe executive SUV. It will indeed be offered with all-wheel-drive, but it's a highly stylised, light-duty lifestyle pick-up nonetheless…
Suffice to say the Santa Cruz wouldn't be an ideal fit for the notoriously conservative SA bakkie market; apart from offering superior off-road capability (by virtue of superior ground clearance, -wheel articulation, -approach/departure angles, -ostensibly a diff-lock and a low-range transfer case), the venerable ladder-frame/cab-on-chassis double-cab offers a much higher payload and considerable braked-trailer towing ability compared with a unibody-based bakkie, such as the Santa Cruz…
Of much greater significance for Mzansi consumers is this: former Hyundai chief JW Lee and Kia Australia chief operating officer Damien Meredith have confirmed to CarsGuide and CarSales respectively that ladder-frame-based (body on chassis) bakkies are under development by Hyundai Kia, ostensibly with a planned launch date of 2023.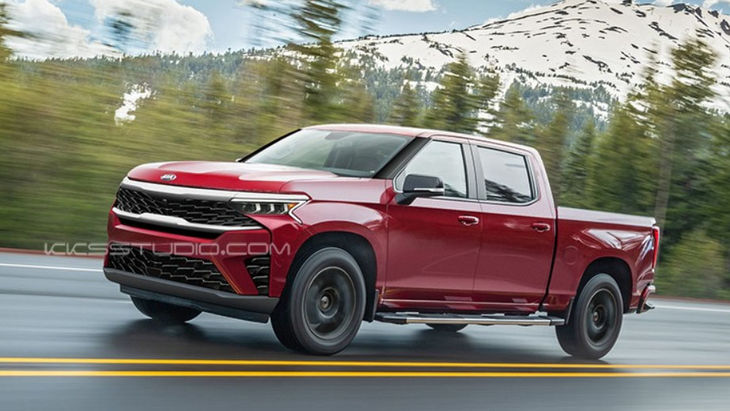 KKS Studio imagines the upcoming Kia double cab will look like a Chevrolet Silverado with a "tiger face" treatment.
"The sooner the better," Lee told CarsGuide. "I'm crying and praying whenever I have the chance to bring this issue to headquarters. (But) 2023 is our target year. It depends on production (and) where we're going to produce those vehicles has yet to be decided."
Meanwhile, CarSales quoted Meredith as saying "work has begun (on developing the Hyundai/Kia bakkie. We're talking about a pick-up — dual-cab, single-cab. What we've requested is the full gambit of a (bakkie) — (with) diesel and petrol (engines)."
Asked whether previous reports (that work had begun on the double-cab bakkie) had changed as a result of the Covid-19 pandemic, a Hyundai spokesman answered "no".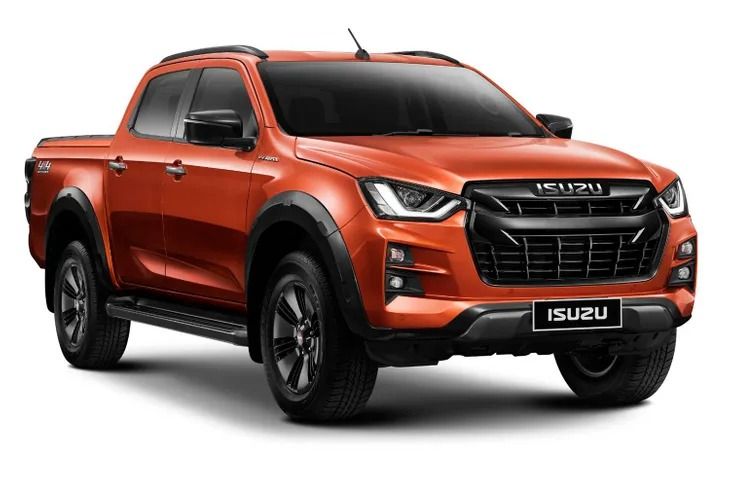 Either the new Isuzu D-Max or its Thailand-built Mazda BT-50 cousin will be the first of the all-new bakkies to arrive in SA.
Boom time for new bakkies
The following 12- to 18 months will be a very busy time in the South African bakkie market! The next-generation D-Max will go into production at Isuzu's production facility in Port Elizabeth in the 2nd half of 2021, and the new Mazda BT-50, which is based on the Japanese double cab, is also set to go on sale at some point next year. The Toyota Hilux will receive an update in the near future, while an all-new Ford Ranger will reportedly be unveiled in about a year's time, before going into production at the Blue Oval's Silverton plant later in 2021/early 2022, to be followed closely by the next Volkswagen Amarok (also built at the local Ford plant), with which it shares its underpinnings.
Will Hyundai, Kia win the 'torque war'?
With an arrival date of 2023 (or even 2022, depending on which reports you believe), the Hyundai and Kia double cabs might upstage their opposition in terms of peak power and torque outputs… The most powerful double-cabs in the South African market – as it currently stands­ – are the Mercedes-Benz X-Class X350d 4Matic (190 kW/550 Nm) and Volkswagen Amarok 3.0 V6 TDI 4Motion (165 kW/550 Nm) ­– with a 190-kW version, which produces 200 kW and 580 Nm on overboost, scheduled to arrive soon.
However, the 3.0-litre inline-6 turbodiesel in the new Genesis GV80 is widely believed to be pencilled in for installation in the upcoming Hyundai and Kia double-cabs. With peak outputs of 205 kW and 588 Nm of torque that motor (most likely mated with an 8-speed automatic transmission) would pip all the current contenders, although Ford's 3.0-litre V6 Power Stroke turbodiesel, which is rated at 186 kW and 600 Nm, is lined up for the next iteration of the Ranger (and, as far as we understand, Amarok).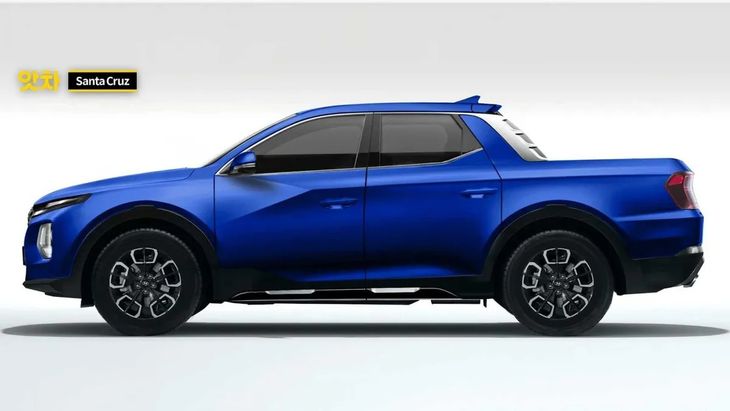 No Santa Cruz? Never say never
So, in conclusion, is that all there is to say as far as the Santa Cruz is concerned, at least from the South African market's point of view? Well, not necessarily. For buyers who buy double cabs as substitutes for family cars and care little for off-roading or towing trailers, the Santa Cruz might indeed fit the bill, but it needs to be a viable proposition.
Granted, the Santa Cruz is NOT slated to be produced for right-hand-drive markets, but then, neither was the Hyundai Palisade, an 8-seater luxury SUV and cousin to the 2020 World Car of the Year-winning Kia Telluride. However, the Palisade, which is built in the Korean firm's Ulsan plant (which also produces the Santa Fe) was recently green-lit to be produced in RHD guise and confirmed for future introduction in Australia! Considering all that, it's not impossible that the plant could build an RHD Santa Cruz in future...
Related content:
5 reasons Hilux and Ranger should worry about a Korean bakkie onslaught
2022 Volkswagen Amarok: What We Know So Far
Confirmed: Facelifted 2020 Toyota Hilux
2022 Ford Ranger: More details emerge