Following the recent appearance of a spy photo of the Hyundai "Santa Cruz" double-cab, which will be introduced in the US next year, a Korean YouTube channel has published this render based on the stylistic details revealed in that image.
Earlier this week, we reported that even though the spy image was not of a completed, road-ready example of Hyundai's upcoming Alabama-built double-cab, the single side profile of the pre-assembled body revealed several cues carried over from the Santa Cruz concept (circa 2015) as well as elements of "parametric dynamics", which are integral to the Korean manufacturer's new Sensuous Sportiness design language.
Read the previous report in full here.

After a number of speculative renderings and spy photos, this is the first look at the bakkie in the metal. Image credit: Motor1.com.
You may remember that Atchacars – the YouTube channel of a Korean automotive artist ­– recently produced renderings of the boldly styled next-generation Hyundai Creta. Now they have produced this eye-catching render of the upcoming "Santa Cruz" 4-door leisure double cab based on the image that originally appeared on Motor1.com…
As expected, the render shows a bakkie with a truncated load bed and rearward-sloping C-pillars. Atchacars has integrated the upward-sloping rear window sill, which creates a kind of Hofmeister kink (again, with apologies to BMW) and accented the side glass area by blacking out the B-pillars and adding chrome-look window trim, which extends to a louvred/stepped backing plate, as well as an oh-so-subtle roof spoiler.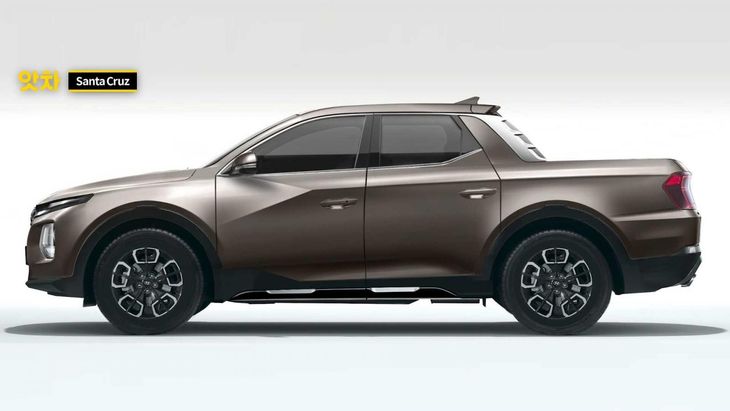 Atchacars imagines that the finished product will look quite sophisticated, replete with chunky alloys and chrome-look finishes.
What's more, the artist has incorporated the distinctive contours near the top of the front door – they reference "parametric dynamics" (radiating lines that converge at a central point) – as well as a pinched beltline. To round off the imagined profile of the "Santa Cruz", the artist has added black cladding around the wheel arches, chunky 5-spoke dual-tone alloys and textured running boards, as well as dark-grey rear bumper garnishes.
In addition to our own earlier render (by Cars.co.za's own Duwyne Aspeling), we have also seen spy photographs of a prototype testing in the snow. While most of the body is hidden from sight, there are some noteworthy learnings about the bakkie's front and rear ends that can be gleaned from the spy images. Perhaps the most obvious feature is indeed the large, bold cascading grille that will likely be flanked by slim LED headlights.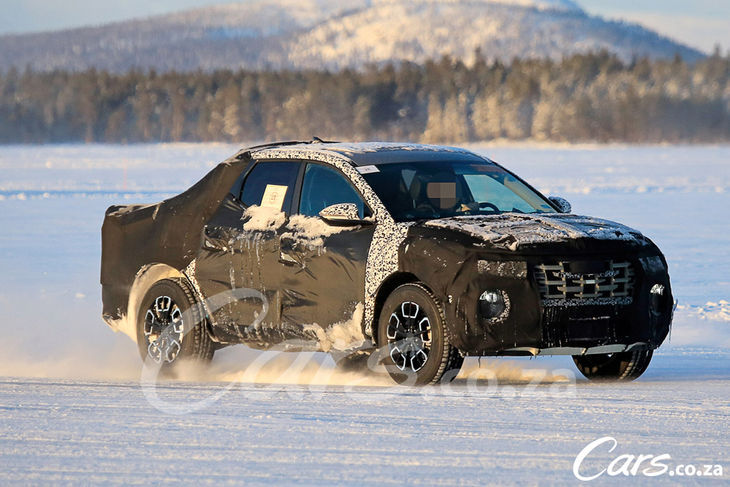 Picture credit: S. Baldauf/SB-Medien. We've watermarked the image at our supplier's request.
It's commonly known that Hyundai plans to commence production of its new double-cab at its US plant, which also produces the Santa Fe, Sonata, and Elantra, next year. Most reports suggest that the Korean manufacturer is committed to bringing the concept's Santa Cruz name to market and the newcomer will be a unibody vehicle (unlike local body-on-chassis 4-door bakkies) and exclusive to the North American market.
Car And Driver believes the finished product will share its underpinnings with the Santa Fe 7-seater SUV in our market: "Hyundai's plan for the Santa Cruz is as an affordable... choice for drivers who haul bulky, but not necessarily heavy items – think mountain bikes, kayaks, and camping gear rather than gravel, boats, and cinder blocks."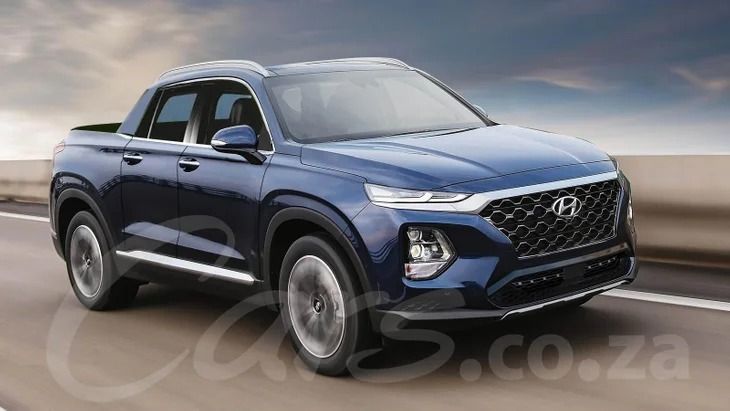 Our much earlier render of the upcoming Hyundai bakkie by Cars.co.za's Duwyne Aspeling.
Given its Santa Fe underpinnings the "Santa Cruz" is likely to feature the family SUV's engines in North America, which includes a 137 kW/241 Nm naturally-aspirated 2.4-litre petrol engine and a turbocharged, 175 kW/352 Nm 2.0-litre turbocharged petrol engine, both fitted in conjunction with an 8-speed automatic transmission.
So while the light-duty bakkie may not be of great consequence to South Africa (at this stage, but Hyundai might decide to build RHD versions at its Ulsan plant in Korea later), why should we be intrigued by what the production version "Santa Cruz" could look like?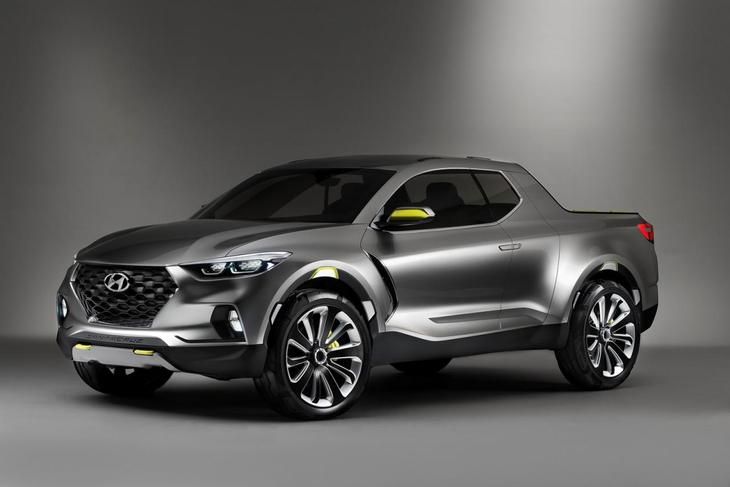 It's not often that a concept vehicle (let alone a 5-year-old one) looks this production-ready.
Well, it has been reported (by Australian title Which Car and other sites) that Hyundai is simultaneously developing a 1-tonne bakkie based on a ladder-frame chassis (in partnership with its sister-brand, Kia) for Australia and other markets, which will likely include South Africa – which is, as we know, a major market for bakkies.
Hyundai South Africa has never hidden the fact that it would be keen to introduce a leisure double-cab – if one was available to us and a viable proposition; if little else, this "Santa Cruz" is likely to set the tone for the look of future Hyundai chassis-cab bakkies...
Buy a new or used Hyundai on Cars.co.za
Related content:
Spied: Hyundai Double-Cab Bakkie in Profile
Radical new Hyundai Tucson coming
Hyundai N Bakkie Coming to Rival Ranger Raptor?