The all-new Kia Rio aims to solidify its success as a top-seller in the compact hatchback market. Next year, it will have to compete with new iterations of the Ford Fiesta and Volkswagen Polo. We test the top-spec Rio 1.4 Tec to see how it's likely to fare against its upcoming rivals.
We like: Practical and spacious, good infotainment system
We don't like: Firm ride, lacklustre engine performance
Alternatives:
For better value for money: The Renault Clio GT-Line has better safety spec than the Rio and its torquey 1.2-turbo engine won't have you holding up traffic as much as the Rio. It's R10k cheaper too.

The obvious choice: The Volkswagen Polo 1.2TSI Highline is the top seller in the segment and despite its age, it still feels up to date. It's marginally more expensive than the Rio but again, its turbo engine is more useable.

For a bit of fun at the same price: Opel Corsa 1.4 Turbo Sport makes mincemeat of the competition in terms of bang-for-buck and offers the most sporty looks in the segment.
What is it?
The Kia Rio has been around for a while and this is actually the fourth generation Rio, but only the third generation Rio managed to break into the market with any real significance. This latest Rio is claimed to have been improved in vital areas such as safety, in-car technology and ride and handling dynamics. If those assertions prove accurate, the Rio seems destined for further sales-chart success, but as we dig a little deeper, it's not clear if the gains the Korean firm are crowing about are as substantial as Kia would like us to believe...
How does it fare in terms of…
Kerbside appeal?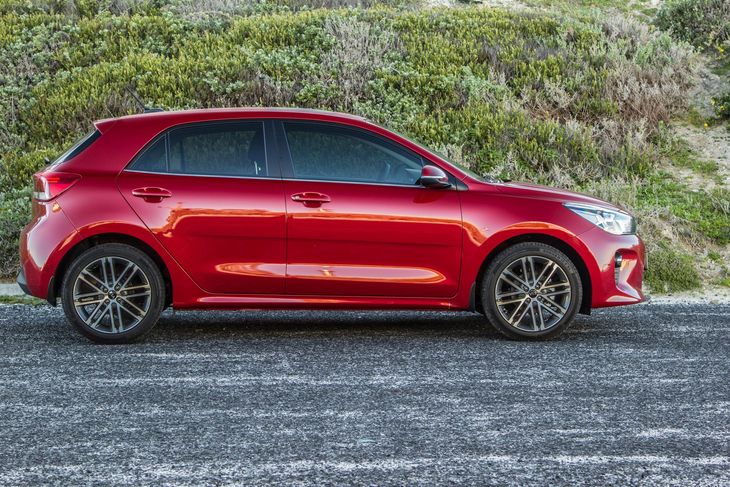 Slightly grown-up design, but it's a good looker. 17-inch wheels and fog lights are standard on this 1.4 Tec derivative.
The Rio's design seems grown up with nothing flashy or extremely stylish like we saw from previous designs of the 2010 Sportage or Optima. It's exterior treatment's inoffensive, a bit like the Polo's, with no real standout "wow factor". It does have some good standard kit on offer in this Tec guise though. You get 17-inch wheels, LED headlights, fog lights and electrically folding mirrors. A lot of those features sit on the optional extras list of the competition. The new, thinner 'tiger nose grille' is the only real indicator that this is, in fact, a Kia.
Darting about town?
Kia has persisted with naturally aspirated motors for the new-generation Rio where almost all of the competition feature turbocharged engines. As a result, the 74 kW and 135 Nm of torque offered from its 1.4-litre engine is well below what we have become accustomed to. The lack of torque means the engine feels lifeless at the bottom of the rev range and only delivers meaningful acceleration when you get nearer to 4 000 rpm. Of course, you don't always need to race everywhere like you're in a Fast & Furious film; for pottering around in traffic and sticking (mostly) to the left lane, the Rio's engine will suit commuters just fine.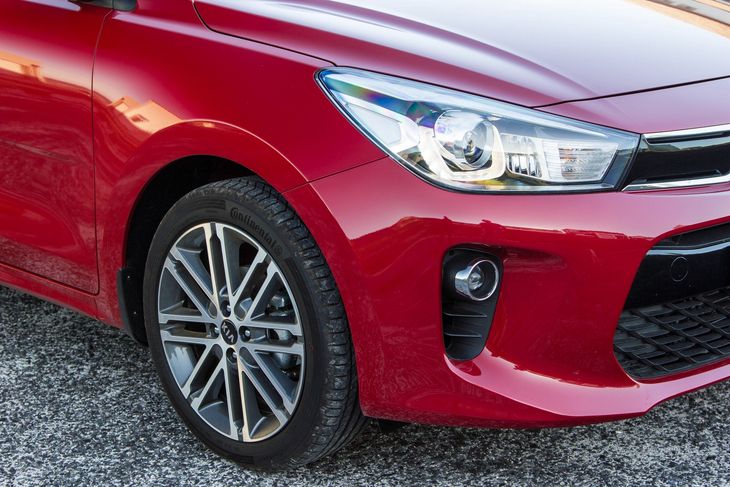 LED headlights are a premium feature and unfortunately, what's under the bonnet hasn't got the go to match the show.
You would expect the fuel consumption figure to be impressive considering the lack of grunt, but the claimed consumption figure of 5.8L/100 km is actually higher than those quoted for the comparable Polo and Clio. However, we did find that the real life figure we experienced (6.3 L/100 km), is a bit lower than what those rivals managed.
Practicality?
While the Rio's styling has grown up, so has its external size and interior space. For a small hatchback, the 325-litre luggage capactiy is bigger than those of its closest rivals. The rear seats also fold flat to provide useful utility space. Rear passenger space is fair, but it can be a bit of a squeeze to sit behind a taller driver.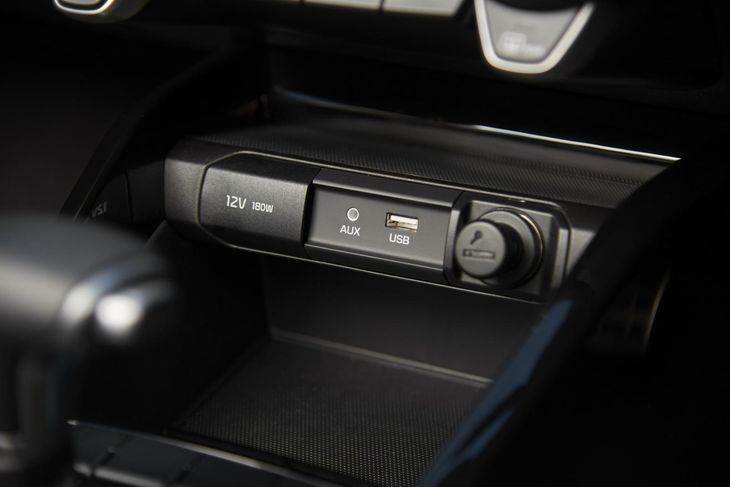 Neat two-tier storage solution means you can separate your phone from scratchy items like keys.
There are 2 cupholders in the centre console and a large, two-tiered storage area in front of the gear lever. This means you can place your phone on the top tier and then keys and other paraphernalia below, which means the danger of scratching your smartphone's screen is greatly diminished and there is no need to fumble around when you're trying to grab the item you want. It would be nice if that storage bin liner was a little grippier though as keys tend to slide from side to side as the car corners or brakes, which generates an annoying sound.
Ride quality and driving experience?
In trying to improve the driving experience of the new Rio by stiffening the front end up, Kia has made the ride a trifle too stiff. The 1.4 Tec is jarring to drive on a bumpy road and you feel every crease in the tarmac through the firm suspension. The extra stiffness has made the front-end quite responsive and it turns in quickly with well-weighted steering. Unfortunately, the Rio doesn't really have the power to deliver an exciting drive, in spite of its sporty bent. We think that a focus on comfort or a more sporty engine would have suited the Rio better.
Interior ambience?
The continued improvements in build quality and upmarket materials have trickled down to the Rio well. It feels solidly put together and the shut lines are the tightest and most structurally rigid in the segment. Leather trim is standard in the Tec and that's a one-up on its rivals. The steering wheel and its controls feel more substantial/premium than the previous model's too.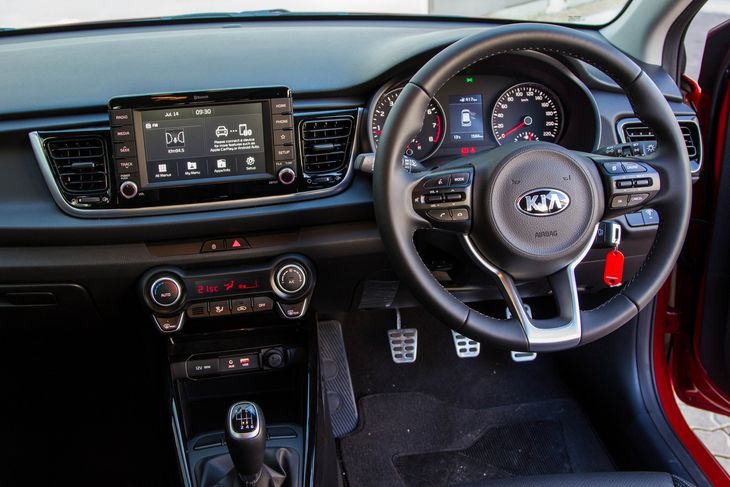 Well-specced interior with a good infotainment system and solid build quality. It's the highlight of the new Rio.
The (touchscreen) infotainment screen is now as up-to-date is it gets with Apple Carplay and Android Auto functionality available. The menus are simple to navigate and its unique operating system doesn't make it feel like the generic Windows system that Kia's sibling Hyundai uses in many of its products.
Watch Cars.co.za technical contributor and #CarsAwards judge Nafisa Akabor demonstrate Android Auto in the new Rio (clip courtesy of nafisa.co.za)

The only real criticism of the interior is the apparent lack of specification on our local models. Just in front of the gear lever is a plastic section of switches, all of which have been disconnected/blanked-out from use. We'd imagine that if you've paid dearly for a top-spec Rio and then have to look at that bare console every day you may feel a little short changed...
Safety
Kia South Africa does have its problems in getting well-specced cars from Korea. That means that none of Kia's local models have stability control, and that's a big mistake. The Tec comes with 6 airbags, but wouldn't you want to avoid an accident rather than having to rely on airbags to save your life? ABS and EBD are also standard across the range.
Some of the less talked about safety features like automatic sensing lights, rain sensing wipers, park distance control and cruise control are all standard on the Rio Tec.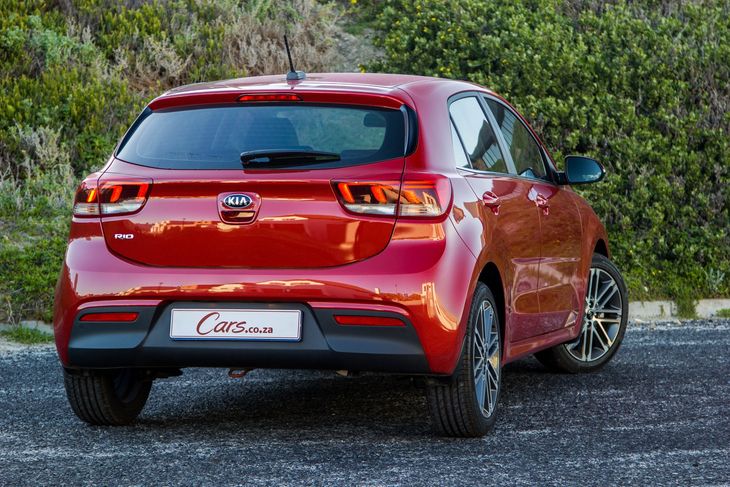 Overall, the Rio may just be good enough to sell well, but by the time the new Polo and Fiesta get here, it will struggle unless the package is enhanced.
Pricing and warranty
Kia no longer sees itself as a budget-beating brand and is proud to say that it competes at the top of the price cap in the segment. The 1.4 Tec manual is priced at R274 995, which is nearly the same as a Polo Highline and R20k more than the Renault Clio GT-Line.
Kia offers an excellent warranty and service plan on the Rio with a 5-year/unlimited km warranty and a 4-year/60 000 km service plan.
Verdict
The new Kia Rio's most outstanding feature is its interior. It may not be as flashy as something like the Clio, but it's solidly built, covered in leather and the infotainment system is bang up to date. The engine doesn't deliver enough torque to make overtaking or acceleration particularly brisk, but it has just enough grunt to get around town comfortably.
Also consider that the 1.4 Tec's ride quality is on the less-than-absorbent side for what is essentially a city car, which could become annoying to live with on a daily basis. And, if safety is high on your priority list, then the lack of stability control is disappointing.
For now, the Rio offers reasonable value-for-money, albeit at the upper end of the price spectrum. With what the upcoming Fiesta and Polo have to offer, the Rio will likely find itself in a sales battle with superior products in about a year's time. It's an impressive product, but it does not move the compact hatchback market forward in a significant enough manner.
Related content:
Preview: 2018 VW Polo vs 2018 Ford Fiesta
Ford Fiesta (2018) International Launch Review
Volkswagen Polo 1.0 R-Line (2017) Quick Review (w/Video)
Renault Clio GT-Line (2017) Review
Opel Corsa (2017) Specs & Price
New Suzuki Swift (2017) First Drive
Want to buy a Kia Rio?