Buying a smartphone today is no longer about the hardware; it all comes down to operating system preference. It's easier to stick to a familiar interface, instead of starting from scratch with something completely different. It has taken a couple of years but we have now adapted to using voice commands, and by extension, using our handsets like a virtual assistant.
Enter Android Auto and Car Play. Similarly, these two systems are not fighting a battle about which one is going to be more popular than the other. They exist for current smartphone owners as a way to interface their devices within a vehicle. If you look at the bigger picture, it is ultimately a battle against car manufacturers infotainment systems.
In an article Forbes published earlier this year: "If automakers don't like Android Auto, they need to do better", it said most manufacturer-designed user interfaces are terrible. It went on to state, "They are often cluttered and unattractive and because of the long-lead times in developing vehicles and the need for robust electronics, OEM systems often run on old processors and don't perform well."
Infotainment systems are not updated regularly
Smartphones are like computers that we carry in our pockets. They can arguably process commands faster than our desktop PCs and deliver results within seconds. Your car's infotainment system doesn't receive software updates nearly as frequently as your phone, thus it cannot compete with speed alone.
What car manufacturers need to focus on is improving their user experience, the way Android Auto and CarPlay have already done; and to stand out from the rest. While Apple and Google offer four core features – calls; messages; navigation and music, neither have addressed integration.
Digitaltrends says these systems work beautifully when it comes to showing off smartphone features, but it completely shuts out what the car's infotainment system can offer.
"Cutting-edge infotainment systems offer a great deal more… they switch through different categories of features, from audio to navigation to climate control, but many have begun to integrate performance apps."

Manufacturers are upping their game
Admittedly, it might be early days as Android Auto and CarPlay are not mainstream, but it appears manufacturers are upping their game.
The most notable one being Audi's partnership with Cubic Telecom in Europe to provide in-car mobile connectivity. The MVNO has a high-speed LTE platform and with its partners, are able to provide access to Audi connected infotainment services across 13 countries in the EU. It will be available at competitive pricing for customers. Audi South Africa tells Cars.co.za that the full Audi Connect service will be making its way here in early 2018, and while the manufacturer does plan on working with local mobile operators, none of the negotiations have taken place yet.
Earlier this year, Ford invested $182m in a cloud-based software company called Pivotal, which, according to Forbes, was to further strengthen its software abilities. This may not seem uncommon for Ford however, as we've seen the Blue Oval transform into a mobility company over the last couple of years. It is also the first car manufacturer to have opened a research and innovation centre in Silicon Valley.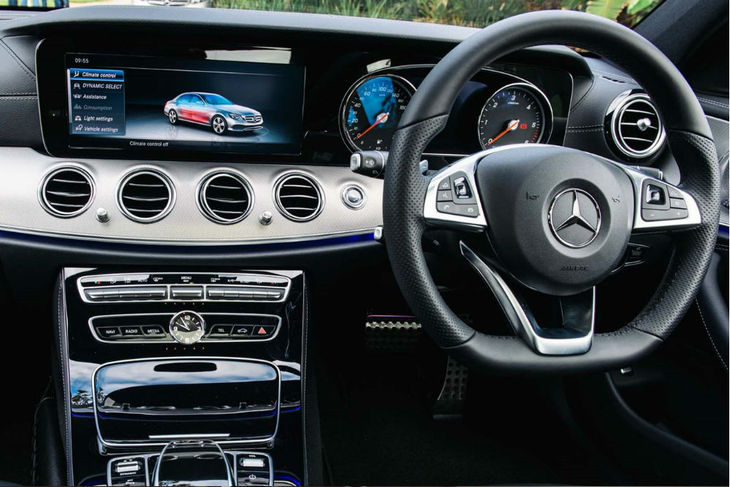 Mercedes-Benz, Audi and BMW recently co-purchased a division of Nokia to improve live traffic integration.
The future is HERE
Towards the end of last year, Audi, BMW and Daimler purchased HERE Maps, a division of Nokia that supplied mapping software to a majority of in-car satellite navigation systems for €2.8bn. According to Autocar, Nokia claimed that around 80% of new in-car infotainment systems featured its software, which has maps for almost 200 countries and live traffic for 33 countries. Live traffic integration within these German vehicles looks like a step in the right direction.
Another manufacturer trying to set itself apart from the rest is Jaguar Land Rover, with its "door to door" navigation using the Route Planner smartphone app, in conjunction with its InControl Touch Pro infotainment system, which will launch with the F-Pace in South Africa soon. The feature provides walking directions once you step out of your vehicle and, as an example, will take you straight to the shop you are visiting at a mall.
Unique-to-brand user experiences are key
While initial reviews of Android Auto and CarPlay from markets that support these systems look positive, and suggest that car manufacturers current systems are terrible, it does not appear to be the "end of the road" for onboard infotainment systems, yet.
Car manufacturers are evidently investing and trying to offer a more improved user experience, unique to their brand – and customers, and it could very well be a significant feature that sets it apart from each other.
It's only a matter of time before we will see the results of these investments, which by then should bring speed, data connectivity, improved software, cloud features, live traffic and better maps.
Any views or opinions expressed in this article are solely those of the author and do not represent those of Cars.co.za or its editorial content team.