Earlier this year, Ford bolstered its EcoSport range with a more affordable entry-level (and convenient) Ambiente automatic derivative. Gero Lilleike loaded up the 1.5 Ambiente automatic and headed for the quaint West Coast town of Paternoster to determine if the newcomer is worthy of your consideration.
We like: Good looks, no-fuss interior, ride/handling balance, convenience of an automatic at this price
We don't like: Sluggish overtaking ability, limited rear passenger and load space.
Fast Facts
Price: R316 300
Model Tested: Ford EcoSport 1.5 Ambiente automatic
Engine: Naturally-aspirated 1.5-litre petrol
Power/Torque: 91 kW/150 Nm
Transmission: 6-speed automatic
Fuel Economy: 6.9 L/100km
Load capacity: 333–705 litres
Serious About Buying?
Check out full specification details and finance estimates here.
Some Ford dealers regularly offer specials: Look at New Car Specials here!
What is it?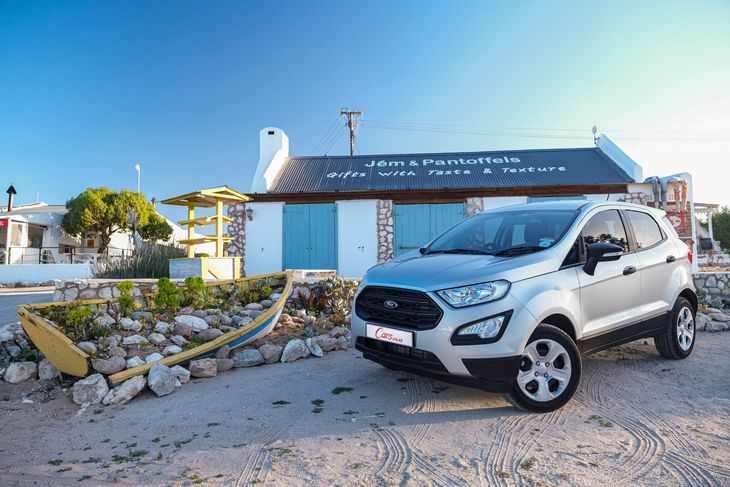 The EcoSport is a charming small SUV and the addition of an entry-level automatic derivative broadens its appeal.
The Ford EcoSport competes against a horde of formidable rivals in the compact family-car segment, including the Volkswagen T-Cross, Mazda CX-3, Hyundai Venue, Renault Captur and Haval H2 (to name just a few models). The Indian-made EcoSport has been a huge sales success for Ford South Africa; the 1st-generation model arrived here in 2013 and was replaced by this iteration in 2018.
So, why has this derivative been added to the line-up? Buyers are increasingly opting for the convenience of an automatic transmission and, in an effort to target budget-conscious buyers (who most probably have to contend with congested traffic on their daily commutes), Ford now offers a 6-speed automatic EcoSport in its entry-level Ambiente trim, making it one of the most affordable compact family cars currently available on the local market. It's a smart move from Ford and one that's bound to resonate with cash-strapped buyers looking for optimal value from their new-car purchases.
Our test unit looked particularly striking in its Moondust Silver metallic finish and a contrasting black grille. In Ambiente guise, 16-inch steel wheels with wheel covers are standard, but with a ground clearance of 206 mm and loaded with a surfboard, the EcoSport had to fulfil the role of a go-anywhere surf-mobile in search of sand and waves on the West Coast. Let's see how it performed...
How it performs in terms of…
Performance and Economy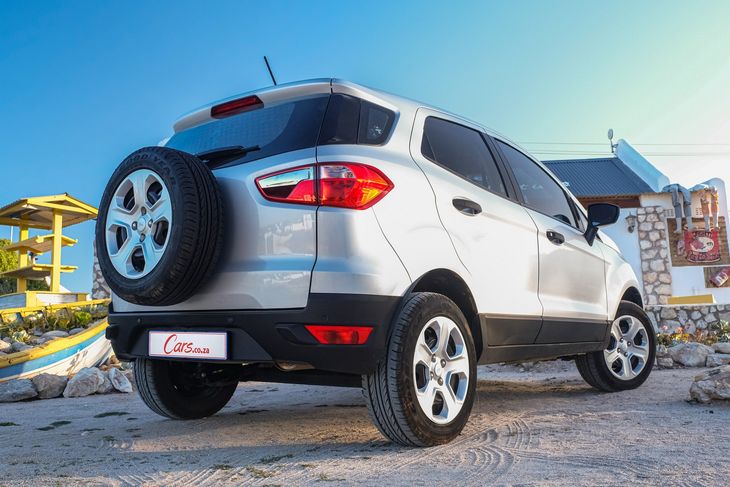 Without turbocharging, this EcoSport lacks low-end punch, but still manages to return acceptable fuel consumption figures.
Our destination for this test was Paternoster, a small – but hugely popular – West Coast town some 150 km north of Cape Town. Seeing as the Ambiente automatic is equipped with a 1.5-litre petrol engine that develops middling outputs of 91 kW and 150 Nm of torque, I wasn't expecting fireworks from this naturally-aspirated EcoSport – I didn't expect it to be as responsive or punchy as its 1.0-litre turbopetrol siblings. However, even though the engine has been criticised for being sluggish and the transmission could be smoother-shifting, there's a trick to extracting the best from this powertrain.
This EcoSport doesn't like to be driven hard; if you pin the accelerator pedal to the floor, the engine just strains while the transmission hangs onto each gear for dear life, all without achieving significant forward momentum. Instead, to get the most out of this engine-transmission combination, a driver needs to apply steady, measured throttle inputs (feeding the power consistently) to keep the engine in its sweet spot. This approach yields far better results and when driven in this manner, the Ecosport's performance improves appreciably – it can actually feel quite nippy to drive on city roads. However, because the 1.5 Ambiente automatic isn't turbocharged (there's no meaty low-rev punch on tap), overtaking other vehicles at highway speeds requires more careful planning/forethought.
It's also worth remembering that the Ford's performance will suffer at altitude, especially when it's loaded with a full complement of passengers and luggage. On the upside – and this will be quite a plus for the derivative's target market – the EcoSport returned an admirable fuel consumption figure during this test. Ford claims 6.9 L/100 km, but we managed 7.8 L/100 km without trying too hard.
Another major highlight of this EcoSport's package is its surprisingly refined ride and handling balance. The 1.5 Ambiente automatic simultaneously feels reassuringly-planted at highway speeds and rides pleasingly comfortably on tar. It's also worth noting that the Ford's steering is refreshingly sharp and responsive (for a budget offering), which contributes to the overall driving experience.
"Off-road" performance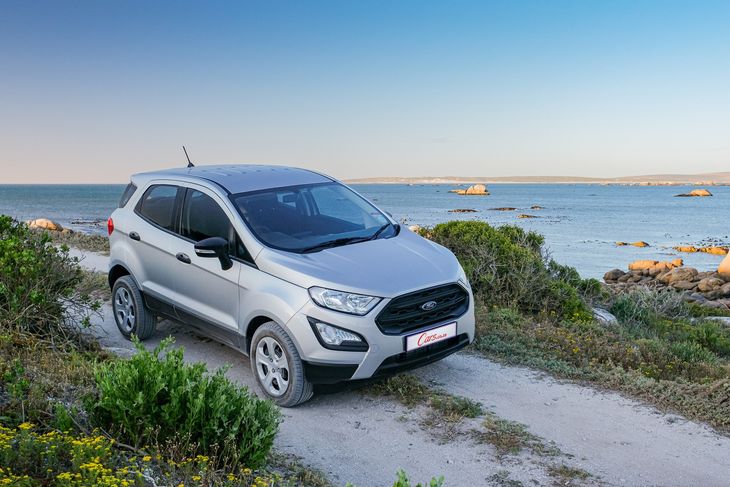 The EcoSport feels right at home on gravel and it has the ground clearance to navigate dirt roads with ease.
We were really keen to explore Paternoster and while the forecast for surfing was disappointing, we decided to venture out nonetheless. A friendly local told me about a potential surf spot up the coast, but it was only accessible via a sand road. Such a route probably required an all-wheel-drive or 4x4 vehicle to traverse safely, yet I couldn't resist trying out the Ford's (albeit limited) off-road abilities.
With its raised ride height, the EcoSport felt right at home on gravel roads... and even proved capable on the sandier sections. Using the vehicle's momentum, thicker sand sections can be successfully negotiated and despite my wife's fears that we'd get stuck, the Ford made it to its destination without a struggle!
The front-wheel-drive EcoSport is at a disadvantage on challenging terrain, but by shifting the transmission lever into "L", the 'box stays in first gear, which ensures that the engine remains "on the boil", at least sufficiently so to get through softer sections of sand (this feature is also useful on steep inclines).
During our stay in Paternoster, we saw countless EcoSports exploring the town and the surrounding dirt roads and, within this rustic location, the Ford's appeal became immediately apparent. This compact family car/small SUV really can go places, or to be more precise, using Ford's marketing tagline, it really can "Go Further" than you might think...
Interior execution and features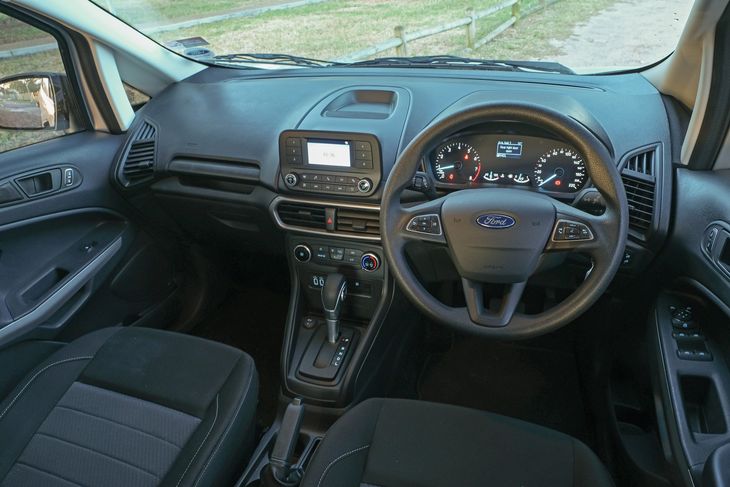 Hard-wearing plastics dominate inside this EcoSport, but it's likely to withstand the rigours of family life.

Even though this is the entry-level EcoSport derivative, the 1.5 Ambiente is not a bare-bones offering. Sure, you have to forego the larger infotainment touchscreen offered on higher-spec derivatives, but the 4.2-inch SYNC system has the basics covered with Bluetooth telephony with voice control, radio and MP3 playback. There are also 2 conveniently placed USB ports for connecting devices.
Despite the prevalence of hard plastic surfaces and finishes, the perceived interior build quality is fair; we believe the EcoSport's cabin is likely to withstand constant hard use by a small family.
The steering column is adjustable for rake and reach, plus you can toggle the driver info display by using the multifunction steering wheel, but sadly, cruise control is not offered in Ambiente trim.
As for safety features, half a dozen airbags are fitted, as well as ABS with EBD, brake assist and electronic stability control. For added convenience, rear park-distance control is availed.
Practicality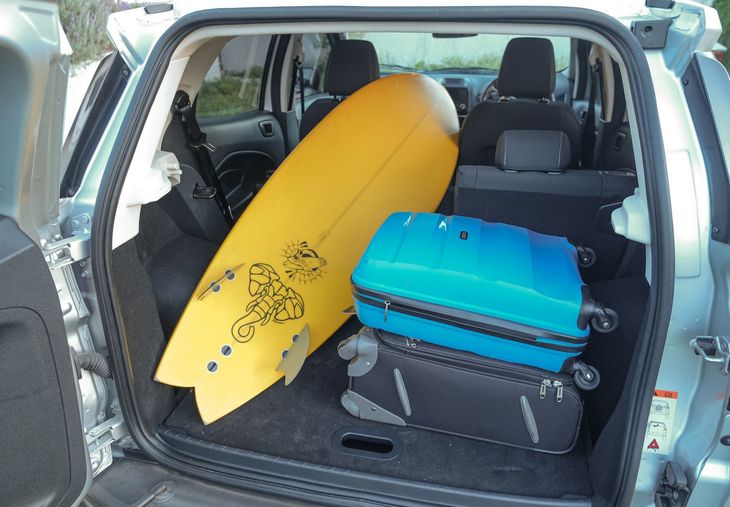 In terms of luggage and utility space, the EcoSport is not the most spacious offering in this segment.
The EcoSport is indeed very compact, which bodes well for manoeuvring in and around the city, but it also means that the cabin is snug. For starters, the load bay has a claimed capacity of 333 litres, which is marginally below average for this segment; the load space is tall, but not quite as generous in terms of depth. Because the spare wheel has been positioned on the tailgate, there is at least additional (and discreet) storage space underneath the boot board. It should also be noted that the tailgate opens horizontally (not vertically), which might hinder rear access in confined spaces.
Meanwhile, the rear seatback splits in a 60:40 configuration and when you fold the sections down, you have access to 705 litres of utility space, which allows you fit in bulkier items, such as surfboards! However, longer items (again, such as surfboards) are likely to encroach into the front cabin (see above).
As for rear-passenger comfort, tall adults will find legroom cramped, but persons who are less than 6-foot (1.83 metres) in height will find the rear bench acceptably comfortable, at least for shorter trips.
Besides, the EcoSport's space utilisation is moot: the model is best suited to young couples and small families. While there's no central bin to store items out of sight (the glovebox will have to do), there is a central console below the handbrake lever that offers 3 cup/bottle holders, as well as space for other oddments. The door mouldings also offers additional storage space.
Price and warranty
The Ford EcoSport 1.5 Ambiente automatic is priced from R316 500 and is sold with a 4-year/120 000 km warranty and a 4-year/60 000 km service plan.

Buy a used Ford EcoSport on Cars.co.za
Verdict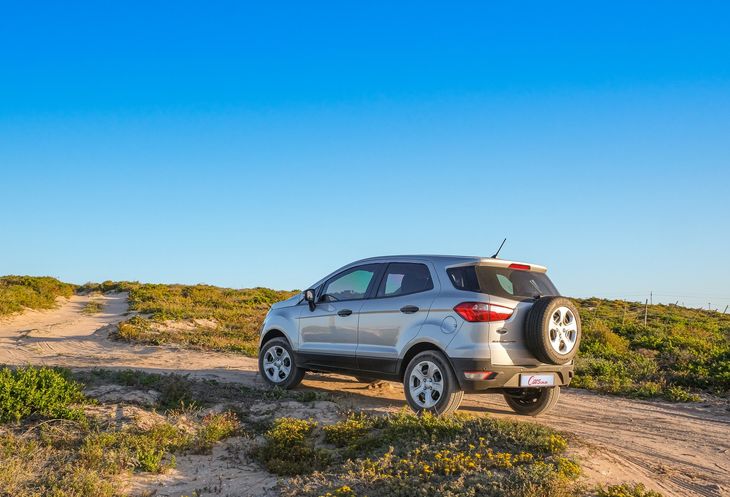 At this price, there's merit in considering the EcoSport 1.5 Ambiente automatic, if you can live with its shortcomings.
We enjoyed our time with the Ecosport 1.5 Ambiente automatic – its go-anywhere attitude (within reason of course) was refreshing. However, the keenly-priced Ford's sluggish (let's be kind and say, workmanlike) powertrain is probably the weakest link in the overall package. We suspect that many buyers, especially those at altitude (Gauteng) will find this engine's performance too compromised, which may force them to dig deeper into their pockets (if they can) for the 1.0T Trend automatic (priced from R354 800) or look to rivalling brands for a solution... but at additional cost, of course.
Nonetheless, for those buyers that are not too concerned with outright performance and are willing to accept this EcoSport's spatial shortcomings, the 1.5 Ambiente automatic represents a fairly solid purchasing (let alone fuel-efficient) proposition. Yes, the automatic transmission could be smoother-shifting, but the sheer convenience of having a self-shifting box is pretty alluring at this price point in the market. The next cheapest automatic compact family car/small SUV option is the Haval H2 priced from R324 900, which is a bit larger than the EcoSport.
Performance aside, buyers will also have to decide whether the EcoSport meets their needs in terms of practicality. There are more spacious options on the market and, as we mentioned earlier in this review, the EcoSport is probably best suited to young families; those buyers who require a more spacious cabin will have to look elsewhere – and be willing to pay more.
All things considered, we think that buyers looking for an affordable automatic compact family car should put this EcoSport on their shortlist and book a test drive. You have nothing to lose!
Related Content:
Ford adds new entry-level Auto to Ecosport Range