Haval has a new flagship model in South Africa and it comes to market at a competitive price, certainly for a lavishly-appointed 7-seater Adventure SUV... However, will the lack of a turbodiesel engine option and Haval's newness in this utterly Toyota Fortuner-dominated segment hamper the H9's chances of success? We tested the solitary 2.0T 4WD Luxury derivative to find out.
We like: Spaciousness, 7-seat practicality, refined drivetrain, impressive off-road ability, good spec
We don't like: No diesel engine in the range, basic infotainment system
Fast Facts
Price: R599 900
Engine: 2.0-litre 4-cylinder turbopetrol
Gearbox: 8-speed dual-clutch transmission
Fuel economy: 10.9 L/100 km
Power/Torque: 180 kW/350 Nm
SERIOUS ABOUT BUYING?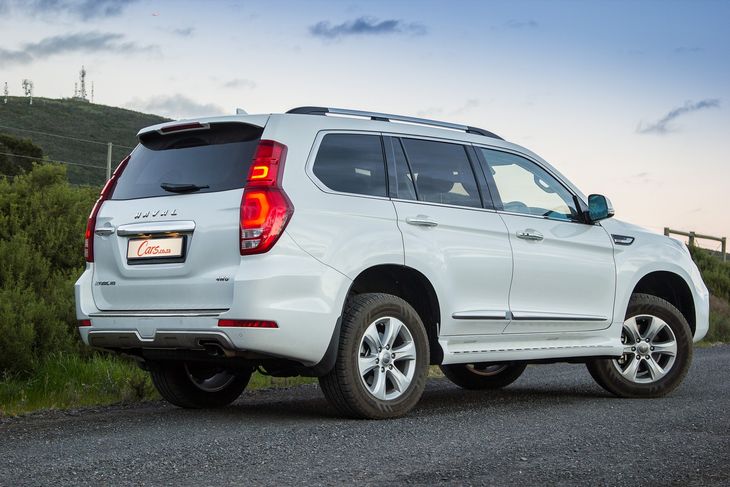 The H9 is the biggest model offered in South Africa by Chinese brand Haval.
Where does it fit in?
China's biggest SUV brand, Haval, hopes to replicate the tremendous sales success it's achieved in its domestic market here in South Africa. And, early signs have been more than promising – the H2 compact family car and H6/H6C family car have sold briskly in Mzansi. Recently, the range was expanded to include a flagship 7-seater model. The Haval H9 sits atop the Chinese brand's hierarchy and is intended to be a rival to the popular Toyota Fortuner, at least in terms of price, while incorporating convenience and luxury features as seen in the much more expensive Toyota Prado. It's not an easy task, but Haval reckons it has a few tricks up its sleeve with the H9.
Brand cachet is a powerful asset to have and while many will continue to belittle or dismiss products produced by Chinese automotive brands, Haval (in particular) has improved its models faster than many naysayers would have expected. With several designers and engineers (recruited from established automotive brands) now among its ranks, Haval has the capacity to produce vehicles that can justifiably vie for class honours. For example, the H9 was a semi-finalist for the Adventure SUV category of the 2018/19 #CarsAwards and its H2 compact family car sibling achieved a similar feat in the 2017/18 iteration of our awards programme. By combining massive R&D budgets with global expertise, Haval has swiftly incubated numerous advanced products, some of which will be coming to South Africa in the next few years.
What's good about it?
Practicality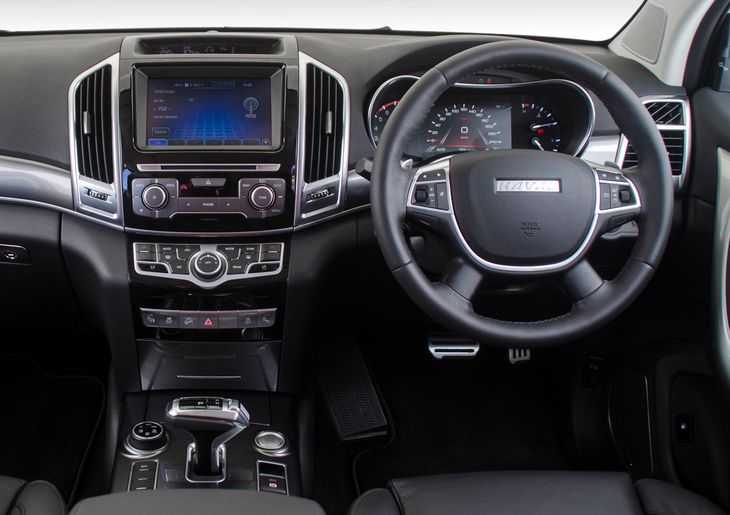 The Haval H9's cabin feels solid and well assembled, with lots of European- and American SUV design inspirations.
Most Adventure SUVs have 7-seater configurations, but the H9 falls into an elite category: its rearmost seats, when electrically(!) deployed, are suitable for adults (we've evaluated several 7-seaters, only to find their 3rd rows are usually suitable for small children only). The secret to the Haval's carrying capacity is its physical dimensions. It's simply humungous! At almost 5 metres long, almost 2 metres wide and with a height of 1.9 metres, the 2.0T 4WD Luxury is one of the biggest vehicles in its class.
Granted, with all 3 rows of seats in use, the luggage capacity is nominal, but with the rearmost row of seats folded down, which was our preferred setup during the test period, you have access to 747 litres of load space. What's more, if you fold the 2nd and 3d rows down, you gain a massive area to accommodate large and/or bulky items. There's a clear focus on passenger comfort too, as passengers in the 2nd row get their own climate control panel, USB charging ports and the bench slides on rails, to tailor how much legroom is available. Also of interest is the front passenger seat's adjustment buttons, which are located on the right side of the seatback. Larger Chinese models typically prioritise rear passenger comfort, so if an aft occupant wants more space, they can move the seat in front of them to free up extra legroom.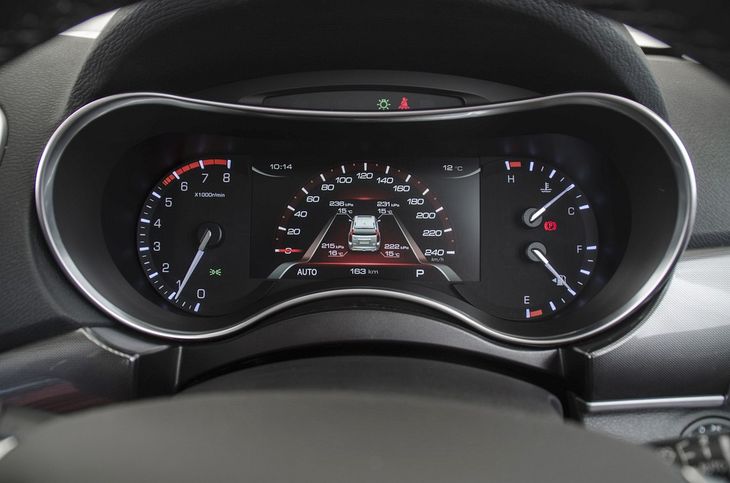 The half-digital, half-analogue instrument cluster is clear and crisp. The vehicle also features tyre-pressure sensors for peace of mind.
Strong off-road ability
Thanks to the fitment of an Eaton locking rear differential and a Borg Warner low-range transfer case, the Haval H9 2.0T 4WD Luxury is as competent off-road as it looks. Ground clearance is rated at 206 mm, with a generous approach angle of 28 degrees, plus it's an accomplished water crosser (with a wading depth of 700 mm).
Furthermore, the H9 features a number of off-road modes that can be activated using a rotary selector on the Haval's centre console. There are the obvious ones, like Snow and Mud, but we chose to leave it mostly in Auto, and let the car's ECU control the traction settings and power split between axles. When the going gets really tough, there's low-range and selectable hill-descent control too. We drove this H9 unit on a tricky off-road course, where it impressed us with its fuss-free capabilities.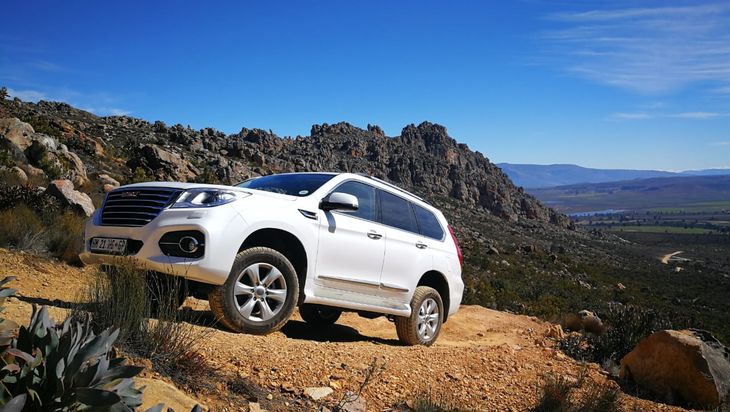 The Haval H9 climbing a challenging uphill on a 4x4 test track. Thanks to its offroad tech, it effortlessly climbs up tricky terrain.
Engine refinement
The H9's 2.0-litre turbocharged 4-cylinder petrol engine, which produces peak outputs of 180 kW and 350 Nm, is mated with a German-sourced ZF 8-speed automatic transmission. Petrol powerplants are now quite rare in the Adventure SUV market (the 2.7-litre and 4.0-litre V6 Toyota Fortuners come to mind, but not much else), but the Haval's 2.0-litre motor is willing and fairly responsive. Although there is a bit of hesitation from a standstill, the transmission does a sterling job of changing gears smoothly and making the best of the available torque. There's decent mid-range shove too, even when the Haval's fully loaded with passengers. The engine only sounds strained and harsh when pushed to its redline. And, as far as noise, vibration and harshness suppression is concerned, the H9's on-road refinement is generally good.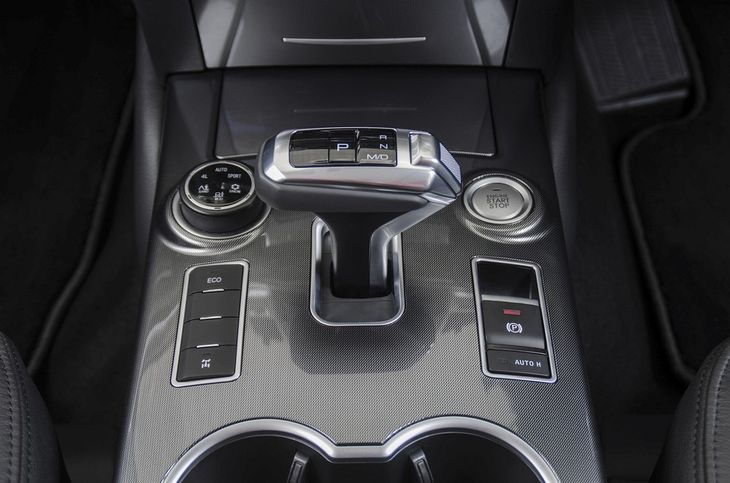 The 8-speed gear selector feels nicely finished. Note the rotary offroad mode controller, as well as push-button start
In terms of performance, Haval claims a sprint time of 10 seconds from 0 to 100 kph. A minor criticism of this powertrain is that when fully loaded, we anticipate the turbopetrol will have to work hard, resulting in quite a high fuel consumption. Visits to the petrol station won't be that frequent, however, as the tank capacity is 80 litres.
Ride quality
Unlike most of its bakkie-based rivals, the H9 has a multi-link rear suspension, which is said to improve ride comfort (especially for rearmost passengers) by offering better absorption of road imperfections. The downside of this is that there may not be enough articulation available when the going gets really tough, but given our off-road experience with the vehicle, we think it's adequate. The Haval is a superb cruiser; it effortlessly covers long distances with its occupants ensconced in comfort.
Because the 2.0T 4WD Luxury's suspension is (best described as) pillowy, it dulls the sensation of being connected to the road surface; when at the 'wheel of the H9, it feels like you're floating along with the minimum of driving effort. Similarly, the steering feels quite vague and indirect, but then we expect it of a vehicle of this nature...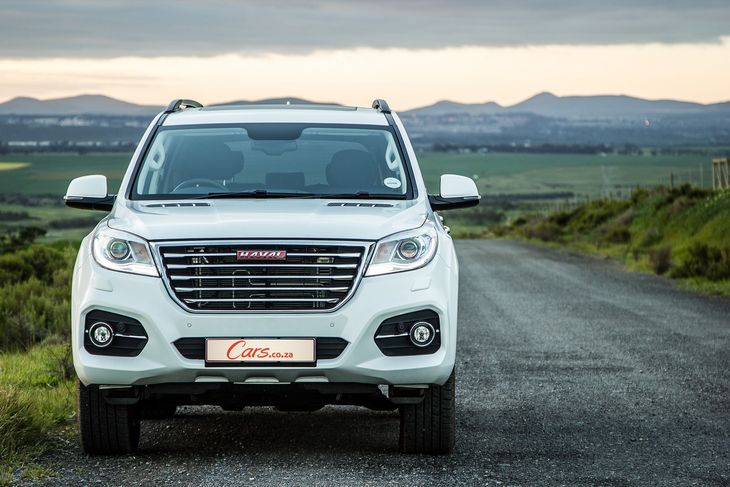 The Haval H9 on a gravel road. Few cars are this spacious and comfortable, not to mention capable, at this price point.
Where does it fall short?
Basic infotainment system
The 2.0T 4WD Luxury derivative comes equipped with an 8-inch LCD touchscreen, which includes a navigation function, in combination with an Infinity high-end sound system. However, the screen's quality isn't the sharpest, there's no Apply CarPlay/Android Auto functionality and the menu layout can be a little counter-intuitive to use.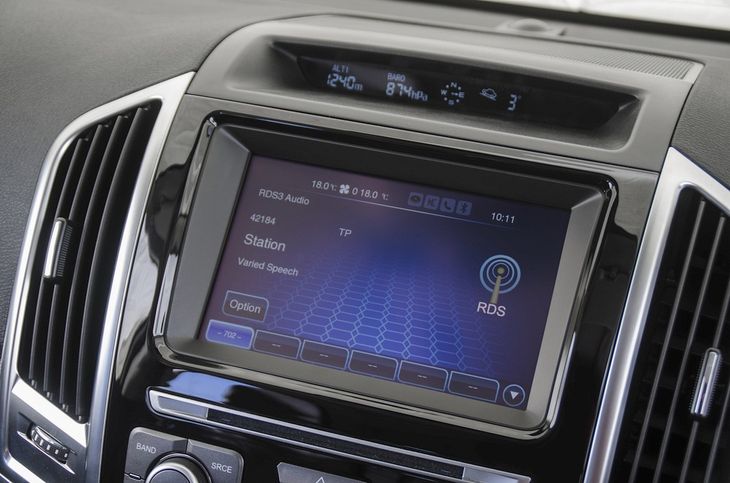 The touchscreen system is functional, but we feel that in a vehicle costing over R500k, it could be nicer. Note the 4x4-related info screen displaying altitude, barometer, compass and angle of ascent.
Lack of a diesel engine
While we don't have major gripes with the 2.0-litre 4-cylinder turbopetrol motor, the lack of a turbodiesel to choose from is a drawback. When you consider that the ranges of the Haval H9's rivals (such as the Fortuner, Ford Everest, Mitsubishi Pajero Sport and Isuzu MU-X), comprise mostly of diesel engines, offering a petrol-only model seems unwise, given buyers' established appetites in this segment. Turbodiesel motors tend to be more frugal and offer a bit more torque than their petrol counterparts and the torque band starts slightly lower, making performance more accessible. The extra grunt is especially important to those who like to tow trailers.
Haval H9 price in South Africa
The H9 2.0T 4WD Luxury retails for R599 900, which includes a 5-year/100 000 km warranty, a 5-year/60 000 km service plan and 5-year/unlimited km roadside assistance.
Verdict
Impressively spacious, superbly practical, well-made and lavishly equipped (the front seats are ventilated and include a massage function; the driver's seat is 8-way electrically adjustable with extra lumbar support and memory function; there's LED mood lighting, blind spot detection, plus cross-traffic alert and lane-change alert functions... the list goes on and on), the H9 2.0T 4WD Luxury is a tremendous value proposition... given its asking price of R599 900.
It doesn't quite score perfect marks. The lack of a diesel motor is regrettable and the basic infotainment system doesn't feel appropriately smart for a vehicle with clear premium SUV ambitions. The good news, however, is that both of these gripes can be easily fixed in the next iteration of H9, or sooner. There's plenty that the H9 does right. The cabin space/practicality is up with the best, the powertrain is smooth and refined and the specification generous. The cabin is neatly finished and well thought out, and the materials used are of good quality. It's also capable, should you wish to tackle a 4x4 trail.
Up to now, we've had reservations about Haval's after-sales support infrastructure, but you'd be pleased to read that the brand is growing its dealership footprint and the warranty is decent, which adds some peace of mind. We've learnt that with Haval, issues are generally quickly addressed and the firm's ability to rapidly raise its game should raise a few alarm bells in the offices of more established brands. Whether buyers are quite ready to "take the plunge" with a R600k vehicle we can't say, but those who do opt for an H9 over its deeply entrenched rivals, won't be disappointed. Given its value-for-money proposition, more than a few will find homes in South Africa.
Alternatives (click on the car names for detailed spec info)
Toyota Fortuner: The effervescent Fortuner continues to be a massive sales success thanks to all-round capability, refinement and superb after-sales support. It's available with a host of petrol and diesel engines, but it's perhaps not such a "large family car bargain" as it once was.
Toyota Land Cruiser 200: It offers similar space and features to the H9, but costs substantially more. If only there was a vehicle between the top-spec Fortuner and top-spec Land Cruiser... oh wait, the Haval H9's gone for that gap...
Ford Everest: A product in the same vein as the Fortuner. It offers a more sensible folding seat option than its Japanese rival and there is a cracking array of diesel engines to choose from. Its spacious enough, with a recently improved user experience of its onboard systems.
Compare the Haval H9 to its rivals here

Watch the Haval H9 Video Review below:
Related content:
New Haval H9 4x4 SUV Review (Video)
Haval to expand on SA offerings
Haval H6C (2017) Specs & Price
Haval H6C 2.0T Luxury Auto (2017) Review
Haval H6C vs Kia Sportage (2017) Comparative Video Review
Interested in buying a Haval?