The Chinese luxury brand Haval ushers in its second SUV of the year, the H6C. It looks purposeful and comes loaded with equipment at a price none can match, but is it worth taking the plunge yet?
We like: value for money, improved quality, spacious.
We don't like: annoying beeps, button overload, thirsty engine, sub-par infotainment system.
Alternatives
For something with excellent quality: The new Mazda CX-5 is a great buy, but at this money, the only option would be the entry 2.0 Active auto. It has way less kit than the Haval, but it's a smooth, fuss-free drive.
If space is a priority and kit not so: The Toyota RAV4 remains a local favourite on the sales charts. The 2.0 GX auto seems reliable and dependable if a little rudimentary inside.
If space isn't a priority: The Nissan Qashqai is a little smaller than the Haval in terms of overall space, but it has reasonable levels of kit and a more modern, fuel-efficient power unit.
Click here to compare the Haval H6C Luxury with comparable products from Mazda and Toyota
The new Haval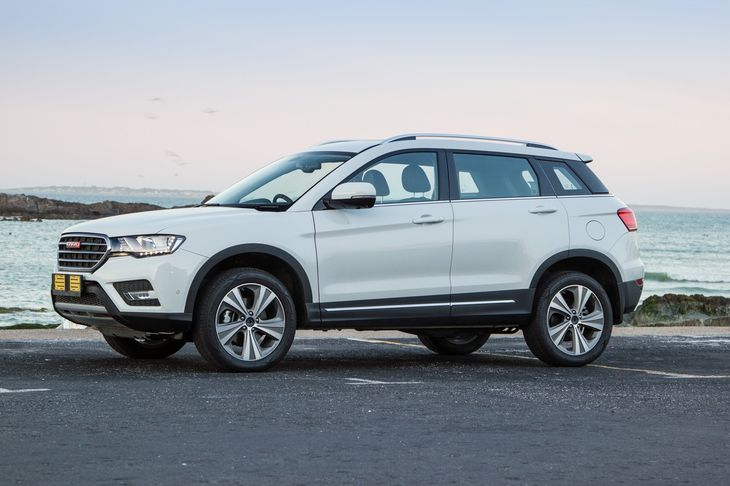 Quite a handsome SUV with no discernable copy-cat styling.
Haval formally established itself in South Africa as the premium SUV arm of GWM – the bakkie maker – in 2017. Now wholly owned by the Chinese parent company, the local distributor is said to be expanding to 40 dealerships and taking an aggressive strategy towards marketing and pricing its products on the local market. The first product, the H2, which we reviewed back in June 2017 was a good platform to launch from, the GWM M4 compact family car has been rebranded the Haval H1 and now this...
The sloped-back H6C competes in the medium-SUV (family car) category of the market. It's about the same length and height as a Mazda CX-5 or Kia Sportage, but looks a little more compactly styled in the vein of a Honda HR-V or Hyundai Creta. Its price is certainly more on par with the top end of the compact family car market than the others and is packed with loads of gadgets and trinkets to prop up the value for money offering, but is it just smoke and mirrors or is there actual substance underneath the new H6C?
How does it fare in terms of…
Practicality?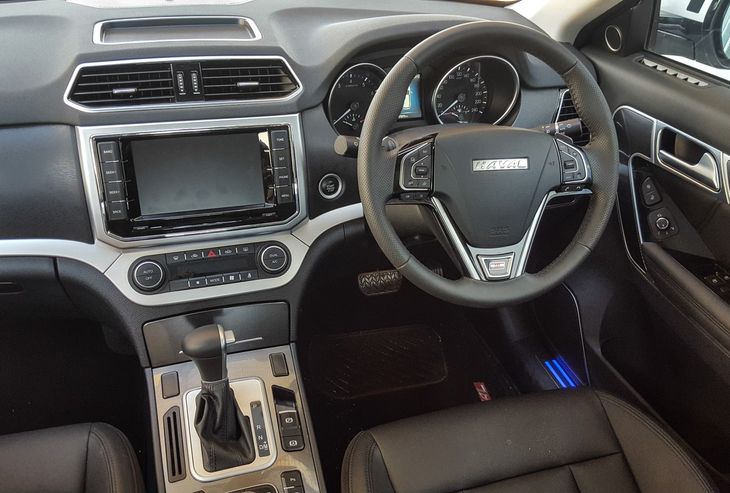 Upmarket interior has leather seats and steering wheel, dual-zone climate control and in the bottom right, blue mood lighting on the door sills.
At this end of the market, practicality plays a major role in purchasing decisions. The H6C is bigger than it looks and passenger space is very impressive. Rear passengers have loads of legroom, rear air vents and in the Premium model on test here, full leather seats (although it's artificial leather).
Haval claims luggage capacity of 247 litres and utility space of 1 146 litres. Whereas the latter figure is reasonable, the rear-seat-up capacity is limited by the high sill (shallow depth) and the H6C's sloping hatchback. The aperture could be wider too, which would help with loading more difficult items such as bicycles. On the upside rear legroom is generous, the split seatback folds flat easily enough and the keyless system means you don't have to dig around for car keys when entering the car from any door.
Up front, there are 2 cupholders a good-sized centre console and a flip-up ashtray compartment. The centre area is dominated by a rotary knob and surrounding buttons that control the infotainment system. This could all have been dispensed with as the infotainment system is a touchscreen and any other functions can be quickly performed by the steering wheel controls. This would have allowed for more space to throw keys, phone, wallet etc. rather than in the cupholders.
Features and cabin quality?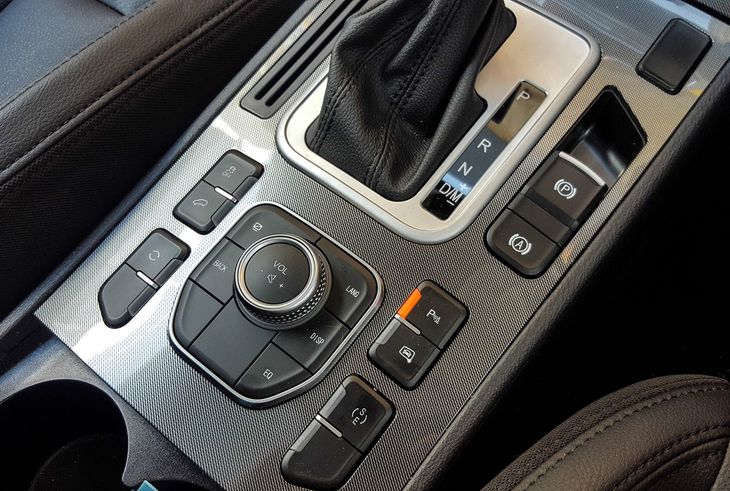 Rotary knob is mostly made redundant by the touchscreen and steering controls, this would be better as storage space.
You will struggle to find a better-specced SUV than this at this price range, or at R100k-200k more in fact. The H6 is loaded with upmarket goodies like 8-way electric seats, dual-zone climate control, switchable mood lighting, cruise control, front and rear park distance control with rear camera (not forgetting the side-view camera that we first noticed on the flagship H2), retractable mirrors and a bright red puddle lamp that projects the word "Haval" onto the ground when you unlock the car.
It's certainly well equipped and even has some of those show-offy touches too with the mood lighting, puddle lamps and LED daytime running lights. The infotainment system is a little under-specced, unfortunately. For such a large touchscreen, it only really performs the function of a radio. It has Bluetooth and media playing capabilities, but beyond that, not much else.
As for the rest of the interior, it seems quite upmarket in a classy, restrained way. The silver trim on the doors are smooth to the touch and the leather trim inserts are quality, premium features. The dashboard surrounds are made up of soft-touch rubberised material and all the panels seem firmly held in place.
Drivetrain and ride refinement?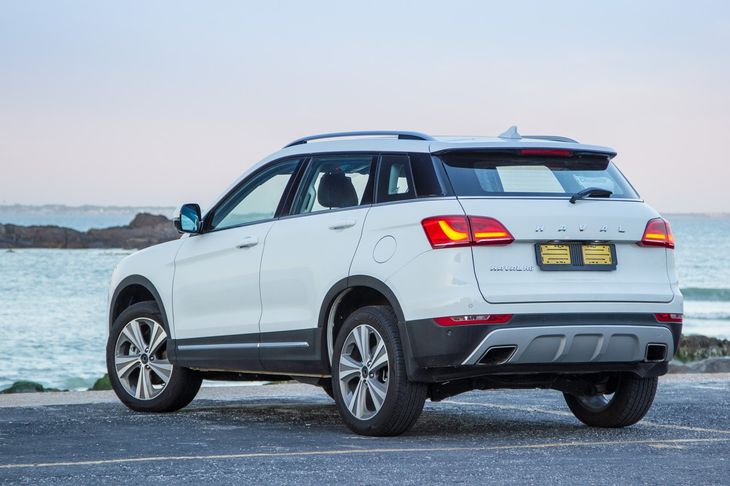 Ride quality is a step up from every other Chinese car and on par with certain competitors.
The H6C has quite a large motor if you consider the major downsizing trend in the market. Its 2.0-litre turbopetrol unit produces peak outputs of 140 kW and 310 Nm but doesn't feel all that punchy. Acceleration has a gradual, linear feel to it and the 2.0 holds 120 kph with relative ease, but the constant overspeed beep when you push past that velocity is annoying.
It's not to say the Haval's underpowered, just over-claimed. And the "leisurely" acceleration would be fine if the fuel consumption was decent, but given its indicated average of 11.7 L/100 km over the 1 000 km we tested the H6C, it seems quite thirsty. Despite that, the 6-speed automatic gearbox is a great match and shifts up and down the box with great comfort.
Ride quality has been one of the areas the Chinese brands have lacked in historically. Haval has worked hard with the H6C to improve comfort and NVH levels too. It rides quite firmly but it's not overly so that it feels bouncy. It feels quite pliant over bumps and actually soaks up gravel roads really well. The steering is not overly light and it makes the Haval appear quite planted around bends taken at speed. As for general on-road refinement, the cabin is well insulated from wind, road and mechanical noise.
Safety?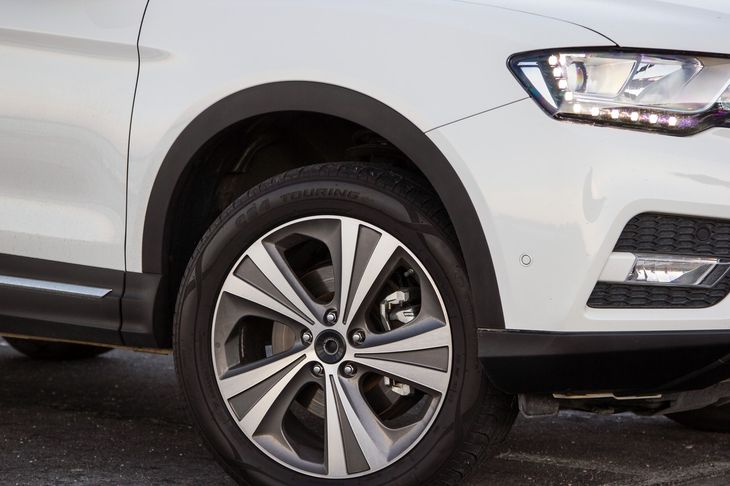 The H6 has excellent safety spec and loads of higher-end features such as LED daytime running lights, fog lights and 19-inch wheels.
Chinese cars have had a fair amount of negative publicity around vehicle safety and, in some cases, rightly so. Thankfully, the H6C has the right combination of safety features to meet a family's requirements. Things like ABS, EBD, brake assist and stability control are all standard across the range and this derivative is equipped with 6 airbags as well.
Verdict
It remains to be seen if the H6C will be as instantly popular as its H2 has proved in the value-seeking compact family car/crossover segment. As Haval thrusts higher up into the premium sectors of the market, the brand may find that buyers are more discerning and quality, brand strength and practicality feature highly on their requirements lists. The H6C may offer loads of value at an unbeatable price, but buyers may want the reassurance from a known brand, even if it is in the shape of a lesser-specified product for R30-50k more.
As our recent comparative video featuring the H6C and Kia Sportage demonstrated, the Haval is a very good product. With a few minor refinements (get rid of all the beeps and put in a higher-end infotainment system) it could be a winning recipe. A more fuel-efficient engine would also attract more buyers to what is a capable, spacious-for-occupants SUV.
What's more, the H6C offers tremendous spec- and safety levels at R389 900 (November 2017) and may entice buyers who are looking for something a little bigger than a Renault Captur, Suzuki Vitara or Hyundai Creta. It's unlikely to pull many buyers from top-selling rivals in the cutthroat family car segment, but we don't believe that'll be the case for much longer.
Haval H6C vs Kia Sportage (2017) Comparative Video Review
Related content
Haval H6C vs Kia Sportage (2017) Comparative Video Review
Haval H6 C (2017) Specs & Price
Haval H2 1.5T Luxury Auto (2017) Review [with Video]
Chinese Cars: The (not-so-obvious) Barriers to Wider Acceptance