Ferrari has revealed the FXX K Evo wearing an upgraded aerodynamic package. Herewith the key details.
Ferrari has revealed its hardcore FXX K Evo at the Finali Mondiali event at its Mugello Circuit in Italy over the weekend. This is the third Evo XX race car to follow after the FXX Evo and 599XX Evo and will be offered as both an aerodynamic package upgrade compatible with the existing 40 examples of the FXX K and as a standalone model, but Ferrari has not confirmed how many will be produced, but numbers are expected to be very limited.
Key details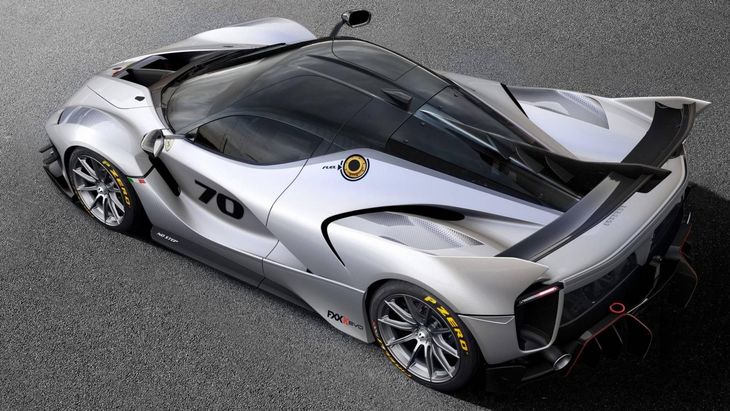 A massive fixed rear wing helps generate substantial downforce, making the FXX K Evo a potent track machine.
Powered by a 641 kW 6.3-litre naturally aspirated V12 engine and a 140 kW electric motor, the FXX K Evo delivers a total system output of 772 kW and over 900 Nm of torque. An 7-speed F1 dual-clutch transmission is fitted along with carbon ceramic Brembo brakes and 19-inch front and 20-inch rear wheels shod with Pirelli P Zero slicks.
The upgraded aerodynamic package includes a twin-profile fixed rear wing with 2 side fins and a central fin. The underbody and front and rear bumpers have been resculpted to enhance aerodynamic performance and the suspension has been tweaked to complement the changes.
The big achievement here is the amount of downforce that's generated and Ferrari says that downforce has been increased by 23% over the regular FXX K and a significant 75% more than the road-going LaFerrari upon which it's based. At 200 kph, the FXX K Evo generates 640 kg of downforce and more than 830 kg at top speed.

Inside, a new F1-derived steering wheel is fitted with built-in gearshift paddles and controls for the Kinetic energy Recovery System (KERS). A larger 6.5-inch display and upgraded telemetry system is also fitted.

Buy a Ferrari on Cars.co,za
Related Content
Ferrari FXX K Officially Revealed
Ferrari unleashes Portofino topless GT
Ferrari Cleans Up At International Engine of the Year
Ferrari GTC4Lusso Arrives in SA
Ferrari 812 Superfast Revealed